October 10, 2017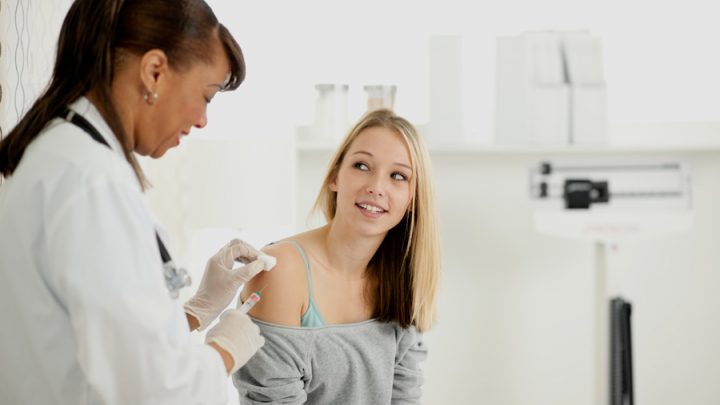 Six out of 10 U.S. teens ages 13 to 17 received one or more doses of the human papillomavirus (HPV) vaccine in 2016, according to the Centers for Disease Control and Prevention. The number of vaccinated teens is up four percentage points from the previous year in which 56 percent of teens got the cancer-preventing shots. The vaccine is also becoming more common among teenage boys.
HPV is a group of more than 150 related viruses — some of which can lead to cancer. Nearly one in four Americans is currently infected with HPV, with about 14 million people, including teens, contracting the virus each year. An estimated 31,500 newly diagnosed cancers are attributed to HPV annually.
Gardasil 9 is the only HPV vaccine currently available in the U.S. The HPV vaccine is intended to guard against the types of HPV that most commonly cause cancer. According to the CDC, 90 percent of the cancers caused by HPV could be prevented by the vaccine. However, the vaccine is also linked to serious side effects, including reports of 26 deaths over about a one-year period.
The CDC recommends 11 to 12 year olds get two doses of HPV vaccine at least six months apart. Teens older than 14 years and people aged 9 through 26 years with certain immunocompromising conditions should get three shots over six months, according to the CDC. Up until recently, a full series required three doses.
HPV Vaccine Increasingly Common Among Teen Boys
The annual National Immunization Survey-Teen (NIS-Teen) report shows how many U.S. teens get vaccinated each year. According to the report, 65 percent of teenage girls and 56 percent of teenage boys received one or more doses of the HPV vaccine in 2016.
The number of boys getting the HPV vaccine increased by six percentage points from 2015; the number of vaccinated girls remained about the same.
Overall, HPV vaccination among teens was up 4.3 percentage points for one or more doses, 3.8 percentage points for two or more doses, and 2.2 percentage points for three or more doses.
About 43 percent of U.S. teens were up-to-date with the recommended HPV vaccination series (49.5 percent for teenage girls and 37.5 percent for teenage boys).
More 17 year olds than 13 year olds had received at least one dose of HPV vaccine.
Among teenage boys, 16 was the age at which most were up-to-date on the vaccination series.
Population, Poverty & HPV Vaccine Rates
HPV vaccine rates were higher in heavily populated areas versus rural and less urban areas. HPV vaccination was more common among adolescents living below the federal poverty level than among those living at or above the poverty level.
HPV vaccine rates also varied from state to state:
About 49 percent of teenage girls in Mississippi received at least one dose of the vaccine compared with 90 percent in Rhode Island, where the HPV vaccine is mandatory for school.
About 37 percent of teenage boys received at least one dose of the vaccine in Indiana and Wyoming compared to 88 percent in Rhode Island.
About 31 percent of teenage girls were up-to-date on the HPV vaccination series in South Carolina compared to 73 percent in Rhode Island.
About 20 percent of teenage boys in Wyoming were up-to-date on the series compared with 68 percent in Rhode Island.
From 2013 to 2016, the number of teenagers who received at least one dose of HPV vaccine increased an average of five percentage points per year nationally. New York City saw the greatest annual increase with 7.7 percentage points.
HPV Vaccine Benefits & Risks
HPV vaccination has led to dramatic declines in HPV infections, according to the CDC. Since the introduction of HPV vaccine in 2006, infections with HPV types that cause certain cancers and genital warts have decreased by 71 percent in teen girls and 61 percent in young women, the agency says. However, some in the medical community question whether the vaccine does more harm than good.
Dr. Diane Harper, for example, worked on studies that got HPV vaccines approved. She has since said Gardasil is associated with at least as many serious adverse events as there are deaths from cervical cancer occurring annually. A serious adverse event is an undesirable experience associated with a drug that results in permanent disability, hospitalization, life-threatening illnesses or death.
Serious adverse events reported after HPV vaccination include:
Guillain-Barré Syndrome
Premature Ovarian Failure (POF)
Postural Orthostatic Tachycardia Syndrome (POTS)
ASL (Lou Gehrig's disease)
Dr. Peter Lind, who practices metabolic and neurologic chiropractic, told the Washington Times that the HPV vaccine is also linked to seizures, paralysis, blindness, pancreatitis, speech problems and short term memory loss.
Compensation for HPV Vaccine Injury
People who have suffered certain side effects after receiving an HPV vaccine may be eligible for compensation. HPV vaccine is covered under the National Vaccine Injury Compensation Program, a federal program that provides financial compensation to people who file vaccine-related injury or death petitions and who are found to have been injured by certain vaccines administered on or after October 1, 1988.
Injuries covered under VICP include:
Life-threatening allergic reaction
Shoulder Injury Related to Vaccine Administration (SIRVA)
Fainting caused by a sudden drop in heart rate and blood pressure