DePuy has developed more than a dozen knee systems, most notably the Sigma, LCS Complete and LPS product lines. Two Sigma models, the Sigma RP-F Knee System and the Sigma CR150 High Flex Knee System, are high-flexion devices that provide a greater range of motion than standard knee implants.
In 1895, inventor Revra DePuy founded DePuy Manufacturing, the first commercial orthopaedics (or orthopedics) company in the U.S.
Johnson & Johnson acquired DePuy in 1998 for $3.7 billion. When the company merged with orthopaedic manufacturer Synthes in 2011, it established the DePuy Synthes Companies of Johnson & Johnson.
DePuy knees are manufactured by DePuy Orthopaedics, part of the DePuy Synthes family of companies.
The three orthopaedic manufacturers who represent almost 65 percent of the global knee replacement market are:
Zimmer
DePuy Synthes
Stryker
In 2015, DePuy Synthes orthopaedic sales were up 3.5 percent to $5.3 billion in the U.S. Knee replacement sales made up more than a quarter of that total at $1.4 billion.
DePuy Knee Replacement Products and Technology
DePuy's most well-known knee replacement products include the Sigma Total Knee System, LCS Knee System and the Attune Knee System.
The latest, Attune, hit the market in 2013 as a result of DePuy Synthes' largest research and development project in the company's history. The Attune knee is designed to help improve stability and motion compared to previous knee replacement systems.
Attune features key proprietary technologies, including:
Attune Gradius Curve


A gradually reducing radius that provides range of motion and achieves anterior and posterior stability.

Sofcam Contact


The S-curve design provides stability during flexing or bending while reducing stress on the implant.

Logiclock Tribal Base


A locking base that reduces wear, allowing surgeons to not have to compromise on the size of the implant.

Glideright Articulation


This innovation optimizes patella tracking, or the shifting of the kneecap (patella) out of place as the leg bends or straightens. It also helps with soft tissue interaction.
In March 2014, DePuy Synthes announced two new technologies for Attune — a rotating platform design and the anatomic patella.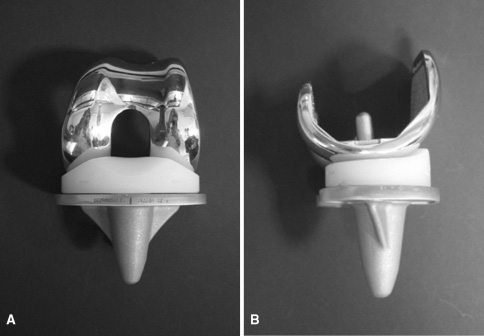 DePuy's rotating platform design is intended to reduce stress and wear on the implant
The rotating platform allows the bearing to rotate as the knee flexes, allowing for more natural motion and reducing stress and wear on the implant.
Attune's anatomic patella is designed to have more natural range of motion than traditional dome style patella components, reducing soft tissue interaction and irritation. A 2007 study published in The Journal of Bone and Joint Surgery said that roughly 20 percent of knee replacement patients are not satisfied, mainly because of anterior knee pain near the patella.
Low Contact Stress Knee System
DePuy introduced its low contact stress (LCS) knee system in 1977, and after years of testing, the device gained U.S. Food and Drug Administration (FDA) approval in the early 1980s. DePuy designed the LCS system to closely resemble the mechanics of the human knee.
To date, it has been used in more than 700,000 knee replacement surgeries worldwide, and technological components of the system are still used in knee replacement products today.
In the late 1990s, DePuy introduced an LCS product for full knee replacements and revision surgeries, which prompted the line's name change to LCS Complete.
Sigma Knee System
DePuy introduced the PFC Sigma Total Knee System in 1997, a year before the company was acquired by Johnson & Johnson. To date, doctors have implanted the Sigma Total Knee System in an estimated 1.7 million patients.
The company markets the Sigma knee's ability to reduce pain and improve range of motion, as well as function, in the knees.
TruMatch Personalized Solutions
DePuy also manufactures software called TruMatch Personal Solutions that helps surgeons accurately place knee implants and complete the procedure more efficiently.
It includes a custom set of surgical instruments and a computer software system that allows them to customize the procedure according to the patient's specific anatomy.
TruMatch Works in Four Steps:
Step 1

Doctors take a CT scan of the patient's leg.

Step 2

That image is sent to DePuy Orthopaedics, where a special team reviews the image and develops a 3D model of the patient's knee.

Step 3

DePuy creates personalized guides for the surgery that are customized to fit the shape of the patient's knee.

Step 4

The guides are sent to the surgeon performing the knee surgery, who uses them to help position and place the new knee implant.
According to DePuy, positioning and alignment that is off by as little as three degrees can lead to uneven wear and possible malfunctioning in a knee replacement. TruMatch uses a personalized approach to surgery that improves the placement, performance and longevity of prosthetic knees.
In August 2010, the FDA issued a warning letter to DePuy because the company broke federal regulations by marketing TruMatch without proper approval. However, one year later the FDA cleared TruMatch as safe for the Sigma Fixed Bearing Knee System through the 510(k) submission process. In 2012, the FDA approved TruMatch for rotating platform knees, as well.
Types of Knee Replacements and Devices
DePuy knee systems feature interchangeable components for doctors to choose from and come in several varieties to fit each patient's unique needs.
Fixed Bearing Knees
Fixed bearing knees are the most widely used in the U.S. In this type of device, the bearing — the structural part of the artificial knee that supports friction and weight — remains in a fixed position and cannot move. DePuy claims that fixed bearing implants remain in 99.6 percent of recipients after five years.
Rotating Platform Knees
Rotating platform knees are designed to provide more natural movement, which allows the bearing to rotate in the same manner as the anatomical knee. Rotating knees are designed to reduce stress and wear on the implant by 94 percent.
High-Flexion Knees
DePuy also markets high flexion technology for some of its knee replacement products. This allows the implant to bend up to 155 degrees, well beyond the range of traditional implants. According to the company, high knee flexion movement occurs every time a person kneels, squats or crosses their legs. DePuy markets high flexion knees to people who participate in social, cultural, religious and exercise activities that would be painful or impossible with traditional implant designs.
Total Knee Replacements
In total knee replacement surgery, surgeons use several implant components to restore the function of a severely damaged knee. During the procedure, also known as arthroplasty, surgeons resurface the bones at the bottom of the femur (thighbone) and the top of the tibia (shinbone) in order to attach implants made of materials such as plastic, ceramic or metal. DePuy markets several total knee replacement systems with a variety of interchangeable components.
Partial Knee Replacements
Surgeons often perform partial knee replacement surgery in early intervention cases where only one or two parts of the knee are diseased. DePuy manufactures Sigma High Performance Partial Knee components that can replace any of the damaged parts individually. Partial knee replacement surgery is less invasive than a total knee replacement and allows patients to retain more of their original knee. Patients also generally recover faster from partial knee replacement surgery.
DePuy Revision Components
Knee replacement revision surgery is a follow-up procedure that is required when one or more components from a past knee surgery fail. In the revision procedure, surgeons remove the faulty device or component and replace it with a new, specialized prosthesis.
Fact
About 50,000 knee revision surgeries are performed in the U.S. every year.
Knee revision surgery is often required after a patient suffers from an infection, an implant malfunction (loosening or instability) or loss of bone. Bone loss can occur from friction and excessive wear on the bones from implant components. This can be general wear over time or progressive wear as a result of a defective device or component.
DePuy offers a variety of implant systems to address the medical needs of patients with failed knee implants.
According to information from DePuy, their systems offer a "comprehensive array of implant options for cases that require varying levels of constraint" for different levels and kinds of knee replacement malfunction.
For instance, one system is promoted as having the ability to reduce stress from torque by including a platform that rotates. Another selection of systems are touted as compensating for severe bone loss through a combination of trays, augments and stem options to allow surgeons to restore stability in the knee implant.
DePuy Knee Complications and Product Recalls
From February 2003 to May 2013, DePuy recalled 277 devices or components, significantly more than top competitors Stryker (118) and Zimmer (224), according to the nonprofit consumer reports organization Consumers Union.
Four of the 277 were Class I recalls, or products with flaws that could seriously harm patients. The majority (270) were Class II recalls, described by the FDA as "a situation in which use of or exposure to a violative product may cause temporary or medically reversible adverse health consequences or where the probability of serious adverse health consequences is remote." Most knee recalls fall in the Class II category.
One of the Class I recalls came in February 2013, when the FDA issued an Urgent Medical Device Recall announcement informing hospitals and surgeons to stop using and distributing a component called the LPS Diaphyseal Sleeve.
The sleeve component, part of DePuy's LPS Limb Preservation System, allows surgeons to correct defects in the knee's soft tissue and bones. The FDA alert revealed that the Diaphyseal Sleeve may not have been able to support the stress patients place on the device during normal activities like walking. This could result in fractures or infections in the knee and bones that could lead to loss of function in the limb, loss of the limb itself, soft tissue damage or death.
The FDA says it received several reports of patients suffering from fractures and device loosening with the Diaphyseal Sleeve. The component in question was manufactured between 2008 and July 2012.
Additional reasons for recalled devices or components include:
Possible fracturing (anchors may fracture, leading to revision procedure)
Sizing issues
Mislabeled components
Metal debris (within implanted anchors)
Assembly difficulties
Defective seal (if the "seal" of the effective joint space in the knee is incomplete, it may lead to oxidation and affect the performance of the polyethylene insert)
Other common side effects or reasons for recalls of knee replacement devices include leg lengthening or shortening, decreased range of motion, infection, fracturing of the femur or tibia and tibial subsidence, which is when the implant sinks into softer bone tissue within the tibia.
Five PFC Sigma Knee System Items Recalled
In January 2012, DePuy Orthopaedics voluntarily pulled a number of its custom devices from the market, including components from the PFC Sigma Knee Systems product line.
The FDA warned DePuy that it had failed to seek FDA approval for commercial sales on these items:
PFC Sigma Knee System with titanium components
PFC Sigma Knee System components, sizes 2.5, 7 and 8
PFC Sigma Knee System 30mm – 40mm thick inserts
Femoral heads that include a 14/16 taper
Femoral heads with offsets greater than +12
Gaining FDA approval is a crucial step for manufacturers because, ideally, it ensures the safety of the devices when implanted in patients. In DePuy's product information, the company warns that knee replacement performance can vary depending on the patient's age, weight and level of activity.
FDA Announces Class II Recall for Attune
On June 12, 2015, the FDA issued a recall announcement for Attune Knee Tibial Articulation Surface Instruments.
The FDA alert revealed that a coil known as the Balseal can become damaged and disassociate (come off), giving it the potential to enter the surgical site and be left in the patient if the surgeon is unaware that it detached. The Baseal is a small wire spring coil located on the post feature used in the trialing. Trialing is the range of motion testing to aid in tibial location prior to drilling peg holes.
The recall covered 3,474 units.
Studies Show Complications with High Flex Knee Implants
High-flex knee implants remain controversial, with numerous studies reporting unsatisfactory improvements in range of motion and a higher risk for complications like implant loosening.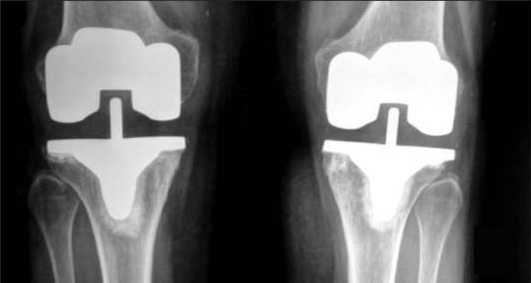 The DePuy PFC Sigma RP-F implant requires surgeons to remove more of the bone – which can lead to complications
Several reports describe complications with DePuy's Sigma knee. As a tradeoff to accommodate a greater range of motion, the DePuy PFC Sigma RP-F knee has design features that require surgeons to remove more of the bone during surgery, which can lead to serious complications. One study comparing the clinical outcomes of patients fitted with the Sigma knee and the LCS Complete knee explains that these Sigma design features result in excessive wear, joint problems, knee instability and the potential for more significant bone loss if revision surgery is required.
In another study evaluating the results of 77 patients given one or more PFC Sigma knees, researchers observed some complications after an average follow-up of about 12 years. Radiographic imaging revealed minor non-progressive bone loss in 10 out of 25 knees observed.
Two revision surgeries were required after 10 years, one for instability and another for polyethylene wear.
Please seek the advice of a medical professional before making health care decisions.
Author
Matt Mauney is a writer and researcher for Drugwatch.com. Before joining the Drugwatch team, he spent 10 years in journalism working for various newspapers and news websites. Matt has a degree in journalism with a double minor in broadcasting and public relations from Georgia Southern University.
---