Vaccine Schedule
The Centers for Disease Control and Prevention (CDC) recommend a vaccination schedule for infants, children, adolescents and adults. The CDC updates its recommendations each year, though not all recommendations change every year. Keep in mind that some vaccines require more than one dose to be effective.

The CDC releases a recommended vaccine schedule each year. Studies have shown vaccines save lives by helping to eradicate vaccine-preventable diseases that can cause permanent disability and death.
The bulk of vaccine recommendations are for infants and school-aged children. But the CDC also recommends certain vaccines, such as the flu shot and shingles vaccine, for adults.
Generally, health officials consider vaccines to be safe and effective, but they are not without risks. Vaccines, just like all medicines and biologics, can cause side effects. Some of these side effects may be severe and/or permanent.
The CDC maintains that serious side effects are rare, and it says the benefits of vaccination outweigh the risks.
Immunization Schedule for Infants and Children Up to Six Years of Age
Because infants and young children are especially vulnerable to diseases, they should receive all recommended vaccine doses. The CDC recommends infants and children up to six years old receive vaccines to protect against 14 diseases.
CDC recommends children zero to six years of age receive the following vaccines:
Hepatitis B
Rotavirus (stomach flu)
Hib
Pneumococcal (PCV13)
Polio
MMR (measles, mumps, rubella)
Varicella (chickenpox)
Hepatitis A
Influenza (Flu)
DTaP (diphtheria, tetanus, whooping cough)
Baby's First Vaccine: Hepatitis B Vaccine Schedule
The first vaccine a baby receives is Hepatitis B. They receive the first dose at birth, their second shot between one and two months and their third at 6–18 months. Many of the vaccines that babies receive include multiple doses spaced out over a few months.
Other vaccines babies receive at two months include:
Polio
Pneumococcal (PCV13)
DTaP (Diphtheria, Tetanus, Pertussis)
Hib (Haemophilus influenzae type b)
Rotavirus
Vaccine Safety Fact
Some babies may be allergic to DTaP or PCV13 vaccines. Talk to your doctor before getting another dose of these vaccines if your baby develops a nervous system disease, doesn't stop crying for three hours or more, has a high fever or suffers a seizure.
Measles, Mumps, Rubella (MMR) Vaccine Schedule for Children
Children start their two-dose series of MMR vaccine at 12–15 months. They should receive their second dose at 4–6 years.
Hepatitis A Vaccine Schedule
Children should receive the first dose of Hepatitis A vaccine at 12 months, and the second dose is given six months after the first dose. Children younger than 18 years old can receive Hepatitis A vaccine as long as the two doses are six months apart.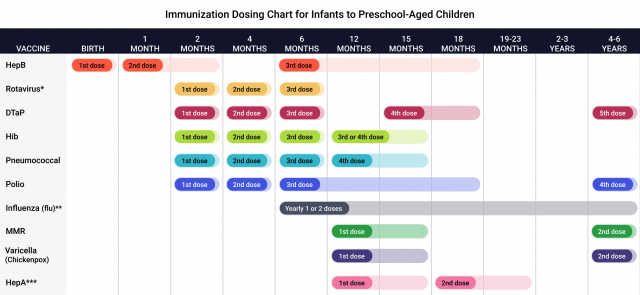 *Rotavirus vaccine — Children should receive a 2-dose series at 2 and 4 months or a 3-dose series at 2, 4 and 6 months, depending on the vaccine used.
**Flu vaccine — One or two doses can be given annually to children 6 months or older.
***Hepatitis A Vaccine — Children should receive a 2-dose series, shots separated by at least six months, starting at 12 months of age
Alternative Vaccine Schedule
Some parents may ask for an alternative vaccine schedule that allows children to skip doses because the number of shots a child receives can be overwhelming. They may be concerned that the number of vaccines may harm their child.
However, alternative vaccine schedules that skip doses can do more harm than good.
The CDC designed the immunization schedule in accordance with recommendations from public health experts and the Advisory Committee on Immunization Practices (ACIP) to protect children from serious illnesses. Pediatricians and family physicians have also approved the schedule.
"Children do not receive any known benefits from following schedules that spread out or delay vaccines."
Some doctors or parents have developed alternative vaccine schedules, but the American Academy of Pediatrics and the CDC do not support them.
Vaccine Schedule for Children and Adolescents Aged 7 to 18
A child receives the majority of their vaccines prior to age seven. But the CDC still recommends four vaccines for children aged 7 to 18. One of them is the HPV vaccine, a vaccine that protects children against several types of cancer caused by the HPV virus.
HPV Vaccine Schedule
One of the key vaccines recommended by the CDC for older children is the HPV vaccine. It protects children against the human papillomavirus, a virus that can cause cervical, anal and throat cancers, among others.
Children aged 9–14 receive two doses. They should receive their second dose at least 5 months after their first.
Children aged 15 or older receive three doses. They must wait at least four weeks in between dose one and two and 12 weeks in between dose two and three.
Tdap Vaccine Schedule
Children younger than seven years old receive DTaP vaccines, but children aged seven or older receive a variation called Tdap. It protects against tetanus, diphtheria and acellular pertussis.
If a child who is seven or older misses a DTaP vaccine, he or she can catch up with Tdap. Otherwise, the CDC recommends one dose of Tdap at age 11 to 12.
Shots for School
The CDC does not mandate vaccines. Instead, states have established their own vaccination laws for school-age children. Children may be unable to enroll in school prior to receiving certain vaccines.
For more information on required vaccinations by state, please visit the Immunization Action Coalition website.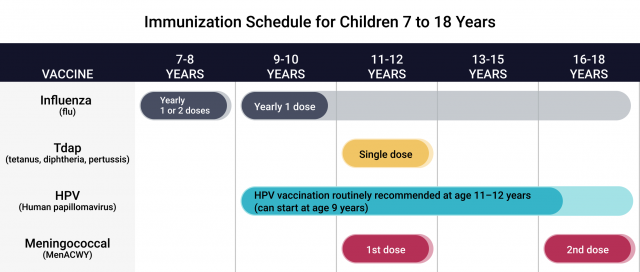 Catch-Up Vaccine Schedule for Children Aged 7 to 18 Years
If a child misses any regular doses of vaccines, the CDC recommends a catch-up immunization schedule. The catch-up vaccine schedule is also useful for children who start vaccination late.
For more detailed catch-up schedules for children younger than seven, please see the CDC's catch-up vaccine schedule.
Catch-Up Immunization Schedule: 7 to 18 Years
Vaccine
Minimum Age to be Given Dose 1
Minimum Interval Between Dose 1 and Dose 2
Minimum Interval Between Dose 2 and Dose 3
Minimum Interval Between Dose 3 and Dose 4
Meningococcal
Not applicable
8 weeks
Tetanus, diphtheria; tetanus, diphtheria and acellular pertussis (Tdap)
7 years
4 weeks
If first dose of DTaP/DT given before 1st birthday: 4 weeks

If first dose of DTaP/DT or Tdap/Td given at or after 1st birthday: 6 months (as final dose)
If first dose of DTaP/DT given before 1st birthday: 6 months
Human papillomavirus (HPV)
9 years
Number of doses and minimum intervals between each dose dependent on age at initial vaccination

If first dose was given at age 9-14 years: 2-dose series/minimum interval of 5 months

If first dose was given at age 15 or older: 3-dose series/minimum interval of 4 weeks between 1st and 2nd doses
If first dose was given at age 15 or older: 3-dose series/minimum interval of 12 weeks between 2nd and 3rd doses or 5 months between 1st and 3rd doses
Hepatitis A
Not applicable
6 months
Hepatitis B
Not applicable
4 weeks
8 weeks and at least 16 weeks after 1st dose
Polio
Not applicable
4 weeks
6 months
If third dose was given at age 4 or older and at least 6 months after second dose, then fourth dose is not necessary.
Measles, mumps, rubella (MMR)
Not applicable
4 weeks
Varicella (Chickenpox)
Not applicable
If younger than age 13: 3 months
If age 13 or older: 4 weeks
Vaccination Schedule for Adults 19 or Older
While people receive most of their vaccines as a child, the CDC still recommends a vaccine schedule for adults.
Adult Immunization Schedule by Age Group
The CDC notes contraindications — conditions that increase the risk of adverse reactions — and precautions that should be considered before vaccinations are administered to adults. Additionally, the CDC identifies special populations, groups at a higher risk for vaccine-preventable diseases, in its adult immunization schedule. Special populations include, for example, pregnant women, people with allergies or chronic diseases, and people whose lifestyles put them at risk for disease.
Influenza

One dose annually for all ages

COVID-19

Immunization annually for all ages

Tdap or Td

One dose Tdap and then Td or Tdap booster every 10 years

MMR

One or two doses depending on indication (people born 1957 or later)

Varicella (Chickenpox)

Two doses for people born in 1980 or later

Zoster (Shingles)

CDC prefers the Shingrix (RZV) vaccine at two doses for adults 50 or older or one dose Zostavax (ZVL) for adults 60 or older.

HPV

Two or three doses for all people aged 19 to 26 and for some people aged 27 through 45

Pneumococcal (PCV13 and PPSV23)

CDC recommends one dose of PPSV23 for all adults 65 or older and one dose of PCV13 in some adults 65 or older, or one dose of PCV13 and/or one or two doses of PPSV23 in younger adults with other indications.

Hepatitis A, Hepatitis B, Meningococcal, Hib

CDC recommends one to three doses depending on vaccine and indication for some adults.
Please seek the advice of a medical professional before making health care decisions.
Share This Page:
How can we improve this page?
Thank You for Your Feedback
We appreciate your feedback. One of our content team members will be in touch with you soon.
We appreciate your feedback. One of our content team members will be in touch with you soon.
Who Am I Calling?
Calling this number connects you with a Drugwatch representative. We will direct you to one of our trusted legal partners for a free case review.
Drugwatch's trusted legal partners support the organization's mission to keep people safe from dangerous drugs and medical devices. For more information, visit our partners page.