FDA Bans E-Cigs to Minors, Tightening Tobacco Regulations
Fact-Checked
Editors carefully fact-check all Drugwatch content for accuracy and quality.
Drugwatch has a stringent fact-checking process. It starts with our strict sourcing guidelines.
We only gather information from credible sources. This includes peer-reviewed medical journals, reputable media outlets, government reports, court records and interviews with qualified experts.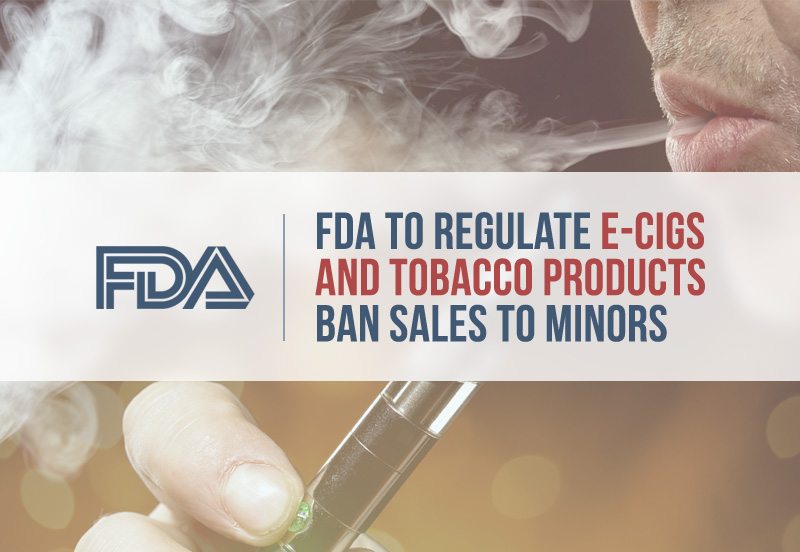 The U.S. Food and Drug Administration announced new rules that extend federal authority to e-cigarettes. The largely unregulated nicotine delivery devices spawned a multi-billion dollar industry with mostly unknown risks to consumers.
The new rules will affect 40 million Americans who smoke and 9 million who vape. The largest e-cig demographic is younger adults, 18-24 years old. In contrast, only 4 percent of people over 65 have tried the product, according to data from the Centers for Disease Control and Prevention. Electronic cigarettes, also called e-cigarettes or e-cigs, allow users to inhale aerosol laced with nicotine.
It took about two years to get the FDA regulations passed, and the agency said they help implement the Family Smoking Prevention and Tobacco Control Act of 2009. According to the FDA's statement, the rule "allows the FDA to improve public health and protect future generations from the dangers of tobacco use through a variety of steps, including restricting the sale of these tobacco products to minors nationwide."
A recent survey supported by the FDA and the Centers for Disease Control and Prevention shows current e-cigarette use among high school students increased a whopping 900 percent from 2011 to 2015. In 2015, 3 million middle and high school students were current e-cigarette users. Data also showed an increase in hookah use.
Under the new regulations that take effect in 90 days, the FDA banned e-cigarettes sales in person and online to minors and will also photo identification as proof of age. This includes prohibiting the sale of tobacco covered products in vending machines in places where minor may be present and distributing free samples.
In addition to the rules on sales, manufacturers will have to submit products for approval — including providing a list of ingredients and manufacturing processes. Packages will carry a warning that reads, "WARNING: This product contains nicotine. Nicotine is an addictive chemical."
Suffering from lung problems or nicotine addiction after e-cigarette use?
New Rule Will 'Protect Our Nation's Youth'
Prior to the rule, no federal law prohibited the sale of e-cigs, cigars or hookah tobacco to people under 18.
"We have more to do to help protect Americans from the dangers of tobacco and nicotine, especially our youth. As cigarette smoking among those under 18 has fallen, the use of other nicotine products, including e-cigarettes, has taken a drastic leap. All of this is creating a new generation of Americans who are at risk of addiction," said HHS Secretary Sylvia Burwell in the FDA's press release.
The FDA previously attempted to ban the sale of e-cigarettes after a 2009 study showed levels of toxic and cancer-causing chemicals in samples.
The massive 499-page document even cracks down on companies that market their products as "light" or "mild" — a change that also affects cigar makers. The FDA's announcement follows a ruling made by Europe's highest court allowing the European Union to restrict e-cig sales.
"At last, the Food and Drug Administration will have basic authority to make science-based decision that will protect our nation's youth and the public health from all tobacco products, including e-cigarettes, cigars and hookah," said Harold P. Wimmer, president of the American Lung Association said in a statement to The New York Times.
A 'Grim Day' in Tobacco Harm Reduction
While some herald the new rule as a move to protect consumers, the industry is not in favor of regulations. Some say it is an attack on small businesses.
"This is going to be a grim day in the history of tobacco-harm reduction," Greg Conley, president of the American Vaping Association, an industry-funded advocacy group told the Wall Street Journal. "It will be a day where thousands of small businesses will be contemplating whether they will continue to stay in business and employ people."
The FDA puts the cost at around $300,000 to prepare and file an application, according to Forbes. Though others say it could more realistically be in the millions. The approval process could cost anywhere from $2 million to $10,000 per item, regulatory consulting company SciLucent LLC told the WSJ.
The true impact on public health and the tobacco industry may not be felt until the regulations are in effect. The agency also discussed provision for limiting flavored e-cigarette products that some say appeal to kids, Matthew Myers, president of Campaign for Tobacco-Free Kids told NYT.
"The unfortunate reality is we don't really know what's going to happen on the market until we see how FDA interprets that provision," Myers said.
Share This Page:
How can we improve this page?
Thank You for Your Feedback
We appreciate your feedback. One of our content team members will be in touch with you soon.
We appreciate your feedback. One of our content team members will be in touch with you soon.