Report: Women More Affected by Dangerous Drugs and Devices
Fact-Checked
Editors carefully fact-check all Drugwatch content for accuracy and quality.
Drugwatch has a stringent fact-checking process. It starts with our strict sourcing guidelines.
We only gather information from credible sources. This includes peer-reviewed medical journals, reputable media outlets, government reports, court records and interviews with qualified experts.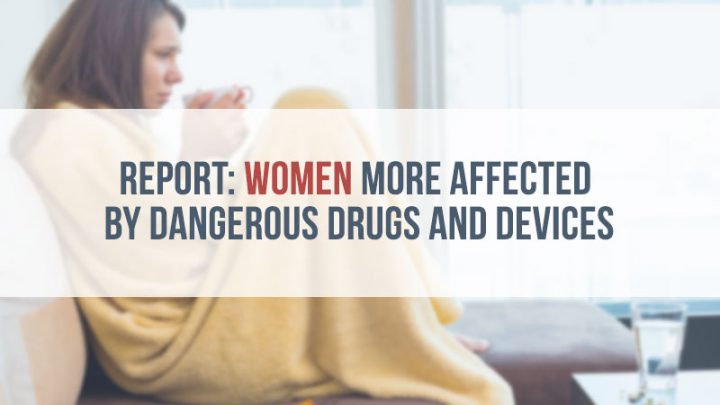 In the last 150 years, women have been sold harsh chemical solutions they were told would make them clean and attractive to their husbands. They were given addictive pain killers and tranquilizers, including one known as "Mother's Little Helper," to treat their "hysteria" and nervous exhaustion. They were prescribed contraceptives that sometimes killed them.
These are just some of the stories recounted in a new report that asserts that dangerous drugs and devices do disproportionate damage to women. The report chronicles decades of deadly medical products that have killed and maimed thousands of women and their offspring.
Examples include the Essure birth control system, a permanent contraceptive made up of two coils implanted into the fallopian tubes. Thousands of women say they suffered life-changing injuries from the device. And there are power morcellators, instruments used in laparoscopic surgery to mince the uterus allowing for its removal. But the FDA says the devices are spreading a potentially deadly and aggressive form of cancer in thousands of women.
Transvaginal mesh, is an implant used to treat pelvic organ prolapse and stress urinary incontinence. But this device can fail, causing pain, bleeding and infection, and can be impossible to completely remove. And some hip replacements have malfunctioned, shedding metallic debris, and causing injures such as fractures, dislocations, nerve damage and infections.
Women Disproportionately Targeted, authors say
The American Association for Justice (AAJ), an organization that supports trial attorneys and aims to promote a fair and effective justice system, says its report shows that some drugs and devices tear women apart from the inside out, and demonstrates how the civil court system has helped enhance safety when regulations and other safeguards don't.
The 44-page report, entitled From Accutane to Zonite: A History of Dangerous Drugs & Devices Marketed to Women, details bogus and harmful medical treatments sold to women, dating to the late 1800s when women were diagnosed with hysteria and treated with morphine. Then, in the early 1900s, women were urged to use Lysol as a douche and contraceptive.
"From snake oil 'hormone treatments' to deadly contraceptive devices, the last 150 years have been littered with dangerous drugs and devices that disproportionately target women," the report says. The products were linked to the idea that women were "physiologically inferior to men," the report says, and they were "enslaved and tortured" by the functioning of their reproductive systems, suffering through menstruation and menopause.
Compounding the problem, women are more physically vulnerable to the deadly effects of these products because they take more medications and react different than men, suffering adverse effects more frequently, the report says. But before 1993, the law didn't require human subject research to include women.
AAJ President: End 'Silent Suffering'
The report asserts that women are still underrepresented and excluded in studies, and the U.S. Food and Drug Administration doesn't mandate companies to determine which doses of medications should be given to women, compared to men.
"This timely report sheds light on the disturbing ways women have been preyed upon by corporations in the name of profit," Julie Braman Kane, President of AAJ, said in a statement.  "More than a century of gender inequality in research and unhindered corporate greed continue to put women at risk of exposure to dangerous drugs and medical devices.  We must protect women's access to justice to ensure they can end their silent suffering and hold corporations accountable when corporations refuse to put Americans' safety first."
Referring to legislation pending in Congress that would make it harder to sue healthcare providers, Kane said, "Congress should be ashamed of masquerading corporate handouts as patient protections.  This vengeful legislation severs Americans' access to the courts, impedes state laws, and protects only those drug and device manufacturers and health care providers that cause our loved ones harm."
The bill, named "Protecting Access to Care Act," would provide immunity to providers who prescribe or dispense drugs and devices that received approval from the Food & Drug Administration. The bill would also create a 3-year-statute of limitations for filing lawsuits alleging negligent health care caused injury or death and would impose a $250,000 limit on court awards for "noneconomic damages" such as pain and suffering.
Justice at Risk, Report says
According to The Washington Post, the sponsor of the proposed law, U.S. Rep. Steve King (R-Iowa) says it is necessary to "preserve fiscal sanity and federal health policy…As more companies pay in healthcare costs, the less they can pay in wages."
But the AAJ says the legislation would deny injured patients access to justice even if the provider's actions were intentionally harmful. According to The Washington Post report, the cap would apply to all kinds of malpractice cases, including sexual assault by doctors and abuse and neglect in nursing homes.
The new AAJ report suggests the bill, if enacted, would particularly harm women who have benefited from litigation that has exposed internal corporate communications demonstrating that some companies have worked to suppress evidence of potential serious and even fatal side effects of drugs and devices marketed to women.
The report details more than a dozen examples of medical products aimed at women that had devastating consequences. Examples include marketing bleach as a douche and Thalidomide, an anti-morning sickness drug given to pregnant women that caused thousands of babies to be born with serious birth defects.
Birth-Control Devices Kill, Maimed
It also gives several examples of birth-control devices — from different intrauterine devices to hormonal treatments — that killed and maimed women.
One such device was the Dalkon Shield, introduced in 1971 by A.H. Robins, which knew at the time that the device was seriously flawed. The IUD had prongs to embed in the walls of the uterus, and strengthened string that would wick bacteria, pulling it into the reproductive organ.
According to the report, A.H. Robins was warned about the potential dangers of the string as early as 17 days after buying the rights to the shield from its inventor, but they didn't respond to the alerts.
In three years, the company sold more than 2 million Dalkon Shields. But even after doctors notified the company of problems, the company "deliberately did not investigate many such warnings, and consistently understated the number of cases it was aware of," the report states.
When all was said and done, at least 17 women died out of more than 200,000 who suffered pelvic infections, miscarriages, stillbirths and infertility, according to the report.  Awash in negative news coverage and under pressure from regulators, the company stopped selling the device in the U.S. in 1974, but continued selling it overseas, the report says.
The report also recounts the toxic-shock syndrome scandal of the 1970s to 1980 when women were sickened and killed by an infection caused by super-absorbent tampons.
The report also details efforts to provide legal protections for corporations, preventing them from being held accountable or having to provide compensation to victims of dangerous products.
Share This Page:
How can we improve this page?
Thank You for Your Feedback
We appreciate your feedback. One of our content team members will be in touch with you soon.
We appreciate your feedback. One of our content team members will be in touch with you soon.