9 Takeaways from the New FDA Mobile App
Fact-Checked
Editors carefully fact-check all Drugwatch content for accuracy and quality.
Drugwatch has a stringent fact-checking process. It starts with our strict sourcing guidelines.
We only gather information from credible sources. This includes peer-reviewed medical journals, reputable media outlets, government reports, court records and interviews with qualified experts.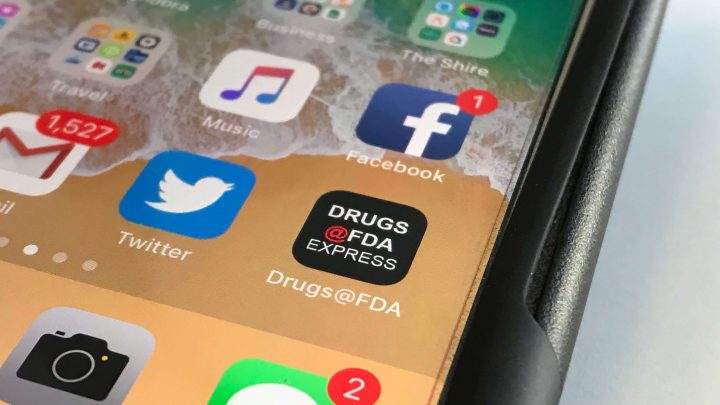 The FDA bills its new mobile app as empowering "patients and providers." The agency says it can be a valuable a tool for treatment decisions. The Drugs@FDA Express app lets people search for information on drugs the FDA has approved. It is now available for Android and Apple mobile devices.
"Consumers are embracing digital health technologies to inform everyday decisions," FDA Commissioner Scott Gottlieb said in a release. "From fitness trackers to mobile applications tracking insulin administration, these digital tools can empower consumers with a wealth of valuable health information."
The FDA's press release sounds an optimistic tone. But its new app is not as revolutionary as a fitness tracker. It can give you a mental workout, though. It puts a lot of information in people's hands. And it can be challenging to find what you are looking for.
Here are the nine takeaways that struck us while trying out the Drugs@FDA Express app.
1. Informative but Clunky
The biggest takeaway for consumers is that you can research prescription drug labels. These show all of a drug's warnings and precautions. It also tells you who should not take the drug. And it includes drug interactions.
But it can be tricky.
It took five clicks to get to the actual label for Nexium. It took some time, but we ended up with all 38 pages of the package insert. It also takes time to wade through all the information. But the insert includes all warnings, cautions and drug interactions.
2. You Still have to do a Lot of the Work Yourself
One of the great things about apps is they do things for you. Not so with Drugs@FDA Express. There is a lot of information here, but you have to work for it. And there is little information stored in the app itself.
The Drugs@FDA Express app connects to the FDA's website. So you jump from the app to a webpage in your mobile browser. You then have to close or minimize the page to get back to the app.
It's clunky, but it is more focused than most Google searches for information on a specific drug.
3. App Comes with Pages of Instructions
The Frequently Asked Questions (FAQs) link on the front screen is your friend. It can walk you through a lot of the app.
But answers you get may not apply to the app. The FAQs are on for the Drugs@FDA website, not the app. So you may have to leave the app and use the website.
4. You'll Learn to Speak Bureaucrat
The app has a handy glossary to decode bureaucratic terms and agency abbreviations. Have no idea what an NME is? Want to know the difference between a drug and a biologic? There's a short and sweet set of definitions for some of the most-used FDA terms.
That can be helpful in understanding a lot of the information from the app. Approval letters and labels come loaded with technical terms.
5. The FDA Approves a Lot of Drugs
The app lets you see a list of every drug the FDA approved in the previous seven days. In the seven days before this review, that added up to 144 items. Each version or dosage of a drug comes with its own approval link. For instance, there were eight versions of ampicillin sodium listed. Each one was a different size dose.
6. Information Updates: Fast, Frequent
The FDA updates information on the app daily. The agency waits 24 hours before posting any new approvals or updates. But it may update the app several times a day as waiting periods end.
7. Search Reveals Active Ingredients, Including Generics
The active ingredient for a drug is also its generic name. Enter the generic name for Prilosec (omeprazole), and the app shows you 20 different drugs.
This feature can be helpful if you want to know whether a generic version is available. If one is available, the generic name comes up in that list. When we clicked on the generic name, the app gave us links to 19 generic versions of Prilosec.
8. No Dietary Supplements Are Listed
Do not expect to find information on vitamins, minerals, herbals and botanicals. They may look like pills or tablets but they are not drugs. Dietary supplements do not need FDA approval. So the app does not include information on them.
That can be a gaping hole in consumer information. The government reports the majority of American adults take a daily dietary supplement.
9. Consumer Experience Disappointing
The Drugs@FDA Express app could do a lot more. The app takes you to a document dump of official FDA documents. Finding an answer in dozens of pages may be frustrating for some consumers. Raw FDA documents are the star of this app. But it does not give out the bite-sized, consumer information you might expect from an app.
In short, Drugs@FDA Express appears to be an app created by policy wonks for pharma geeks. Its focus is on the FDA's process instead of user experience. But if you don't mind plowing through pages of documents, you'll find what you are looking for with this app.
The Drugs@FDA Express app is available at Google Play for Android and at the App Store for Apple.
Share This Page:
How can we improve this page?
Thank You for Your Feedback
We appreciate your feedback. One of our content team members will be in touch with you soon.
We appreciate your feedback. One of our content team members will be in touch with you soon.