Big Vapor's Kid-Friendly Marketing Tactics Stink
Fact-Checked
Editors carefully fact-check all Drugwatch content for accuracy and quality.
Drugwatch has a stringent fact-checking process. It starts with our strict sourcing guidelines.
We only gather information from credible sources. This includes peer-reviewed medical journals, reputable media outlets, government reports, court records and interviews with qualified experts.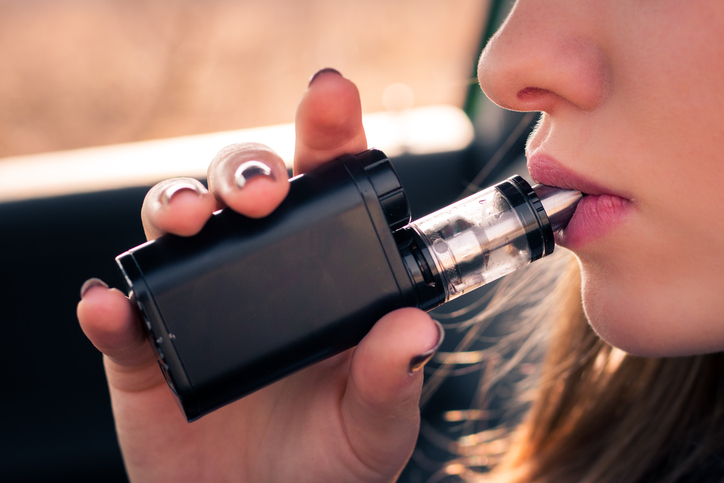 As a former smoker, I know what it's like to get that look. That eye-bulging glare from someone gagging on my fog of toxins.
Twenty years later, I'm the one shooting the evil eye at smokers.
I'll hold my breath as long as possible in hopes of avoiding even the slightest whiff of the carcinogenic clouds swirling outside my downtown Orlando office building.
The stench is impossible to avoid. But lately I've noticed something new in the air. The smoke clouds are thicker. They billow. They linger. They smell pretty cool.
Tangy mango. Cotton candy. Apple fritters.
E-cigarettes have reinvented smoking. Vaping is tasty.
Suddenly, I found myself making a slight detour in my stride when I saw a dude huffing on a pipe. What's he vaping? Cosmic Fog? Halo E? Just curious. I've never tried it.
Then, I caught wind of the FDA crackdown.
The U.S. Food and Drug Administration — an agency I monitor at Drugwatch — is going after the e-cigarette industry. And for good reason.
Nicotine is in play. Big Vapor is targeting kids.
The FDA and the Federal Trade Commission (FTC) recently issued warning letters to companies for hawking adult-geared products in kid-friendly packaging. The agencies issued 17 warnings as of May 10, 2018.
Officials illustrated the youth-oriented marketing focus with side-by-side comparisons.
V'Nilla Cookies & Milk e-liquids look a lot like Nabisco Nilla Wafers or Golden Oreos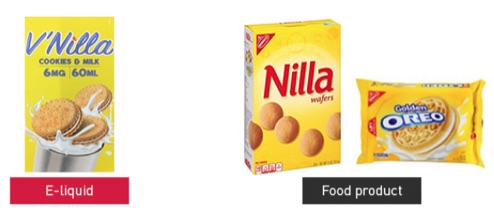 ---
Twirly Pop juice for vaping has a lollypop look.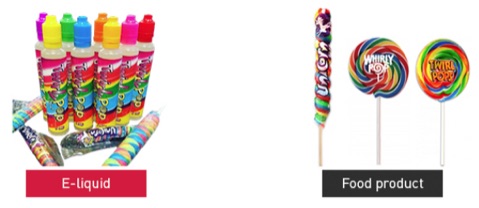 ---
Vape Heads Sour Smurf Sauce is almost identical to Warheads brand sour candy.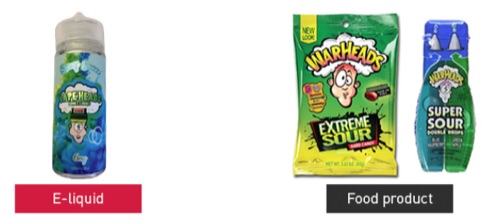 ---
Unicorn Cakes has a My Little Pony vibe.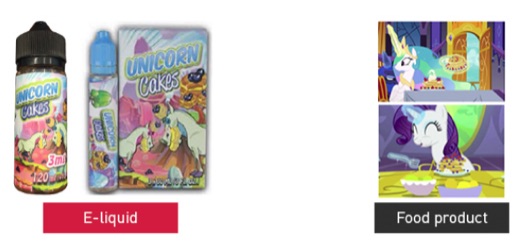 ---
Frank 'N Vape resembles the strawberry-flavored Franken Berry monster cereal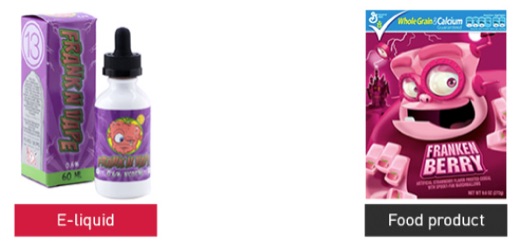 ---
"Looking at these side-to-side comparisons is alarming," FDA Commissioner Scott Gottlieb said in a May 1, 2018 statement. "It is easy to see how a child could confuse these e-liquid products for something they believe they've consumed before – like a juice box."
E-Cigs 'Not Without Health Risks'
The consequences could be fatal. Exposure to even a small amount of nicotine-infused e-liquid can be toxic to a child. Liquid nicotine injuries are rising as vaping gains in popularity.
National Poison Data System statistics show 8,269 e-cigarette and liquid-nicotine exposures among children younger than 6 between January 2012 and April 2017.
I'm glad federal regulators are cracking down. But we need to do more.
We've already seen what happens with nicotine products. Smoking kills. More than 480,000 people die each year in the U.S. because of smoking.
There's a mountain of evidence about the health risks. And while e-cigarettes are different products, there's no evidence vaping is good for you.
E-cigs like JUUL — the most popular brand — use batteries to heat up liquids, producing an aerosol mist or vapor.
The liquids include such substances as propylene glycol, glycerol, benzoic acid, natural oils, extracts and flavors. Researchers have found formaldehyde, a carcinogen, in e-cig vapor clouds.
We're dealing with unknown health risks.
The biggest study on e-cigs so far concluded that while the devices "are not without health risks, they are likely to be far less harmful than conventional cigarettes."
But long-term studies are needed to better assess health risks, the National Academies of Sciences, Engineering, and Medicine said in January 2018.
Its report, mandated by Congress, also found "substantial evidence that e-cigarette use increases the risk of transitioning to smoking conventional cigarettes."
No Need for Another Dangerous Consumer Product
We don't need to study e-cigs. We don't need to regulate them. We need to ban them outright. Period.
We don't need the FDA chasing down Big Vapor violators. There are no thorny Constitutional issues here. You don't have a right to vapor.
The FDA needs to focus on ensuring the safety of prescription drugs, medical devices, food and consumer products. We don't need another dangerous item on the market.
Congress needs to step in now and ban vaping in the U.S. before it becomes yet another public health crisis.
But that's unlikely. So take the next best step. Lobby your city and state representatives to ban vaping locally. It's a growing movement.
New York City enacted a vaping ban for workplaces and other indoor locations in November 2017. That came after a similar move in California in June 2016.
Florida voters may be asked to add vaping to the state's indoor ban on smoking during a Nov. 6, 2018 referendum.
More than 2 million middle and high school students acknowledged in a 2016 study that they used e-cigarettes. One of their top reasons for vaping: flavor availability.
Making tobacco taste great doesn't make it safer. It still stinks.
Share This Page:
How can we improve this page?
Thank You for Your Feedback
We appreciate your feedback. One of our content team members will be in touch with you soon.
We appreciate your feedback. One of our content team members will be in touch with you soon.