Back-to-School Vaccine Guide
Fact-Checked
Editors carefully fact-check all Drugwatch content for accuracy and quality.
Drugwatch has a stringent fact-checking process. It starts with our strict sourcing guidelines.
We only gather information from credible sources. This includes peer-reviewed medical journals, reputable media outlets, government reports, court records and interviews with qualified experts.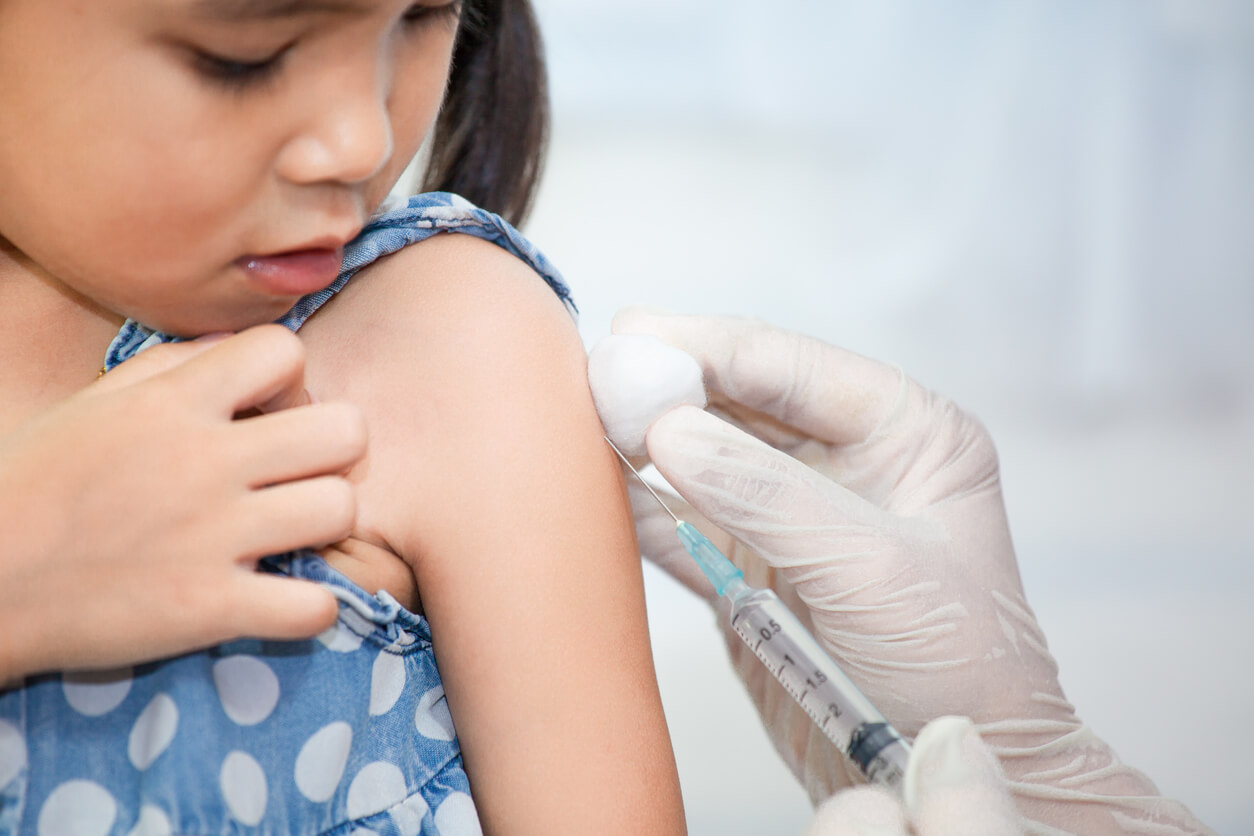 August is back-to-school season. It's also National Immunization Awareness Month. Parents shopping for pencils and notebooks may also want to add vaccinations to their checklist.
Schools put children in close contact. That lets germs and viruses spread to a lot of kids in a short time.
"In a matter of weeks, we can go from no cases to dozens of cases," Dr. Mark Sawyer with the American Academy of Pediatrics told Drugwatch.
Childhood vaccinations can protect kids from serious, contagious diseases. They can also protect parents from expensive medical bills and lost time at work.
"In the cases of measles, pretty much every outbreak we've seen in a school is related to under-immunized children," said Sawyer, who is a professor of Clinical Pediatrics at the University of California San Diego School of Medicine. "So it does make a difference whether kids get immunized."
States tightened immunization requirements following a serious measles outbreak in 1989 and 1990. California experienced 16,400 cases. The outbreak sent 3,400 people to the hospital. At least 75 people died.
There are lots of resources to help parents make sure their kids' shots are up-to-date. But it can be hard to decide which to turn to.
Drugwatch spoke with the Centers for Disease Control and Prevention and other expert organizations to find out everything parents need to know about vaccines needed for school.
What Vaccines Are Required for School in Your State?
Different states have different vaccination requirements. Most state requirements mirror CDC recommendations.
For example, the CDC recommends the chickenpox vaccine for all children before they are 18 months old. It recommends a second dose between ages 4 and 6.
All 50 states and the District of Columbia require the vaccine for childcare and elementary school, while all but nine states require it for middle school and high school.
The Immunization Action Coalition has guides showing state rules for vaccines.
All states allow medical exemptions. These are for medical conditions that prevent a child from receiving vaccines.
Some states allow different exemptions from vaccines. The coalition also provides a list of other exemptions permitted in each state.
Number of States with Childhood Vaccination Mandates (Grades K-12)
Vaccine
Number of States
Chickenpox (varicella)
50 + District of Columbia
Hepatitis A
23 + District of Columbia
Hepatitis B
49 + District of Columbia
DTaP (Diptheria, Tetnus and Pertussis)
50 + District of Columbia for kindergarten & elementary

49 + District of Columbia for secondary school

Hib (Haemophilus influenzae type b)
50 + District of Columbia
HPV (human papillomavirus)
2 + District of Columbia (Rhode Island requires it for both males and females. Virginia and DC require it for females only.)
Meningococcal ACWY
29 for elementary and secondary schools
MMR (Mumps, measles and rubella)
50 + District of Columbia
Polio
50 + District of Columbia
Source: Immunization Action Coalition
The CDC provides a guide to help children get back on schedule if they are missing any vaccinations.
"If your children have missed any vaccines, your health care professional can use the catch-up immunization schedule to get them back on track," Richard Benson, with the CDC's National Center for Immunization and Respiratory Diseases, told Drugwatch.
CDC: Put Flu Shot on Your Child's Back-to-School List
The 2017-2018 flu season was one of the worst in years. It took an especially heavy toll on children.
The CDC reported 178 flu-related deaths among children through July 2018. Four in five of those deaths were children who did not receive a flu vaccine.
"Children, especially those younger than 5 years, are at higher risk for serious flu-related complications," Benson said. "The flu vaccine offers the best defense against getting the flu."
The CDC recommends all children and preteens get the flu vaccine every year. Children from 6 months to 8 years old need two doses every year, the CDC says.
There's a 28-day wait between doses. But the CDC recommends kids get both before the end of October.
Don't Forget Vaccinations for Older Kids, Teens
The flu shot is just one of four vaccines the CDC recommends for preteens. The other three protect against HPV, meningitis, and diphtheria, tetanus and whooping cough.
The flu vaccine for the upcoming flu season is now available. The American Academy of Pediatrics recommends the shot over the nasal spray version for the 2018-2019 season.
The HPV vacine immunizes against the human papillomavirus. HPV is the most common sexually transmitted disease in the U.S. More than 79 million people have HPV. It can cause cervical, oropharyngeal and other cancers.
Most children get the DTaP vaccine when they're younger. But they need a Tdap booster shot by their preteen years to keep up the protection. Tdap combines the tetanus vaccine with vaccines for diphtheria and whooping cough.
The meningitis vaccine protects against potentially fatal meningitis and blood infections.
Back-to-School Vaccines Can Benefit the Whole Family
Vaccines can prevent kids from bringing a contagious disease home from school. But they can also save families time and money if immunization prevents a disease.
"Most parents don't realize that the risk is not just illness, but an extended absence from school and, for the parent, from work," Karen Ernst of the non-profit Voices for Vaccines told Drugwatch.
She said it can take three weeks for children to recover from some of the diseases vaccines can prevent. It can also be more expensive to treat a disease than to prevent it.
A July 2018 study in JAMA Pediatrics looked at the cost of a 2013 measles outbreak in New York City. The study showed the average medical expenses to treat someone with measles was $6,800.
The CDC estimates a single MMR vaccine costs about $71 in the private sector. It's as low as $21 through CDC vaccination programs.
"It is always better to prevent a disease than to treat it after it occurs," Benson said.
Help Paying for Back-to-School Vaccinations
Most health insurance covers the cost of vaccines. But there is help for people who don't have insurance or don't have immunization coverage in their plan.
Families who can't afford vaccines may get them for free. Their children may qualify for the Vaccines for Children (VCF) program.
Many family doctors and most pediatricians take part in the federally funded program. County and city health departments may also help parents find free vaccinations.
Are Vaccines Safe?
People with certain allergies or medical conditions cannot receive vaccinations. But side effects in others are extremely rare.
Sawyer said all recommended vaccines have been carefully evaluated. Researchers have compared the risk of each vaccine to the risk of the disease it addresses.
"In every case for which there is a vaccine, the risk-benefit clearly favors getting vaccinated," said Sawyer, who is also director of pediatric residency at San Diego's Rady Children's Hospital.
How Effective Are Vaccines?
The CDC looked at vaccines for children between 1994 and 2016. It estimated vaccines prevented 381 million illnesses and 855,000 deaths.
"These diseases are still out there and if we let our guard down, children will be vulnerable to these infections," Sawyer said.
Ernst says parents may have forgotten how terrible these diseases were. She says learning about them and their prevention can be an important history lesson for the whole family.
"And if everyone vaccinates," she said, "we can keep it a lesson in history rather than a hard life lesson.
Share This Page:
How can we improve this page?
Thank You for Your Feedback
We appreciate your feedback. One of our content team members will be in touch with you soon.
We appreciate your feedback. One of our content team members will be in touch with you soon.