Boehringer Ingelheim heavily marketed Pradaxa as safe and effective, so doctors wrote millions of prescriptions for the new blood thinner after the U.S. Food and Drug Administration (FDA) approved it in October 2010. In 2011, Boehringer spent $464 million to promote Pradaxa through direct-to-consumer advertising and other means of marketing.
One of the drug's key selling points was its convenience. Boehringer Ingelheim stressed that Pradaxa did not require blood tests or dietary restrictions unlike warfarin, an older treatment Pradaxa was intended to replace.
fact
The company touted Pradaxa as a "one-size-fits-all" drug that did not require doctor check-ups to adjust dosage.
Company documents made public in 2014 showed that Boehringer Ingelheim employees proposed changing and even doing away with an internal research paper because they worried it would lead some to determine that patients on Pradaxa would benefit from taking blood tests, which would take away from the drug's appeal.
In 2011, more than 540 patients lost their lives after using Pradaxa, and thousands of other people reported suffering from serious side effects. The number of Pradaxa adverse event reports surpassed those of all other monitored drugs for the year. Emergency room doctors and trauma surgeons began to voice concerns because patients were rushed to the hospital with life-threatening bleeding that could not be easily reversed. Even before Pradaxa hit the market, the medical community widely recognized the bleeding risk associated with blood thinners, and experts have criticized the fact that Pradaxa was sold for five years without a remedy to stop Pradaxa's blood-thinning effects (The FDA first approved Praxbind, a fast-acting Pradaxa antidote, in October 2015.).
4,000+ Pradaxa Bleeding Lawsuits
More than 4,000 people who suffered damaging side effects from Pradaxa – including gastrointestinal, rectal and brain bleeding – filed lawsuits against Boehringer Ingelheim. Some people filed Pradaxa lawsuits because they didn't want other families to endure the same suffering they've experienced. Others filed lawsuits because it is the only way to recoup money lost from hospital expenses, lost wages and, in the worst cases, funeral costs.
The lawsuits claim Boehringer Ingelheim misled patients and their doctors about Pradaxa's risk and about its benefits compared to warfarin. Plaintiffs allege Boehringer Ingelheim willfully endangered the public through its use of deceptive marketing practices, failure to disclose risks and failure to provide adequate treatment methods for patients who experience severe bleeding events.
In addition, lawsuits claim that Pradaxa's manufacturer did not adequately label the drug. According to lawsuits, original labeling and prescribing information printed between October 2010 and March 2011 did not include adequate dosing information with respect to patient's weight nor did it warn that there were no established methods for treating patients who suffered from excessive bleeding. Moreover, labeling failed to provide adequate warnings about gastrointestinal bleeding, specifically in patients with gastrointestinal issues, and about the risk of bleeding in older patients and other at-risk populations.
People injured by Pradaxa claim Boehringer Ingelheim:
Deceptively marketed Pradaxa as safer and more convenient than warfarin, the standard blood thinning medication
Misrepresented that Pradaxa was a "one-size-fits-all" drug, and did not require doctor check-ups to adjust dosage
Failed to adequately warn or disclose information regarding the risk of serious, excessive, uncontrollable and sometimes fatal bleeding
Failed to establish protocol or treatment methods for people who experience severe bleeding as a result of the drug
Failed to adequately research safety of the drug and establish variable factors in recommending doses of Pradaxa
Intentionally concealed the fact that Pradaxa was dangerous
Failed in their duty to warn consumers
People Who Filed Pradaxa Lawsuits
Among the people who filed lawsuits against Pradaxa's manufacturer were Berth Bivens, Walter Daumler, Roy Heady, Charles Jackson and Harold Asher. These cases are representative of some of the claims made against Pradaxa's manufacturer. Three of the cases claimed wrongful death; two involved patients who had switched from warfarin to Pradaxa and suffered severe injuries.
Bivens filed a claim in March 2012 in U.S. District Court for the Eastern District of Tennessee against Boehringer, alleging that Pradaxa led to the death of her mother, Nancy Brummett. The lawsuit claims that the company's aggressive marketing did not take into account patient safety. "As a result of the defective nature of Pradaxa, persons who were prescribed and ingested Pradaxa for even a brief period of time, including Plaintiffs herein, were at increased risk for developing life-threatening bleeds," according to the lawsuit.
Walter Daumler of Wisconsin says he watched his sister, Doris, bleed to death because of Pradaxa. Daumler told The New York Times that doctors told him there was nothing they could do because there was no antidote for the hemorrhaging caused by the blood thinner.
---
"My No. 1 goal is to stop this insidious drug [and] to get this off the market, so others will not undergo or witness what I saw."
-Walter Daumler, watched as his sister bled to death allegedly due to Pradaxa
---
Roy Heady of Cookeville, Tennessee, was hospitalized for a brain hemorrhage after switching from warfarin (Coumadin) to Pradaxa. Charles Jackson of Nashville, Tennessee, suffered intestinal bleeding after taking Pradaxa for only three weeks. Harold Asher lost his wife, Barbara Jean, after she switched to Pradaxa. She was rushed to the hospital where she died because doctors couldn't stop the Pradaxa bleed, according to court documents.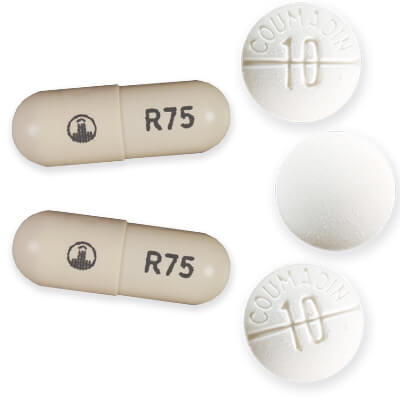 According to legal reports, Plaintiffs were hospitalized for a brain hemorrhage after switching from warfarin to Pradaxa
Many Pradaxa lawsuits were filed in federal court, and in August 2012, most were consolidated into a single multidistrict litigation (MDL) in the U.S. District Court for the Southern District of Illinois. Under an MDL, the court proceedings for multiple complex cases with similar facts are combined and centralized in one federal judge's courtroom. An MDL is created "to avoid duplication of discovery, to prevent inconsistent pretrial rulings and to conserve the resources of the parties, their counsel and the judiciary," according to the U.S. Judicial Panel on Multidistrict Litigation. Consolidated state proceedings also existed in Connecticut, California, Delaware and Missouri, according to legal reports. Roy Heady of Cookeville, Tennessee, was hospitalized for a brain hemorrhage after switching from warfarin (Coumadin) to Pradaxa.
Pradaxa Cases Selected for Early Trial
U.S. District Court Judge David Herndon was to preside over four early trials that were intended to help attorneys on both sides of the MDL determine the effectiveness of their arguments. Herndon selected four cases, known as bellwether cases, to be tried beginning between August 2014 and February 2015. Two were wrongful death lawsuits and two blamed Pradaxa for severe injuries.
The court selected the following cases as the first four bellwether cases:
Suzanne Mackiewicz
Judge Herndon scheduled the first bellwether trial for Sept. 8, 2014. The plaintiff in the case, Suzanne Mackiewicz, filed a lawsuit on behalf of her father, Malachy Higgins, who died after suffering bleeding complications while taking Pradaxa.
Adalaine Nancy Kohn
Adalaine Nancy Kohn was the plaintiff in the third bellwether trial, which was slated for Feb. 17, 2015. Kohn filed a lawsuit on behalf of her deceased husband, Ronald Kohn. The suit blamed Pradaxa for Ronald Kohn's death and accused Boehringer Ingelheim of overstating the safety and effectiveness of the drug while failing to warn doctors that there was no established way to stop Pradaxa bleeding.
Georgia Primus
Georgia Primus filed the second bellwether case selected to go to trial. The judge scheduled the trial for Dec. 1, 2014. Primus claims she was hospitalized for six days after experiencing excessive upper gastrointestinal bleeding caused by Pradaxa. According to her complaint, Primus requires lifelong medical treatment as a result.
Helen Jean & John Edward Hawkins
Herndon scheduled the fourth and final bellwether trial for Mar. 23, 2015. Helen and John Hawkins filed suit against Boehringer in the U.S. District Court for the Eastern District of Kentucky. Helen Hawkins began taking Pradaxa in February 2011 to treat her atrial fibrillation. In March 2011, she was hospitalized for gastrointestinal bleeding, during which she underwent a blood transfusion. The suit blamed Pradaxa for "severe and life-threatening injuries."
$650 Million Pradaxa Settlement
In a statement released in February 2014, Boehringer Ingelheim maintained: "We are certain that we can show in the legal cases that we have worked very carefully and responsibly in research, development and marketing of Pradaxa."
But in May 2014, Boehringer Ingelheim announced it would pay $650 million to settle all 4,000 state and federal Pradaxa lawsuits. Pradaxa sales at the time exceeded $2 billion in the U.S.
Boehringer Ingelheim agreed to dole out $650 million to resolve 4,000 personal injury and wrongful death lawsuits involving Pradaxa. Meanwhile, the drug generated $2 billion in revenue for the company.
"We are pleased that today's settlement will bring justice and financial assistance to those hurt while taking Pradaxa," Mikal Watts, a member of the 27-lawyer Plaintiffs' Steering Committee, said in a statement. "We are proud of the settlement we have achieved, congratulate the company on doing the right thing, and look forward to distributing these funds to our clients as expeditiously as possible."
In agreeing to the settlement, Boehringer Ingelheim continued to deny wrongdoing.
"We continue to stand resolutely behind Pradaxa and believed from the outset that the plaintiffs' claims lacked any merit," Andreas Neumann, head of the Legal Department and general counsel for Boehringer Ingelheim worldwide, said in a statement. "Notwithstanding our strong belief that we would prevail in these lawsuits, this settlement allows our company to avoid the distraction and uncertainty of protracted litigation over years and years."
The settlement came just four months before the bellwether trials were to begin. As a result, none of the Pradaxa cases in the MDL reached trial. The settlement was also expected to resolve many lawsuits filed in state courts.
"The U.S. litigation system is described by some as a business where lawyers run advertising campaigns to find clients," Neumann said. "Furthermore we have to consider that juries composed of lay people have to decide about very difficult scientific matters. All this does not allow reliable predictions for the outcome of a huge number of individual trials and that is why we came to the tough decision to settle."
Please seek the advice of a medical professional before making health care decisions.
Author
Emily Miller is an award-winning writer who has held editorial positions with reputable print and online publications around the U.S. As the editor of Drugwatch.com, Emily draws on her background as both a patient and a journalist to ensure her team of writers provides consumers with the latest and most accurate information on drugs, medical devices, procedures and related lawsuits. Emily holds five Health Literacy certificates from the Centers for Disease Control and Prevention as well as a Bachelor of Science in Journalism from the University of Florida. She is a member of The Alliance of Professional Health Advocates, the American Association for the Advancement of Science, the Society of Professional Journalists and the Society for Technical Communication.
---