When a person eats, millions of tiny pumps in the lining of the stomach create acid to break down the food. Excess acid can flow up into a person's esophagus (the tube connecting the stomach to the throat), creating a painful burning feeling in the chest known as heartburn. Prilosec and Prilosec OTC are designed to reduce the amount of acid in a person's stomach by shutting down many of the stomach pumps that produce it. With less acid produced, it's less likely the fluid can reach the esophagus, damaging tissue and causing heartburn.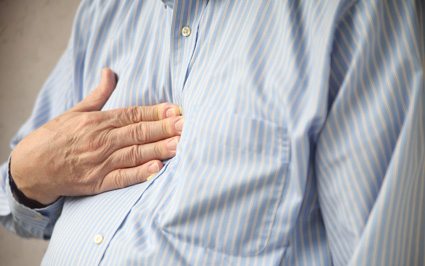 Prilosec is approved to treat acid-related conditions including gastroesophageal reflux disease
The U.S. Food and Drug Administration (FDA) approved Prilosec for prescription use in 1989. AstraZeneca lost patent protection for the drug in 2002. Omeprazole, the active ingredient in Prilosec, became available over-the-counter in 2003 as Prilosec OTC. Prilosec is approved to treat acid-related conditions, including duodenal and gastric ulcers, gastroesophageal reflux disease (GERD) and erosive esophagitis (EE) due to acid-mediated GERD. Prilosec OTC is approved to treat frequent heartburn, or heartburn that occurs two or more days per week. Omeprazole magnesium, the active ingredient in Prilosec OTC, is equivalent to the active ingredient in Prilosec to treat frequent heartburn.
Prilosec OTC
Since its release, more than 27 million people have used Prilosec OTC to treat heartburn. Consumer Reports published an article in 2012 recommending Prilosec OTC over other proton pump inhibitors as the best cost-effective choice for those struggling with heartburn. Procter & Gamble markets Prilosec, which is sold in a regular or wildberry flavor.
Prilosec OTC is available in 20 mg delayed-release tablets without prescription. The tablets are intended to be taken once a day, every day for 14 days. According to the drug's label, you may repeat the 14-day course every four months if needed but you should not take Prilosec OTC for more than 14 days or more often than every four months unless directed by a doctor.
Some people get complete relief of symptoms within 24 hours of their first dose, but the drug is not intended for immediate relief and may take up to four days to take full effect. The drug's label instructs patients to swallow one tablet with a glass of water before eating in the morning. It says the tablets should not be chewed or crushed.
The drug's label cautions patients not to use Prilosec OTC if they experience trouble or pain swallowing food; vomiting with blood, or bloody or black stools; heartburn with lightheadedness, sweating or dizziness; chest pain or shoulder pain with shortness of breath; sweating; or pain spreading to arms, neck or shoulders.
Prescription Prilosec
Prescription Prilosec is available in 10 mg, 20 mg and 40 mg delayed-release capsules, and 2.5 mg and 10 mg delayed-release oral suspension packets. The capsules are opaque, hard gelatin capsules embossed with "Prilosec." The 20 mg capsules are amethyst in color while the 10 mg and 40 mg capsules are apricot and amethyst in color. The oral suspension packets contain fine yellow powder, with white to brownish omeprazole particles and pale yellow inactive particles. The FDA approved Prilosec for use in both adults and children.
Prilosec is prescribed for the treatment of:
Gastroesophageal reflux disease (GERD)
Prilosec is indicated for the treatment of heartburn and other symptoms associated with GERD. The drug is approved for this use in adults and children age 1 year and older for up to four weeks. GERD is the most common gastric problem Prilosec treats. People with GERD — also known as acid reflux disease — experience heartburn due to a malfunctioning muscle at the base of the esophagus, the lower esophageal sphincter. This happens when acid moves past this muscle and into the esophagus, creating the painful sensation of heartburn. Stomach acid is corrosive and can lead to esophageal injuries if left untreated.
Erosive esophagitis
Prilosec is approved for the short-term treatment (four to eight weeks) of erosive esophagitis (EE) that is caused by acid-mediated GERD and has been diagnosed by endoscopy in patients age 1 and older. Erosive esophagitis (EE) is acid-related damage to the lining of the esophagus. Patients who do not respond to eight weeks of treatment may be prescribed an additional four weeks of therapy; however, the efficacy of Prilosec used for longer than eight weeks in patients with EE has not been established.
Prilosec is also approved for use up to six weeks to treat EE caused by acid-mediated GERD in patients who are older than 1 month but less than a year old. It is also indicated for the maintenance healing of EE due to acid-mediated GERD in adults and children age 1 or older. Studies for this use do not extend beyond a year.
Hypersecretory Conditions
Prilosec is approved for long-term treatment of Zollinger-Ellison syndrome, multiple endocrine adenomas, systemic mastocytosis and other pathological hypersecretory conditions in adults. These conditions are characterized by the overproduction of certain substances in the body. In the case of Zollinger-Ellison syndrome, a tumor or pre-cancerous pancreas causes overproduction of gastric acid that can lead to recurring peptic ulcers.
Helicobacter pylori
Prilosec may be prescribed with certain antibiotics to treat an infection caused by bacteria called Helicobacter pylori or H. pylori. Elimination of H. pylori has been shown to reduce the risk of duodenal ulcer recurrence.
Active duodenal ulcer
Prilosec is approved for short-term treatment of active duodenal ulcer in adults. These ulcers occur in the area where food passes when it leaves the stomach.  Most patients heal in four weeks; some patients may need an additional four weeks of treatment.
Stomach ulcers
Prilosec is approved for short-term treatment of active benign gastric ulcer — or stomach ulcers — in adults. The drug's label describes short-term treatment as four to eight weeks of therapy.
Prilosec sales have been declining in recent years. In 2013, AstraZeneca reported $486 million in the drug's global sales, compared to $422 million in 2014 and $340 million in 2015. AstraZeneca sells omeprazole in the United Kingdom under the brand name Losec. A similar drug, known as Zegerid, uses the same active ingredient, omeprazole, combined with sodium bicarbonate, an antacid. Zegerid is manufactured by Salix Pharmaceuticals, Inc.
Side Effects Listed in Prilosec's Label
Researchers documented many Prilosec side effects during clinical trials and shortly after AstraZeneca released the drug. The company warns about many of these side effects on drug's label, and the FDA released several safety announcements between 2010 and 2016 to warn the public of the possible risks. The most common side effects with Prilosec include headache, stomach pain, nausea, diarrhea, vomiting and gas.
Two of the first serious side effects listed on the Prilosec medication guide are severe diarrhea — which may be caused by an intestinal infection — and bone fractures of the hip, wrist or spine. More recent additions to the label include a warning about the risk of acute interstitial nephritis (inflammatory kidney disease) and information pertaining to the serious lupus erythematosus events associated with the use of Prilosec. Research also shows Prilosec can cause an allergic reaction in some patients as well as low magnesium levels and a vitamin B-12 deficiency.
Adverse reactions included on Prilosec's label include:
Acute Interstitial Nephritis (inflammatory kidney disease)
Bone fracture (of the hip, wrist or spine)
Cyanocobalamin (vitamin B-12) deficiency
Headache
Nausea
Vomiting
Clostridium difficile-Associated Diarrhea (severe diarrhea caused by intestinal infection)
Cutaneous and Systemic Lupus Erythematosus
Hypomagnesemia (low magnesium)
Stomach pain
Diarrhea
Gas
Prilosec and Pediatric Respiratory Events
A clinical trial showed pediatric patients who take Prilosec were more likely to experience three new side effects separate from those adults experienced. The trial surveyed the children in separate groups: ages 1 to 2 years and ages 2 to 16 years. It found the most frequently reported Prilosec side effect between both groups was "adverse reactions of the respiratory system." The 1 to 2 age group also commonly experienced fevers, and the 2 to 16 age group experienced accidental injuries.
| Age | Respiratory Effects | Fever | Accidental Injuries |
| --- | --- | --- | --- |
| 1 to 2 years old | 75% | 33% | — |
| 2 to 16 years old | 18.5% | — | 3.8% |
Pregnancy Risks and Prilosec
Similar to those with GERD, pregnant women also regularly experience heartburn. During pregnancy, a woman's body produces more progesterone, a hormone that controls muscle relaxation, which causes the lower esophageal sphincter to loosen and allows stomach acid to reach the esophagus. Many women experience these symptoms during the first trimester of pregnancy. The FDA gave Prilosec a pregnancy category "C" rating, which means it is unknown whether the drug will harm an unborn baby if the mother consumes the medication during pregnancy.
Drugs are classified as category C when studies in animals show some negative outcomes to fetus (in this case in-utero deaths of rabbits' embryos) and adequate and well-controlled studies in pregnant women are lacking.
However, the report also stated omeprazole does not affect fertility and is not teratogenic, meaning it does not cause birth defects. Therefore, it is not unknown whether the drug will harm an unborn baby if the mother consumes the medication during pregnancy.
When the FDA wrote the safety card for Prilosec in 2000, a medical professional noted the prescription had been linked to negative outcomes in animal studies — specifically in-utero deaths of rabbit fetuses and weight gain in rats after birth. However, the report also stated omeprazole does not affect fertility and is not teratogenic, meaning it does not cause birth defects.
Warning for breastfeeding mothers
Omeprazole – the active ingredient in Prilosec – can pass into breast milk, so many doctors recommend nursing mothers avoid taking it while breastfeeding.

Because of the "C" rating, many doctors recommend pregnant women use alternative heartburn medications with a "B" rating or higher. In 2016, the FDA updated the pregnancy section of the package insert with new nonclinical data and language consistent with the requirements for Pregnancy and Lactation Labeling.
Studies Link Prilosec to Serious Health Effects
Several studies published between 2015 and 2017 also linked proton pump inhibitors like Prilosec to adverse health conditions such as chronic kidney disease, sudden kidney failure or damage, stroke and dementia. These conditions are not listed on prescription omeprazole labels and pose a serious risk to long-term Prilosec users. Patients who have experienced adverse side effects after taking the drug have filed lawsuits against AstraZeneca.
Kidney Problems
Newer studies have found an association between proton pump inhibitors and chronic kidney disease. A 2016 study published in JAMA Internal Medicine showed that people who use proton pump inhibitors may have a 20- to 50-percent higher risk of chronic kidney disease compared with nonusers. Chronic kidney disease can lead to kidney failure and possibly force someone to undergo regular dialysis and even a kidney transplant.
A study published in February 2017 found that patients taking proton pump inhibitors may not be aware of a decline in kidney function. The study evaluated use of the drugs in more than 125,000 patients. More than half of the patients who develop chronic kidney damage while taking proton pump inhibitors didn't experience acute kidney problems first.
"Our results indicate kidney problems can develop silently and gradually over time, eroding kidney function and leading to long-term kidney damage or even renal failure," the study's senior author, Dr.  Ziyad Al-Aly, told ScienceDaily. "Patients should be cautioned to tell their doctors if they're taking [proton pump inhibitors] and only use the drugs when necessary."
Dementia
A study published in 2016 in JAMA Neurology found that people older than 75 who regularly took proton pump inhibitors were nearly twice as likely to develop dementia compared with seniors not using the drugs. Dementia is a general term for a decline in mental ability that's severe enough to interfere with a person's ability to perform everyday activities. Severe memory loss is the most distinct characteristic of dementia, and Alzheimer's disease is the most well-known form of dementia, accounting for 60 to 80 percent of cases.
About 29,000 of the 73,679 study subjects had developed Alzheimer's disease or other dementias over an average follow-up period of more than five years.
European researchers used a database including 13,679 patients who were older than 75 and free of dementia at the start of the study.
Using the data, the scientists concluded that taking proton pump inhibitors resulted in a 44 percent increased risk of developing dementia during the study, which lasted from 2004 to 2011. The researchers found that regular use of stomach-acid drugs, including omeprazole which is the active ingredient of Prilosec, increased the risk for dementia in men by 52 percent and in women by 42 percent, compared with nonusers. Unfortunately, in cases of the most progressive dementias, including Alzheimer's disease, there is no cure or treatment that slows or stops its progression, according to the Alzheimer's Association.
Stroke
Findings presented at an American Heart Association conference in New Orleans in 2016 revealed that proton pump inhibitors, including Prilosec, may increase the risk of ischemic stroke. Ischemic stroke is the most common type of stroke and often happens when a blood clot blocks a blood vessel in the brain, keeping blood from flowing to the brain and killing brain cells within minutes.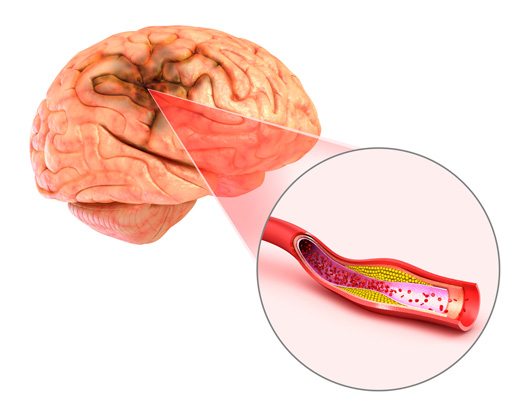 An ischemic stroke usually occurs when a blood clot blocks a blood vessel in the brain
Researchers in Denmark studied about a quarter-million patients who reported stomach pain and indigestion and were taking Prilosec, Protonix, Prevacid or Nexium. Overall stroke risk increased 21 percent, and at the highest dose, the stroke risk increased 33 percent for Prilosec.
Please seek the advice of a medical professional before making health care decisions.
Author
Emily Miller is an award-winning writer who has held editorial positions with reputable print and online publications around the U.S. As the editor of Drugwatch.com, Emily draws on her background as both a patient and a journalist to ensure her team of writers provides consumers with the latest and most accurate information on drugs, medical devices, procedures and related lawsuits. Emily holds five Health Literacy certificates from the Centers for Disease Control and Prevention as well as a Bachelor of Science in Journalism from the University of Florida. She is a member of The Alliance of Professional Health Advocates, the American Association for the Advancement of Science, the Society of Professional Journalists and the Society for Technical Communication.
---