Hib Vaccine
Haemophilus influenzae type b (Hib) is a type of bacteria that causes severe pneumonia, blood infection, meningitis and other diseases that can sometimes result in death. Hib vaccine is one of the recommended routine childhood immunizations in the U.S. It can prevent disease caused by Hib, but not the other strains of Haemophilus influenzae bacteria. Despite its name, Hib does not cause the flu.
The first Hib vaccine was introduced in the U.S. in 1985, but it was not effective in children younger than 18 months and the efficacy in older children was inconsistent. Scientists reformulated the vaccine so that it would be effective in young children, and between 1987 and 1990, the U.S. Food and Drug Administration (FDA) licensed three Hib vaccines for children 15 months or older. Two of these vaccines gained further approval in late 1990 for use among infants.
Since 1990, additional Hib vaccines from several manufacturers have been licensed. Four are currently used in the U.S., including three that guard exclusively against Hib and one that combines Hib vaccine with diphtheria, tetanus, pertussis (whooping cough) and polio vaccines.
Fact
Before the introduction of effective vaccines, about 20,000 children developed invasive Hib disease annually and about 1,000 died.
Invasive means that germs invade parts of the body that typically are without germs. Nearly all those Hib infections occurred among children younger than 5 years of age, and over half of the children who contracted Hib disease were younger than 12 months.
Invasive Hib disease was the leading cause of bacterial meningitis in children younger than 5 years old. Meningitis is inflammation of the brain and spinal cord and can cause paralysis, stroke and death. About two-thirds of children with invasive Hib disease developed meningitis, and about 4 percent of those children died. As many as 30 percent of survivors had hearing impairment or severe permanent neurologic problems.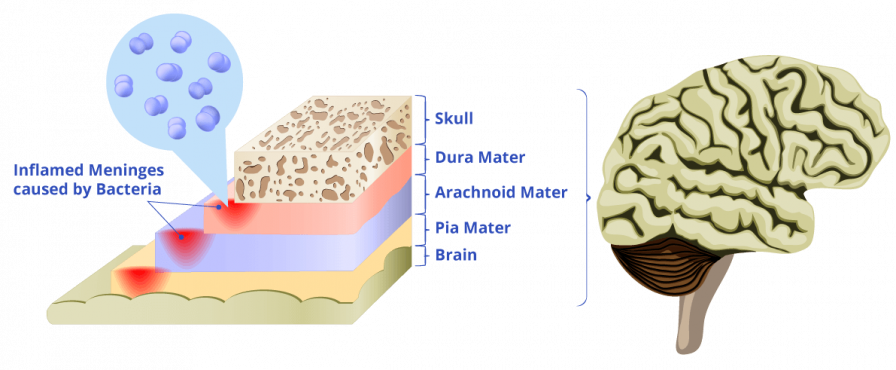 For children younger than 5 years of age, Hib disease was also a common cause of lung infection (pneumonia), severe swelling in the throat (epiglottitis), and infections of the blood (bacteremia), joints (septic arthritis), skin (cellulitis) and the tissue covering of the heart (purulent pericarditis), as well as death.
From 1989 to 2000, the annual incidence of invasive Hib disease in children younger than 5 years of age dropped by 99 percent, going from one case per 200 children to less than one case per 100,000 children. By 2014, fewer than 50 cases of Hib disease occurred annually in children younger than 5 years old. Most cases of Hib disease today are in children who did not get vaccinated for Hib.
Vaccines that help guard against Hib disease work well, but they don't protect everyone. Studies show that between 93 and 100 percent of children are protected against invasive Hib disease after receiving two or three doses of Hib vaccine. Protection does decrease, and children between 12 and 15 months old need a booster dose to maintain protection during early childhood. More than 95 percent of infants will develop protection against Hib after two or three doses of the vaccine. Invasive Hib disease in a completely vaccinated infant is uncommon.
Hib Vaccine: Who Should/Should Not Get It?
Because Hib is most common in babies and children younger than 5 years old, the Centers for Disease Control and Prevention (CDC) recommends Hib vaccination for all children younger than 5 years old in the U.S. The current Hib vaccines protect children as young as 6 weeks old. The CDC says that all infants, including those born prematurely, should receive the Hib vaccine series beginning at 2 months of age. The number of doses a child needs to complete the series depends on the type of vaccine and the child's age. Children who are older than 6 months and are unvaccinated may not need a full series of three or four doses.
Hib disease is uncommon in adults and children older than 5 years of age, so older children and adults typically don't need a Hib vaccine. However, the vaccines are used to protect older children, teens and adults who are at increased risk for Hib disease due to certain medical conditions, such as sickle cell disease, asplenia and HIV. People with compromised immune systems and people who have received hematopoietic stem cells (a bone marrow transplant) or chemotherapy or radiation therapy for malignant neoplasms (cancerous tumors) are also at greater risk of Hib disease.
Who's at Risk?
People with certain medical conditions, such as sickle cell disease, asplenia (absence of normal spleen function) and HIV, are at increased risk for Hib disease.
The Hib vaccine should not be given to babies younger than 6 weeks old. Anyone who has ever had a life-threatening allergic reaction after a previous dose of Hib vaccine, or who has a severe allergy to any part of this vaccine should not get it. Furthermore, if the patient is sick at the time of the scheduled vaccination, they may need to wait until after they recover to get vaccinated.
Types of Hib Vaccines and Recommended Doses
There are four FDA-approved Hib vaccines currently used in the U.S., one of which is combined with vaccines for other diseases. Vaccines PedvaxHIB, ActHIB and Hiberix guard only against Hib; Pentacel includes a component used in ActHIB to protect against Hib as well as parts of the diphtheria, tetanus, pertussis and polio vaccines.
PedvaxHIB

Manufactured by Merck & Co., PedvaxHIB gained FDA approval in 1990 for use in children who are 2 through 15 months old.

ActHIB

The FDA approved Sanofi Pasteur's ActHIB in 1993 for use in infants and children 2 months through 5 years of age.

Hiberix

Introduced in 2009, GlaxoSmithKline's Hiberix is approved for use in children 6 weeks through 4 years of age.

Pentacel

A combination vaccine made by Sanofi Pasteur, Pentacel hit the market in 2008 as a vaccine for infants and children 6 weeks through 4 years of age.
For the best chance at protection, either two or three primary doses are needed (depending on which vaccine is used) and one booster dose. A primary series of PedvaxHIB vaccine is two doses; ActHIB, Hiberix and Pentacel require a three-dose primary series. Hiberix was initially intended solely as a booster dose, but the FDA expanded the indication of Hiberix from a booster to a full-series vaccine in 2016.
ActHIB and PedvaxHIB can be used interchangeably in infants, meaning if patients start with one of these brands, they do not need to receive the same brand of vaccine for all doses. "If a child receives different brands of Hib vaccine at 2 and 4 months of age, a third dose of either brand should be administered at 6 months of age to complete the primary series," according to the CDC. Either vaccine is OK for the booster dose, no matter which vaccine was used in the primary series.
Doses of Hib vaccine are recommended at the following ages:
2 months
4 months
6 months (if needed; depends on brand)
12 through 15 months (booster dose)
Vaccine Recalls and Discontinuation
In December 2007, vaccine manufacturer Merck & Co. Inc. recalled 1.2 million doses of its Hib vaccines PedvaxHIB and Comvax. According to a letter sent by Merck vice president Mark Feinberg, routine testing of the vaccine manufacturing equipment used to produce PedvaxHIB and Comvax showed there was contamination with Bacillus cereus, a potentially lethal food-poisoning bug.
Fact
Merck & Co. Inc. recalled 1.2 million doses of its Hib vaccines PedvaxHIB and Comvax.
Merck could not guarantee the sterility of 10 lots of PedvaxHIB and two lots of Comvax, so it instructed consumers to immediately stop using the 12 affected lots of the vaccines. While PedvaxHIB remains on the market, Merck stopped making Comvax in 2014. The FDA first approved Comvax in 1996. It includes components used in PedvaxHIB and Recombivax HB, a hepatitis B vaccine.
MenHibrix is another Hib vaccine that has been discontinued. GlaxoSmithKline stopped selling MenHibrix in the U.S. "due to low demand for the vaccine," the manufacturer said in an October 2016 letter to customers. The last day to order the vaccine was February 28, 2017, and the company's last ship date was March 1, 2017. The FDA approved MenHibrix in 2012 to guard against Hib and strains C and Y of the bacteria Neisseria meningitidis in infants at ages 2, 4, 6 and 12 through 15 months.
In 2013, Sanofi Pasteur found tiny pieces of glass in samples of its ActHIB vaccine that had been distributed to customers. Historically, medical manufacturers issue recalls when faced with glass contamination. However, Sanofi Pasteur did not recall the affected batches of ActHIB, which were not set to expire until September 2014.
"The products that were shipped from our facilities met the applicable requirements and specifications for safety and efficacy. There were no additional actions required by FDA."
The FDA warns that flakes of glass in vaccines can cause serious health problems such as adverse immune system reaction. Nonetheless, the regulatory agency reportedly took Sanofi Pasteur's word that the vaccine was safe and did not object to the decision not to recall the affected lots. Like PedvaxHIB, ActHIB is still on the market today, and Sanofi Pasteur remains one of the world's leading vaccine makers.
Hib Vaccine Side Effects
The CDC and the FDA co-manage the Vaccine Adverse Event Reporting System (VAERS), which is a system that allows doctors to report adverse reactions after vaccination. From January 1, 1990, through May 31, 2013, VAERS received more than 29,000 reports involving Hib vaccines in the U.S. About 26,375 — or 91 percent— of the reports involved children under the age of 2 years.
In 95 percent of the reported adverse event cases, Hib vaccines were given at the same time as one or more other vaccines. On average, it took one day from the time of vaccination for symptoms of an adverse event to emerge. About 31 percent of the cases involved fever. Crying and redness at the injection site were each reported in 11 percent of cases. And 10 percent and 9 percent of cases involved irritability and rash, respectively. If mild side effects occur after vaccination, they can last up to two to three days, according to the CDC.
Of all reported Hib vaccine adverse events during that 23-year period, about 17 percent — or 5,062 — were serious, meaning the event led to death, life-threatening illness, hospitalization, prolongation of hospitalization or permanent disability.
In nearly all of the intussusception (a common bowel abnormality among children under 2 years old) reports, patients received Hib vaccine at the same time as the rotavirus vaccine, which might have caused the reaction.
VAERS received 878 reports of deaths after vaccination with Hib-containing vaccines that occurred between January 1, 1990 and May 31, 2013. Autopsy reports or other medical records were only available for 620 of these deaths. Sudden infant death syndrome was listed as the cause of death in 52 percent of the cases, making it the most frequently reported cause of death. Other causes of death included respiratory, cardiovascular, infectious, neurologic and gastrointestinal conditions. The cause was undetermined in 14 percent of reports, and in 11 percent of reports, various other causes, such as asphyxia and blunt-force trauma, were reported.
The most frequently reported serious adverse events were:
Fever
Vomiting
Convulsion
Irritability and intussusception
The CDC and the FDA also warn that vaccination can cause severe allergic reaction (anaphylaxis), shoulder injury related to vaccine administration (SIRVA), and fainting (vasovagal syncope). The National Vaccine Injury Compensation Program (VICP) added Hib to its list of covered vaccines on August 6, 1997. This means that anyone who suffers shoulder injury related to Hib vaccination within 48 hours of getting the vaccine or who faints within one hour of vaccination may be eligible for financial compensation. VICP provides compensation to people who file vaccine-related injury or death petitions and who are found to have been injured by certain vaccines. Many petitioners hire attorneys who are members of the Vaccine Injured Petitioners Bar Association to help with the process.
Please seek the advice of a medical professional before making health care decisions.
How helpful was this page?
How can we improve this page?
How can we improve this page?