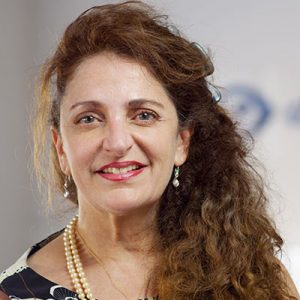 Sarah Salem-Robinson, OB/GYN PA
Physician Assistant in OB/GYN
Last Modified: November 19, 2019
A fervent advocate for women's health, Sarah Salem-Robinson is not only a leiomyosarcoma (LMS) cancer survivor, but also a physician assistant specializing in OB/GYN. In 2012, Salem-Robinson underwent a hysterectomy for heavy bleeding and pelvic pain from what was thought to be benign uterine fibroid growths. After minimally invasive surgery with a power morcellator, she was diagnosed with LMS, an aggressive, rare cancer.
The medical device spread her then hidden, undiagnosed cancer. This upstaged her curable, stage 1 disease to stage 4. The power morcellator robbed her of a possible cure and severely shortened her life.
She began speaking out against power morcellators immediately after her 2012 LMS diagnosis. She raised awareness at the hospital where she underwent her surgery.
Salem-Robinson attended Connective Tissue Sarcoma Society (CTOS) meetings and spoke to an audience of oncologists, American Congress of Obstetricians and Gynecologists (ACOG) officials and gynecological journals. She has spoken to medical websites, including Medscape, and appeared on the Dr. Oz Show.
She has written countless letters to FDA officials and politicians which culminated in a citizen's petition. Her story and warning to women was told in the Town Crier 2012, the Washington Post and during her testimony at a 2014 FDA hearing that resulted in the most stringent kind of warning label for the power morcellator.
She heads a public Facebook campaign and petitions on MoveOn.org against power morcellators.
A graduate of Stanford Medical Center, she has an unrelenting passion to empower women in their health care. She's devoted 11 of her 15 PA years to OB/GYN care. In this service, she supported countless women of all ages. She assisted with contraception, pregnancy, infertility, perimenopause, menopausal and psychosocial issues. In her last two practicing years, she transferred her work to reconstructive plastic surgery where she provided care and support for women with breast cancer after mastectomy.
She continues her work daily to advocate for women because many doctors still ignore the FDA's cautionary decree that states morcellation should be used cautiously and not for the majority of women, and is contraindicated in perimenopausal and menopausal women.
About Drugwatch's Experts
Drugwatch's experts are authorities in their fields. Their personal experiences and professional expertise make them uniquely qualified to review our content for accuracy and verify that the information you read here is trustworthy, comprehensive and consistent with the latest evidence-based research.