Valsartan
Valsartan is a blood pressure medication used to treat high blood pressure and heart failure. It belongs to a class of drugs called angiotensin II receptor blockers (ARB). Valsartan is also prescribed after a heart attack to lower blood pressure and improve the patient's chance of living longer.
Valsartan is a type of blood pressure drug called an angiotensin II receptor blocker (ARB). Other medications in the valsartan drug class include irbesartan (Avapro), losartan (Cozaar), and candesartan (Atacand).
Novartis manufactured the first brand-name valsartan drug, Diovan, and the U.S. Food and Drug Administration approved it in 1996. Novartis lost its patent in 2012, and generic manufacturers began producing and distributing the drug.
Some brand names of valsartan include Diovan, Entresto, Exforge and Byvalson.
Doctors prescribe valsartan to treat high blood pressure and heart failure. The medication may also improve the chance of living longer when prescribed to patients who have problems with the heart's left ventricle following a heart attack.
The FDA announced a recall of several drug products containing valsartan in July 2018 because it found a cancer-causing chemical called N-nitrosodimethylamine (NDMA) in some batches. As of 2022, people who took the tainted drugs are filing valsartan lawsuits.
Lawsuit Information
People who took NDMA-contaminated valsartan and later developed cancer are filing lawsuits against more than 20 manufacturers. Read more about this pending litigation.
Lowering Blood Pressure with Valsartan
Valsartan blocks the angiotensin II receptor. Angiotensin II is a hormone produced in the body that can cause blood vessels to narrow, raising blood pressure.
By blocking the angiotensin II receptor, the drug keeps blood vessels from narrowing. This lowers blood pressure and improves blood flow.

Researchers tested the drug's effectiveness in seven placebo controlled clinical trials that lasted four to 12 weeks. Patients took dosages from 10 mg to 320 mg per day. Their diastolic pressure at the start of the trials ranged from 95 mmHg to 115 mmHg.
The studies found valsartan starts to lower blood pressure in about two hours and reaches its maximum effectiveness in six hours. The effects last for 24 hours, though it becomes less effective throughout the day at lower doses.
Valsartan vs Losartan and Lisinopril
A study published in Clinical Therapeutics in 2001 found valsartan and losartan were similarly effective in reducing blood pressure in patients with mild to moderate hypertension.
Losartan was also associated with a decrease in serum uric acid levels. Valsartan did not decrease those levels. High levels of uric acid are associated with gout.
A different study published in Clinical Therapeutics in 2004 found both valsartan and lisinopril were highly effective in controlling blood pressure in patients with mild to severe hypertension. But valsartan was associated with a considerably lower risk for adverse events, especially cough.
Instructions for Taking the Drug Safely
Take valsartan at the dose and for the duration directed by your doctor. Take the drug at the same time each day with or without food. Store the drug at room temperature, and keep it away from heat and moisture.
Patients should take missed doses as soon as they remember. If it's close to the next dose, just take the one dose. Do not take extra valsartan to offset a missed dose.
In case of a valsartan overdose, seek immediate, emergency medical help, or call the poison help line at 1-800-222-1222.
Possible symptoms of an overdose include fast or slow heartbeat. People who overdose on valsartan may feel dizzy or like they might pass out.
Recommended Dose Depends on Diagnosis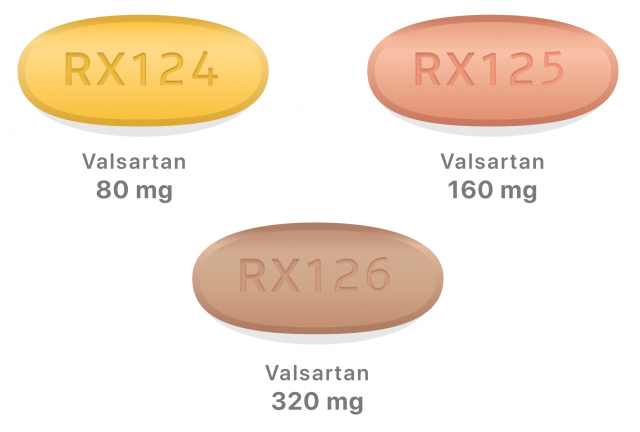 Valsartan comes in four dose strengths: 40 mg 80 mg, 160 mg and 320 mg. Doctors will prescribe the appropriate strength depending on the patient's age and diagnosis.
Adult hypertension:

80 mg or 160 mg once daily to start. Then, the prescribing doctor may adjust the dose to between 80 mg and 320 mg once daily.

Hypertension in patients 6 years old to 16 years old:

1.3 mg/kg once daily (up to 40 mg) to start. Then, the prescribing doctor may adjust the dose to between 1.3 mg/kg and 2.7 mg/kg daily (up to 160 mg total).

Heart failure:

40 mg twice daily to start. Then, the prescribing doctor may adjust the dose to between 40 mg and 160 mg twice daily.

After a heart attack:

20 mg twice daily to start. Then, the prescribing doctor may adjust the dose up to 160 mg twice daily. The target maintenance dose is 160 mg twice daily.
Side Effects, Warnings and Interactions
According to the valsartan medication insert, the most common side effects for people taking the drug to treat hypertension include headache, dizziness, fatigue, flu symptoms and abdominal pain.
For people taking the drug for heart failure, common side effects include dizziness, low blood pressure, diarrhea, joint and back pain, tiredness and high blood potassium.
People who took the drug after a heart attack stopped taking the drug because they experienced low blood pressure, decreased kidney function or a rash.
Black Box Warning
The drug's label includes a black box warning for fetal toxicity. It indicates pregnant women should not use valsartan. The drug can cause injury or death to the developing fetus. If women become pregnant, they should stop taking the medication as soon as possible.
Other warnings for valsartan include:
Low blood pressure: Valsartan may cause low blood pressure, leading to dizziness or lightheadedness. This is more likely to occur in patients also taking other medications that lower blood pressure, like diuretics (water pills).
High blood potassium: Valsartan may cause an increase in potassium levels, which can lead to heart problems. This is more likely to occur in patients who have kidney problems, heart failure or are taking other medications that increase blood potassium.
Precautions
The American College of Cardiology says before taking valsartan, patients should tell their doctor if they have kidney, liver or heart disease, or if they are dehydrated.
Patients who start treatment because of heart failure or after a heart attack may experience a reduction in blood pressure, but it's usually not necessary to stop treatment because of continued low blood pressure so long as the dosing instructions are followed. Health care professionals may treat excessive hypotension with an infusion of saline.
Drugs like valsartan may cause changes in kidney function or cause acute renal failure. Patients with conditions such as chronic kidney disease or severe congestive heart failure are at increased risk for kidney failure while on the drug. Doctors should monitor kidney function and may stop therapy if kidney function becomes impaired.
Drug Interactions
Valsartan interacts with a number of drugs. Patients should tell their doctor about any prescriptions, over-the-counter-medications and supplements they're taking. These include potassium supplements, salt substitutes, lithium and drugs used to treat HIV/AIDS.
Drugs that may interact with valsartan include:
Certain diuretics
Ritonavir
Cyclosporine
Rifampin
Nonsteroidal anti-inflammatory drugs such as aspirin, ibuprofen, naproxen, celecoxib, diclofenac, indomethacin or meloxicam
Recalls Due to Contamination
In 2018, the FDA warned that manufacturers found unacceptable amounts of the chemical N-Nitrosodimethylamine (NDMA) in some batches of valsartan. The toxic chemical may have been present in the drugs for as long as four years.
Several companies recalled batches of valsartan because of contamination with the suspected cancer-causing chemical. Unacceptable amounts of N-Nitroso-N-methyl-4-aminobutyric acid (NMBA), N-Nitrosodiethylamine (NDEA) and NDMA were also found in other drug products containing losartan and irbesartan, which resulted in more recalls.
Please seek the advice of a medical professional before making health care decisions.
Share This Page:
How can we improve this page?
Thank You for Your Feedback
We appreciate your feedback. One of our content team members will be in touch with you soon.
We appreciate your feedback. One of our content team members will be in touch with you soon.
Who Am I Calling?
Calling this number connects you with a Drugwatch representative. We will direct you to one of our trusted legal partners for a free case review.
Drugwatch's trusted legal partners support the organization's mission to keep people safe from dangerous drugs and medical devices. For more information, visit our partners page.