Transvaginal Mesh
Transvaginal mesh is a net-like implant used to treat pelvic organ prolapse and stress urinary incontinence in women. The product design and implantation technique contributed to serious complications, such as erosion and organ perforation. The FDA classifies transvaginal mesh as a high-risk device, but some surgeons continue to use it.
Transvaginal mesh is usually made of plastic called polypropylene. Some types of transvaginal mesh use a combination of materials, including animal tissue. The term "transvaginal" refers to the type of surgical technique used to implant the mesh.
This type of surgical mesh was created to permanently fix pelvic organ prolapse and stress urinary incontinence. These conditions may affect women after a hysterectomy, menopause or childbirth.
In these procedures, doctors surgically place the mesh through the vagina or the abdomen. Inserting the mesh through the vagina is quicker, easier and less invasive.
Transvaginal mesh was created to help women suffering from SUI and POP, but many of the devices caused serious complications. The design and manufacturer-recommended implantation technique of some of these transvaginal mesh products contributed to problems such as infection, erosion of the vaginal tissues and organ perforation.
Reports of complications came too late for hundreds of thousands of women who already had mesh implanted, but most companies never recalled the devices. More than 100,000 women sought compensation for their mesh injuries by filing lawsuits against the manufactures. Those cases resulted in multimillion dollar verdicts and more than $1 billion in settlements.
The U.S. Food and Drug Administration recognized that complications involving transvaginal mesh are not rare. The agency reclassified the devices as "high risk." Some surgeons have stopped using transvaginal mesh because of high rates of complications, but others continue to use mesh to treat SUI and POP.
History of Transvaginal Mesh
Transvaginal mesh products evolved from surgical mesh that was originally used during hernia repair in the 1950s. Surgeons began using the mesh abdominally to repair POP and SUI in the 1970s. The doctors took a piece of surgical mesh and cut the desired shape and size for use in each patient, then surgically implanted it.
Medical device manufacturers noticed the clinical practice and responded by creating mesh products specifically designed to treat POP and SUI. As the usage of these products expanded, manufacturers began selling their mesh products in kits. The kits were prepackaged with mesh, special tools and instructions to help doctors implant it.
Some doctors, including urogynecologist Dr. Christopher Walker, believe that the introduction of these kits contributed to some of the problems with transvaginal mesh.
"The mesh kits had such a high volume, I think, because there were so many put in. That's now causing us to see a high incidence of mesh complications."
Numerous reports of adverse effects surrounding transvaginal mesh prompted the FDA to conclude that complications from the devices were not rare, and the devices were not more effective than alternative treatments. Survey results showed that surgeons who specialize in urogynecology were less likely to use transvaginal mesh after the safety notices.
The FDA did not require transvaginal mesh manufacturers to conduct studies on the products in humans before clearing them through a fast-track approval program. Many of the products on the market today were approved based on the ProteGen Sling, which was recalled in 1999. The FDA concluded that the ProteGen had a "higher than expected rate of vaginal erosion" and did "not appear to function as intended."
A Brief History of Transvaginal Mesh and the FDA
1996

First transvaginal mesh device approved for SUI

1999

ProteGen Sling recalled because of safety concerns

2002

First transvaginal mesh product for POP approved

2008

First public health safety notification about mesh

2011

Public health safety notification updated and strengthened

2011

FDA panel on mesh held

2012

Mesh makers ordered to conduct post-market studies

2014

Proposal to reclassify mesh devices issued

2016

Transvaginal mesh for POP reclassified as high-risk
By December 2017, transvaginal mesh was coming under increasing global regulatory scrutiny.
In November 2017, The BBC reported that the UK's National Institute for Health and Care Excellence (NICE) would likely recommend in December that the country's National Health Service (NHS) ban the use of transvaginal mesh. The NHS is not compelled to follow NICE's recommendations. But a flurry of reports in UK media of injuries relating to the devices raised attention to complications women were suffering.
Also in November 2017, Australia's Therapeutic Goods Administration (TGA) banned surgical mesh for treatment of POP and SUI. New Zealand's regulatory agency, Medsafe, followed suit with a similar ban taking effect on January 4, 2018.
In May 2018, 60 Minutes aired a report on Boston Scientific and the material it uses to make its mesh. 60 Minutes' experts said plastic maker Chevron Phillips warned Boston Scientific that the material Marlex used in its implants was not safe.
Despite knowing the risks, the company continued to manufacture polypropylene mesh. It also smuggled untested plastic from China.
Types of Transvaginal Mesh
Different types of transvaginal mesh are used to treat POP and SUI. Transvaginal mesh that treats POP is sometimes referred to as synthetic mesh, a graft, a patch, biomesh or a vaginal support system. Mesh that's used during SUI surgery is commonly referred to as a bladder sling. There are four categories of transvaginal mesh. They're categorized by types of material and how they react inside of the body.
Categories of Transvaginal Mesh
There are four categories of transvaginal mesh. They're categorized by types of material and how they react inside of the body.
The four categories include:
Non-Absorbable synthetic

A permanent implant that remains in the body indefinitely. More than half of all mesh products approved by the FDA fall into this category. They are made from synthetic materials, such as plastic or polyester. About 90 percent of non-absorbable synthetic mesh is made of polypropylene.

Absorbable synthetic

Mesh that loses strength and degrades over time. It isn't designed to be a long-term treatment. As the mesh is absorbed by the body, tissue grows at the implant site, which helps strengthen the ligaments in the pelvis.

Biologic

Natural products derived from animal tissue that has been disinfected. These products degrade over time and are usually made from cow (bovine) or pig (porcine) tissue.

Composite

Mesh made from a combination of non-absorbable synthetic, absorbable synthetic or biologic mesh.
Surgeons who use transvaginal mesh usually prefer non-absorbable synthetic mesh because it reacts better with connective tissue, increasing repair strength. Non-absorbable implants also have a lower rate of infection than absorbable implants. However, all implants have a risk of erosion and other complications.
Transvaginal Mesh Brands & Products
Mesh manufacturers made more than 100 transvaginal mesh products. Most manufacturers tried to develop ways to differentiate their products from competitors, but the brands and kits share common characteristics. Their incision mechanisms, components that attach to the body and other materials may slightly differ.
Johnson & Johnson / Ethicon
Gynecare Prosima Pelvic Floor Repair System
Gynecare Prolift Kit
Gynecare TVT Secur
Gynecare Prolift + M Kit
C.R. Bard
Avaulta Solo
Avaulta Plus
Align Urethral Support System
Pelvilace Support Systems
Uretex Urethral Support Systems
Endo / American Medical Systems
Perigee
InteXen
IntePro
MiniArc Slings
Bio Arc Slings
Monarc Slings
Boston Scientific
Pinnacle Pelvic Floor Repair Kit
Uphold Vaginal Support System
Advantage
Obtryx Slongs
Coloplast
Minitape
Aris Transobturator Sling
Omnisure
Novasilk Sling
In June 2012, amid mounting legal pressure and growing concern from the FDA, Ethicon announced that it would no longer manufacture and distribute vaginal mesh products. C.R. Bard has also withdrawn mesh products from the market. However some companies, including Boston Scientific, continue to make and sell transvaginal mesh products.
What Transvaginal Mesh Treats
Doctors use transvaginal mesh because there are few alternative treatments for symptomatic pelvic organ prolapse or stress urinary incontinence. Symptomatic refers to patients experiencing pain, discomfort or other unpleasant symptoms of the conditions. Some patients are asymptomatic. They require no treatment, or conservative treatments cause relief. When conservative treatments don't work, doctors have few reliable options to choose from.
Pelvic Organ Prolapse (POP)
Pelvic organ prolapse occurs when organs sag or fall into the vaginal canal because of weak pelvic muscles. Transvaginal mesh serves as a hammock beneath the organs to hold them up. Usually, the bladder, uterus, rectum or bowel is involved in the prolapse. The bladder is the most common organ affected. Depending on the organs involved, surgeons may place the piece of mesh on the front, back or top wall of the vagina. The type of mesh used also varies in shape and size. This type of surgery is usually performed transvaginally.
Stress Urinary Incontinence (SUI)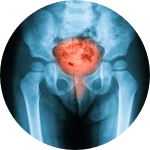 Stress urinary incontinence (SUI) occurs when the bladder leaks urine during moments of increased physical activity that increases pressure on the bladder. The mesh is used to support the urethra when pelvic muscles weaken. Surgical treatment of SUI with mesh, also called a bladder sling or vaginal tape, is the most common type of surgery used to correct the condition. An estimated 80 percent of SUI mesh surgeries in 2010 were done through the vagina. Doctors use transvaginal placement of bladder slings because it is considered less invasive and the incisions are smaller.
Hysterectomy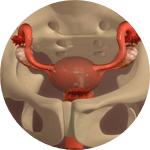 After a hysterectomy, some women suffer from vaginal vault prolapse. The condition occurs when the vagina collapses in upon itself because of the removal of the uterus. Mesh is surgically implanted on the top of the vagina and sewn into connective tissues to hold the vagina in place
Side Effects, Complications and Revision Surgery
Transvaginal mesh operations usually result in minor pain or discomfort for a few days after the operation. Bleeding may occur for a few hours after surgery, but most women leave the hospital on the same day as the procedure. Patients usually resume everyday activities, including sexual intercourse, within one to three months of the operation. Although transvaginal mesh surgery is simpler and less invasive than more traditional treatments for POP and SUI, it also carries a higher complication rate. In 2011, the FDA reported that it had received 4,000 reports of complications related to transvaginal mesh during the previous six years.
Serious Complications Caused by Transvaginal Mesh
Although transvaginal mesh surgery is simpler and less invasive than more traditional treatments for POP and SUI, it also carries a higher complication rate. In 2011, the FDA reported that it had received 4,000 reports of complications related to transvaginal mesh during the previous six years.
Complications from transvaginal mesh include:
Bleeding
Pain
Nerve damage
Vaginal scarring
Infection
Vaginal shrinkage (via scar tissue)
Painful sexual intercourse
Neuro-muscular problems
Mesh erosion
Organ perforation
Researchers have tried to determine how often transvaginal mesh implants cause serious complications, but studies have produced differing results. Complication rates range from 7 percent to 21 percent.
Revision Surgery for Mesh Complications
Severe complications, such as mesh erosion and organ perforation, may require surgery to fix. This surgery is referred to as revision surgery. Synthetic surgical mesh was designed to stay in the body indefinitely, so removal of the mesh is difficult. Blood vessels and tissues grow around the mesh, requiring doctors to remove it in pieces, one surgery at a time.
Roughly one in 30 women who have a vaginal mesh sling inserted to treat incontinence will need surgery again in less than 10 years to remove or replace the implant, according to a study published in JAMA Surgery's September 2015 issue.
The study led by Dr. Blayne Welk of Department of Surgery, Western University, St Joseph's Health Care, London, Ontario, Canada examined the cases of 59, 887 women implanted with mesh for stress urinary incontinence (SUI). The average age of the women studied was 52. The study's authors found that one in 30 women incurred a risk of undergoing a second surgery within 10 years to either remove or revise the implant.
Urogynecologists receive special training in pelvic floor disorders, such as prolapse and incontinence. They're the most qualified surgeons to perform transvaginal mesh revision surgeries.
Other Treatments for Mesh Complications
In some cases, doctors try alternative methods to mesh removal. Doctors may prescribe vaginal estrogen cream to help the walls of the vagina heal on their own and manage symptoms, particularly if a woman is not sexually active. Then, she can follow up every few months to observe the erosion and make sure it doesn't worsen.
If only a small amount of mesh is exposed, doctors may simply trim off the piece with a local anesthetic. Typically this is an option when the amount exposed is 5mm or less. This is a less complex form of surgery than complete mesh removal.
Alternatives to Transvaginal Mesh Implants
If women do not wish to receive transvaginal mesh, or if they don't qualify for surgery, they may pursue alternatives. Some doctors may try nonsurgical, conservative methods to treat POP or SUI before pursuing surgery. If surgery is necessary, there are also techniques that do not use mesh.
Treatments that do not use mesh include:
Pessaries

A pessary is a small, plastic device inserted into the vagina to provide support to the organs and bladder. Doctors teach women how to insert a pessary, and it is recommended for women who still want children, do not want surgery or are not optimal candidates for surgery. These devices are typically made of inert plastic or silicone.

Pelvic floor therapy

In addition to Kegel exercises, pelvic floor physical therapy can strengthen the pelvic muscles and improve prolapse or stress urinary incontinence symptoms in mild cases.

Surgery without mesh

The patient's own tissue can be used to treat POP or SUI. Slings composed of a tissue have a higher rate of complications during surgery than synthetic mesh, and they have a higher rate of symptom recurrence. However, they have fewer serious long-term risks than synthetic mesh.
It's impossible for a doctor to determine a patient's risk for mesh erosion, infection or other complications from transvaginal mesh. Mesh has several advantages to more conservative treatments. It can treat serious symptoms that conservative options can't treat. It also has a lower rate of short-term surgical risks, such as infection, than some other surgical treatments.
However, transvaginal mesh has the highest risk of serious long-term complications. Patients considering surgery for SUI or POP, or those considering a hysterectomy, should ask their doctors about the implant that they're receiving. They should also discuss the benefits and risks of complications with the devices.
Transvaginal Mesh Bans
In November and December 2017, three countries issued bans on transvaginal mesh because of public concern and reports of complications. The first country to issue a ban was Australia. New Zealand and the U.K. followed, but only New Zealand has a complete ban on all transvaginal mesh for gynecological uses.
Transvaginal Mesh Ban Timeline
Nov. 28, 2017

Australia issued a ban

on transvaginal mesh for prolapse and some bladder slings for incontinence. The country's Therapuetic Good Administration said benefits do not outweigh the risks.

Dec. 11, 2017

New Zealand's Medsafe agency issued a ban on transvaginal mesh for all gynecological uses, including prolapse and incontinence. The agency said benefits do not outweigh the risks.

Dec. 15, 2017

The U.K.'s National Institute for Health and Care Excellence recommended a

ban on transvaginal mesh

for prolapse. It said the device should only be used for research purposes because of possible complications.
The FDA has yet to weigh in on the bans or propose new guidelines for transvaginal mesh use in the U.S.
Transvaginal Mesh Research and Studies
A May 2018 60 Minutes report revealed Boston Scientific used untested counterfeit plastic in its mesh products.
In 2005, Boston Scientific's plastic supplier, Chevron Phillips, said it would no longer provide the material to make mesh.
Chevron Phillips told Boston Scientific that Marlex was not for "permanent implantation in the human body." It told the device maker, "We are simply not interested in this business at any price."
Boston Scientific wanted to keep manufacturing its profitable product. So, the company found a counterfeit Marlex supplier in China. But, the Chinese plastic was inferior to true Marlex plastic.
Experts told 60 Minutes mesh made from that plastic would only last a few months. Boston Scientific continues to use the counterfeit plastic in its mesh.
In December 2017, a review published in the BMJ Open revealed that 61 manufacturers sold mesh implants without clinical trials. Review authors said the safety and effectiveness evidence was weak.
According to the review, manufacturers were able to get their devices on the market by using an FDA process called the 510(k) process. The 510(k) allows manufacturers to sell products if their device is "substantially equivalent" to an existing device.
In the case of transvaginal mesh, the majority of devices were cleared for sale based on two devices: Ethicon's Mersilene Mesh and Boston Scientific's ProteGen Sling, a product that was recalled in 1999 for safety concerns.
Also in December 2017, a BBC Panorama investigation revealed Johnson & Johnson's Ethicon division failed to properly warn doctors of the risks of transvaginal mesh in the U.K. and inadequately tested its devices before selling them.
Ethicon tested its TVT-Secur implant only in sheep and 31 women prior to selling it. The study only lasted five weeks, even thought he implant was supposed to remain in women for the rest of their lives.
Please seek the advice of a medical professional before making health care decisions.
How helpful was this page?
How can we improve this page?
How can we improve this page?