Minor Side Effects and Complications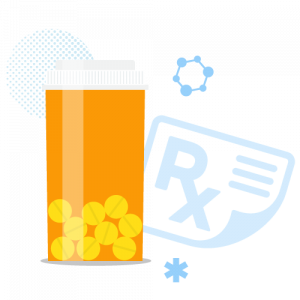 Prescription drugs and medical devices may also have minor side effects and complications.
Possibly the most common side effects of any prescription drug are gastrointestinal issues, including nausea, constipation and diarrhea, because most drugs go through the digestive system to be absorbed. Other common effects include drowsiness, pain and skin reactions. Minor complications from medical devices could include varying levels of pain.
Common minor side effects of prescription drugs:
Diarrhea
Dizziness
Drowsiness
Fatigue
Heart issues (palpitations, irregular heartbeats)
Hives
Nausea and vomiting
Rash
Stomach upset
---
Common side effects by drug type:
| Drug Type | Common Side Effects |
| --- | --- |
| Antibiotics | Nausea, diarrhea, rash, yeast infection, fever |
| Antidepressants | Weight gain, insomnia, nervousness |
| Antihistamines, allergy medications | Drowsiness, insomnia, weakness |
| Asthma medications | Nervousness, sweating, nausea, vomiting |
| Decongestants | Nose bleed, nasal irritation |
| Diabetes medications | Nausea, heartburn, fatigue, dizziness |
| Heart and blood pressure medications | Dizziness, drowsiness, chest pain, loss of appetite, leg pain |
| Heartburn medications | Constipation, bloating |
| Pain relievers | Stomach upset, tinnitus, nausea |
---
Common Minor Side Effects of Medical Devices
Minor side effects are generally defined as those that may be uncomfortable for the patient, but does not threaten the person's health or is so uncomfortable the device has to be removed or repaired.
Most minor side effects or complications involving medical devices happen through surgery. This may involve a tool used during an operation or a device implanted into the body.
Minor side effects and complications from medical devices include:
Bruising around the surgical site
Mild allergic or other reaction
Minor infection
Numbness
Pain
Redness
Swelling
Most minor complications can be treated with medication. If these conditions persist or worsen, they may be a sign of a more serious problem and you should talk to a doctor immediately.
Serious Side Effects of Consumer Products
In addition to drugs and medical devices, some consumer products may cause health problems. Some of these are serious and may lead to death. Two of these products are talcum powder and e-cigarettes such as Juul.
Side Effects of Talcum Powder
Talcum powder is a fine, silky powder manufacturers use in consumer products such as baby powder, makeup and paint. In the late 1800s, Johnson & Johnson released its iconic Johnson's Baby Powder with talc.
The American Academy of Pediatrics recommends against the use of talcum powder on infants because inhalation of talc can cause talc pneumoconiosis, an inflammatory lung condition that may be fatal in infants.
Talc can also cause health problems in adults. One of the issues with talc is that it can be contaminated with asbestos, a known carcinogen that causes an aggressive cancer called mesothelioma. In addition, since the 1970s, a handful of studies have connected genital use of talcum powder with ovarian cancer.
The World Health Organization has listed genital use of talcum powder as "possibly carcinogenic to humans" and talc that contains asbestos as "carcinogenic to humans."
Side Effects of E-Cigarettes
Experts agree that Juul and other e-cigarettes are less harmful than traditional cigarettes, but vaping isn't safe. Common side effects of vaping include dry mouth, dry eyes, coughing, addiction and nausea.
Serious potential e-cigarette side effects include lung problems such as e-cigarette or vaping product use-associated lung injury (EVALI), bronchiolitis obliterans organizing pneumonia (BOOP) and bronchiolitis obliterans (popcorn lung). These conditions may lead to hospitalization and in some cases, death.
Other serious potential side effects include seizures, nicotine poisoning, stroke and heart problems.
High-Risk Conditions
People who have serious health conditions such as heart disease, cancer or diabetes frequently have other medical conditions as well. The medications they take for these other conditions may present serious side effects or complications that make their conditions worse. Medical devices they rely on may also affect their risk of complications or affect their treatment.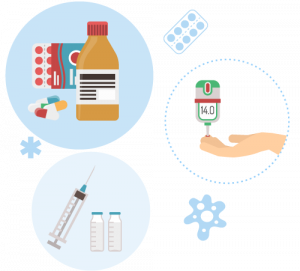 Diabetes
Diabetes is a group of conditions in which the body is not able to produce or respond to a critical hormone called insulin. People who develop diabetes have too much sugar in their blood. Your risk for developing diabetes can include family history, excess weight, lack of exercise and improper diet.
People diagnosed with diabetes may take medicines for other conditions such as allergies or high blood pressure. But some of those medications or conditions may worsen their diabetes or affect their medical devices for treating the disease.
If you have diabetes, you should be aware of the risks from:
Antipsychotic drugs
Beta-blockers (high blood pressure, glaucoma drugs)
Glucocorticoids (steroids)
Niacin (cholesterol medication)
Thiazide diuretics (blood pressure drugs)
Heart Disease and Stroke
Heart disease includes both heart attacks and heart failure. Both are usually the result of coronary artery disease, a condition where fat and other materials can build up in arteries, making them harder and narrower.
The most serious side effects include:
NSAIDS (pain relievers)
Decongestants, allergy and cold medications
Weight-loss drugs
The American Heart Association lists more than 100 different drugs that pose a risk to people with heart disease. Many of these drugs can also interfere with treatment after a stroke.
People with heart disease take an average of seven drugs every day just to treat that one condition. This can also increase the risk of a dangerous drug interaction with other medicines they may take. Heart and stroke patients should make sure every doctor they visit is aware of all the medications they are taking and never take drugs without first checking with their doctor.
Cancer
Cancer is a condition in which abnormal cells in the body start dividing out-of-control and invade nearby organs or other tissue. It can spread throughout the body through the bloodstream or through a person's lymph nodes — small glands throughout the body.
Medications cancer patients take for other conditions — from heartburn to depression — can change the way the body absorbs to cancer drugs. This effect may weaken cancer drugs or make them more toxic.
Medications that affect cancer drugs' effectiveness include:
Anticonvulsants

drugs that stop seizures or treat epilepsy

Antidepressants

including SSRIs such as Paxil (paroxetine) and Prozac (fluoxetine)

Antifungal drugs

Calcium channel blockers

used to treat hypertension, high blood pressure

HIV therapy drugs

Proton pump inhibitors

heartburn drugs including Prilosec (omeprazole), Nexium (esomeprazole) and Prevacid

Certain antibiotics

fluoroquinolones such as Cipro (ciprofloxacin)

Statins

cholesterol medicines such as Crestor (rosuvastatin) and Lipitor (atorvastatin)

Steroids

including testosterone replacement therapy such as AndroGel