Talcum Powder Lawsuits
A talcum powder lawsuit is a claim that baby powder manufacturers knew their talc was contaminated by asbestos and could cause cancer, but did nothing to warn consumers. Johnson & Johnson faces nearly 38,000 talc asbestos lawsuits. Recent jury verdicts have awarded billions of dollars to plaintiffs.
This is an active lawsuit
See If You Qualify for a Talcum Powder Lawsuit
If you were diagnosed with cancer after using talcum powder, you may be entitled to compensation. Get a free case review today.
We value your privacy.
By clicking REVIEW MY CASE
, you agree to our
privacy policy
and
disclaimer
. After submitting, you will be contacted by one or more of Drugwatch's
trusted legal partners
(including autodialed and prerecorded calls or text/SMS messages). Msg. and data rates apply. Your consent to text messaging is not required for a case review and you may opt out of text messages at any time by texting STOP. This is legal advertising.
As of Oct. 14, 2022, Johnson & Johnson faces 37,515 cases stemming from asbestos contamination of talc products. With mounting costs from more than $4 billion in settlements, verdicts and defense costs, in summer 2021, the company created a subsidiary, LTL Management LLC, to split its assets from its liabilities.
J&J has a reported market share of more than $450 billion. The new subsidiary, however, lists its worth at $10 billion and its liabilities at $10 billion.
Despite a July 2021 letter from the U.S. House of Representatives oversight committee urging it to drop its bankruptcy tactic, LTL Management filed for federal bankruptcy protection. The bankruptcy proceedings mean that all current talc lawsuits against J&J are temporarily halted while the J&J subsidiary awaits its bankruptcy ruling. In September 2022, a judge heard arguments from Plaintiffs' attorneys against the bankruptcy.
In June 2021, the U.S. Supreme Court rejected J&J's request for the court to overturn a $2.1 billion judgement in Missouri awarded to 22 women with ovarian cancer. This landmark verdict followed years of controversy for the brand as lawsuits piled up and the company faced scrutiny over documents that revealed the company knew its products could contain asbestos.
On Oct. 18, 2019, the brand issued a voluntary recall for one lot of its baby powder after a U.S. Food and Drug Administration test found trace levels of chrysotile asbestos contamination. J&J announced it would no longer sell Johnson's Baby Powder in the U.S. and Canada in May 2020, though the brand continued to deny allegations that its products caused asbestos-related diseases like ovarian cancer and mesothelioma.
A bombshell Reuters report in late 2018 revealed that the raw talc and talcum powder in J&J's baby powder tested positive for trace amounts of asbestos on several occasions between 1971 and 2003. The article cited numerous internal company memos, reports and other documents disclosed during talc lawsuits that suggest the company knew of the danger.
In November 2021, Bloomberg reported that emails from a previously sealed state of Mississippi case against J&J show the company and its talc supplier chose the scientists that wrote a pivotal 2009 report on the potential carcinogenic effects of talc. The FDA later used the report to decide not to put a cancer warning on talc products.
J&J is not the only company that has faced lawsuits over asbestos-contaminated talc. Manufacturers, distributors and retailers of talcum powder have all been named in lawsuits in recent years. These include retailers such as Target, Walmart, CVS and Walgreens. Suppliers of talc have also been successfully sued.
In May 2021, a California Superior Court jury ruled against supplier Whittaker, Clark & Daniels in the case of a retired school bus driver and veteran who had used Old Spice powder and developed malignant pleural mesothelioma, a rare form of cancer that forms in the lining of the lungs. The jury awarded a $4.8 million verdict and determined that asbestos-contaminated talc from the supplier, used in the Old Spice powder product, led to the plaintiff's diagnosis.
Who Is Eligible to File a Lawsuit?
People who used a cosmetic or commercial talcum powder product and developed ovarian cancer or mesothelioma may be eligible to file a talcum powder lawsuit.
In the case of ovarian cancer lawsuits, women must have used talc-containing products around the genital area daily or almost daily before developing ovarian cancer. It is important to note that women who used baby powders made from cornstarch are not eligible for these lawsuits because cornstarch-based powders don't contain talc.
Talc Products Implicated in Ovarian Cancer Lawsuits
Johnson's Baby Powder
Shower to Shower
Gold Bond No Mess Power Spray
Gold Bond Body Powder
Gold Bond Extra Strength Body Powder
People who used talc-containing products and developed mesothelioma are also eligible to file a lawsuit. These products can be cosmetic, such as baby powder, or industrial, such as clay, chalk, paper, crayons, pottery, joint compounds and adhesives.
Only a lawyer can properly evaluate your claim. If you've developed ovarian cancer or mesothelioma after using talc-containing products, contact a lawyer immediately to preserve your legal rights.
Top Manufacturers, Suppliers and Brands of Talc Products Named in Lawsuits
| Company | Brands and Products |
| --- | --- |
| Johnson & Johnson | Johnson's Baby Powder and Shower to Shower |
| Colgate-Palmolive | Cashmere Bouquet |
| Imerys Talc North America | Raw industrial and cosmetic talc |
| Whittaker, Clark & Daniels | Raw cosmetic talc |
| Vanderbilt Minerals | Raw industrial talc |
Speak with a Top Talcum Powder Lawyer
Were you diagnosed with ovarian cancer or mesothelioma after using talcum powder?
Get Your Free Case Review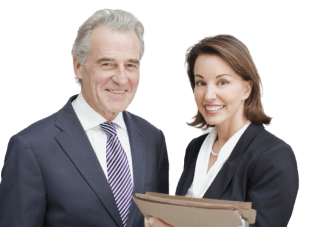 Is There a Statute of Limitations?
Talcum powder lawsuits are product liability cases, and the statute of limitations is different in each state. Generally these statutes run from two to 10 years. The majority of states have two-year statutes.
Depending on the situation, the clock may start ticking either from the date of the cancer diagnosis or from the date you found out talcum powder might have contributed to your cancer.
In some cases, family members may file a wrongful death claim for the loss of a loved one from mesothelioma or ovarian cancer. These statutes of limitations are shorter — most average two years.
An attorney can help you determine the correct time frame for each state. Contact a talcum powder attorney right away to avoid losing your right to file a lawsuit.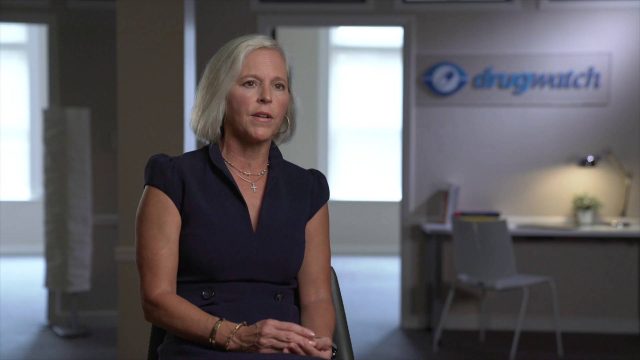 Talcum Powder and Mesothelioma Cases
Litigation is ongoing in talcum powder lawsuits that claim industrial or cosmetic talc contaminated by asbestos led to mesothelioma. As of April 2018, juries had awarded more than $153 million in talcum powder mesothelioma claims.
People who filed these cases claim inhalation of talcum powder led them to develop mesothelioma and lung disease. Asbestos is the main cause of mesothelioma, but some lawsuits argue that with or without asbestos contamination, talc can also lead to the disease.
Plaintiffs cite studies that prove the association between talc and mesothelioma, mainly one by Hull and colleagues published in 2002, according to Claims & Litigation Management Alliance. The study found that talc miners and millers in upstate New York developed mesothelioma from talc even without asbestos contamination.
"Thousands of companies used cosmetic talc in their products over the last hundred years. The entire population could claim exposure, especially to defendants that sold personal care products that could be ingested, inhaled or exposed via air-borne contact."
In 2006, a man who worked in a pottery studio filed the first talc mesothelioma case. He claimed exposure to talc made by Vanderbilt led to his mesothelioma diagnosis. He died during litigation, but his widow received $3.35 million.
The most recent lawsuits allege asbestos-contaminated cosmetic talc products can cause mesothelioma.
Stephen Lanzo III was one of the most recent plaintiffs to go to trial. In April 2018, a New Jersey jury awarded Lanzo and his wife $117 million. Lanzo's lawsuit claimed he developed mesothelioma after using Johnson's Baby Powder and Shower to Shower for decades.
Johnson & Johnson and Imerys agreed to settle a similar case in December 2018 for $1.5 million. Ann Zoas, a 78-year-old from New York, claimed she developed mesothelioma following years of using Johnson's Baby Powder.
Zoas said she used the baby powder daily between 1945 and 1948 and approximately "80 percent of the time" between 1949 and January 2017, according to court documents. Doctors diagnosed her with mesothelioma in March 2017.
Imerys confirmed the settlement to Bloomberg news, which broke the story. It was the first publicly reported settlement by Johnson & Johnson in talc litigation. There have been several confidential settlements.
For example, in March 2018, Vanderbilt Minerals reached a confidential settlement with Robert Lord. Lord worked with ceramic tiles in the 1970s that he said contained talc with asbestos.
Recent Talc and Mesothelioma Verdicts
$26.5 Million Verdict

In August 2021, a California jury awarded $26.4 million plus $100,000 in punitive damages to Christina Prudencio. Prudencio claimed J&J's asbestos-contaminated talc products caused her to develop mesothelioma.

$37.2 Million Verdict

In September 2019, a New Jersey jury awarded $37.2 million in compensatory damages to Douglas Barden, David Etheridge, D'Angela McNeill-George and Will Ronning. The plaintiffs claimed they developed mesothelioma after inhaling asbestos in Johnson's Baby Powder and Shower-to-Shower.

$117 Million Verdict

In April 2018, a New Jersey jury awarded $117 million to banker Stephen Lanzo III and his wife. Lanzo sued Johnson & Johnson and its talc supplier Imerys Talc. He said Johnson's Baby Powder and Shower to Shower led to his mesothelioma.

$22 Million Verdict

In December 2017, a California jury awarded Richard Booker over $22 million. Booker had sued Dexter Midland Chemical Co., Walter N. Boysen Paint Co., Vanderbilt Minerals and Imerys Talc. He worked as a paint maker and claimed he was exposed to talc contaminated with asbestos. Booker died of mesothelioma in 2016.

$18 Million Verdict

In October 2016, a Los Angeles jury awarded Philip Depoian $18 million against talc supplier Whittaker, Clark & Daniels. Doctors diagnosed Depoian with mesothelioma in May 2015. Depoian's lawsuit said he was exposed to asbestos in talcum powder at the barbershop where his father worked.

$13 Million Verdict

In May 2015, a jury awarded Judith Winkel $13 million. The case was settled out of court for an undisclosed amount before a jury could decide on additional punitive damages. Winkel sued Colgate-Palmolive Co. Her lawsuit said the company's Cashmere Bouquet product caused her mesothelioma. She regularly used the popular scented talcum powder from 1961 to 1976.
Talcum Powder Contributes to Ovarian Cancer
Lawsuits that claim talcum powder caused ovarian cancer outnumber the mesothelioma claims in part because mesothelioma is rare. Only about 3,000 people get the disease a year, according to the American Cancer Society. In contrast, more than 22,200 women will receive an ovarian cancer diagnosis each year.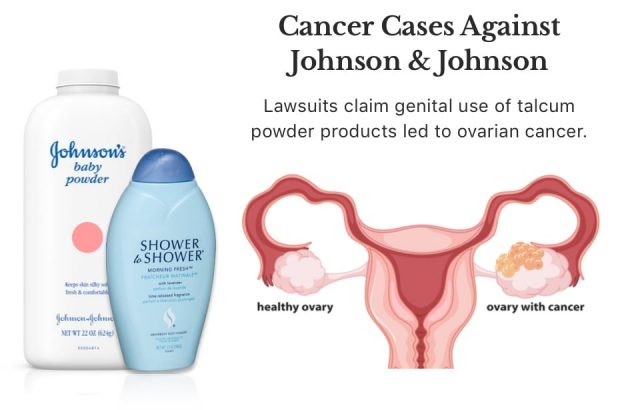 Courts where ovarian cancer lawsuits are taking place:
Federal Court, U.S. District of New Jersey
State Court, Atlantic County in New Jersey
State Court, Los Angeles Superior Court in California
State Court, St. Louis Circuit Court in Missouri
The first ovarian cancer lawsuits did not allege asbestos-contaminated talc caused cancer. Rather, they claimed talc alone could travel into the ovaries and cause inflammation that led to cancer. According to lawsuits, the first studies linking ovarian cancer and talc surfaced in the 1980s, and defendants were aware their products could harm people.
Ovarian cancer lawsuits against Johnson & Johnson garnered substantial media attention with big number verdicts in St. Louis courts: $72 million, $70 million and $55 million. In some of these lawsuits, plaintiff's expert witnesses testified they found talc particles in the ovaries of women with cancer.
"[Johnson & Johnson] should pull talc from the market before causing further anguish, harm, and death from a terrible disease."
The largest verdict to date is $4.7 billion awarded in July 2018 to 22 women who say Johnson & Johnson's talc products led to their ovarian cancer. Unlike the first cases, this claim was historic because it claimed asbestos — and not just talc — was to blame for ovarian cancer.
The federal multidistrict litigation in New Jersey — MDL No. 2738, In Re: Johnson & Johnson Talcum Powder Products Marketing, Sales Practices And Products Liability Litigation — is exclusively for ovarian and uterine cancer claims. The main defendants are Johnson & Johnson and its talc supplier Imerys Talc.
More than 19,000 claims are pending.
There have been some trials and verdicts in state courts, as well as some settlements. In June 2018, Bloomberg News reported that Imerys paid $5 million to settle claims by 22 women. The women alleged that Imerys supplied asbestos-laced talc to Johnson & Johnson that caused them to develop cancer. Bloomberg sourced the dollar figure to "two people familiar with the matter."
Imerys and Johnson & Johnson both maintain their talc is free of asbestos and does not cause cancer.
Recent Talc and Ovarian Cancer Verdicts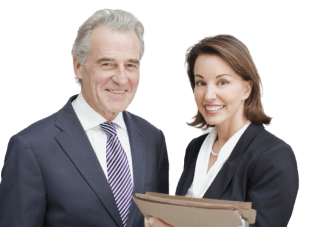 Manufacturers and Talc Brands Defend Against Personal Injury Claims
People filed lawsuits against makers of major brands of talcum powder products, the largest of which is Johnson & Johnson. They also sued Imerys Talc and other mining companies that supply these manufacturers with raw talc.
Manufacturers say they intend to vigorously defend against lawsuits. Imerys Talc, Colgate-Palmolive and other companies have attempted to settle some cases confidentially. For example, in July 2018, Colgate-Palmolive paid a confidential settlement to Paul Garcia, who said he developed mesothelioma after using baby powder made by Mennen, a company previously tied to Colgate-Palmolive.
Johnson & Johnson has made no mention of a blanket settlement for its thousands of lawsuits thus far, despite the large verdicts against it.
"The Company believes that it has strong grounds on appeal to overturn these verdicts," Johnson & Johnson said in its second quarter form 10-Q. "The Company has established an accrual for defense costs only in connection with product liability litigation associated with body powders containing talc."
Class Action Claims for Cancer Risk
The majority of litigation in talcum powder cases has been focused on individual lawsuits that claim injuries from talc. But there have been at least four class action lawsuits filed over talc-related products and possible cancer risk. Two have been dismissed or absorbed into other cases. These cases claim the products are defective or dangerous but may not necessarily claim injuries.
April 2014

California Talc Class Action – Mona Estrada claimed Johnson & Johnson failed to warn about the cancer risk of its talc products. A California federal judge moved the case to New Jersey making it part of the MDL underway there. A New Jersey federal judge

dismissed Estrada's claim in 2017

saying she did not suffer an actual injury.

September 2015

Illinois Talc Class Action – Barbara Mihalich filed a class action suit claiming Johnson & Johnson profited unjustly from its talcum products. The case, including others who had signed onto it, was transferred to the New Jersey MDL in October 2016.

February 2018

New Jersey Federal Class Action – Investors filed a class-action lawsuit against Johnson & Johnson. They accused the company of failing to disclose that its talcum powder products carried risks of ovarian cancer and mesothelioma.

June 2018

Missouri Class Action – Cynthia Gibson, Heidi Amiro, Lois Arnstein and other plaintiffs filed a class action lawsuit against Johnson & Johnson. The lawsuit claims exposure to talc, asbestos and other carcinogens in Johnson's Baby Powder and Shower to Shower led to ovarian cancer. Plaintiffs say Johnson & Johnson failed to warn of the cancer risk.
Lawsuit Settlement Amounts
On Oct. 5, 2020, Johnson & Johnson agreed to pay about $100 million to settle more than 1,000 cases, according to Bloomberg.
"In certain circumstances, we do choose to settle lawsuits, which is done without an admission of liability and in no way changes our position regarding the safety of our products," a company spokeswoman told Bloomberg.
Bellwether trial dates could still be scheduled for the remaining federal cases. Bellwether cases help set the stage for determining the potential value of cases and inform settlement discussions, talcum powder lawyer and complex litigation specialist Trent B. Miracle told Drugwatch.
In April 2020, U.S. District Judge Freda Wolfson ruled that plaintiffs' expert opinions on talcum powder and cancer are "substantially supported by the science." Then in May 2020, J&J announced it would stop selling talcum powder in the United States and Canada.
These developments could "strengthen the plaintiffs' case at trial and beyond" as well as improve chances for more settlement talks, Miracle said.
In August 2022, J&J announced it would discontinue talc-based baby powder globally. The company said it was purely a financial decision and that their product is safe and doesn't contain asbestos or cause cancer.
How Long Does It Take to Settle a Talcum Powder Case?
The exact time it takes to settle a talcum powder case depends on several factors, lawyers say. Talcum powder cases are more complex because of the medical records and science needed to connect a person's cancer to talcum powder use.
For example, Johnson and Johnson's first settlement in 2020 has been years in the making. A few federal cases may need to go to trial before Johnson & Johnson decides to settle more cases.
"Typically speaking, any complex products liability case on average can last between three and seven years. In this case, because of COVID-19, getting to trial may take longer," Miracle said.
Keep in mind that there are no settlement guarantees in any injury claim.
Questions Talcum Powder Lawyers May Ask
Have you been diagnosed with ovarian cancer or mesothelioma?
People filing lawsuits against Johnson & Johnson and other talc manufacturers have been diagnosed with ovarian cancer or mesothelioma. Provide a copy of your medical records to confirm your official cancer diagnosis.
Did you use talcum powder for intimate personal hygiene?
To establish a connection between talcum powder use and ovarian cancer, your attorney will need to know if you used talcum powder as a personal hygiene product. Products such as Johnson's Baby Powder and Shower to Shower have been named in lawsuits. Bring a list of all talc-based products you've used to share with your attorney at your consultation.
How long did you use talcum powder?
Typically, individuals seeking compensation had used talcum powder for at least four years before receiving their cancer diagnosis. Bring any evidence you have that proves this timeframe to the initial consultation with your attorney.
When were you diagnosed with cancer?
Individuals have a certain amount of time between their cancer diagnosis and when they can file a lawsuit. This varies by state. Your talcum powder lawyer can let you know whether you're within the statute of limitations to file a lawsuit.
Were you or your family member previously diagnosed with cancer?
Women who have previously had ovarian or cervical cancer or whose family members have had ovarian or cervical cancer have a higher chance of developing these cancers. Knowing about your and your family's history with cancer can help your attorney with your case.
Have you been diagnosed with any other diseases?
In addition to ovarian cancer and mesothelioma, asbestos-contaminated talcum powder has also been linked to lung cancer, uterine cancer, cervical cancer, pulmonary talcosis and pneumonia. If you've been diagnosed with any of these other conditions, you should disclose this information to the lawyer working on your case.
Please seek the advice of a medical professional before making health care decisions.
Share This Page:
How can we improve this page?
Thank You for Your Feedback
We appreciate your feedback. One of our content team members will be in touch with you soon.
We appreciate your feedback. One of our content team members will be in touch with you soon.
Who Am I Calling?
Calling this number connects you with a Drugwatch representative. We will direct you to one of our trusted legal partners for a free case review.
Drugwatch's trusted legal partners support the organization's mission to keep people safe from dangerous drugs and medical devices. For more information, visit our partners page.