Talcum Powder Lawsuits
Thousands of people have filed talcum powder lawsuits after developing ovarian cancer or mesothelioma following exposure to talc and baby powder products manufactured by Johnson & Johnson. In 2018, juries awarded a $117 million mesothelioma verdict and a $4.69 billion ovarian cancer verdict, and J&J and its talc supplier agreed to pay $1.5 million to settle a mesothelioma lawsuit.
Talcum powder lawsuits say manufacturers knew their talc was contaminated by asbestos and could cause mesothelioma and ovarian cancer, but they did nothing to warn consumers about the risk of their products. Instead, manufacturers concealed the dangers from the public.
A bombshell report by Reuters news agency in late 2018 revealed that Johnson & Johnson knew for decades that its baby powder products were contaminated by asbestos, a mineral known to cause cancer, but the company failed to publicly disclose that information.
According to the Reuters story, Johnson & Johnson's raw talc and talcum powder tested positive for trace amounts of asbestos on several occasions between 1971 and 2003. The article cited numerous internal company memos, reports and other documents disclosed during talc lawsuits that suggest the company knew of the danger.
Johnson & Johnson vigorously denied the allegations in a statement on its website and called the story an "absurd conspiracy theory." The company continues to defend its baby powder as "safe and asbestos-free." Johnson & Johnson powders are still being sold today.
Companies named in lawsuits include Johnson & Johnson, Vanderbilt Minerals, Colgate-Palmolive and Imerys Talc America. Johnson & Johnson faces the largest number of talc cancer claims. According to a March 2019 report filed with the Securities and Exchange Commission, the company faces 14,200 talc-related lawsuits.
Although the defendants have won some cases, juries have returned billions of dollars in verdicts for plaintiffs, and lawsuits continue to pour in. Most settlements so far have been with individual plaintiffs for undisclosed amounts.
As of August 15, 2019, Johnson & Johnson faced 12,974 cases consolidated in the U.S. District Court for the District of New Jersey.
Who Is Eligible to File a Talcum Powder Lawsuit?
People who used a cosmetic or commercial talcum powder product and developed ovarian cancer or mesothelioma may be eligible to file a talcum powder lawsuit.
In the case of ovarian cancer lawsuits, women must have used talc-containing products around the genital area daily or almost daily before developing ovarian cancer. It is important to note that women who used baby powders made from cornstarch are not eligible for these lawsuits because cornstarch-based powders don't contain talc.
Talc Products Implicated in Ovarian Cancer Lawsuits
Johnson & Johnson Baby Powder
Shower to Shower
Gold Bond No Mess Power Spray
Gold Bond Body Powder
Gold Bond Extra Strength Body Powder
People who used talc-containing products and developed mesothelioma are also eligible to file a lawsuit. These products can be cosmetic, such as baby powder, or industrial, including products such as clay, chalk, paper, crayons, pottery, joint compounds and adhesives.
Only a lawyer can properly evaluate your claim. If you've developed ovarian cancer or mesothelioma after using talc-containing products, contact a lawyer immediately to preserve your legal rights.
Top Manufacturers, Suppliers and Brands of Talc Products Named in Lawsuits
| Company | Brands and Products |
| --- | --- |
| Johnson & Johnson | Johnson's Baby Powder and Shower to Shower |
| Colgate-Palmolive | Cashmere Bouquet |
| Imerys Talc North America | Raw industrial and cosmetic talc |
| Whittaker, Clark & Daniels | Raw cosmetic talc |
| Vanderbilt Minerals | Raw industrial talc |
Talcum Powder and Mesothelioma Cases
Litigation is ongoing in talcum powder lawsuits that claim industrial or cosmetic talc contaminated by asbestos led to mesothelioma. As of April 2018, juries had awarded more than $153 million in talcum powder mesothelioma claims.
People who filed these cases claim inhalation of talcum powder led them to develop mesothelioma and lung disease. Asbestos is the main cause of mesothelioma, but some lawsuits argue that with or without asbestos contamination, talc can also lead to the disease.
Plaintiffs cite studies that prove the association between talc and mesothelioma, mainly one by Hull and colleagues published in 2002, according to Claims & Litigation Management Alliance. The study found that talc miners and millers in upstate New York developed mesothelioma from talc even without asbestos contamination.
"Thousands of companies used cosmetic talc in their products over the last hundred years. The entire population could claim exposure, especially to defendants that sold personal care products that could be ingested, inhaled or exposed via air-borne contact."
In 2006, a man who worked in a pottery studio filed the first talc mesothelioma case. He claimed exposure to talc made by Vanderbilt led to his mesothelioma diagnosis. He died during litigation, but his widow received $3.35 million.
The most recent lawsuits allege asbestos-contaminated cosmetic talc products can cause mesothelioma.
Stephen Lanzo III was one of the most recent plaintiffs to go to trial. In April 2018, a New Jersey jury awarded Lanzo and his wife $117 million. Lanzo's lawsuit claimed he developed mesothelioma after using Johnson & Johnson's Baby Powder and Shower to Shower for decades.
Johnson & Johnson and Imerys agreed to settle a similar case in December 2018 for $1.5 million. Ann Zoas, a 78-year-old from New York, claimed she developed mesothelioma following years of using Johnson & Johnson's Baby Powder.
Zoas says she used the baby powder daily between 1945 and 1948 and approximately "80 percent of the time" between 1949 and January 2017, according to court documents. Doctors diagnosed her with mesothelioma in March 2017.
Imerys confirmed the settlement to Bloomberg news, which broke the story. It was the first publicly reported settlement by Johnson & Johnson in talc litigation.
Talcum Powder Contributes to Ovarian Cancer
Lawsuits that claim talcum powder caused ovarian cancer outnumber the mesothelioma claims in part because mesothelioma is rare. Only about 3,000 people get the disease a year, according to the American Cancer Society. In contrast, more than 22,200 women will receive an ovarian cancer diagnosis each year.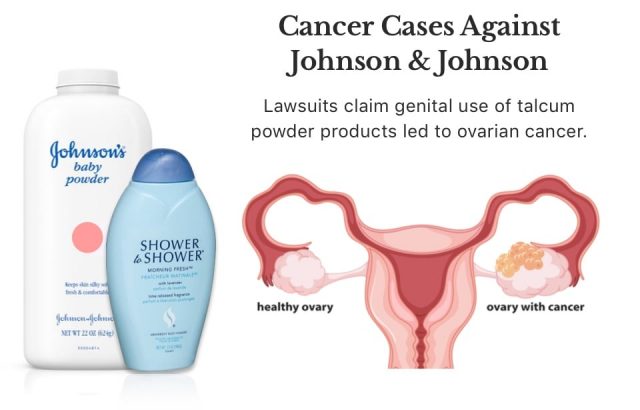 Courts where ovarian cancer lawsuits are taking place:
Federal Court, U.S. District of New Jersey
State Court, Atlantic County in New Jersey
State Court, Los Angeles Superior Court in California
State Court, St. Louis Circuit Court in Missouri
The first ovarian cancer lawsuits did not allege asbestos-contaminated talc caused cancer. Rather, they claimed talc alone could travel into the ovaries and cause inflammation that led to cancer. According to lawsuits, the first studies linking ovarian cancer and talc surfaced in the 1980s, and defendants were aware their products could harm people.
Ovarian cancer lawsuits against Johnson & Johnson garnered substantial media attention with big number verdicts in St. Louis courts: $72 million, $70 million and $55 million. In some of these lawsuits, plaintiff's expert witnesses testified they found talc particles in the ovaries of women with cancer.
"[Johnson & Johnson] should pull talc from the market before causing further anguish, harm, and death from a terrible disease."
The largest verdict to date is $4.7 billion awarded in July 2018 to 22 women who say Johnson & Johnson's talc products led to their ovarian cancer. Unlike the first cases, this claim was historic because it claimed asbestos — and not just talc — was to blame for ovarian cancer.
As of July 2019, there were 12,641 lawsuits pending in a multidistrict litigation (MDL) in New Jersey federal court. Johnson & Johnson and talc supplier Imerys Talc are the defendants in the MDL. The federal MDL is still in the early stages, and none of those cases have made it to trial yet. Most of the verdicts have been reached in Missouri and California.
Manufacturers and Talc Brands Defend Against Personal Injury Claims
People filed lawsuits against makers of major brands of talcum powder products, the largest of which is Johnson & Johnson. They also sued Imerys Talc and other mining companies that supply these manufacturers with raw talc.
Manufacturers say they intend to vigorously defend against lawsuits. Imerys Talc, Colgate-Palmolive and other companies have attempted to settle some cases confidentially. For example, in July 2018, Colgate-Palmolive paid a confidential settlement to Paul Garcia, who said he developed mesothelioma after using baby powder made by Mennen, a company previously tied to Colgate-Palmolive.
Johnson & Johnson has made no mention of a blanket settlement for its thousands of talcum powder lawsuits thus far, despite the large verdicts against it.
"The Company believes that it has strong grounds on appeal to overturn these verdicts," Johnson & Johnson said in its second quarter form 10-Q. "The Company has established an accrual for defense costs only in connection with product liability litigation associated with body powders containing talc."
Class Action Claims for Cancer Risk
The majority of litigation in talcum powder cases has been focused on individual lawsuits that claim injuries from talc. But there have been at least four class action lawsuits filed over talc-related products and possible cancer risk. Two have been dismissed or absorbed into other cases. These cases claim the products are defective or dangerous but may not necessarily claim injuries.
April 2014

California Talc Class Action – Mona Estrada claimed Johnson & Johnson failed to warn about the cancer risk of its talc products. A California federal judge moved the case to New Jersey making it part of the MDL underway there. A New Jersey federal judge 

dismissed Estrada's claim in 2017

 saying she did not suffer an actual injury.

September 2015

Illinois Talc Class Action – Barbara Mihalich filed a class action suit claiming Johnson & Johnson profited unjustly from its talcum products. The case, including others who had signed onto it, was transferred to the New Jersey MDL in October 2016.

February 2018

New Jersey Federal Class Action – Investors filed a class-action lawsuit against Johnson & Johnson. They accused the company of failing to disclose that its talcum powder products carried risks of ovarian cancer and mesothelioma.

June 2018

Missouri Class Action – Cynthia Gibson, Heidi Amiro, Lois Arnstein and other plaintiffs filed a class action lawsuit against Johnson & Johnson. The lawsuit claims exposure to talc, asbestos and other carcinogens in Johnson's Baby Powder and Shower to Shower led to ovarian cancer. Plaintiffs say Johnson & Johnson failed to warn of the cancer risk.
Please seek the advice of a medical professional before making health care decisions.
How helpful was this page?
How can we improve this page?
How can we improve this page?