Side Effects Soar for Newer Classes of Diabetes Drugs
Fact-Checked
Editors carefully fact-check all Drugwatch content for accuracy and quality.
Drugwatch has a stringent fact-checking process. It starts with our strict sourcing guidelines.
We only gather information from credible sources. This includes peer-reviewed medical journals, reputable media outlets, government reports, court records and interviews with qualified experts.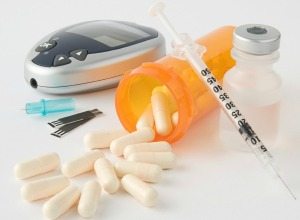 A list of the newer classes of Type 2 diabetes drugs reads like alphabet soup: GLP-1, DPP-4, SLGT2.
But the list of possible side effects carries a much more somber tone: pancreatitis, pancreatic cancer, urinary infections, thyroid cancer, gastrointestinal issues, and renal and gallbladder problems.
In a groundbreaking report, AdverseEvents (AE), a California-based company that analyzes post-market side effect data, reveals the real-world problems with these newer drugs.
"The only way to fully review a drug's safety is to track and monitor side effects as the general population begins utilizing the drugs on an ongoing basis, in real-world circumstances," Brian Overstreet, CEO of AdverseEvents, said in a statement.
While it's hard to argue with the data – real people reporting real side effects to the U.S. Food and Drug Administration (FDA) – the report is sure to face scrutiny. The primary point of controversy? Whether these drugs are or are not linked to pancreatic cancer.
The report says yes.
Are These Drugs Safe?
Metformin is considered the most efficient and inexpensive first line of treatment for Type 2 diabetes, but its effectiveness often diminishes after a few years. At that point, doctors will add one or more medications to keep blood sugar under control.
Glucagon-like peptide-1 receptor (GLP-1) agonists and dipeptidyl peptidase-4 (DPP-4) inhibitors both affect levels of the incretin hormone, which helps to control blood sugar. Sodium-glucose co-transporter 2 (SGLT2) inhibitor (glucuretics) block glucose reabsorption and instead release it into the urine.
In its report, "The Comparative Safety of Type 2 Diabetes Medications," AdverseEvents analyzed data on 11 medications in three classes of drugs through March 28. AE used data from the FDA's Adverse Event Reporting Systems (FAERS) system to look at events that were life threatening, resulted in hospitalization, disabilities or death.
GLP-1 Agonists
Drugs analyzed: Bydureon, Byetta and Victoza
Key conclusions: GLP-1 receptor agonists and DPP-4 inhibitors have elevated associations with pancreatitis and pancreatic cancer. Bydureon and Byetta may be safer choices than Victoza within the GLP-1 inhibitor class.
Analysis: "Our review of post-approval AE data suggest disproportional elevated reporting of gastrointestinal issues, pancreatitis, and both pancreatic and thyroid cancers linked to the GLP-1 agonists, with Bydureon having consistently lower associations with these side effects when compared to Victoza and Byetta."
(The FDA recently approved Tanzeum, a GLP-1, and is studying dulaglutide, another GLP-1. These drugs were not included in the report.)
DPP-4 Inhibitors
Drugs analyzed: Janumet, Januvia, Nesina, Onglyza, Jentadueto and Tradjenta
Key conclusion: DPP-4 inhibitors may be linked to more serious side effects than is widely believed, with Nesina of particular concern.
Analysis: "DPP-4 inhibitors had far lower associations with gastrointestinal issues than the GLP-1s, but also showed elevated signals for both pancreatitis and pancreatic cancer. Within the class, Janumet and Januvia (both containing sitagliptin) had the highest associations with these side effects."
SLGT2 Inhibitors
Drugs analyzed: Farxiga and Invokana
Key conclusion: SLGT2 inhibitors are associated with elevated urinary infection risks.
Analysis: "While we await more data on the new SLGT2 inhibitor class, the data we analyzed confirmed the known linkage to urinary infections. Our preliminary results with this class also suggested possible concerns for renal and gallbladder issues, as well as bladder cancer."
Growing Market
The surge in new classes of drugs to treat Type 2 diabetes is fueled by the unstoppable growth of the disease. The Centers for Disease Control says there are 26 million people with Type 2 in the U.S. — a 10 percent increase in just three years. An estimated 79 million adults have prediabetes, defined as higher-than-normal blood sugars. Worldwide, an estimated 350 million people have diabetes.
Drug companies are quick to fill the growing need for effective treatments, but critics say these newer drugs are often rushed to market. This leaves consumers to discover the actual safety profile of a drug – and to suffer the side effects.
"Over and over again, when safety concerns are raised, the FDA is approving the drug, then asking companies to do a study on its safety," Dr. Sidney Wolfe, founder and senior adviser for the Health Research Group at Public Citizen, told Drugwatch.com.
"The standard used to be: Prove to us that it's safe and then that it works. Now, it's: Prove that it works and come back later with information on whether it's safe. Drug companies are powered for efficacy. They are grossly underpowered for safety."
Wolfe's watchdog group produces a "Do Not Take" list of drugs – and all of these newer diabetes drugs are on there.
"In our view, they all are associated with pancreatitis and may be associated with pancreatic cancer," he said.
Controversy Remains
Pancreatitis and pancreatic cancer are serious, potentially lethal problems. Pancreatitis is a painful inflammation of the pancreas. Many of the newer diabetes drugs warn about this dangerous side effect. However, none of the warning labels includes information about the threat of pancreatic cancer, a disease that has no cure and can be deadly within a year.
This is where the debate comes in.
"Controversy surrounds the links between these (GLP-1 ) drugs and pancreatitis and pancreatic cancer," AdverseEvents reports. "On the one hand, a survey of the FAERS database was conducted which indicated a significantly increased risk for pancreatitis and both pancreas and thyroid cancer. A related study and two recent meta-analysis of pre-approval clinical trials, however, did not find plausible evidence of increased risk of pancreatitis with use of GLP-1 inhibitors."
The report also found that DPP-4 inhibitors had "high disproportionality results for both pancreatitis and pancreatic cancer." But, again, it mentions a meta-analysis of pre-approval clinical trials that did not find these risks.
Dr. Wolfe suggests a conservative approach whenever newer drugs are involved.
"We have what I call a seven-year window to avoid using new medications unless it's a breakthrough drug, which 95 percent of them are not," he said. "If you don't fully know what the risk is going to be for a drug, why be a guinea pig? Wait a few years, and see how things turn out. The chances of an unexpected outcome diminish over time.
"The older the drug, the more likely you're going to know exactly what effects it can have on you."
Share This Page:
How can we improve this page?
Thank You for Your Feedback
We appreciate your feedback. One of our content team members will be in touch with you soon.
We appreciate your feedback. One of our content team members will be in touch with you soon.