Kentucky Takes Purdue Pharma to Court over OxyContin Addiction
Fact-Checked
Editors carefully fact-check all Drugwatch content for accuracy and quality.
Drugwatch has a stringent fact-checking process. It starts with our strict sourcing guidelines.
We only gather information from credible sources. This includes peer-reviewed medical journals, reputable media outlets, government reports, court records and interviews with qualified experts.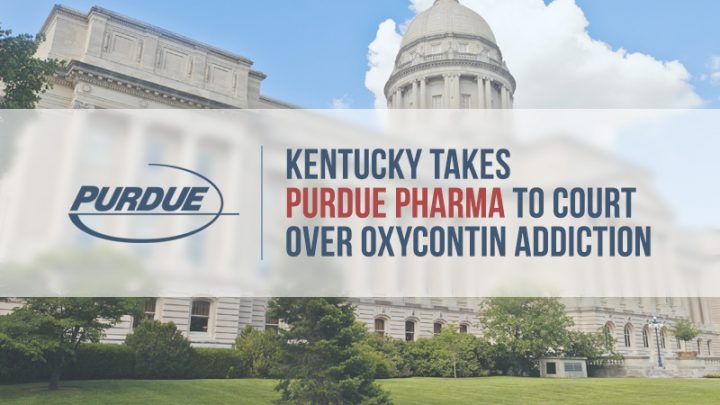 The state of Kentucky is continuing to fight OxyContin manufacturer Purdue Pharma in state court. In a legal drama that's moved back and forth between state and federal courts and involved multiple attorney generals, Kentucky is seeking justice for Purdue's alleged illegal promotion of OxyContin.
The opioid painkiller is an extended-release version of oxycodone and one of the most widely-used painkillers in the U.S. It's also highly addictive and was easily abused until the U.S. Food and Drug Administration forced Purdue to reformulate it in 2010.
Kentucky's former attorney general Greg Stumbo filed a lawsuit against Purdue Pharma in 2007 for illegally promoting OxyContin after 484 people died from OxyContin overdose in the state the year before, according to USA Today.
A U.S. Government Accountability Office investigation found Purdue encouraged doctors to prescribe OxyContin for numerous conditions not considered severe pain. The U.S. Drug Enforcement Administration also reported Purdue promoted the drugs to doctors who weren't trained in pain management and delivered coupons and promotional items for patients.
Kentucky demanded more than $1 billion in compensation for costs for drug abuse programs, law enforcement efforts and payments to Medicaid and the state's pharmaceutical assistance program.
In 2007, Purdue issued a statement claiming OxyContin's labeling warned about the dangers of potential drug abuse and the company wasn't responsible for individuals who abused it. Multiple states also filed lawsuits against Purdue, and the cases were consolidated to federal court, according to USA Today.
There, Purdue plead guilty to charges of marketing OxyContin as less addictive than other drugs and as more difficult to abuse. It also admitted its conduct allowed more OxyContin to be illegally available, leading to a $634.5 million settlement. Three company executives were also charged with felonies but avoided paying fines.
Kentucky's portion of the settlement was only $500,000, so the state opted out and decided to pursue charges on its own.
"This is about holding them accountable," Kentucky's current Attorney General Jack Conway told USA Today in 2014. "They played a pre-eminent role in the state's drug problem. This started to explode in the mid-1990s, when Purdue Pharma was marketing OxyContin. The resulting opiate epidemic … is a direct result."
Purdue attempted to have the lawsuit moved out of Pike County, a Kentucky county devastated by addiction to opioids, but courts denied the request. A company survey showed 70 percent of people in Pike County agreed "OxyContin devastated local residents' lives," according to USA Today.
The company was finally set to face a Kentucky jury for the first time in early 2015, but multiple legal controversies continue to delay proceedings. Meanwhile, communities across the nation are fighting Purdue in court.
Chicago, California Counties File Lawsuits Against Opioid Makers
In 2014, the city of Chicago and two counties in California filed separate lawsuits against five companies for "aggressive marketing" that led to prescription drug abuse across the U.S. The lawsuits claimed the companies cost millions of tax dollars and health care costs.
Opioid abuse led to more than 1,000 emergency rooms visits in Chicago in 2009 and $9.5 million in insurance claims in 2008 in addition to other health care expenses, according to the city's lawsuit.
California's Orange County and Santa Clara County accused multiple companies of encouraging patients to ask their doctors for opioids for conditions not associated with severe pain. A 2012 Los Angeles Times investigation found more than half of the deaths related to prescription drugs in the state involved drugs prescribed by a doctor, and 71 California doctors prescribed drugs to at least three patients who died of overdose.
Companies named in the lawsuits included:
Johnson & Johnson's subsidiary Janssen Pharmaceuticals
Purdue Pharma
Actavis
Teva Pharmaceuticals' subsidiary Cephalon
The courts leaned toward Big Pharma's defense. A Chicago court dismissed charges against every company except Purdue in May, and in August an Orange County judge put the cases on hold until the FDA could complete an investigation into the safety and efficacy of opioids.
Lengthy Kentucky Lawsuit Filled With Controversy
Kentucky's lawsuit in Pike County continues to be delayed by controversy. When the state first filed claims against Purdue in 2007, the court gave the company 45 days to respond. But federal courts moved the case to federal court before the deadline.
When Kentucky opted out of the federal settlement in 2007, the case was moved back to Pike County. The state's attorneys say the countdown to the deadline for responding to claims began the day the case was moved back to Kentucky. Purdue never responded to the charges, missing the new deadline.
The lack of response would make it much easier for Kentucky to win the case, but Purdue said the deadline shouldn't have restarted automatically. Judge Steven Combs disagreed, and Purdue appealed to the state's supreme court further delaying the case.
Combs faced controversy of his own. The judge was temporarily suspended after being charged with 10 claims of misconduct. Charges included office misconduct and inappropriate communications including calling Pikeville officials derogatory names.
In November, the state elected a new attorney general: Andy Beshear. The son of Kentucky Gov. Steve Beshear has a history of experience with complex litigation, but the law firm he worked for represented Purdue. The new attorney general begins his term in office Jan. 4, 2016.
It's unclear when Purdue will have to step into a courtroom with a Kentucky jury. For now, Kentuckians affected by OxyContin and other opioids are attempting to recover from the epidemic that affected so many of their lives.
Fortunately, people seeking treatment for addiction to opioids have effective options available. Rehabilitation clinics and treatments from health care professionals can help people who suffer from addiction return to normal lives.
Update
At the end of December 2015, Purdue Pharma agreed to pay Kentucky $24 million over the next eight years to settle allegations that it mislead the public about the addictive nature of OxyContin, CBS News reported.  Purdue will pay the state in two installments of $12 million. Philip C. Strassburger, Purdue's general counsel, said the settlement allows the company to "focus on bringing innovative abuse-deterrent medicines to patients and our other efforts to combat prescription drug abuse and overuse."
Share This Page:
How can we improve this page?
Thank You for Your Feedback
We appreciate your feedback. One of our content team members will be in touch with you soon.
We appreciate your feedback. One of our content team members will be in touch with you soon.