Generic Drug Makers Accused of Illegal Conspiracies over Drug Prices
Fact-Checked
Editors carefully fact-check all Drugwatch content for accuracy and quality.
Drugwatch has a stringent fact-checking process. It starts with our strict sourcing guidelines.
We only gather information from credible sources. This includes peer-reviewed medical journals, reputable media outlets, government reports, court records and interviews with qualified experts.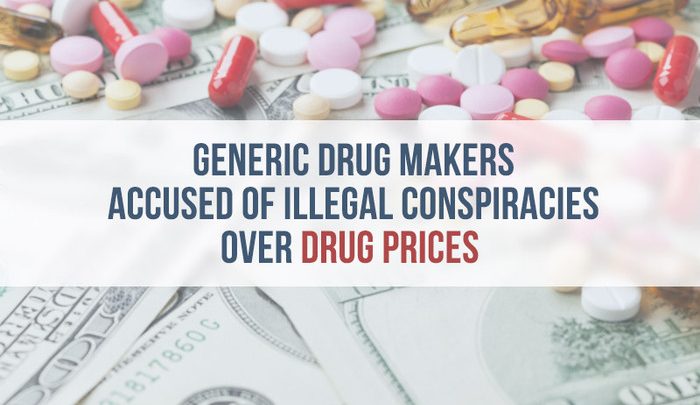 A coalition of 20 states is suing six generic drug manufacturers, alleging they illegally conspired to inflate prices of two medications as part of an industrywide price-fixing scheme.
The alleged scam, hammered out during dinners, "girls nights out" and parties, "caused a significant, lasting and ultimately harmful rippling effect in the United States healthcare system…" the lawsuit alleges.
The suit stems from an investigation Connecticut launched in July 2014 amid outrage over "unexplained and suspicious price increases" for generic drugs.
https://abcnews.go.com/US/wireStory/connecticut-leads-20-state-lawsuit-drug-pricing-44218371
The U.S. Attorney's Office, the FBI and other agencies are involved in an ongoing antitrust investigation into price fixing, bid rigging and other anticompetitive conduct in the generic pharmaceutical industry.
Prices for a large number of generic drugs skyrocketed throughout 2013 and 2014.
The cost of more than 1,200 generic medications jumped an average of 448 percent between July 2013 and July 2014, the 56-page complaint alleges. Some drug prices, according to the suit, spiked by 600 to as much as 2,000 percent.
The "principal architect" of the scheme was Eatontown, N.J.-based Heritage Pharmaceuticals, according to Connecticut Attorney General George Jepsen.
Jeffrey Glazer, the company's former CEO, and Jason Malek, the former president, were charged by federal officials in a criminal complaint for allegedly  conspiring to fix prices, rig bids and allocate customers for certain generic drugs.
A statement from Heritage said Glazer and Malek were fired in August after an internal investigation, according to The Connecticut Post.
They are accused in a federal civil lawsuit of creating shell companies and fake identities to steal intellectual property from Heritage.
"Recently Heritage initiated its own legal action against these same individuals to seek redress for an elaborate embezzlement and self-dealing scheme. We are deeply disappointed by the misconduct and are committed to ensuring it does not happen again," a Heritage statement to The Connecticut Post said.
Heritage is cooperating with both federal and state investigations, a company spokeswoman told National Public Radio. Everyone involved in the scheme knew it was illegal, according to the complaint from 20 states.
"Through its senior-most executives and salespersons, Heritage organized and initiated a wide-ranging series of conspiracies which included numerous generic drug manufacturers, all of whom were knowing and willing participants," the complaint says. "Collectively, Defendants were able to obtain a substantial windfall as a result of these illegal agreements."
Generic drug sales generated $74.5 billion in 2015, accounting for 88 percent of prescriptions written in the United States.
'Long-Running Conspiracy' Alleged
Connecticut is taking the lead role in the litigation against Heritage Pharmaceuticals, Inc.; Aurobindo Pharma USA, Inc.; Citron Pharma, LLC; Mayne Pharma (USA), Inc.; Mylan Pharmaceuticals, Inc.; and Teva Pharmaceuticals USA.
A statement from Mylan to NPR stated: "To date, we know of no evidence that Mylan participated in price fixing."  An Associated Press report said Teva "vigorously" denies any allegations of wrongdoing. Aurobindo declined to comment to the AP.  The AP said other companies didn't immediately respond
Senior drug company executives and their marketing and sales executives are accused of carrying out what's being described as a "well-coordinated and long-running conspiracy."
At issue are prices for doxycycline hyclate delayed release, an antibiotic, and glyburide, an oral diabetes medication.
"While the principal architect of the conspiracies addressed in this lawsuit was Heritage Pharmaceuticals, we have evidence of widespread participation in illegal conspiracies across the generic drug industry," Jepsen said in a statement. "Ultimately, it was consumers – and, indeed, our healthcare system as a whole – who paid for these actions through artificially high prices for generic drugs."
Industry Dinners, Nights Out
The conspiracy played out during the course of normal business days and during industry conferences and trade shows, according to the suit.
"Attendant with many of these conferences and trade shows are organized recreational and social events, such as golf outings, lunches, cocktail parties, dinners, and other scheduled activities that provide further opportunity to meet with competitors outside of the traditional business setting," the suit alleges.
An unidentified Heritage saleswoman from Minnesota also helped organize "Girls Night Out" or "Women in the Industry" events during which competitors met discussed sensitive information, the suit alleges.
In January 2014, at least 13 high-ranking male executives met at a steakhouse in Bridgewater, N.J. for one of the periodic "industry dinners during which they met and colluded, the suit says.
"At these industry dinners, one company is usually responsible for paying for dinner for all of the attendees. The company that pays the bill is generally determined by alphabetical order," the lawsuit said.
Certain details about these social events and the mechanics of the alleged scheme were blacked out in a copy of the complaint released to the media.
The other plaintiff states include Delaware, Florida, Hawaii, Idaho, Iowa, Kansas, Kentucky, Louisiana, Maine, Maryland, Massachusetts, Minnesota, Nevada, New York, North Dakota, Ohio, Pennsylvania, Virginia and Washington.
Share This Page:
How can we improve this page?
Thank You for Your Feedback
We appreciate your feedback. One of our content team members will be in touch with you soon.
We appreciate your feedback. One of our content team members will be in touch with you soon.