Feds Recover $4.7B from Drug Companies, Other Industries
Fact-Checked
Editors carefully fact-check all Drugwatch content for accuracy and quality.
Drugwatch has a stringent fact-checking process. It starts with our strict sourcing guidelines.
We only gather information from credible sources. This includes peer-reviewed medical journals, reputable media outlets, government reports, court records and interviews with qualified experts.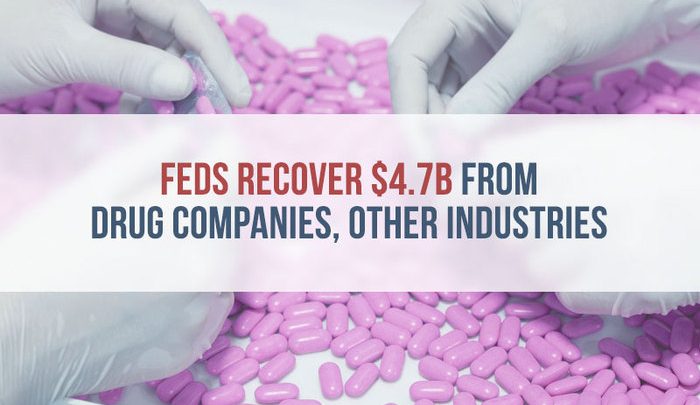 More than half of the nearly $5 billion recovered under the federal False Claims Act during the last budget year came from the health care industry. The U.S. Department of Justice secured roughly $4.7 billion in settlements and judgments from civil cases involving fraud and false claims during the budget year that ended Sept. 30.
Of that, $2.5 billion came from the health care industry, including drug companies, medical device companies, hospitals, nursing homes, laboratories and physicians.
The False Claims Act gives authorities the power to fight alleged fraud in a wide variety of industries receiving federal funds. It also includes financial incentives for whistleblowers to file fraud lawsuits on behalf of the government.
"The largest recoveries this past year – $1.2 billion – came from the drug and medical device industry," the U.S. Department of Justice said in a news release December 14, 2016.
It includes the $784.6 million drug manufacturers Wyeth and Pfizer Inc. paid to resolve federal and state claims about prices for two drugs, Protonix Oral and Protonix IV, medicine to treat acid reflux and indigestion. Those drugs belong to a class of medicines called proton pump inhibitors. They reduce gastric acid, which is generated by the stomach for digestion.
"The government alleged that Wyeth (before it was acquired by Pfizer) failed to report deep discounts available to hospitals, as required by the government to ensure that the Medicaid program enjoyed the same pricing benefits available to the company's commercial customers," the news release said. "Wyeth paid $413.2 million to the federal government and $371.4 million to state Medicaid programs."
Health Care Fraud Claims Top $19B since 2009
Another settlement involved Novartis Pharmaceuticals Corp. In a deal announced in November 2015, the Switzerland-based company agreed to pay $390 million to resolve claims about giving kickbacks to specialty pharmacies in return for recommending two drugs: Exjade, an iron-removal drug, and Myfortic, an anti-rejection drug for kidney transplant recipients.
"The settlement includes $306.9 million for the federal government and $83.1 million for state Medicaid programs," a news release said.
In March 2016, federal authorities announced a settlement with Olympus Corp. of the Americas over allegations it paid kickbacks to doctors and hospitals. The company, the largest distributor of endoscopes and related equipment in the United States, agreed to pay $623.2 million to resolve criminal charges and civil claims.
"The settlement resolved allegations that Olympus paid kickbacks to doctors and hospitals in exchange for their purchase of Olympus endoscopes and other medical and surgical devices,'' a statement said.
The Justice department recovered $19.3 billion in health care fraud claims from January 2009 to through the last budget year.
"These recoveries restore valuable assets to federally funded programs such as Medicare, Medicaid, and TRICARE, the health care program for service members and their families," a statement said. "But just as important, the Department's vigorous pursuit of health care fraud prevents billions more in losses by deterring others who might otherwise try to cheat the system for their own gain.
Recoveries Restore 'Valuable Assets'
The government also recovered money under the False Claims Act as a result of fraud involving mortgages, procurements, customs and federal education funds.
Officials said $4.7 billion marks the third highest annual recovery in False Claims Act history. The act was amended 30 years ago to award whistleblowers who uncover fraud and file suits on behalf of the government. If the government wins those cases, whistleblowers get up to 30 percent of the recovery.
"These health care recoveries benefit vulnerable citizens in Medicare and Medicaid and the taxpayers who pay for those programs," Inspector General Daniel R. Levinson of the U.S. Department of Health and Human Services said in a statement.
Share This Page:
How can we improve this page?
Thank You for Your Feedback
We appreciate your feedback. One of our content team members will be in touch with you soon.
We appreciate your feedback. One of our content team members will be in touch with you soon.