AFFF Firefighting Foam Lawsuits Filed Over Cancer Risk
Fact-Checked
Editors carefully fact-check all Drugwatch content for accuracy and quality.
Drugwatch has a stringent fact-checking process. It starts with our strict sourcing guidelines.
We only gather information from credible sources. This includes peer-reviewed medical journals, reputable media outlets, government reports, court records and interviews with qualified experts.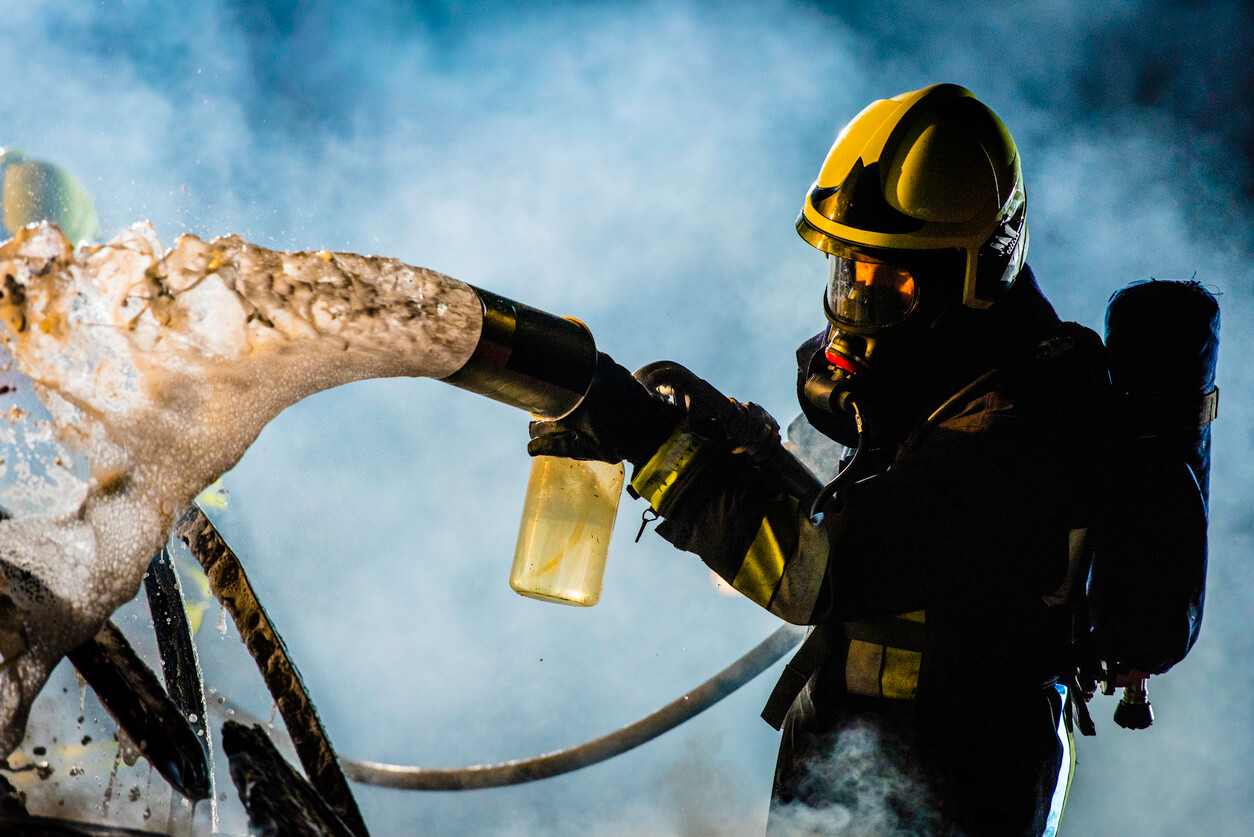 A growing number of firefighters have filed lawsuits that claim toxic chemicals in AFFF firefighting foam caused them to develop cancer, according to 2021 court filings.
In addition to individual AFFF lawsuits filed by current and former firefighters, a Texas man filed a class action over toxic per- and polyfluoroalkyl substances (PFAS) as well as contamination from facilities that use AFFF in January 2021.
As of Jan. 19, 2021, there were more than 950 pending claims in multidistrict litigation in South Carolina federal court under MDL-2873 IN RE: Aqueous Film-Forming Foams Products Liability Litigation. This number is up from 820 claims reported in DuPont's annual report ending Dec. 31, 2020.
Injuries claimed in the lawsuits include breast cancer, ulcerative colitis, kidney cancer, bladder cancer, testicular cancer, testicular pain, kidney cysts, tumors and other illnesses.
Lawsuits say defendant companies — including 3M, DuPont and Chemours — knew PFAS in its firefighting foam could cause buildup in the body and result in serious health problems but failed to warn the public.
In addition to individual injury lawsuits, several states have sued 3M and other manufacturers for PFAS contamination and cost of AFFF clean up.
Were you diagnosed with cancer after exposure to AFFF?
What Is AFFF?
AFFF — also known as aqueous film forming foam — is a firefighting foam designed to extinguish liquid fuel fires. It's a concentrate mixed with water.
Starting in the 1960s the foam became widely used to control fires. The Department of Defense began using it on military bases in the 1970s. Since then, military and civilian firefighters used it while training and extinguishing fires for decades.
Other facilities that use AFFF include:
Chemical plants
Airports
Municipal services, such as fire departments
Facilities that store and process flammable liquids
Highway emergency response teams
Oil refineries
Oil tankers and offshore platforms
The foam contains per- and polyfluoroalkyl substances (PFAS), sometimes called "forever chemicals" because they don't break down naturally. Perfluorooctane sulfonate (PFOS) and perfluorooctanoic acid (PFOA) are the most studied PFAS and are the most common types used in the United States.
Dangers of AFFF
PFAS in AFFF are toxic and carcinogenic to animals and potentially to humans as well, according to the International Agency for Research on Cancer (IARC). The IARC classifies PFOA as a group 2B carcinogen, which means it is "possibly" carcinogenic to humans.
AFFF lawsuits say that companies had access to research showing PFAS toxicity in animals as early as the 1960s. And by the 1980s, PFAS research showed that people exposed to the chemicals had an elevated risk of certain cancers and adverse health effects.
The Agency for Toxic Substances and Disease Registry and the EPA have linked PFAS to health problems, including:
Increases in cholesterol
High blood pressure and preeclampsia in pregnant women
Decreased response to vaccination in children
Immune system changes
Liver enzyme changes
Decreases in infant birth weight
Increased risk of certain cancers, including kidney and testicular cancer
Thyroid disorders
Starting in 2002, 3M — the primary U.S. manufacturer of PFOS — voluntarily phased out its production of PFOS, according to the U.S. Environmental Protection Agency. Other companies began phasing out PFOA production in 2006.
In March 2020, 3M announced it was setting up an AFFF stewardship program to support proper disposal of its older AFFF products, according to a company press release.
In January 2021, the EPA finalized its Significant New Use Rule (SNUR) guidance regulating PFAS. The rule allows the agency to review and approve certain long-chain PFAS before companies can import, manufacture, use or process them.
But older stock of the foam concentrate may still contain toxic chemicals.
DuPont and Chemours Settle PFOA Claims
The current litigation isn't the first time AFFF companies have faced lawsuits related to PFAS toxicity.
In 2017, DuPont and Chemours agreed to pay $670.7 million to settle 3,550 injury lawsuits stemming from PFOA environmental pollution from the Washington Works Plant in West Virginia. The companies denied wrongdoing.
Since then, the companies have faced dozens more cases.
In March 2020, an Ohio jury said DuPont had to pay $50 million to Travis Abbot, a man who said PFOA-contaminated drinking water led him to develop testicular cancer, according to Bloomberg.
Share This Page:
How can we improve this page?
Thank You for Your Feedback
We appreciate your feedback. One of our content team members will be in touch with you soon.
We appreciate your feedback. One of our content team members will be in touch with you soon.