Hair Relaxer Lawsuit Claims Product Caused Uterine Cancer
Fact-Checked
Editors carefully fact-check all Drugwatch content for accuracy and quality.
Drugwatch has a stringent fact-checking process. It starts with our strict sourcing guidelines.
We only gather information from credible sources. This includes peer-reviewed medical journals, reputable media outlets, government reports, court records and interviews with qualified experts.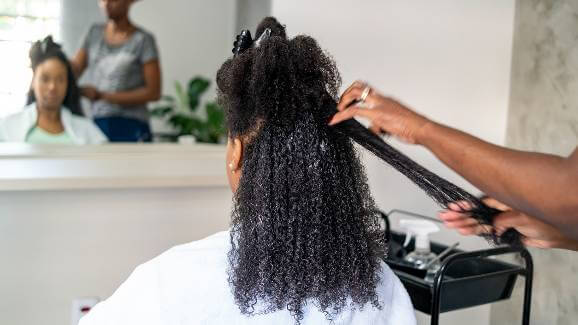 A Missouri woman has filed a federal lawsuit against L'Oreal and several other beauty product companies, alleging that the chemical hair straightening products they marketed caused her uterine cancer.
The lawsuit, the first of many expected around the country, was filed just days after the Journal of the National Cancer Institute published a study showing that women who regularly use hair straightening products have shown a much higher risk of developing uterine cancer.
Jenny Mitchell, 32, filed the lawsuit in the Northern District of Illinois. She was diagnosed with uterine cancer in 2018 and underwent a hysterectomy a month later, at the advice of her oncologist. She had been using the products since grade school.
The lawsuit alleges that the companies knew, or should have known, the products would increase the risk of uterine cancer. It also provided no warning to consumers and promoted the products as safe.
Mitchell said her family has no history of uterine cancer. The lawsuit is seeking $75,000 in monetary damage, along with the payment of all medical bills.
"I felt deceived. I felt hurt. I felt like I've been lied to my whole life," she told The Washington Post.
Did you develop uterine cancer, breast cancer, endometriosis or uterine fibroids after using chemical hair straighteners?
Uterine Cancer Rates Doubled, According to Study
The data was part of the larger Sister Study at the National Cancer Institute that included 33,497 U.S. women. It was originally designed to identify risk factors for breast cancer and other health conditions. Women were followed for 11 years, and 378 cases of uterine cancer were diagnosed during that time. 
The October study estimated that 1.64% of women who never used hair straighteners would go on to develop uterine cancer before age 70, compared to 4.05% of women who used straighteners frequently.
"The doubling rate is concerning," said Dr. Alexandra White, Ph.D., lead author of the study and head of the National Institute of Environmental Health Sciences. "To our knowledge, this is the first epidemiologic study that examined the relationship between straightener use and uterine cancer."
Although the study did not include company brands or ingredients in the products, it did say that chemicals in hair straighteners included formaldehyde, parabens, bisphenol A and metals, among others.
According to White, chemical straighteners and other hair products contain a number of different chemicals that may act as endocrine disruptors or carcinogens and could be an important health risk.
The chemical compounds also have led to a higher incidence of uterine fibroids, preterm deliveries and endometriosis.
Hair Straightener Lawsuits Target Manufacturers
Mitchell is suing L'Oreal, SoftSheen Carson, Strength of Nature, Dabur and Namaste Laboratories, the makers of the chemical hair straighteners.
Cosmetic giants such as Revlon and L'Oreal, along with popular brands Optimum Care, Dark & Lovely, Just for Me and Motions, also have been listed in other lawsuits already filed.
A spokesperson for L'Oreal told The Washington Post that the company is "confident in the safety of our products and believe the recent lawsuits filed against us have no legal merit."
Study research found no connection between uterine cancer and other hair products that the women reported using, including bleach, highlights, perms or hair dyes.
Uterine cancer is the sixth-most common cancer for women but accounts for just 3% of all new cancers. The most common type of uterine cancer is endometrial cancer, which occurs in the inner lining of the uterus.
Study authors estimated that 65,950 uterine cancer cases will be diagnosed in the U.S. in 2022. The research team had earlier determined that permanent hair dye and straighteners may increase ovarian and breast cancer risk. 
"More research is needed to confirm these findings in different populations, and to identify the specific chemicals that may be increasing the risk of cancers in women," White said.
Recent findings are similar to prior studies showing that straighteners can increase the risk of hormone-related cancers in women.
Chemical Straightener Study Finds Black Women Hit Hardest
Many believe that the study will be particularly important for Black women. Although researchers could not find a direct link between chemical hair straighteners and race, they did report that Black women were at an increased risk due to higher use of the products.
Black women comprised only 7.4% of those in the study, but they accounted for 60% of those who reported using straighteners in the previous year.
Their increased use of the product is expected to fuel the belief that a dangerous product was specifically marketed toward them.
"Because Black women use hair straightening or relaxer products more frequently, and tend to initiate use at earlier ages than other races and ethnicities, these findings may be even more relevant for them," said Che-Jung, Ph.D., co-author and a research fellow at the National Institute of Environmental Health Sciences.
Share This Page:
How can we improve this page?
Thank You for Your Feedback
We appreciate your feedback. One of our content team members will be in touch with you soon.
We appreciate your feedback. One of our content team members will be in touch with you soon.