'My Wife Was Not a Weed': One Family's Roundup Cancer Story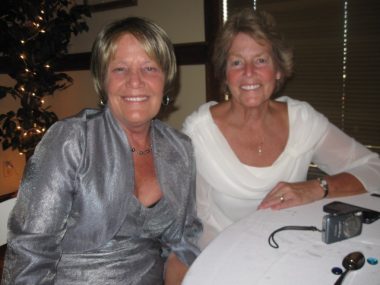 Kathy Spreadbury was an avid gardener. The Florida woman's love of caring for plants and watching them grow was a passion.
"At one time she even had over 100 plumeria," her husband, Paul Spreadbury, said fondly. "Papers and magazines published articles about her success and talent with plants. She worked in greenhouses, nurseries and with lawn maintenance companies."
That is where she was exposed to the weedkiller Roundup and its active ingredient, glyphosate — a chemical that the International Agency for Research on Cancer has deemed a probable human carcinogen.
But Roundup was marketed as safe. Neither Kathy nor Paul Spreadbury ever imagined that something she loved would expose her to a dangerous chemical that would lead to a cancer diagnosis. After a long battle with B-cell lymphoma, Kathy Spreadbury died on Christmas Eve, 2020.
"They knew they were selling death and outright saying they weren't. All the judges, lawyers and dollar settlements in the world can't make that right."
Spreadbury shared their story and his anger at Monsanto and Bayer, Roundup's manufacturers, with Drugwatch. The companies face Roundup lawsuits that claim they failed to warn the public that glyphosate increases the risk of cancer.
His wife's painful, terrible decline from a woman full of life to someone who couldn't walk, shower, climb stairs or sleep in the same bed with her husband is an experience Spreadbury will never forget. Having to deal with cancer treatments during the COVID-19 pandemic made things even more difficult.
"Let me tell you something, grief doesn't start with death and the loss of a loved one's life," Spreadbury said. "It starts the moment it hits you that utter and complete loneliness is right around the corner. It starts when you realize a 37-year-long chapter of your life is about to end and the emptiness begins to set in."
Bayer, which acquired Monsanto in 2018, continues to claim that Roundup doesn't cause cancer, though it's offered more than $10 billion in settlements to resolve about 100,000 cancer claims. That's cold comfort to people who have lost loved ones.
"They knew they were selling death and outright saying they weren't. All the judges, lawyers and dollar settlements in the world can't make that right," Spreadbury said.
Final Days Amid a Global Pandemic
"Her first battle with B-cell lymphoma required months of chemo and other treatments. Kathy lost her hair, a ton of weight, became weak, fell and had to have a hip replaced," Spreadbury said. "The cancer went into remission, but it returned in the summer of 2020 with a vengeance."
Spreadbury said his wife had an unsuccessful surgery and no longer had the strength for additional rounds of chemotherapy.
"As early December 2020 rolled around, it became clear the end was near. Making the decision to put her into in-home hospice care was a tough one," Spreadbury recalled, the memory still painful more than two years later.
When it became clear to him that his wife was dying, Spreadbury told their daughter, Amanda. She and her husband and two children were stationed at an Army base in Germany at the time.
"Given the difficulty of travel [especially internationally] they had decided to spend their Christmas in Germany," Spreadbury said. "When I told Amanda her mom was dying, she desperately wanted to be with her. But the idea of risking her and my grandchildren's health on top of losing her mom didn't seem right."
Kathy Spreadbury's condition continued to decline. After a series of falls, they decided to call hospice.
"Three nights in a row she'd fallen to the floor. I'd rush down from the bedroom upstairs at 2 or 3 in the morning to find her helplessly splayed on the floor, crying," Spreadbury said. "She was so fragile that I had to call the fire department each time to lift her and put her back on the sofa. Finally, after the third fall, I called for hospice."
Hospice brought a hospital bed, a meal tray on wheels and a portable bedside toilet and set it up in the living room. Spreadbury had them place the bed by the sliding glass doors so his wife could listen to the windchimes, look at the bird feeders and see her few remaining potted plumeria.
Spreadbury waited for pain medication and a nurse and a social worker who never came, even after he called over and over. In the meantime, his wife had fallen out of bed again and needed assistance from the fire department.
"She'd been under hospice care for eight days and had not been visited by a nurse or a caregiver and the meds still hadn't arrived," Spreadbury remembered, angered and frustrated because his wife was suffering.
They put bed rails up so she wouldn't fall again. But by then she was too weak to move.
'A Desperate Race Against Time and Death'
"Four days before Kathy passed, I talked to her sister, Susan, in Michigan and suggested she might want to come down to be with Kathy before she went. She agreed," Spreadbury said. "I called the hospice to get an Episcopal priest to come to the house so Susan could share last rites with Kathy.
"On the day Susan was to arrive I called the hospice to confirm the priest. They had no record of my ever having called. Now, I am not the kind of guy who is easily angered, but I'd reached my boiling point," he said.
Spreadbury's sister-in-law arrived, along with her daughter and 8-year-old granddaughter. She sat by her sister's side, held her hand and spoke to her for hours about the times they had growing up. Kathy Spreadbury couldn't respond. She was too ill to speak. Her breathing was heavy, and she was experiencing grand mal seizures.
"Honest to God, I felt her life leaving me at the same time. It was a real, physical feeling of something sucked out of me."
Finally, a nurse came. The medication had been delivered to the wrong house, and after seven days of waiting, morphine was available to ease the pain. The priest arrived the next day to administer last rites. As he prayed, Kathy Spreadbury had violent seizures.
By then, Spreadbury said, his daughter Amanda was fully committed to getting to Pensacola to see her mother before she died.
"It was a desperate race against time and death," he recalled. "I asked her if, in the event she didn't make it in time, would she like me to take a video of her mom as she passed? Amanda said yes."
When Spreadbury awoke on Christmas Eve morning, it was cold by Pensacola standards and a steady rain was falling. His wife lay in the hospice bed gasping her last breaths. The couple had been together for 37 years, and she was the love of his life.
"I stood over her and took a video of her dying," he said somberly. "Honest to God, I felt her life leaving me at the same time. It was a real, physical feeling of something sucked out of me. Amanda, her husband and the kids were still at the airport in Berlin when I called."
Lawsuit Information
People who developed non-Hodgkin lymphoma after exposure to Roundup are filing lawsuits.
'My Wife Was Not a Weed'
After Kathy Spreadbury died, the nurse came to confirm the death and record it for the record. She then called the funeral home.
"They came, put Kathy in a bag, put the bag on a gurney, wheeled her to a van and she was gone," Spreadbury remembered. "That night, as I tried to find sleep, I felt a presence in the bed. I felt the mattress behind me depress, as if a big dog had cuddled in behind me. It scared me at first. Then I realized it was her, she'd come to say goodbye. I cried myself to sleep. "
"I would like Monsanto and Bayer to know that my wife was not a weed … And I would love for you to sit and watch the video of my wife gasping for her last breath so you could make a buck."
The next day, their daughter and her family arrived. Spreadbury watched his grandchildren play around the hospice equipment.
"All the rage at the hospice firm, the cancer, Roundup and the whole situation came to a head," Spreadbury remembered. "It was Christmas Day. Amanda took me outside so the kids wouldn't have to see it, and I screamed loud enough for every angel in heaven and demon in hell to hear me."
That day he felt a pain in his chest. A week later he was diagnosed with atrial fibrillation, though the risk didn't run in his family. Now, he was left without the love of his life and a heart condition.
"Those who gave the go-ahead to sell Roundup without warning people of its dangers need to pray to heaven that no hell exists," Spreadbury said. "I would like Monsanto and Bayer to know that my wife was not a weed. I've got 37 years of memories, a beautiful daughter and two wonderful grandchildren to prove it. She has dozens of friends and a sister to prove it."
Disclaimer: Thoughts and opinions expressed in this patient story are strictly anecdotal and should not be taken as medical information or advice. Views of the interviewee do not necessarily reflect those of the author, editor or Drugwatch.
Share This Page:
How can we improve this page?
Thank You for Your Feedback
We appreciate your feedback. One of our content team members will be in touch with you soon.
We appreciate your feedback. One of our content team members will be in touch with you soon.
Who Am I Calling?
Calling this number connects you with a Drugwatch representative. We will direct you to one of our trusted legal partners for a free case review.
Drugwatch's trusted legal partners support the organization's mission to keep people safe from dangerous drugs and medical devices. For more information, visit our partners page.