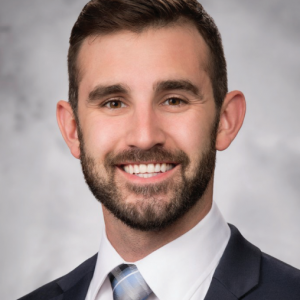 Kenneth S. Fill, PharmD, MBA
Clinical Pharmacist Specialist
Last Modified: September 20, 2022
Kenneth S. Fill is a clinical pharmacist specialist who helps patients manage chronic diseases such as diabetes, hypertension and dyslipidemias. He also helped people with tobacco cessation.
Fill has been published in several peer-reviewed medical journals and has presented on various health topics, including urinary incontinence, opioid use disorder, asthma, COPD, heart failure, thyroid disease, diabetes, blood thinners and pneumonia.
His medical and research passions include improving the quality of disseminated medical information, collaborating with other experts to improve patient care and improving the patient experience by advocating for an individual, tailored approach to health care.
Fill received his B.S. in Pharmaceutical Services in 2016, and his doctorate in pharmacy in 2019, both from the University of Toledo. He also obtained his MBA from University of Toledo in 2019.
He is a member of the American Society of Health-System Pharmacists. His previous professional associations where he held leadership positions include the Colorado Pharmacists Society and the American Pharmacists Association.
About Drugwatch's Experts
Drugwatch's experts are authorities in their fields. Their personal experiences and professional expertise make them uniquely qualified to review our content for accuracy and verify that the information you read here is trustworthy, comprehensive and consistent with the latest evidence-based research.