Diabetes in the U.S.
There are several types of diabetes, including Type 1, Type 2 and gestational — a type that occurs in pregnant women. All forms of diabetes involve high blood sugar levels. Type 1, an autoimmune disorder, is rare compared to Type 2. Type 2 is the most common, and about 95 percent of all people with diabetes in the U.S. have this type. An additional 86 million adults in the United States have prediabetes, a condition where your blood sugar is high but not elevated enough for a diabetes diagnosis.
Cases of diabetes increase each year, and every 19 seconds doctors diagnose someone in the U.S. with the disease. The Centers for Disease Control and Prevention (CDC) estimates that 1 in 3 adults may be diagnosed with diabetes by 2050.
It's important to keep blood sugar levels controlled because it can cause serious health problems — including kidney disease, heart problems, skin problems and limb amputations.
Fact
Even if Type 2 diabetes has no cure, it can be prevented and managed. People with the disease can control blood sugar with lifestyle changes and medication.
Type 1 vs. Type 2 Diabetes
Type 1 diabetes is when the body simply does not make insulin. This type makes up about 5 percent of individuals living with diabetes. Type 2 diabetes is generally the result of a person's body not producing or using insulin as efficiently as it once did (known as insulin resistance). Type 1 was previously known as "juvenile" diabetes. This is because Type 1 is most often diagnosed in children and young adults, although it can appear at any age.
What is Type 1 Diabetes?
Type 1 diabetes occurs when the immune system mistakenly attacks and destroys healthy tissue. An illness, such as an infection or virus like mumps, measles, rubella or the flu, or another trigger, can cause the body to turn on itself, mistakenly attacking cells in the pancreas that make insulin.
Type 1 is a life-long disease with no cure and no chance of remission. Treatment involves daily insulin injections. The exact cause of Type 1 diabetes is unknown.
What is Type 2 Diabetes?
Type 2 diabetes is a disease in which your body loses its ability to produce and use insulin, a hormone made by the pancreas that the body uses to convert glucose into energy. Without the right amount of insulin, excess sugar builds up in the body and causes a number of health problems.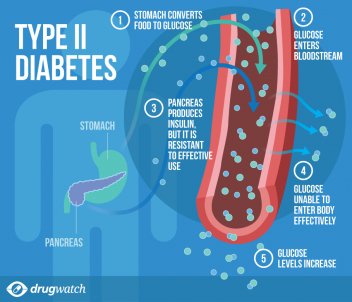 Where Type 1 typically occurs in younger people and is an immune disorder, Type 2 most often occurs later in life. In fact, the medical community used to call Type 2 diabetes "adult-onset" diabetes. Most people with Type 2 are 60 and older, but doctors are diagnosing younger people with the disease. About 3.7 percent of adults aged 20 to 40 have the disease.
Type 2 diabetes is a progressive disease. This means that it may worsen over time and require higher doses of medication or multiple medications to control blood sugar. The pancreas may stop producing insulin altogether, and this means a person with Type 2 will need to inject insulin along with other medications.
History of Diabetes
1916

Dr. Elliot Joslin publishes The Treatment of Diabetes Mellitus

1921

Drs. Frederick Banting, Charles Best, then Banting's assistant, and Professor J.J.R. Macleod extract insulin from dogs and discover it lowers blood sugar in dogs without a pancreas.

1923

James Collip purifies insulin for use in humans. Banting and Macleod win the 1923 Nobel Prize in Physiology or Medicine for their discovery.

1923

Elli Lilly and Company is the first company to commercially produce insulin.

1952

The American Diabetes Association funds its first research grants.

1953

Urine glucose testing tablets become widely available.

1955

Oral medications called sulfonylureas that stimulate the pancreas to produce more insulin hit the market.

1959

Drs. Solomon Berson and Rosalyn Yalow discover a way to measure insulin in the blood and identify "insulin-dependent" (Type 1) and "non-insulin-dependent" (Type 2) diabetes.

1964

The first color-coded glucose test strips hit the market.

1970

The first glucose meter becomes available.

1971

Researchers discover insulin receptors, and defective receptors are linked to possible insulin resistance in Type 2 diabetes.

1972

Link between hyperglycemia and blood vessel disease discovered.

1976

First insulin pumps invented.

1978

Researchers use E. coli to produce insulin identical to human insulin.

1979

Diabetes is classified into Type 1, Type 2, gestational and diabetes associated with other conditions.

1982

FDA approved human insulin made by genetically altered bacteria.

1995

Metformin becomes available in the U.S.

1996

The drug Precose hit the market. Eli Lilly introduces the fast-acting insulin, Lispro.

1997

Rezulin (troglitazone), the first of the thiazolidinedione class of diabetes drugs, hit the market. It was later removed from the market because of liver toxicity. Actos (pioglitazone), a drug in the same class, is available on the U.S. market, and some studies link it to bladder cancer.

1998

Prandin (repaglinide) a drug in the meglitinide class, hits the market.

2002

The American Diabetes Association defines prediabetes.

2005

Byetta (exenatide) is the first incretin mimetic GLP-1 drug on the market.

2006

FDA approves Januvia (sitagliptin), the first DPP-4 inhibitor.

2013

Invokana (canagliflozin), the first SGLT2 inhibitor is available in the U.S.

2016

FDA approves first automated insulin-delivery device (artificial or bionic pancreas) for patients 14 and older with Type 1 diabetes – Medtronic's MiniMed 670G hybrid closed-looped system.
Diabetes Symptoms
Type 1 and Type 2 diabetes share similar symptoms. But Type 1 patients tend to experience symptoms sooner than Type 2 patients. This is largely due to that fact that the pancreas of a Type 1 patient does not produce insulin at all. Therefore, individuals with this form of the disease are affected much sooner and more intensely than those with Type 2. Type 2 patients actually make greater amounts of insulin for some time as insulin resistance builds. Eventually the body cannot keep up with the increased demand, insulin production begins to decline and Type 2 diabetes results.
Typically, in patients with Type 1 diabetes, their symptoms result in a diagnosis, whereas those with Type 2 may not even have symptoms or be aware of a problem until they are diagnosed.
Low Blood Sugar and Type 1 Diabetes
Patients with Type 1 diabetes are more likely to experience symptoms of hypoglycemia, or low blood sugar, than people with Type 2. This dangerous drop in blood sugar levels is usually due to patients with Type 1 taking more insulin than needed. Exercise, although still considered a lifestyle choice, can cause low blood sugar levels in people with Type 1 diabetes.
A drop in blood sugar can happen quickly in patients with Type 1 using insulin. Symptoms of hypoglycemia usually appear when a person's blood-sugar level falls below 70 milligrams per deciliter (mg/dL). These symptoms include headaches, hunger, nervousness, irritability, rapid heartbeat (palpitations), shaking, sweating, weakness, tiredness and nausea.
Risk Factors of Type 1 Diabetes
Although the cause of Type 1 is unknown, there may be a hereditary component. The tendency to develop autoimmune disorders, such as Type 1 diabetes, is typically passed down from one family member to the next, meaning some people may simply be more genetically prone to acquiring the disease. This seems to especially be the case for children born to fathers with Type 1 diabetes, according to one large family study of diabetes.
A certain genetic marker that has been shown to make a person more susceptible to Type 1 is located on a specific chromosome known as chromosome 6. A chromosome is a threadlike structure contained in the nucleus – the central part of a cell – where genetic information is held in the form of genes. The genetic connection for Type 1 is situated on chromosome 6 in the form of a human leukocyte antigen (HLA), which is a gene complex that encodes (produces) certain proteins responsible for the regulation of a person's immune system.
However, having one or more of these HLA complexes does not always lead to the development of Type 1 diabetes. A genetic predisposition to Type 1 is just one factor among other possible risk factors making it more likely a person will develop the disease.
Other risk factors include:
Certain viral infections

Specifically measles and mumps, among others

Race/ethnicity

In the U.S., Caucasians seem to be more susceptible to Type 1 than African-Americans and Hispanic-Americans, while people of Chinese and South American descent seem to have a lower risk of developing Type 1 overall.

Where a person lives

Northern climates seem to be at a higher risk for developing Type 1, especially in the winter months compared with a declining rate of diagnoses in the summer months.

Cow's milk given at an early age

Children who are introduced to cow's milk very young tend to have a slightly higher risk for developing Type 1 diabetes.

Other autoimmune conditions

Having an autoimmune disorder that shares a similar HLA complex to Type 1, such as Graves' disease or multiple sclerosis (MS), can make a person more susceptible to Type 1 diabetes as well.
A less common cause of Type 1 diabetes is injury to the pancreas. This injury and damage to the organ and its cells can result from toxins, trauma or surgery.
Risk Factors of Type 2 Diabetes
Most people may be aware that being overweight increases the risk of developing Type 2 diabetes, but there are a few other factors. In fact, not all people with Type 2 are overweight. Diabetes is complex and no two people with the disease are the same.
The National Institute of Diabetes and Digestive and Kidney Diseases offers a checklist for Type 2 diabetes risk factors, it includes:
Age 45 years or older
Being overweight
Parent, brother or sister with diabetes
Family background: African American, Hispanic/Latino, American Indian, Asian American or Pacific Islander
Gestational diabetes while pregnant or had a baby weighing 9 pounds or more
Higher than normal blood glucose
Blood pressure above 140/90 or "high normal" blood pressure
High cholesterol levels, HDL lower than 35 or triglycerides above 250
Being physically active less than three times a week
Having discolored, dirty looking skin in the armpits or around the neck despite scrubbing
Blood vessel problems in the heart, brain or legs
Lowering Your Type 1 Diabetes Risk
A person's risk for developing Type 1 diabetes often cannot be lowered or prevented since the disease is the result of an immune response. Several risk factors associated with the disease are also unable to be changed, such as one's family history, genetic makeup, race or ethnicity, or other autoimmune conditions.
It may be possible, however, to prevent injury or damage to the pancreas that can sometimes result in the development of Type 1 diabetes. The pancreas can be easily injured due to its lack of protection from the ribcage. Pancreatic trauma, the term for injury to the pancreas, is most often caused by a car accident or a direct blow to the abdomen. The trauma that occurs can be the result of blunt force or penetration.
If a pancreatic injury is suspected, it is important to seek immediate medical attention, especially where there is blood loss, persistent abdominal pain or other symptom. Those conditions might include, inflammation, bruising , dizziness, nausea and vomiting.
Signs and symptoms of a pancreatic trauma can surface hours or even days after the injury occurs. Surgery is often necessary to treat an injury to the pancreas that results in symptoms. Pancreatic injuries can sometimes become life-threatening.
Preventing Acute Pancreatitis
Acute pancreatitis is the sudden swelling and inflammation of the pancreas caused by enzymes in the organ eating and digesting its own tissue. This results in swelling, bleeding and eventual damage to the pancreas. Certain diseases, surgeries and habits, such as alcoholism or alcohol abuse, make a person more likely to develop the serious condition that results in severe injury to the pancreas.
Other factors linked to the development of acute pancreatitis include:
Autoimmune problems
Blockages in the pancreatic duct or common bile duct (tubes that lead enzymes from the pancreas)
Damage to the ducts or pancreas caused during surgery
High blood levels of a certain fat called triglycerides
Avoiding alcoholic drinks, smoking and fatty foods, and talking to your doctor about the risks of taking certain medications, can help to avoid pancreatitis or keep it from recurring after an attack.
Lowering Your Type 2 Diabetes Risk
The most effective ways to lower your risk of Type 2 diabetes are by making smarter food choices and increasing your physical activity. Experts recommend at least 30 minutes of activity each day. Of course, it is not always easy to make these changes overnight. The American Diabetes Association recommends making these changes over time so you can adopt them as a lifestyle.
Here are some tips for making small, sustainable changes:
Set realistic goals and start slow.
Set a timeframe to complete them.
Keep goals specific.
Reward yourself for accomplishing goals.
One misconception about lowering your risk by losing weight is that weight loss has to be significant, such as 50 to 100 pounds. The truth is losing as little as 10 pounds can have a dramatic impact on health and diabetes risk.
Diagnosing Diabetes
Symptoms of Type 1 diabetes generally develop early in life, when people are in their teens or when they are young adults. Type 2 symptoms generally develop later in life.
However, because the symptoms of Type 2 diabetes seem mild or might not appear at all, many people don't know they have it. The American Diabetes Association estimates that 8.1 million people may be living with undiagnosed Type 2 diabetes. Many health care professionals can check for diabetes with simple blood tests.
There are three main tests for diagnosing diabetes, both Type 1 and Type 2, and prediabetes: fasting plasma glucose (FPG), A1C and oral glucose tolerance test (OGTT).