As of October 2017, at least 100 people had filed or joined lawsuits over Intuitive Surgical's da Vinci Surgical System.
Intuitive, with corporate offices in Sunnyvale, California, describes itself as "the global leader in robotic-assisted, minimally invasive surgery." As manufacturer and marketer of the da Vinci Surgical System, the company says its mission is to "extend the benefits of minimally invasive surgery to those patients who can and should benefit from it."
The company designed surgical robotic technology to improve surgeon performance and reduce patient recovery times. The system gives surgeons magnified, high-definition 3D views of the surgical field and more precise handling of surgical instruments. The robot can move in ways not achievable by human hands. Furthermore, surgeries are performed through smaller incisions, meaning faster healing and less blood loss.
But the company has issued multiple recalls and has been forced to make some modifications along the way following an increase of medical device reports (MDRs) received by the U.S. Food and Drug Administration (FDA).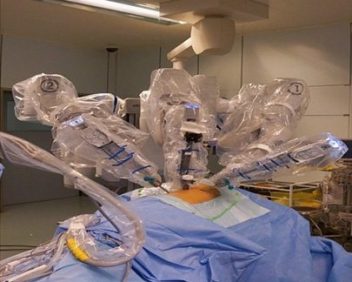 Lawsuits claim the da Vinci system caused injuries that have resulted in permanent disfiguration and/or disability, and even death. Although about 90 individual actions are still awaiting trials, Intuitive said it has a large number of additional, unfiled claims and one class action in Missouri state court. Intuitive also reported it has settled several other filed cases. Those settlements remain confidential.
The active cases have been filed in both federal and state courts. An attempt by the plaintiffs to consolidate those cases into a multidistrict litigation failed in 2012. Such combinations are used to speed up the legal process for multiple, complex cases with similar allegations. The U.S. Judicial Panel on Multidistrict Litigation said not enough suits had been filed to warrant a consolidation.
In its 2017 third quarter filing with the Securities and Exchange Commission, the company reported a growing number of lawsuits.
The report said the company faced about 45 individual product liability lawsuits over the device. The company was also listed as a defendant in a multi-plaintiff lawsuit in Missouri state court. The Missouri litigation involved 55 patients from 22 states who had surgeries with the da Vinci Surgical System.
It also reported that several of the cases had "trial dates in the next 12 months."
The lawsuits link patient injuries and deaths to the device. They also allege device malfunctions, including broken parts, mechanical problems and display issues.
A 2013 FDA survey of 11 surgeons who used the device found inconsistent training and low awareness of recalls. All 11 said they experienced technical problems.
Da Vinci Lawsuits and Settlements
In April 2014, Intuitive said it set aside $67 million to settle roughly 3,000 claims related to the da Vinci Surgical System. Some claims dated back to 2012. After an extensive mediation, Intuitive said it would be more cost-effective to settle than litigate.
All of the claims stemmed from complications involving two parts of the robot: Monopolar Curved Scissors and instrument tip covers. Both have since been recalled.
Some Plaintiffs' Alleged Injuries:
| Name of Plaintiff | Da Vinci Surgery Performed | Injury |
| --- | --- | --- |
| Erin Izumi | Endometriosis surgery | Colon and rectum torn/additional procedures and temporary colostomy (a piece of the colon is diverted to an artificial opening in the abdominal wall) |
| Patricia Mayfield | Hysterectomy | Painful abscess/additional surgery |
| Kimberly McCalla | Hysterectomy | Bleeding in pelvis from laceration to main artery/death |
| Jennifer Silvestrini | Thyroid removal | Extensive scarring on neck requiring plastic surgery to repair/possibility of subsequent surgeries |
| Erika Starr | Not specified | Bowel perforation/ thermal burns/infection |
| Michelle Zarick | Hysterectomy | Bowel prolapse through vagina/massive infection with cysts and adhesions/additional open surgery/ removal of right fallopian tube |
Lack of Training – Taylor v. Intuitive Surgical
A personal injury lawsuit (later amended to a wrongful death suit) against Intuitive in 2012 alleged the company failed to warn hospitals of robotic-surgery dangers, leading to insufficient training. The suit involved the death of a Seattle-area man, Fred Taylor, who was Dr. Scott Bildsten's third da Vinci surgery patient and his first without supervision.
The lawsuit alleged:
Taylor's prostate surgery took more than 13 hours – the procedure normally takes a fraction of that time
Taylor suffered from a torn rectum, leading to the loss of 15 cups of blood and shock
Taylor suffered a stroke, causing incontinence, kidney and lung damage and memory loss
Taylor died four years after the surgery but as a direct result of the ongoing complications suffered from the robotic-assisted procedure
Bildsten stopped using robots one year after operating on Taylor
Bildsten said the "learning curve [is] so steep and lengthy that the level of comfort just took too long," CNBC reported.
Taylor's family lost its lawsuit at trial and on appeal. But they won a new trial in February 2017. That's when the Washington Supreme Court ruled that the lower court should have told Intuitive that it had a duty to warn the hospital — not just the doctor — about the dangers of robotic-assisted surgeries.
The alleged lack of warnings and accusations of insufficient training have been raised in other lawsuits.
Surgeons must complete the following steps to use the device:
Take one hour of online training
Watch two robotic procedures online (four hours)
Spend seven hours operating on a pig
Participate in at least two surgeries overseen by an experienced robotic surgeon
Individual hospitals or medical groups may have additional requirements. Some hospitals required as many as five supervised surgeries.
But company sales representatives tried to persuade hospitals to lower their training requirements, according to various news reports and internal company emails obtained through discovery.
"It's not reasonable to believe that every surgeon across the country can be adequately trained with one pig and two proctored cases"
Arcing, Insulation Failure – Todd v. Intuitive Surgical
Shawn Todd filed suit against Intuitive after alleging she suffered internal burns while undergoing a partial hysterectomy. She was then hospitalized for weeks.
The suit alleged:
Todd was held down following the robotic surgical procedure as needles were shoved into her kidneys, which had failed, because doctors couldn't get anesthesia to work
Todd's ureters (the part of the body that carries urine from the kidneys to the bladder) had been burned
Todd said the burns were caused by "arcing" from the da Vinci system
The majority of plaintiffs involved in litigation against Intuitive complained of injuries incurred as a result of malfunctions causing leaks of electrical currents and arcing. Arcing is when sparks from a surgical instrument land in a patient's body, causing burns. Insulation failure is known to cause arcing where a protective cover used to prevent transfer of electricity may contain cracks or other damage and/or errors.
A surgeon would rarely be aware of arcing during a procedure. It would likely take several days for a patient to complain of symptoms and for the injury to be detected. Plaintiffs allege that they experienced perforations, infections, abscesses and other heat-related damage that required additional procedures to correct due to arcing during their procedures.
Other surgical devices used in other types of surgical procedures not utilizing robotic technology can also cause arcing. But a study in the American Journal of Obstetrics & Gynecology in 2011 said "robotic instruments have a significantly higher incidence and prevalence of [insulation failure] compared with laparoscopic instruments."
Underreporting of Adverse Events – Melton v. Intuitive Surgical
Some say reports of problems are artificially low because some surgeons and patients aren't aware of problems until days after procedures. Sonya Melton's attorney says her case is part of the underreporting trend.
Melton was initially unaware that her injuries may have been caused by the da Vinci system used in her minimally invasive surgical procedure. After her routine, same-day gynecological procedure to remove uterine fibroids, Melton experienced intense pain and developed pneumonia. Doctors operated again, this time performing a "full-open surgery" and finding a perforation in her small intestine. Melton later sued.
An attorney for Melton and other plaintiffs, Dr. Francois Blaudeau said problems from robot-assisted surgeries may not get reported to the FDA as an "adverse event" because sometimes symptoms develop after procedures.
Recall of da Vinci Tip Cover Accessory
FDA use recommendations:
Avoiding instrument collisions
Carefully installing tip covers
Straightening wrist (of instrument) prior to removal
Inspecting cannula (thin tube inserted into a vein or body cavity) prior to use
Not exceeding power settings
In 2011, Intuitive recalled its EndoWrist MCS tip cover — an insulator for a device that uses monopolar (single electrode) energy to cut tissue. In 2012, Intuitive initiated a second recall for all those who did not respond to the initial one.
The recall was a Class II recall, meaning use of the device may cause injuries that are temporary or able to be medically treated.
Even after the recalls, Intuitive said it was "confident that the da Vinci Surgical System deploys monopolar energy in safe and effective way when used as indicated."
Furthermore, NBC reported that when asked about the timing of the recalls and replacement tip cover, Intuitive responded, "We are always looking at our system and our instruments to see how we can improve the safety. I wouldn't say we changed anything based on… lawsuits."
Fact
The FDA's MAUDE database showed reports of at least 85 deaths and 245 injuries related to the da Vinci Surgical System since 2000.
In 2013, the FDA's Manufacturer and User Facility Device Experience (MAUDE) database showed reports of at least 85 deaths and 245 injuries related to the da Vinci Surgical System since 2000.
A total of 4,600 adverse events (i.e., malfunctions) were also reported. This number seems relatively small compared to the nearly 1.5 million surgeries performed during that time using the robotic system; but Blaudeau, both an Alabama gynecologist and lead plaintiffs' attorney, said it's possible for injuries to happen without surgeons realizing.
Certain injuries resulting from the surgeries can take several days to appear. Patients may be unaware that the robotic technology and the company that manufactured it might be at fault.
Dr. Marty Makary of Johns Hopkins Hospital co-authored a study to show that many more cases were either incorrectly reported or not reported at all. He launched a website called badrobotsurgery.com and received a significant number of responses from patients who allegedly suffered injuries during da Vinci surgeries but hadn't yet linked those injuries to the device.
High-Pressure Marketing and Sales
Several claims by plaintiffs and reports by analysts have found that Intuitive may use high-pressure sales tactics and aggressive marketing techniques.
Internal company emails suggest sales — rather than need — motivated Intuitive representatives.
CNBC reported that one email reads, "Mountain West is forecasting about 285 procedures each week. We need to be at 345 procedures/week to close on our goal." After an email that requests the identification of cases that "can be moved up," another email states, "Guys, it's time to call in favors for these last 2 cases… We need to start calling our surgical champions who know our business first thing tomorrow."