Gadolinium Side Effects
Side effects of gadolinium-based contrast agents are often mild. The most common side effects include injection site pain, nausea, itching, rash, headaches and dizziness. Serious but rare side effects such as gadolinium toxicity and nephrogenic systemic fibrosis, or NSF, are most often seen in patients with severe kidney problems.
People who undergo an MRI scan with a gadolinium-based contrast agent, or GBCA, may experience coldness at the injection site, altered taste or the sensation known as pins and needles, depending on the brand of drug used.
A 2016 study in Magnetic Resonance Imaging found headaches, bone and nerve pain, and skin thickening were the most commonly reported reactions in patients that were presumed to have gadolinium toxicity. In the study of 42 people with symptoms, brain fog and headaches lasted for more than three months in 29 people.
Vomiting can occur with less than 1 in 100 injections, according to Inside Radiology. Between 1 and 4 in 100 will notice mild nausea or a headache.
Studies and adverse event reports submitted to the U.S. Food and Drug Administration (FDA) link GBCAs to nephrogenic systemic fibrosis, a serious condition that causes skin tightening. In the most serious cases, nephrogenic systemic fibrosis can cause thickening or scarring of the internal organs, which could lead to death. This side effect appears mostly in patients who had pre-existing kidney conditions, and has been estimated to occur in about 4 percent of patients with severe kidney disease that receive GBCAs.
New warnings from the FDA, added in 2018, say gadolinium can stay in the body for months to years after receiving these drugs during an MRI scan. It can build up in bone, brain and kidney tissue. This is known as gadolinium retention.
Did You Know?
Gadolinium may remain in the body for months or years.
Toxicity
Toxicity is a side effect of GBCAs that can occur within hours after undergoing an MRI scan with one of these contrast agents. Or it can manifest years later in people who have gadolinium buildup in their bodies.
Symptoms vary from person to person. The severity ranges from mild to severe.
Symptoms include:
Pain in the bones or joints
Burning or "pins and needle" sensations in the skin
Brain fog
Headache
Vision or hearing changes
Changes to the skin, such as thickening or discoloration
Nausea, vomiting, or diarrhea
Difficulty breathing
Flu-like symptoms
Metallic taste
Causes and People at Risk
Linear GBCAs are more likely to cause toxicity than macrocyclic agents, based on their structure. These are the two types of GBCAs available in the U.S.
A 2016 study review published in Biometals suggested one linear GBCA called Omniscan caused skin lesions, skin thickening and cell swelling in rats. Scientists linked the lesions to high gadolinium concentrations in the skin, liver and femur.
Another study published in 2004 in Investigational Radiology showed Omniscan, a linear GBCA, left 2.5 times more gadolinium in human bone than ProHance, a macrocyclic agent.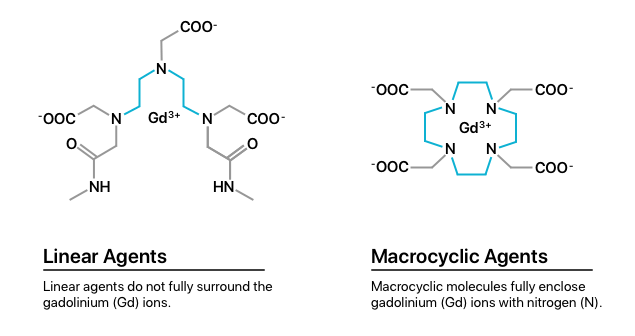 People who have multiple MRIs with GBCAs potentially increase the risk for toxicity.
Other patients at greater risk of these problems are pregnant women, people who have kidney problems, people with conditions that cause inflammation, or children, according to the FDA.
Testing and Treatment
Few doctors understand this type of toxicity, and there are few methods to test for it. The main tests are urine and blood tests. However, according to an article in Radiology in 2018, normal ranges have not been defined for each GBCA, and these methods need to be tested and standardized before they can be used as a reliable technique for monitoring gadolinium levels.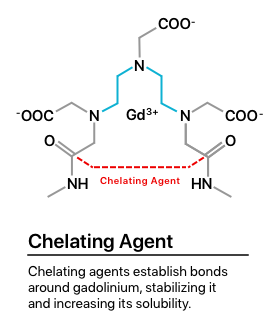 Chelation is a treatment that can be used to remove toxic levels of heavy metals from the body, although it has not been well studied as a treatment for gadolinium toxicity. Chelation is a process where doctors administer chelating agents to patients. These agents bind gadolinium and remove it from the body through the kidneys.
Health providers may administer chelating agents through an IV, with a pill, as a suppository under the tongue or through a rectal suppository.
Because this type of toxicity may cause pain in the bones, skin or joints, some people use some type of pain relieving medication.
Some patients may respond to treatment involving immune system modulation, although this proposed benefit appears to be theoretical and has not been tested in patients. Immune modulation is using drugs or other agents to weaken or strengthen the immune system.
Nephrogenic Systemic Fibrosis (NSF)
Nephrogenic Systemic Fibrosis (NSF) is a disease that causes hardening and thickening of the skin and internal organs, which could potentially lead to death. According to the Cleveland Clinic, most, if not all, cases are caused by exposure to GBCAs.
Patients who developed the condition who had not been exposed to a GBCA in an MRI were exposed to gadolinium in another way, such as another test, surgery, an injury or an infection. Although the exact mechanism for how the chemical element causes the condition is not known, the risk increases with use of linear gadolinium, and as more gadolinium is administered overall.
Researchers consider the disease to be a rare but serious side effect of GBCAs. These drugs carry a boxed warning that says people with kidney problems are at risk for the disease.
About 4 percent of people with serious kidney problems develop the condition after exposure to the chemical element. At least 30 percent of cases are expected to result in death.
The FDA first alerted the public about the link between GBCAs and NSF in 2006. The agency advises against using GBCAs in certain patients with acute or chronic kidney problems.
Researchers have not reported NSF in patients with normal kidney function after receiving GBCAs.
STUDY
About 4 percent of patients with severe renal insufficiency following exposure to GBCAs develop NSF. Close to 31 percent of NSF cases end in death.
Gadolinium Deposition Disease (GDD)
GDD is a relatively newly proposed condition, and it resembles NSF. However, GDD specifically occurs in people with normal kidney function.
Scientists think people who get GDD have a genetic abnormality that makes it difficult for their bodies to get rid of heavy metals; however, GDD is still being studied and agencies such as the FDA report that gadolinium deposition has not been directly linked to negative outcomes in patients with normal kidney function.
People who had normal or near-normal kidney function when they were injected with a gadolinium-based contrast agent but then developed toxicity symptoms are suing the drugs' makers.
Please seek the advice of a medical professional before making health care decisions.
Share This Page:
How can we improve this page?
Thank You for Your Feedback
We appreciate your feedback. One of our content team members will be in touch with you soon.
We appreciate your feedback. One of our content team members will be in touch with you soon.
Who Am I Calling?
Calling this number connects you with a Drugwatch representative. We will direct you to one of our trusted legal partners for a free case review.
Drugwatch's trusted legal partners support the organization's mission to keep people safe from dangerous drugs and medical devices. For more information, visit our partners page.