COVID-19: A Consumer's Guide to the Coronavirus
Drugwatch.com is committed to providing reliable information from expert sources to help guide you through the COVID-19 outbreak. Learn how to protect yourself and your loved ones from the coronavirus, and find important updates on access to medication, health insurance coverage and ways to maintain good mental health.

Coronavirus disease 2019, also called COVID-19, is a respiratory illness that spreads between people. It's a novel coronavirus, which means people have no immunity to it.
Researchers first discovered the virus when a pneumonia of unknown cause in the city of Wuhan in Hubei province, China, was reported to the WHO China Country Office on Dec. 31, 2019, according to the World Health Organization.
On March 11, 2020, WHO officially declared COVID-19 a pandemic, or a global outbreak of disease spread from person to person.
New viruses to which people have no immunity cause pandemics. Two other examples of pandemics are the Spanish influenza that killed approximately 50 million people in 1918 and H1N1 influenza virus in 2009.
First Reported Case in the United States
In January 2020, doctors in Snohomish County, Washington, treated the United States' first reported COVID-19 case in a 35-year-old man who had traveled to Wuhan, China. His first symptoms were cough and fever. After eight days in the hospital, the man's condition improved.
The United States had its first reported COVID-19 case on Jan. 21, 2020, according to the Centers for Disease Control and Prevention. Since then, the virus has infected millions of people. The CDC has received reports of COVID-19 cases from all 50 states.
Several states, counties and cities in the United States enforced voluntary and mandatory self-quarantine policies to slow the spread of the coronavirus. Pay attention to your local officials to keep up-to-date on the policies that affect your health.

COVID-19 Fast Facts
Researchers' understanding of COVID-19 changes rapidly. Below are the facts reported by the CDC, WHO, the National Institutes of Health and Johns Hopkins University as of June 19, 2020. These facts may change as the situation evolves.
Confirmed U.S. Cases and Deaths

As of June 19, 2020, millions of COVID-19 tests had been conducted in the United States, with more than 2.2 million confirmed cases and 118,894 deaths according to a live Johns Hopkins University case tracker.

Confirmed Cases and Deaths Worldwide

As of June 19, 2020, there were about 8.6 million confirmed cases and 457,190 confirmed deaths globally, according to the live Johns Hopkins University case tracker.

Where It Started

Researchers initially suspected COVID-19 had originated from an animal-to-person infection at a large live animal and seafood market in Wuhan, Hubei Province in China. However, the CDC has stressed that the exact source of the virus is unknown.

What Caused It

The virus that caused COVID-19 is called SARS-CoV-2 — a betacoronavirus that originated in bats, according to the CDC.

How It Spreads

The main way the virus spreads is by close contact with people (within 6 feet). It passes through respiratory droplets produced when an infected person sneezes, coughs or talks. The virus may spread when a person touches a contaminated surface and then touches their nose, mouth or possibly their eyes, but this isn't the main way it spreads. Some people who do not have symptoms may pass on the virus. On Oct. 5, 2020, the CDC said COVID-19 may be spread by airborne transmission in people more than six feet away in special circumstances. These circumstances include enclosed spaces, prolonged exposure to respiratory particles and in places with inadequate ventilation or air handling.

How Long It Lasts on Surfaces

The virus can last from a few hours to several days depending on the surface, according to the National Institutes of Health. It can last for up to three hours in aerosols, up to 24 hours on cardboard and up to two to three days on stainless steel and plastic.

At-Risk Populations

People of all ages can get the coronavirus, but adults 60 and older and people of any age with underlying health conditions are most at risk for severe disease and death.

Sickness in Pets

The risk of COVID-19 spreading from animals to people is low. The CDC has received reports that a small number of pets were infected with the virus, mostly after contact with infected humans. The agency recommends you wash your hands with soap and water after contact with pets.

How Easily It Spreads

The CDC says COVID-19 spreads very easily from person to person in a sustained manner, meaning it spreads continuously without stopping. It spreads more efficiently than influenza but not as efficiently as measles.

Vaccine or Cure

There is no cure for COVID-19. The FDA has not approved a vaccine or medicine to treat it, though scientists are trying to develop treatments. The best way to prevent infection is to wash your hands often and to avoid close contact with people who are or may be ill.

Signs and Symptoms
The most common symptoms are cough, shortness of breath and fever. The first signs of the coronavirus infection appear between two to 14 days after exposure, according to CDC.
The CDC reports coronavirus symptoms include:
Congestion or runny nose
Cough
Diarrhea
Fatigue
Fever or chills
Headache
Muscle or body aches
Nausea or vomiting
New loss of taste or smell
Shortness of breath or difficulty breathing
Sore throat
WHO: Most People 'Have Mild Disease and Recover'
WHO gathered preliminary research from 55,924 confirmed cases of COVID-19 in China and found most people — about 80 percent — had mild to moderate disease, and most people recovered.
WHO studied 55,924 confirmed coronavirus cases in China. It found about 7,700 people (13.8 percent) developed severe disease. About 3,400 people (6.1 percent) had critical disease with septic shock, respiratory failure and/or organ failure.
Children tended to have milder symptoms. Only about 1,300 (2.4 percent) of the 55,924 people with COVID-19 were under 19 years old. Of those children, about 2 (0.2 percent) died.
As of Feb. 20, 2020, and based on 55,924 confirmed cases, the most frequently reported symptoms from patients with COVID-19 were fever, dry cough and fatigue.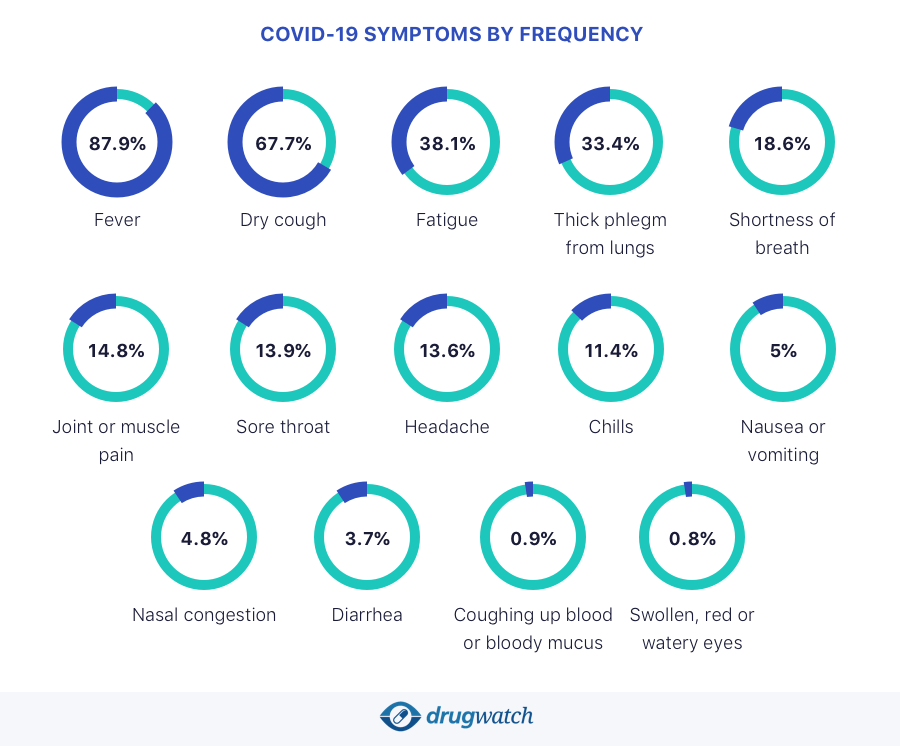 People Most at Risk
Although anyone can contract COVID-19, the most vulnerable people are those older than 60 and those with underlying health conditions.
According to a report by the WHO-China Joint Mission on Coronavirus Disease 2019, among the 55,924 confirmed cases studied, the highest death rate was in people over 80 years old. Men died more often than women.
In the United States, the CDC says, 8 out of 10 reported deaths have been in people 65 or older.
People with the following conditions are at greater risk of infection or severe illness:
Chronic kidney disease and conditions that require dialysis
Chronic lung disease
Compromised immune system
Diabetes
Liver disease
Moderate to severe asthma
Serious heart conditions
Severe obesity (BMI 40 or higher)
People undergoing cancer treatment or with poorly controlled HIV or AIDS are among those at greater risk. Also included are smokers, bone marrow or organ transplant recipients, and people who take medications that weaken the immune system, such as prolonged use of prednisone and other corticosteroids.
Pregnancy and the Coronavirus
Pregnant women go through a number of physical changes that could make them more vulnerable to viral respiratory infections, including COVID-19, according to the CDC. They might also be at risk for severe illness and death compared to the general population.
On Sept. 17, 2020, the CDC released data about pregnancy and COVID-19. The data suggests that pregnant women diagnosed with the virus are more likely to be hospitalized than nonpregnant women. They have a greater risk of admission to the ICU and requiring ventilation assistance.
From January 22 to Sept. 15, 2020, there have been 21,573 pregnant women with COVID-19 and 48 deaths. The CDC said it would release updated guidance for pregnant women and infants.
When Should You Seek Treatment or Get Tested?
For most people, the illness is mild, and they are able to recover at home, according to the CDC.
People who develop emergency warning signs should seek medical attention immediately. These include:
Difficulty breathing
Pressure or persistent pain in the chest
New inability to arouse or signs of confusion
Signs of low oxygen levels, such as bluish face or lips
*This is not an all-inclusive list. Consult a doctor or other health care provider for any other severe or concerning symptoms.
State, local health departments and health care providers make the decisions for COVID-19 testing. There may not be enough tests available, though they are increasing. If you have symptoms and want to be tested, contact your local health department or medical provider.
Types of Tests
According to the FDA, two types of COVID-19 tests exist: diagnostic tests and antibody tests. Diagnostic tests show if you have an active infection, while antibody tests show if you have had the virus and fought it off.
Diagnostic tests are either molecular or antigen-based. Molecular tests take longer to show results, usually a day or up to a week, but they are more accurate. Antigen tests work in one hour or less, but there is a chance that the tests will miss an active infection.
Both molecular and antigen tests use a nasal or throat swab. In some instances, a patient may give a saliva sample by spitting into a tube rather than having a swab.
Antibody tests use a finger prick or blood draw, and the results are available the same day or within one to three days.
Most tests require you to go to a designated testing facility, doctor's office or clinic, but at-home tests are also available. A health care provider prescribes the test, and the patient can collect his or her own sample and send it directly to a lab.
Cold, Flu, Allergies or the Coronavirus?
Many Americans may suffer from seasonal allergies, a common cold or the flu. It can be difficult to tell if someone is sick or having a reaction to pollen and other springtime irritants.
Allergies aren't contagious and never cause a fever, which is one of the telltale symptoms of flu or the coronavirus.
The common cold is marked by stuffy or runny nose and sneezing, and these symptoms are rare with the flu or the coronavirus.
The flu shares many of the same symptoms with the coronavirus, though flu sufferers have more prominent headaches and chills and don't suffer from shortness of breath, an early sign of the coronavirus.
Symptoms and severity can be different depending on a person's general health.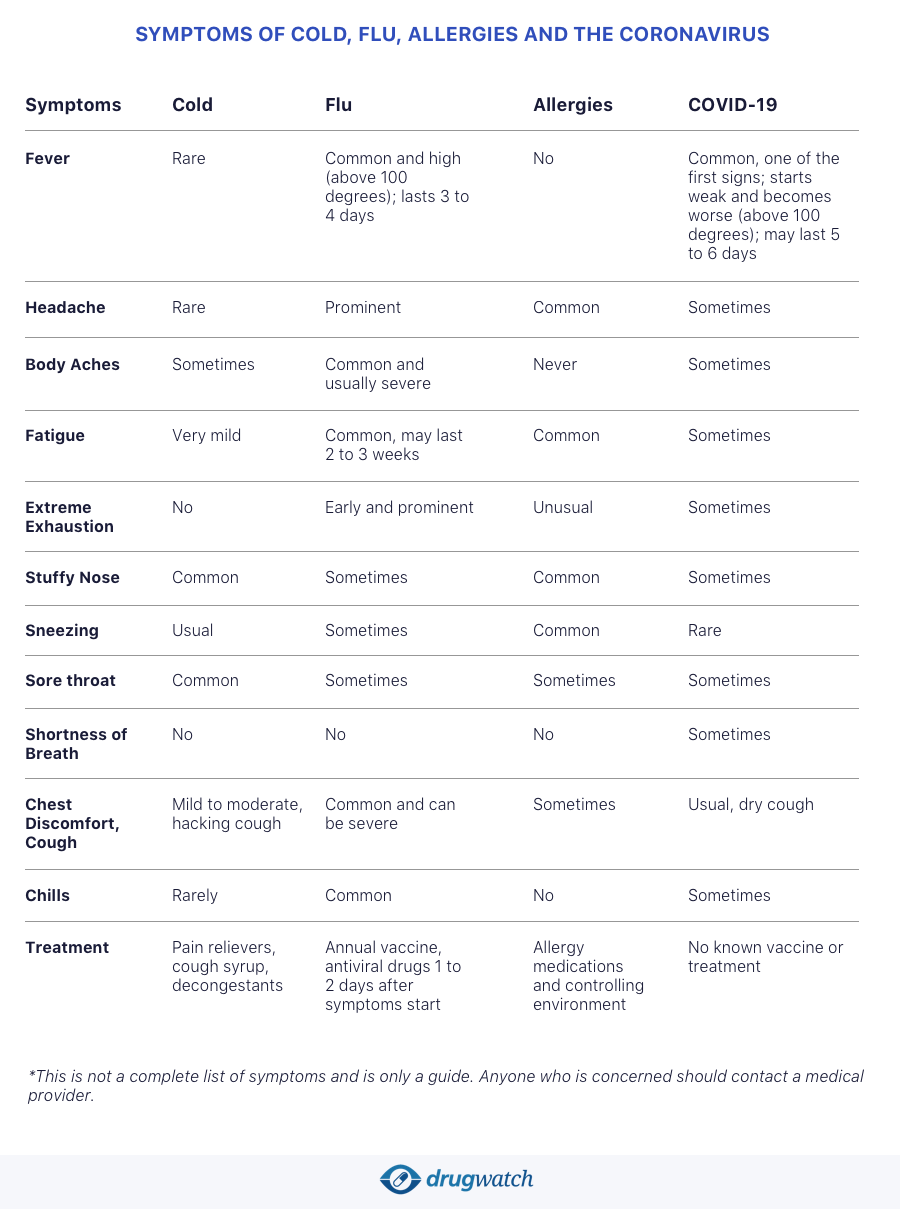 A Timeline of the Coronavirus Pandemic
Since China reported the first possible case to WHO in December 2019, the coronavirus situation has been evolving rapidly because of the disease's quick spread.
To "flatten the curve" and slow the virus down, governments worldwide have been telling people to use social distancing — staying at least 6 feet away from others — and to stay home unless they need essentials like medical care or food.
The timeline below contains important events related to the pandemic. As the situation changes, it will be updated with the most current events.
December 2019

Chinese officials report cases of "pneumonia of unknown origin" in Wuhan, China.

Jan. 11, 2020

China reports its first death.

Jan. 21, 2020

CDC receives first report of a U.S. coronavirus case — a 35-year-old man who traveled to Wuhan and came back to Washington State. Other countries including South Korea, Japan and Thailand report cases.

Jan. 30, 2020

WHO declares a global public health emergency.

Jan. 31, 2020

The Trump administration restricts travel into the U.S. from China.

Feb. 5, 2020

Thousands of passengers aboard the Diamond Princess cruise ship are quarantined in Yokohama, Japan.

Feb. 11, 2020

WHO officially names the disease COVID-19, short for coronavirus disease 2019.

Feb. 24, 2020

The White House asks Congress for $1.25 billion to prepare for the coronavirus. CDC confirms 35 cases and no deaths.

Feb. 24-28, 2020

Iran, Latin America, Europe and Sub Saharan Africa see first infections and spikes in infection.

Feb. 29, 2020

The United States records its first COVID-19 death, which occurred just outside Seattle, Washington. The global case count rises to nearly 87,000. The U.S. government issues travel bans for areas in Italy, South Korea and Iran.

March 3, 2020

U.S. government approves widespread coronavirus testing.

March 11, 2020

The White House blocks most European visitors from entering the country.

March 13, 2020

The White House declares a national emergency.

March 15, 2020

CDC says large groups of 50 or more people should not gather, including weddings, concerts, parades, sporting events and conferences. Schools in New York City announce closures.

March 16-17, 2020

Latin American and European countries begin initiating lockdowns and prohibiting gatherings.

March 26, 2020

The United States becomes the country with the highest number of coronavirus cases in the world with more than 81,000 cases and more than 1,000 deaths.

March 27, 2020

President Trump signs the $2 trillion coronavirus stimulus bill into law.

March 30, 2020

More states issue stay-at-home directives. The total number of Americans affected by directives is at least 265 million.

April 3, 2020

Nearly 4 billion people worldwide are under some type of orders to stay home. Some states including North Dakota, South Dakota, Nebraska, Iowa and Arkansas have not issued any orders. New York has its largest death toll at 2,935. Its known cases skyrocket to over 100,000, making it the hardest hit state.

April 14, 2020

Some European countries begin to ease lockdown restrictions. Austria has a plan to let home improvement and hardware stores open. Spain will be allowing some factory and construction workers to go back to work. Italy will reopen some shops.

May 18, 2020

Massachusetts became the 49th state to fully or partially reopen.

Protecting Yourself and Others
Because there is no vaccine or approved treatment, the best way to protect yourself and others from COVID-19 is to avoid exposure to the virus, according to the CDC. The CDC has issued the following guidelines for prevention.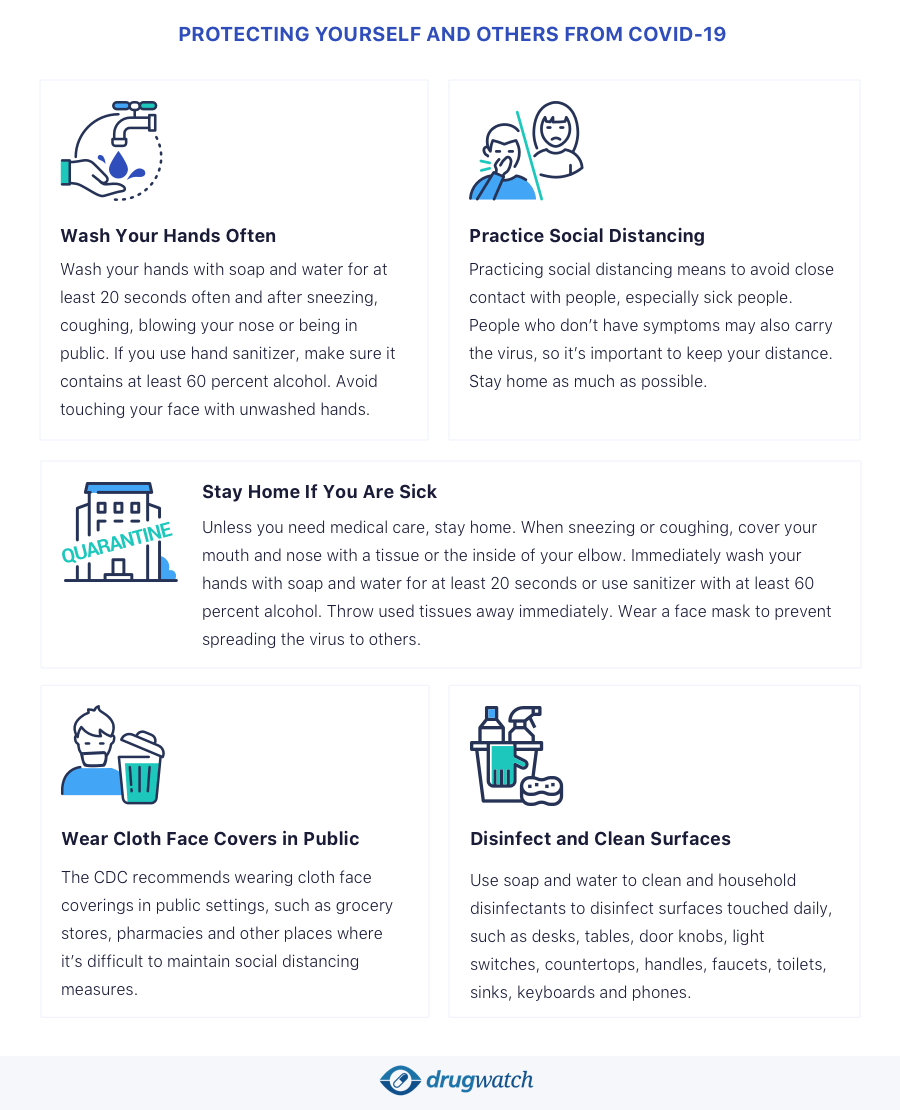 How COVID-19 Is Impacting Consumers
In addition to health concerns, stay-at-home orders, business closures and job loss are affecting people's daily lives and changing the way they access medication, their medical providers and their insurance coverage.
Doctors' Appointments and Hospital Visits
On March 18, 2020, the Centers for Medicare and Medicaid Services recommended that all elective surgeries and nonessential medical, surgical and dental procedures be postponed during the COVID-19 pandemic.
On April 19, 2020, CMS released guidelines for resuming elective surgeries. Before a state or regional hospital or surgery facility can resume non-emergency surgery, there has to be a sustained reduction of new COVID-19 cases in the general area for at least 14 days, according to a joint statement by American College of Surgeons and other professional surgical associations.
As of May 18, 2020, many doctor's offices had been slowly reopening. Check with your primary care doctor or specialist to see if they have resumed seeing patients for regular office visits. If you had to postpone your surgery, check with your surgeon's office to see if you can reschedule.
Consumer Tips for Medical Appointments
If you have cold or flu-like symptoms, call your provider or nearest urgent care facility for advice.
If you have urgent symptoms, call 911 or get to a hospital immediately.
Reschedule appointments that are not urgent.
Ask your medical provider to refill prescriptions over the phone or electronically.
Ask if your provider can speak to you on the phone, online or through videoconferencing.
In addition to new medical office protocols, hospitals have also tightened their visitation protocols. Hospitals may not allow visitors, especially if the visitor has cold or flu-like symptoms. Before going to the hospital to visit a patient, call the hospital to find out its procedures.
Telemedicine Visits
For people who are at high risk of infection or who live with people who are high risk, using telemedicine might be a better option for non-emergency doctor's appointments.
Telemedicine includes talking to a provider online, over the phone or using a special patient portal. Patient portals are a secure and private way to access your medical provider, or another medical provider, while staying at home.
Check with your medical provider, health insurance provider or employer to see if they have a telemedicine program.
Health Insurance Changes
Many health insurers are waiving copays and out-of-pocket costs associated with COVID-19 testing and care, according to America's Health Insurance Plans. They are also waiving copays for telehealth visits with providers.
What will my insurance pay for?
Some people may have lost their insurance coverage because of layoffs or had previously elected not to get coverage through their employers.
Health insurers may open special enrollment periods for anyone who may have declined insurance through their employers during the regular enrollment period. People should ask their company's human resources department for more information.
If you lost your job and your health care coverage, it is a "qualifying life event," which means you may be eligible to enroll for coverage through the Affordable Care Act's Special Enrollment Period or through your state's health insurance exchange.
Prescription Drug Refills
During a pandemic, getting access to medications may be more difficult than normal, especially when staying at home to avoid infection. The CDC recommends having an emergency supply of an extra 30 days of medication on hand.
But in the case of the COVID-19 pandemic, people may need a longer supply — especially if they are chronically ill or at increased risk of infection. During the coronavirus outbreak, pharmacies and health insurers are extending many 30-day prescription refills to 90-day refills.
Many pharmacies such as Walgreens and CVS offer free home delivery of prescriptions. Mail order pharmacies are also a good option. Customers can purchase drugs online from reputable pharmacies and have the medication delivered.
Know Your Online Pharmacy
Local, independent pharmacies may also be able to deliver medications for free.
The pandemic has also interrupted drug supply chains, leading to shortages of some drugs and medical devices. In addition, some drugs are in shortage because they may be useful for fighting the coronavirus. For example, hydroxychloroquine sulfate is a malaria and lupus drug that had been explored as a possible treatment for COVID-19 and was placed on the shortage list on March 31, 2020.
The FDA has posted a list of drugs that may be affected on its Drug Shortages webpage. People who find their drug on this list may contact their medical provider to find an alternative.
The regulatory agency also published recommended steps for manufacturing personnel to follow to reduce the risk of exposure to SARS-CoV-2, the virus that causes COVID-19.
Medical Device Shortages
According to the FDA's report on medical device supply shortages from March 28, 2020, medical devices affected by shortages include N95 respirator masks, ventilators, ventilator accessories and other respiratory devices.
The agency has issued guidance to help increase the number of these devices. This includes using devices modified for use as ventilators such as anesthesia gas machines.
Pregnancy and the Coronavirus
The CDC doesn't currently know if pregnant women have a higher risk of getting sick from COVID-19, but they do have a higher risk of severe illness from other viruses in the same family as COVID-19. This includes influenza and other viral respiratory infections.
It's unlikely that pregnant women can transmit the virus to their unborn baby, but newborns are susceptible to person-to-person spread. So far, very few babies have tested positive for the coronavirus, and the CDC isn't sure if the disease was contracted after birth or in the womb.
Although COVID-19 has not been detected in breastmilk in limited studies, the CDC doesn't know for certain whether the virus can pass to babies through breastmilk. Sick mothers who choose to breastfeed should wash their hands before each feeding and wear a face mask.
If using a breast pump, make sure to wash hands and clean the pump and bottle parts before expressing breastmilk. It's better to have someone who is not sick feed the baby if possible.
Life for Seniors
Seniors are an especially vulnerable population. They are at the most risk of infection and having severe illness. Social distancing is especially important for them.
In order to make shopping more comfortable for seniors and others most at risk, several stores with essentials and groceries reserved special times for seniors-only shopping. Contact local stores to learn about their protocols.
Stores that have offered senior-only shopping times include:
Acme Markets
Albertsons/Safeway
Balducci's
Big Y
BJ's Wholesale Club
Cardenas
Costco
Cub
DeCicco and Sons
Dollar General
Fareway
Food City
Food Town
Fresh Market
Fry's
Gelson's
Giant
Harris Teeter
HEB
Hy-Vee
King Soopers
Kowalski Markets
Kroger
Lowe's Foods
Lunds & Byerlys
Market Basket
Meijer
Morton Williams
Mother's Market
Northgate Market
Pavilions
Publix
Safeway
Sam's Club
Stop & Shop
Target
Trader Joe's
Vons
Walgreens
Walmart
Whole Foods Market
Winn-Dixie
Nursing Homes and Assisted Living Facilities
Since March 13, 2020, many nursing homes and assisted living facilities have been on lockdown to prevent the spread of the virus, according to AARP. As a result, many residents have been cut off from their families and have not been allowed much socializing time because of social distancing guidelines.
However, Michael Dark, staff attorney at California Advocates for Nursing Home Reform in San Francisco told AARP that residents can still use email, FaceTime, Skype or make a telephone call to keep in touch with family.
Residents and family members should "stay in touch with your facility and closely monitor their messages. You can ask the facility about their infection plan," Terry Fulmer of the John A. Hartford Foundation, a New York City-based national group dedicated to improving the care of older adults, told AARP.
The CDC recommends against moving older adults from long-term care centers because they generally need higher levels of care and may be more susceptible to germs outside of the facility.
Other experts say that if family members have the resources to care for a family member, they can make the decision to bring their loved one home. But it's important to first talk to the facility about how to provide the necessary care at home.

Mental Health During a Pandemic
Between lockdowns and reduced mobility, constantly watching the news, worrying about loved ones and coping with the fear of running out of essentials, a pandemic can really take a toll on people's mental health.
Stacy O'Mara, a licensed mental health counselor and psychotherapist in Florida told Drugwatch she has seen an uptick in people reaching out for help.
"I have had a full client caseload," she said. "In addition, I have had new clients booking and clients from years ago returning."
O'Mara advises her clients to "take it day by day, hour by hour, minute by minute, if you have to," and to "stay focused on the present because anxiety exists in the future."
According to O'Mara, some mental health concerns that could crop up because of the pandemic include:
Heightened anxiety
Catastrophic thinking
Increased depression
Feelings of being stuck or trapped
A sense of anger at being told what to do
The coronavirus lockdown is also especially triggering for people with a previous history of mental health concerns.
"If an individual has a history of post-traumatic stress disorder, anxiety disorder, depression or even suicidal ideation the coronavirus shutdown and stay-at-home orders can result in a relapse or an increase in symptoms," Támara Hill, a licensed child and family therapist and certified trauma therapist in Pennsylvania told Drugwatch.
"For example, imagine someone with claustrophobia or somebody with chronic depression being told that they can't do the things they are used to," Hill said. "Being forced to stay in a place where you don't want to be is a major health concern for many individuals who benefit from the outdoors and socializing with other people."
"I encourage my clients to make the best of the shutdown by engaging in activities that would help them grow and continue to advance."
Hill says children and adolescents who are more active and spend time at school with friends or at after-school activities are having their lives disrupted, and it could lead to childhood depression and anxiety.
"I encourage my clients to make the best of the shutdown by engaging in activities that would help them grow and continue to advance," Hill said.
People who take mental health medications should make sure they don't run out. Suddenly stopping these medications can lead to withdrawal side effects.
For people who can't meet with their psychiatrists in person, telepsychiatry is a good option. Talk to your health insurance companies for options.
Tips from O'Mara and Hill on coping with coronavirus include:
Get a hobby
Get outside for a walk, run or a bike ride
Have a nice meal
Have virtual hangouts with friends and family and keep the connection on while you watch a movie or eat dinner
Keep a journal
Limit social media and news intake
Meditate
Organize your house, closets or garage
Read a book
Relax in a warm bath or shower every night
Start a home improvement project
Relaxation Tip
Taking a few minutes to breathe and relax does wonders for mental health. If you're new to meditation or breathing exercises, YouTube has several guided meditations to follow. There are also apps for your phone. Or try University of Michigan's suggested breathing exercises to relieve stress.
"Take it day by day, hour by hour, minute by minute, if you have to, [and] stay focused on the present because anxiety exists in the future."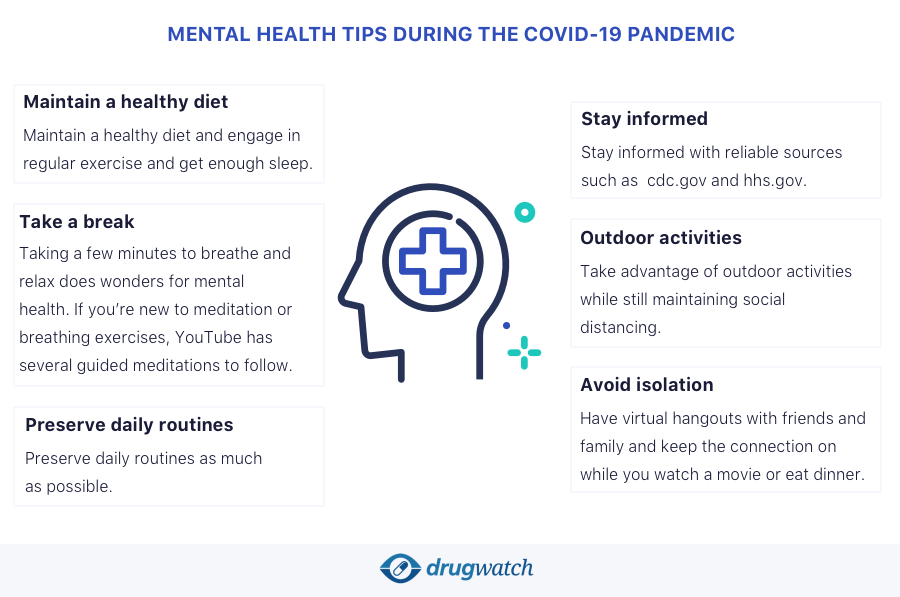 Need Help Right Away?
Veterans Crisis Line
Veterans in crisis or those who know a veteran in crisis can get free help by calling the Veterans Crisis Line at 1-800-273-8255 and pressing 1.
Crisis Text Line
Text HOME to 741741 to anonymously connect with a crisis counselor for free.

Outlook and Treatment Options
Currently, there are no vaccines or approved medications to treat COVID-19. Medical providers are treating patients with supportive care such as ventilator support and oxygen when needed.
Although there are no FDA-approved medicines to treat or prevent COVID-19, the FDA has granted Emergency Use Authorizations (EUAs) for some drugs. Under an EUA, health care providers can administer drugs to severely ill patients with suspected or laboratory-confirmed COVID-19 in hospital settings. Severely ill patients are those with low blood oxygen levels or those who require breathing support, such as a ventilator.
Three medications initially granted EUAs are remdesivir, hydroxychloroquine and chloroquine.
As of June 16, 2020, the FDA revoked the EUAs for hydroxychloroquine and chloroquine. This means they should no longer be used to treat COVID-19 except in a clinical trial.
Remdesivir
Remdesivir is an investigational, intravenous drug that stops viruses from replicating and has shown potential against SARS-CoV-2, the virus responsible for COVID-19, and other related betacoronaviruses.
There are clinical trials in the United States for patients hospitalized with COVID-19. Gilead Sciences is helping people with severe coronavirus illness get emergency access to the drug if they can't enroll in a trial.
Children under 18 years old and pregnant women with severe COVID-19 illness can access the drug through Gilead's compassionate use program.
On May 1, 2020, the FDA granted Gilead an EUA to distribute remdesivir to health care providers to start treating severely ill COVID-19 patients.
In its news release, the agency said, "It is reasonable to believe that remdesivir may be effective in treating COVID-19, and that, given there are no adequate, approved, or available alternative treatments, the known and potential benefits to treat this serious or life-threatening virus currently outweigh the known and potential risks of the drug's use."
Remdesivir side effects include elevated liver enzymes which could indicate liver damage and infusion-related reactions. These reactions include nausea, low blood pressure, vomiting, shivering and sweating.
Hydroxychloroquine and Chloroquine
Hydroxychloroquine and chloroquine are oral prescription drugs used for malaria and certain inflammatory conditions such as rheumatoid arthritis and systemic lupus erythematosus.
These two drugs are currently under investigation in clinical trials but are not approved to treat COVID-19. Medical providers had previously used these drugs to treat hospitalized adults and adolescents with COVID-19 who could not participate in clinical trials under the FDA's Emergency Use Authorization (EUA). As of June 16, 2020, the drugs can be used only in clinical trials.
In some cases, medical providers had experimented with azithromycin combined with hydroxychloroquine and chloroquine. Azithromycin has not been studied for effectiveness or safety in treating COVID-19 patients and is not approved for this use.
On April 24, 2020, the FDA released a drug safety communication cautioning against use of hydroxychloroquine and chloroquine in non-hospitalized patients with COVID-19 and use of the medications to prevent the disease. The agency stressed that these drugs have not been proven safe and effective for treating or preventing COVID-19 and are still being studied.
The FDA had granted an EUA for temporary use of these drugs only in hospitalized COVID-19 patients. These medicines can cause serious, life-threatening cardiac side effects, including abnormal heart rhythms, such as QT interval prolongation, and dangerously rapid heart rate called ventricular tachycardia.
When used in combination with other drugs that prolong the QT interval such as azithromycin, known as Zithromax or Z-Pak, these risks may increase. Patients who received these drugs for COVID-19 treatment should seek medical assistance immediately if they experience dizziness, irregular heartbeats or fainting.
Consumer Resource
Visit
ClinicalTrials.gov
for more information on clinical trials related to the COVID-19 outbreak.
Vaccine Development
The FDA has not approved a vaccine to protect against COVID-19. But as of April 8, 2020, there were 115 vaccine candidates, according to Nature medical journal. Researchers confirmed 78 of these as active projects. Seventy-three of those compounds are in exploratory or preclinical stages.
Big drug companies such as Johnson & Johnson's Janssen Pharmaceuticals subsidiary, Sanofi, Pfizer and GlaxoSmithKline are participating in vaccine development, but smaller and/or inexperienced companies are the lead developers.
Most of the COVID-19 vaccine development activity is in the United States. Experts aren't sure when a vaccine will be ready.
President Trump's Experimental Treatments
On Oct. 2, 2020, President Donald J. Trump tested positive for COVID-19 and received experimental treatment with medicines and supplements including remdesivir, an antibody cocktail from Regeneron, dexamethasone, vitamin D, a daily aspirin, zinc, melatonin and famotidine.
The FDA has not approved any of the President's treatments to treat COVID-19. No one should try these treatments without a medical provider's approval.
Regeneron's cocktail, REGN-COV2, is a combination of two monoclonal antibodies. It reduced viral load and time to alleviate symptoms in COVID-19 patients, according to a company statement on Sept. 29, 2020. The company has not released information about specific side effects, though it has said the drug is "well-tolerated."
Dexamethasone is a corticosteroid in the same family as prednisone that relieves inflammation. Its side effects include stomach irritation, depression, anxiety, easy bruising, insomnia, vomiting and headache.
Famotidine is an antacid H2 blocker in the same drug family as Zantac (ranitidine). It's used to treat GERD, heartburn and other conditions caused by too much stomach acid. Side effects include headache, dizziness, diarrhea, and constipation.
Read More on COVID-19
Please seek the advice of a medical professional before making health care decisions.