Tylenol Lawsuits
People who took Tylenol and suffered liver damage sued Johnson & Johnson and its subsidiary, McNeil Consumer Healthcare, accusing the companies of failing to properly warn consumers of the risk for liver damage.
This is an active lawsuit
See If You Qualify for a Tylenol Lawsuit
If your child was diagnosed with ADHD or autism spectrum disorder (ASD) after you took Tylenol while pregnant, you may be entitled to compensation.
We value your privacy.
By clicking REVIEW MY CASE
, you agree to our
privacy policy
and
disclaimer
. After submitting, you will be contacted by one or more of Drugwatch's
trusted legal partners
(including autodialed and prerecorded calls or text/SMS messages). Msg. and data rates apply. Your consent to text messaging is not required for a case review and you may opt out of text messages at any time by texting STOP. This is legal advertising.
For a few days in 1993, Antonio Benedi took the recommended dose of Extra-Strength Tylenol to ward off flu symptoms while continuing his daily ritual of drinking wine with dinner.
In less than a weeks' time, Benedi's liver was destroyed, and he went into a coma. A last-minute liver transplant saved his life.
In 1994, Benedi became the first person to win a lawsuit against the drug's maker, McNeil Consumer Healthcare, over allegations that the company failed to warn that mixing alcohol with acetaminophen, the active ingredient in Tylenol, could cause liver damage.
A federal court jury awarded Benedi $8.8 million: $7.855 million in compensatory damages and $1 million in punitive damages. A federal appeals court rejected the appeal of McNeil's parent company, Johnson & Johnson.
The company denied that its drug damaged Benedi's liver. It said during the trial that Benedi's liver was destroyed by a herpes infection, but federal judges said Benedi tested negative for herpes before receiving blood transfusions after his liver transplant.
Early Complaints of Liver Damage
Since the 1994 verdict, hundreds have filed complaints alleging that Tylenol use caused their liver damage. By June 2013, lawsuits had been filed by some 187 people across the country, including at least 14 cases filed in New Jersey, where Johnson & Johnson is headquartered, and 74 cases filed in federal court. As of April 2019, plaintiffs had filed 233 federal lawsuits, and 13 were still pending in a federal MDL.
Some of the earlier lawsuits were filed by:
2007

Parents of a 1-year-old who died from liver failure after consuming infant Tylenol (resulted in a $5 million verdict)

2012
2013

A woman who suffered acute liver failure after simultaneously taking both Extra Strength Tylenol and Lortab
Claims Against McNeil and J&J
For years, the drug's makers have profited from the drug's reputation as a fast-acting remedy that's safe to administer at home without a prescription. Although Johnson & Johnson and McNeil-PPC contend that their product comes with warnings about liver damage, consumers and other critics allege the warnings are not strong enough and do not adequately reflect the full extent of the risk.
In a 2017 interview with the American Council on Science and Health, Dr. Aric Hausknecht, a New York neurologist and pain management specialist who calls Tylenol "by far the most dangerous drug ever made," said acetaminophen-associated overdoses result in 50,000 emergency room visits every year.
And according to the National Institutes of Health, acetaminophen overdose is the nation's leading cause of acute liver failure.
People injured by Tylenol claim McNeil and J&J:
Negligently designed, manufactured and marketed the drug
Inadequately labeled their product and made a conscious decision not to re-label or otherwise inform the unsuspecting consumer public of its hazards
Misrepresented and over-promoted the safety and effectiveness of their product
Hid information about the product's hazards from consumers
Recklessly disregarded reports of debilitating and potentially lethal side effects caused by Tylenol.
Marketed its product without disclosing these side effects where there were safer alternative methods for pain relief
Lawsuits filed against the companies seek damage for:
Physical and emotional suffering
Diminished earning capacity
Significant financial burden from extensive medical expenses
Loss of consortium for family members
At the time of Benedi's injury, the recommended daily dose of Extra Strength Tylenol was 4,000 milligrams. In 2011, McNeil announced that it was lowering the recommended dose to 3,000 mg per day in accordance with the FDA's recommendations.
But two years later, an investigative piece in ProPublica accused McNeil of resisting the FDA and the FDA itself of failing to complete its decades-old review of acetaminophen, stating that roughly 150 Americans were dying every year from accidental acetaminophen poisoning.
In an article in Medical News Today Edwin Kuffner, vice president of OTC medical affairs and clinical research at McNeil Consumer Healthcare acknowledged the dangers of its drug, saying "Acetaminophen is safe when used as directed. But, when too much is taken (overdose), it can cause liver damage. … McNeil is revising its labels for products containing acetaminophen in an attempt to decrease the likelihood of accidental overdosing in those instances."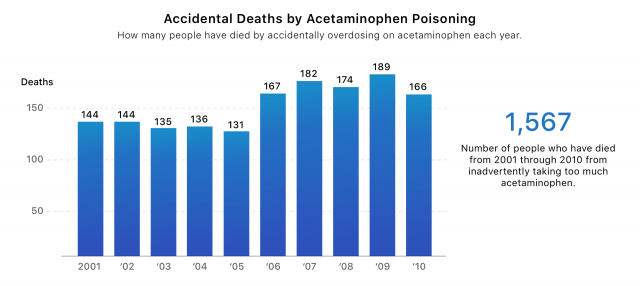 Multidistrict Litigation in Pennsylvania
To streamline pre-trial proceedings, the U.S. Judicial Panel on Multidistrict Litigation transferred all federal liver damage lawsuits filed against McNeil to the U.S. District Court for the Eastern District of Pennsylvania in April 2013. U.S. District Judge Lawrence F. Stengel oversaw the multidistrict litigation.
According to the April 1, 2013, transfer order, the actions "involve allegations that over-the-counter ("OTC") acetaminophen-containing products that are marked and sold under its TYLENOL® brand-name caused liver damage, including liver failure, even when taken as directed."
The panel noted that "centralization will eliminate duplicate discovery; prevent inconsistent pretrial rulings; and conserve the resources of the parties, their counsel and the judiciary."
Thirteen actions were pending in the MDL as of April 2019.
Was your child diagnosed with ADHD or ASD after taking Tylenol during pregnancy?
Bellwether Trial
Judge Stengel selected the case of Rana Terry v. McNeil-PPC, Inc., et al. as the first bellwether case, or test case, to proceed to trial.
Rana Terry filed the lawsuit in 2012, claiming Tylenol caused the death of her sister, Denice Hayes, in 2010. Hayes had acute liver failure and died at age 51 after taking two different formulas of the drug "at appropriate times and in appropriate amounts," according to the lawsuit.
The Lawsuit Claims:
Tylenol was defectively designed and sold in "a defective and unreasonably dangerous condition"
McNeil failed to test and place adequate warnings and instructions
The company intentionally hid safety issues in order to encourage doctors to recommend the drug to patients.
The trial was initially set for October 26, 2015. It was put on hold following several days of settlement talks.
Pretrial battles ended in Terry's favor. In February 2017, McNeil agreed to pay a confidential amount to settle more than 200 liver injury lawsuits under the MDL.
McNeil and the Plaintiffs' Steering Committee (PSC) of the MDL signed a master settlement agreement on Feb. 10 that reportedly created a global private settlement program to resolve claims, both filed and unfiled.
McNeil Lobbies White House as Case Goes to Trial
In October 2015, a liver damage case went to trial and resulted in a win for Johnson & Johnson. A New Jersey jury decided that Regina Jackson, 55, couldn't prove that she had actually taken Extra Strength Tylenol before she spent a week in the hospital.
Jackson argued that she had inadvertently overdosed on the pain medication, resulting in her hospitalization. Her lawsuit claimed Johnson & Johnson improperly designed the drug and that the recommended dosage doesn't provide enough of a safety margin to protect users from overdose. The jury didn't rule on the merits of Jackson's claim of defective design, only that she couldn't prove she took the drug.
During Jackson's trial, it was revealed that McNeil was lobbying for lawmakers to disregard the FDA's urging to make Extra Strength Tylenol available by prescription only — a recommendation that threatened the $400 million revenue from the company's extra strength line of medication.
Additional Liver Damage Lawsuits
Charlotte Thompson

Charlotte Thompson, a Florida woman, sued McNeil-PPC and Johnson & Johnson in state court in February 2012. Thompson had taken Tylenol for several days before being taken to the emergency room in February 2008 for liver-related injuries. In addition to severe physical injuries, she had also experienced emotional injury, loss of earning capacity, and significant medical expenses. The lawsuit accused McNeil and John & Johnson of failing to adequately warn of the risk of liver failure. It also claimed the drug was not properly tested.

Patricia Burdin

Kentucky resident Patricia Burdin suffered severe injuries, including acute liver failure, after taking Extra Strength Tylenol and Lortab. She had taken the drugs in the dosages directed by her physician but was admitted to the emergency room with fulminant liver failure in May 2011. She and her husband filed a lawsuit in the Philadelphia Court of Common Pleas in January 2013. Their lawsuit includes allegations of physical and emotional injuries and economic losses as well as her husband's loss of consortium claim. The lawsuit has been transferred to the federal MDL.

Tonja Rash

After taking Tylenol, Tonja Rash experienced acute liver failure and was taken to Park Ridge Medical Center's emergency room in Chattanooga, Tenn., on or about April 20, 2010. She died on April 22 after being transferred to Vanderbilt University Medical Center. Her husband and her father, as executor of her estate, filed a lawsuit against McNeil-PPC and Johnson & Johnson in the Philadelphia Court of Common Pleas in January 2013. Like Burdin's, this lawsuit was later transferred to the federal MDL.
Settlements for Injuries Other than Liver Failure
People have successfully sued for injuries other than liver damage. These settlements include:
Misleading Packaging of Infants' Tylenol

Johnson & Johnson agreed to a $6.3 million class action settlement to resolve claims that Infants' Tylenol packaging was misleading. According to the consumers' lawsuit, the company marketed the medication as specifically formulated for infants when in fact the medication contained the same concentration of liquid acetaminophen as Children's Tylenol.

Bacteria Contamination

Kindra Robertson sued McNeil after her 11-year-old son died of sepsis caused by pneumonia as a result of contaminated Children's Tylenol. Robertson accused McNeil of knowing the batch contained Bacillus circulans bacteria. She agreed to settle her claims against McNeil in August 2016. After receiving notice of the settlement, U.S. District Judge John Kronstadt dismissed the lawsuit without prejudice.

Stevens-Johnson Syndrome

McNeil settled a lawsuit in March 2017 filed by a woman who says she developed the serious skin reaction Stevens-Johnson Syndrome (SJS) after taking Tylenol and Motrin together. The settlement came just a few hours after the jury began deliberating.

The FDA has warned about Tylenol's link to rare, dangerous skin reactions, including SJS, and in 2013, it required manufacturers to include a warning in labels of acetaminophen drug products.

Violation of Consumer Protection Laws

In May 2017, J&J settled a suit brought against it by 42 states and the District of Columbia that claimed the company violated consumer protection laws. In addition to paying out a total of $33 million in settlement money, McNeil also agreed not to claim on its website that it meets the FDA's standards of practice if any of its OTC drugs had been recalled within the last 12 months.
Please seek the advice of a medical professional before making health care decisions.
Share This Page:
How can we improve this page?
Thank You for Your Feedback
We appreciate your feedback. One of our content team members will be in touch with you soon.
We appreciate your feedback. One of our content team members will be in touch with you soon.
Who Am I Calling?
Calling this number connects you with a Drugwatch representative. We will direct you to one of our trusted legal partners for a free case review.
Drugwatch's trusted legal partners support the organization's mission to keep people safe from dangerous drugs and medical devices. For more information, visit our partners page.