FDA Warns about Opioids, Vascular Patch and Catheter Guides
Fact-Checked
Editors carefully fact-check all Drugwatch content for accuracy and quality.
Drugwatch has a stringent fact-checking process. It starts with our strict sourcing guidelines.
We only gather information from credible sources. This includes peer-reviewed medical journals, reputable media outlets, government reports, court records and interviews with qualified experts.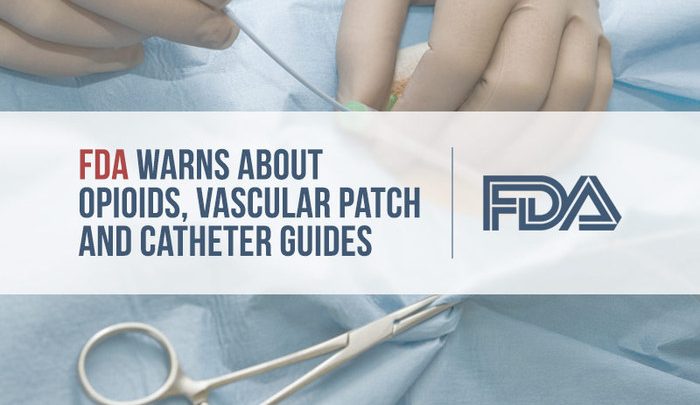 In the last few weeks, the U.S. Food and Drug Administration tackled a number of drug and device warnings and recalls. These include prescription opioid products, the Vascu-Guard patch used in carotid artery surgery and the Roadrunner UniGlide wire guide. In these safety communications, the FDA outlined its actions and recommendations.
FDA Adds Stronger Warning to Opioid Medicines
After the FDA reviewed the latest studies on opioids, the agency is requiring new labels that warn healthcare providers and patients of the serious risks with combined use of opioids and benzodiazepines.
In an August 2016 news release, the FDA said it was adding boxed warnings — the strongest warning — for nearly 400 opioid painkillers, opioid-containing cough medicines and benzodiazepines. Some pain medications in the opioid class include oxycodone, hydrocodone and morphine. Doctors prescribe benzodiazepines for conditions such as anxiety, insomnia seizure disorders.
Some of the risks associated with combined drug use include:
Extreme sleepiness
Coma
Death
Respiratory depression
"It is nothing short of a public health crisis when you see a substantial increase of avoidable overdose and death related to two widely used drug classes being taken together," said FDA Commissioner Robert Califf in the agency's press release. "We implore health care professionals to heed these new warnings and more carefully and thoroughly evaluate, on a patient-by-patient basis, whether the benefits of using opioids and benzodiazepines – or CNS depressants more generally – together outweigh these serious risks."
The FDA's action comes after it received a citizen petition from numerous local and state public health officials and other stakeholders in February 2016. The petition asked the FDA to make changes to the existing labeling for benzodiazepines and opioids painkillers.
Multiple Adverse Events Associated with Vascu-Guard Patch
On September 1, 2016, the FDA reported it received multiple reports of severe bleeding and hematomas associated with the Vascu-Guard Peripheral Vascular Patch made by Baxter International, Inc. Adverse event reports included three deaths.
"The FDA is concerned that the Vascu-Guard patch may not be performing as intended and that patients who are treated with the product may be at risk for serious adverse health consequences, such as severe bleeding, hematomas, and death," the FDA said on its website. "After CEA surgery in particular, arterial bleeding in the neck could rapidly lead to airway obstruction, hypoxia, diminished brain perfusion, stroke and/or cardiac arrest."
Doctors use the Vascular Patch to construct blood vessels damaged by Type 2 diabetes, aneurysms, peripheral artery disease and other conditions. The agency recommends that health care professionals discuss all treatment options with patients and watch for bleeding after surgery.
Cook Roadrunner UniGlide Global Recall
On June 24, 2016, Cook Medical issued a recall for its Roadrunner UniGlide Hydrophilic Wire Guide. The FDA classified it a Class I recall — the most serious type of recall that can involve serious injury and death. Doctors use the Roadrunner UniGlide to insert catheters into veins and arteries not located in the chest and abdomen.
In the U.S., the recall includes 8,750 devices distributed between May 2, 2016 and June 17, 2016.
Cook recalled the devices because certain lots may contain glass particles. Potential adverse events include vessel damage, bleeding and glass particles in the circulatory system.
"Cook Medical has notified its customers and distributors by recall notification letters," Cook Medical announced on its website. "The letters requested that all customers and distributors quarantine and discontinue use of all recalled units and return the affected products to Cook as soon as possible for credit."
The company added that it informed the proper regulatory agencies around the world of the issue.
Share This Page:
How can we improve this page?
Thank You for Your Feedback
We appreciate your feedback. One of our content team members will be in touch with you soon.
We appreciate your feedback. One of our content team members will be in touch with you soon.