Investigation Finds Alleged Cover-Up of Paraquat's Parkinson's Risk
Fact-Checked
Editors carefully fact-check all Drugwatch content for accuracy and quality.
Drugwatch has a stringent fact-checking process. It starts with our strict sourcing guidelines.
We only gather information from credible sources. This includes peer-reviewed medical journals, reputable media outlets, government reports, court records and interviews with qualified experts.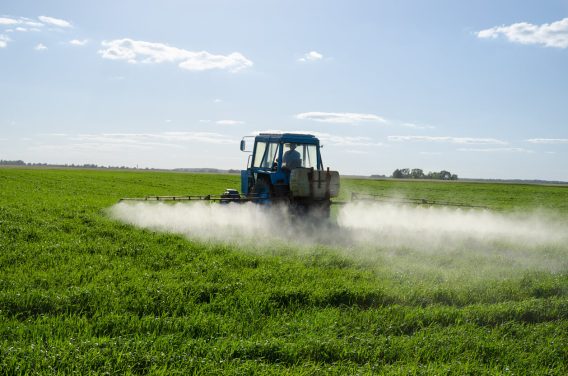 A worldwide chemical company is accused of trying to hide the connection between its popular weed killer, paraquat, and Parkinson's disease, a news investigation has uncovered. 
British media outlet The Guardian reviewed internal documents from chemical giant Syngenta about its paraquat weed killer, finding that it "sought to secretly influence scientific research regarding links" between paraquat and neurological changes in humans.
The popular herbicide, known for killing unwanted weeds and grasses, has been used on American crops since the 1960s. Paraquat lawsuits claim that long-term exposure to the highly toxic chemical is linked to Parkinson's disease among farmers and other agricultural workers. Exposure can cause other short-term and long-term health effects, some of which may be fatal.
Did you develop Parkinson's disease after exposure to paraquat?
Documents Reveal Internal 'SWAT Team'
Independent researchers have long determined that the chemical can cause illness, but Syngenta internal files revealed ways the company sought to have those connections severed.
Among the findings, The Guardian reported that Syngenta developed an internal "SWAT team" made up of members of the company's legal and corporate affairs departments and scientists. Its purpose is to respond to any new independent scientific reports regarding paraquat that would interfere with the company's ability to sell the chemical.
Another tactic involved hiring a lawyer to work with scientists to review documents, asking them to alter "problematic language" and "unhelpful" scientific conclusions regarding the defense of paraquat to downplay the findings.
According to company meeting minutes from June 2003, uncovered by The Guardian, Syngenta decided to develop a "coherent strategy across all disciplines focusing on external influencing, that proactively diffuses the potential threats that we face" in response to new independent research.
That strategy included engaging scientists outside of Syngenta who could write papers that supported the company's defense of the chemical.
'One Sip Can Kill'
People who work with the chemical have the greatest risk of exposure, but others who work in those places may also be exposed.
"Paraquat is highly toxic to humans; one small accidental sip can be fatal and there is no antidote," according to the U.S. Environmental Protection Agency.
The weed killer, branded as Gramoxone, is well known in the U.S. and is sprayed on commercial crops such as corn, soy and cotton. The EPA requires that only licensed, trained applicators handle it. The toxic chemical contains dyes, sharp odors and other substances to help prevent people from accidentally drinking it and includes an agent that induces vomiting.
Short-term exposure to paraquat can cause confusion, fluid in the lungs, heart failure, lung scarring, swelling and seizures and many other symptoms. Long-term exposure can cause lung damage, lung scarring, kidney failure, Parkinson's disease, impaired lung function and reproductive problems. 
'Science Matters'
One lawyer compared Syngenta's tactic of involving lawyers with scientists similar to the actions of the tobacco industry in the 1970s and '80s when it tried to downplay the dangers of smoking.
"It looks like the paraquat maker has adopted nearly every strategy we outlined in our book about bending science," former U.S. Environmental Protection Agency legal advisor Thomas McGarity told The Guardian.
"Science matters. We have to be able to depend on science," he said. "When it is perverted, when it is manipulated, then we get bad results. And one result is that pesticides that cause terrible things like Parkinson's remain on the market."
Parkinson's disease is an incurable brain disorder that researchers believe is caused by a loss of neurons that produce dopamine. Symptoms include tremors, slow movement, muscle stiffness, speech difficulties and loss of coordination. The scientific link to Parkinson's disease has led several people to file paraquat lawsuits against manufacturers, including Syngenta.
Company Denies Allegations
A Syngenta spokesperson told The Guardian that the company cares about the health of its consumers and that of the 1,200 studies conducted on paraquat, none have "established a causal connection between paraquat and Parkinson's disease."
"We care deeply about the health and wellbeing of farmers and are dedicated to providing them safe and effective products," the unnamed spokesperson told The Guardian. "As a responsible company, we have spent millions of dollars on testing our products to make them safe for their intended use."
Some scientific research disagrees, showing paraquat has been linked to a significant increase in the risk of Parkinson's. Studies conducted by the Unified Parkinson's Advocacy Council found that people exposed to paraquat in their teens or young adult years had an increase in Parkinson's disease risk of 200% to 600%.
Share This Page:
How can we improve this page?
Thank You for Your Feedback
We appreciate your feedback. One of our content team members will be in touch with you soon.
We appreciate your feedback. One of our content team members will be in touch with you soon.