Intestinal Blockage Added as Potential Ozempic Side Effect
Fact-Checked
Editors carefully fact-check all Drugwatch content for accuracy and quality.
Drugwatch has a stringent fact-checking process. It starts with our strict sourcing guidelines.
We only gather information from credible sources. This includes peer-reviewed medical journals, reputable media outlets, government reports, court records and interviews with qualified experts.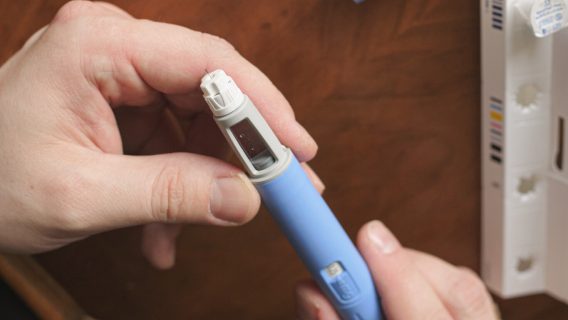 The U.S. Food and Drug Administration has added ileus, or blocked intestines, to the list of possible adverse reactions to the diabetes medication Ozempic. Other side effects of Ozempic already listed on the label are anaphylaxis, angioedema, rash, urticaria, cholecystitis and cholecystectomy.
Ozempic and similar medications Wegovy and Mounjaro belong to a family of drugs known as GLP-1 agonists. The active ingredient in Ozempic and Wegovy is semaglutide, while Mounjaro contains tirzepatide. Wegovy and Mounjaro already have a warning on their labels about ileus. 
Pharmaceutical company Novo Nordisk told CNN in July that GLP-1 agonists have been used for many years and have gone through extensive studies. 
"Gastrointestinal (GI) events are well-known side effects of the GLP-1 class," Novo Nordisk said in a statement. "For semaglutide, the majority of GI side effects are mild to moderate in severity and of short duration. GLP-1's are known to cause a delay in gastric emptying, as noted in the label of each of our GLP-1 RA medications. Symptoms of delayed gastric emptying, nausea and vomiting are listed as side effects."
Along with a list of adverse reactions, Ozempic's label includes this statement: "Because these reactions are reported voluntarily from a population of uncertain size, it is not always possible to reliably estimate their frequency or establish a causal relationship to drug exposure." 
See if You Qualify for a Lawsuit
Our Partners
Our Trusted Legal Partners
Drugwatch partners with trusted law firms to help you take legal action. After submitting the form, one of Drugwatch's partners will contact you for a free case review.








Lawsuits Filed 
This labeling change by the FDA comes just weeks after a Louisiana woman filed an Ozempic lawsuit and a Mounjaro lawsuit against drugmakers Novo Nordisk and Eli Lilly. In her suit, Jaclyn Bjorklund said while the manufacturers warned users about other side effects caused by Ozempic they failed to mention the risk of severe gastroparesis.
"Although there is some overlap in the terms, ileus and gastroparesis, they are not synonymous," FDA spokesperson Chanapa Tantibanchachai said in a statement. 
Labels for Ozempic and similar drugs already note that they cause "delay of gastric emptying," Tantibanchachai said, but the regulator is continuing to monitor "reports of gastroparesis and other related terms" in real-world use of the drug. 
"If newly identified safety signals are identified, the FDA will determine what, if any, actions are appropriate after a thorough review of available data," she said.
Ozempic has recently seen a surge in demand because it may also help people lose weight. According to clinical trials, some of the most common side effects of Ozempic are abdominal pain, constipation, diarrhea, nausea and vomiting. The majority of these side effects should only last a few days or a few weeks. Some of the more serious side effects of Ozempic include: 
Acute gallbladder disease

Acute kidney injury

Allergic reactions

Diabetic retinopathy

Hypoglycemia (when used with insulin or sulfonylurea)

Increased risk of thyroid tumors

Pancreatitis
Long-term use of Ozempic may result in chronic side effects, especially gastrointestinal issues. Some people are forced to stop taking the drug because the side effects don't improve. This could lead to undereating or malabsorption of nutrients.
Ongoing Investigation Into Ozempic
The European Medicines Agency started investigating Ozempic and Wegovy in July after more than 100 reports claiming the drug could cause suicidal thoughts and self-harm. Novo Nordisk released a statement saying "no causal association" between self-harming thoughts and the drugs was found during its own safety monitoring checks. 
Wegovy and Saxenda, another medication used to treat diabetes, also have an FDA warning about possible suicidal thoughts. The FDA Adverse Event Reporting System Public Dashboard has at least 60 reports since 2018 of suicidal ideation from people taking semaglutide, the active ingredient in Ozemic and Wegovy.
Popularity for the drug has skyrocketed, with many people using Ozempic for weight loss. Quarterly prescriptions for the drug and similar medications increased by 300% between 2020 and 2022, according to analytics firm Trilliant Health. The drug's high demand has even caused a global shortage, which is expected to continue well into 2024.
Share This Page:
How can we improve this page?
Thank You for Your Feedback
We appreciate your feedback. One of our content team members will be in touch with you soon.
We appreciate your feedback. One of our content team members will be in touch with you soon.