NuVasive Precice System
The NuVasive Precice system is an implantable, adjustable magnetic device that treats people with limb length discrepancy, a condition where the length of the tibia or femur are unequal. In February 2021, NuVasive removed stainless steel Precice implants from the market and recalled titanium Precice implants.
What is NuVasive's Precice System?
NuVasive's Precice system comes with reusable instruments, a thin implantable rod called a nail, locking screws and a hand-held External Remote Controller (ERC). This system treats limb length discrepancies (LLD).
LLD occurs when the length of the tibia or femur on one leg isn't the same length as the other leg.  In some cases both the tibia and femur are not the same length from one limb to the other.
These length discrepancies may be present at birth, or happen after a person breaks their leg or experiences other trauma. Infections, tumors or congenital abnormalities may also cause LLD.
Surgeons typically use the Precice system for limb lengthening. It can also treat open and closed fracture fixation, pseudoarthrosis, mal-unions, non-unions, or bone transport of long bones, according to NuVasive's product Technique Guide.
How Precice Treats Limb Length Discrepancies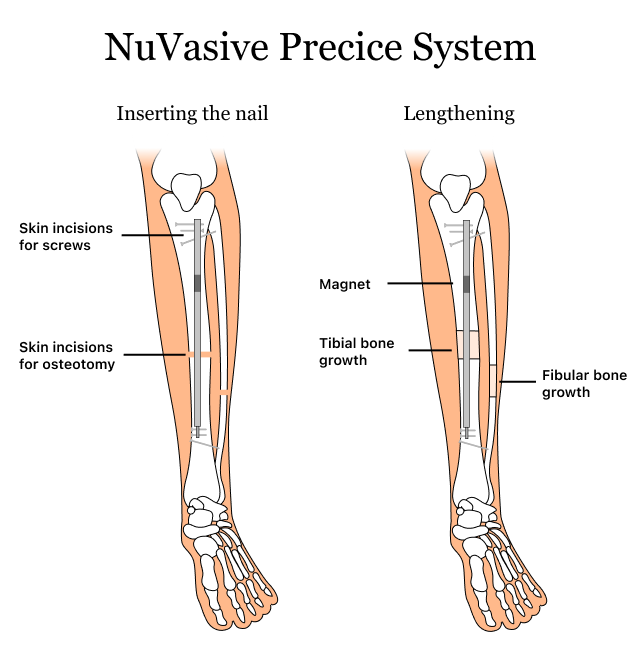 The Precice system is an internal limb lengthening device. Surgeons place the nail inside the bone through the bone marrow instead of on the outside of the bone like traditional external devices for limb lengthening.
After the patients receive the implant, they receive an External Remote Controller (ERC) and instructions on how to use it. Doctors follow a guide to customize the amount of lengthening for each patient. The patient then uses the device at home each day to gradually lengthen the bone.
The ERC uses a magnet inside it to control the nail and lengthen it. As the nail lengthens, the bone lengthens with it. Because the lengthening is gradual, patients don't typically feel any pain.
Side Effects and Complications
According to NuVasive, the most common risks or complications with Precice are device breakage and insufficient lengthening.
However, the device may loosen, fracture, corrode, migrate or cause pain, according to the product's safety information. There may also be soft tissue or nerve damage from the surgery or the implant. Patients should tell their doctors if they experience weakness, pain or numbness while using Precice.
The FDA has received reports of potential biocompatibility issues such as bone abnormalities and pain related to the stainless steel Precice Stryde device. These concerns led NuVasive to remove some Precice devices from the market and issue a recall for others.
A 2022 study in the Journal of Orthopaedic Surgery and Research found that 25% of patients who received magnetically controlled growing rods developed complications, including spinal alignment failure, decreased wound healing, pulmonary complications, back pain and fracture.
Lawyers are investigating Precice lawsuits because of biocompatibility complications such as bone degradation, bone abnormalities and tissue degradation.
Biocompatibility Concerns Lead to FDA Notice, Recall
Because the FDA received reports of side effects related to biocompatibility issues with Precice Stryde, NuVasive is performing additional testing on Precice devices and assessing potential mechanical failures that may have contributed to these problems.
The company voluntarily removed all stainless steel Precice devices from the U.S. market as of February 2021. These include: Precice Stryde, Precice Plate and Precice Bone transport.
In addition, it issued a recall for titanium Precice devices and placed a shipping hold in April 2021. So far, the FDA hasn't received any reports of adverse events with the titanium devices. On Dec. 1 2021, the FDA issued a recall update notifying the public that the shipping hold had been removed for titanium devices.
Titanium devices include: Precice Freedom, Precice Intra-medullary Limb Lengthening (IMLL) Device, Precice Short and Precice Unyte.
Please seek the advice of a medical professional before making health care decisions.
Share This Page:
How can we improve this page?
Thank You for Your Feedback
We appreciate your feedback. One of our content team members will be in touch with you soon.
We appreciate your feedback. One of our content team members will be in touch with you soon.
Who Am I Calling?
Calling this number connects you with a Drugwatch representative. We will direct you to one of our trusted legal partners for a free case review.
Drugwatch's trusted legal partners support the organization's mission to keep people safe from dangerous drugs and medical devices. For more information, visit our partners page.