Accutane
Millions of Americans took Accutane (isotretinoin) to treat severe acne. Roche withdrew the brand name drug from the market in 2009. The drug was still available in different generic forms in 2018. Studies link the acne medication to serious side effects. Side effects include Crohn's disease and birth defects.
Accutane (isotretinoin) is an acne medication. Hoffman-LaRoche made the drug. The U.S. Food and Drug Administration approved Accutane in 1982.
The medication works for about 85 percent of patients, according to the American Academy of Dermatology.
But the drug may cause serious side effects such as Crohn's disease. Accutane also has an FDA black box warning for birth defects.
A 2017 study reaffirmed Accutane's link to isotretinoin-associated pancreatitis. The British Journal of Dermatology published the study.
Some serious side effects have been linked to different Accutane lawsuits.
Roche stopped manufacturing Accutane in 2009. Generic brands of the medication were still available in 2018. These brands include Amnesteem, Claravis and Sotret.
What Is Accutane?
Accutane is part of a class of medications called retinoids. Retinoids are drugs used to treat cancer. The medication is a form of vitamin A.
Accutane is a prescription drug. Roche sold the drug in 10 mg, 20 mg and 40 mg soft gelatin capsules.
Accutane Uses
The FDA approved Accutane to treat recalcitrant acne.
American researchers first studied isotretinoin in 1975. Drugmakers created it to treat cancer. It later became a drug to treat severe acne.
Accutane is especially effective at treating acne that has not responded to antibiotics.
Fact
Accutane is especially effective at treating acne that has not responded to antibiotics.
The acne it treats consists of nodules with a diameter of 5 mm or greater. Having this type of acne can be socially debilitating, so the potential of a cure can be life-changing.
How Accutane Works
Accutane works by controlling the secretion of sebum in the sebaceous glands. Sebum is an oily substance. Accutane also helps the skin renew itself.
Accutane can take months to be effective. Acne may get worse with Accutane before it starts to clear up.
Accutane Side Effects
Accutane is extremely effective at treating acne. But, it also comes with many side effects.
Some common side effects of Accutane may subside after initial treatment.
Dry skin, lips and eyes are common in some patients taking Accutane. This dryness can lead to nosebleeds and cracked or peeling skin. Some patients say staying hydrated can help to ward off some of these side effects.
Patients should also keep their skin protected in the sun. Accutane causes skin to be highly sun-sensitive.
Other serious side effects are more likely to occur with longer exposure to Accutane.
A review of 30,934 people taking Accutane found that inflammatory bowel disease became more common in patients who used the acne medication for six months or more. These results were based on reports received by the FDA from 1997 to 2018.
Suicidal thoughts remained high on the list from the start of treatment.
Serious side effects linked to Accutane are similar to those seen in patients taking high doses of vitamin A.
Accutane Serious Side Effects
Allergic reactions
Psychiatric disorders (depression, suicidal thoughts and aggressive and violent behavior)
Pseudotumor cerebri (pressure buildup in the skull that mimics a brain tumor)
Pancreatitis (inflammation of the pancreas)
Elevated cholesterol
Hearing impairment
Hepatitis
Inflammatory bowel disease
Decreased night vision
Birth defects
FDA Black Box Warning for Birth Defects
In 1985, the FDA added a black box warning to Accutane for an extremely high risk of severe birth defects.
Accutane taken during pregnancy can be highly toxic to a fetus.
Birth defects and fetal deaths can occur if pregnant patients take Accutane. This is true even if pregnant women take Accutane for a short amount of time.
Birth Defects Linked to Accutane
Abnormalities of the ear
Abnormalities of the eye
Facial dysmorphia
Cleft palate
Brain problems
Heart problems
Accutane and Pregnancy
Accutane carries a high risk of miscarriage and deformities. Among Accutane-exposed pregnancies, 42 percent of infants suffer from birth defects.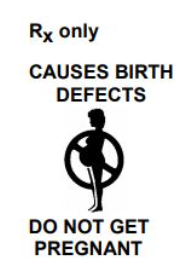 The FDA worked with Roche to create programs to ensure that Accutane users were not and would not become pregnant.
In 2006, a system called iPLEDGE replaced the flagship program SMART. The computer-based system required pharmacies, doctors and patients to register.
Patients had to test negative for pregnancy through approved labs before they could receive the medication. Prescriptions only covered 30 days at a time. Users had to use two types of birth control.
Accutane Recalls
Accutane underwent recalls outside the U.S.
End of Manufacturing
In June 2009, Roche stopped manufacturing its brand-name drug Accutane.
The decision to stop manufacturing Accutane came as the number of adverse events reported to the FDA continued to grow. The number of lawsuits over the drug also continued to climb.
But the company said it was an economic decision. It said generic brands of the medication were taking over the market.
Drug Interactions
Accutane has a lengthy list of drug interactions. Some are more serious than others.
The medication label lists the most important interactions.
Accutane may interact with the following medications:
Vitamin A
Tetracyclines
Micro-dosed progesterone preparations
Norethindrone/ethinyl estradiol
Combination of St. John's Wort and birth control
Phenytoin
Systemic corticosteroids
Accutane Dosage
Generic versions of Accutane use the same dosage chart as the brand-name drug.
Recommended doses of isotretinoin range from 0.5 to 1.0 mg/kg body weight per day. It comes in capsules of 10 mg, 20 mg and 40 mg.
It is recommended that patients take the medication with food.
Most patients use the drug for 15 to 20 weeks and may repeat the treatment course if acne returns.
Please seek the advice of a medical professional before making health care decisions.
How helpful was this page?
How can we improve this page?
How can we improve this page?