Hoffman-LaRoche's Accutane (isotretinoin) — approved by the U.S. Food and Drug Administration (FDA) in 1982 — is an acne medication. American researchers first studied isotretinoin in 1975. Originally a chemotherapy drug, Accutane became a blockbuster acne medication.  It quickly proved to be a miracle for some, offering blemish-free skin to those who had given up after trying many other treatments.
At the height of sales, Accutane made $700 million a year for Roche. According to the FDA, about 5 million Americans took the drug from 1982 to 2000.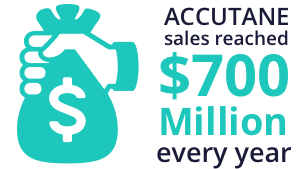 The drug works for severe (cystic) acne, providing long-lasting and sometimes complete reduction of acne for 85 percent of patients, according to the American Academy of Dermatology. People who took the drug also reported an improvement in symptoms of depression from poor self-image linked to acne.
However, the drug also has serious side effects like Crohn's disease. It also has been linked to severe birth defects. For this reason, the FDA ordered a black-box warning — the most serious warning — indicating women who are pregnant or who may become pregnant should not take Accutane.
Following numerous reports of adverse events and injury lawsuits, Roche stopped manufacturing Accutane in 2009. Generic brands of the medication — including Amnesteem, Claravis and Sotret — are still available.
How Accutane Treatment Works
Accutane is part of a class of medications called retinoids — drugs used to treat cancer. Roche originally marketed it as a chemotherapy drug. Accutane is especially effective at treating acne that has not responded to antibiotics.
The medication is a derivative of vitamin A and works by controlling the oil in the sebaceous glands. The acne it treats consists of nodules with a diameter or 5 mm or greater. Having this type of acne can be socially debilitating, so the potential of a cure can be life changing. Undergoing Accutane treatment is a commitment of time and energy. It can take months to be effective, and patients often must deal with side effects like dry eyes and headaches.
Acne Conditions
In addition, acne may worsen during the beginning stages of treatment before it starts to clear up.
Accutane Side Effects
Accutane is extremely effective at treating acne, but it also comes with a number of common and serious side effects. These adverse events range from fatigue to serious psychiatric disorders. One of the most dangerous side effects is severe birth defects. Some of the common Accutane side effects may subside after initial treatment, but patients who continue to suffer side effects should contact their doctor.
In clinical trials and postmarketing experience, participants suffered a number of serious Accutane side effects. According to the medication insert, some side effects and adverse reactions are similar to those in patients taking high doses of vitamin A.
Common Side Effects
Dry skin, itching or rash
Nosebleeds
Dry mouth and lips
Cracked or peeling skin
Dry eyes
Dizziness
Muscle, back and joint pain
Dry eyes
Inflammation in the eyes
Drowsiness
Fatigue
Fingernail and toenail changes
Headache
Cold symptoms
Unusual hair growth or loss
Slow-healing cuts or sores
Bleeding or swollen gums
Serious Side Effects
Allergic reactions
Psychiatric disorders (depression, suicidal thoughts and aggressive and violent behavior)
Pseudotumor cerebri (pressure buildup in the skull that mimics a brain tumor)
Pancreatitis (inflammation of the pancreas)
Elevated cholesterol
Hearing impairment
Hepatitis
Inflammatory bowel disease
Decreased night vision
Birth defects
Bone loss and fractures
FDA Black Box Warning for Birth Defects
In 1985, the FDA added a black box warning to Accutane for an extremely high risk of severe birth defects. Birth defects can occur if pregnancy occurs while taking Accutane even for a short amount of time. In some cases, the fetus died.
Birth defects include:
Abnormalities of the ear
Abnormalities of the eye
Facial dysmorphia
Cleft palate
Brain problems
Heart problems
Accutane and Pregnancy
The FDA gave Accutane a pregnancy rating of X. This means women should not take it during pregnancy because there is evidence of fetal abnormalities.
The FDA reported that infants whose mothers took Accutane were born with both internal and external abnormalities such as cleft palate, missing ears, facial dysmorphism and central nervous system malformations. In fact, among Accutane-exposed pregnancies, 42 percent of infants suffer from birth defects.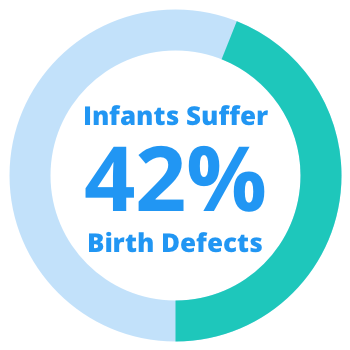 Among Accutane-exposed pregnancies, 42 percent of infants suffer from birth defects
Because of the high risk of miscarriage and deformities, the FDA worked with Roche to create programs to ensure that Accutane users were not and would not become pregnant.
By 1988, the U.S. started a pregnancy prevention program with the goal of decreasing the number of woman getting pregnant while taking the drug. The program was eventually effective in decreasing the percentage of woman getting pregnant while taking the drug, from 4 women per every 1,000 a year to less than 2 for every 1,000. However the number of prescriptions given out also increased, keeping the number of affected pregnant women taking Accutane high.
Other countries had even stricter rules about Accutane use by women of childbearing age. For example, in Britain, prior to receiving the medication, women were required to agree to have an abortion if they became pregnant during treatment.
U.S. Program SMART
The first formal U.S. program called System to Manage Accutane Related Teratogenicity (SMART) arrived in 2002.
Under the program, pharmacists placed qualification stickers on prescriptions, patients signed consent forms and patients watched educational videos and read information guides. In addition, doctors and pharmacists were required to read literature on the risks.
In 2006, a stricter system called the iPLEDGE program replaced SMART. The computer-based system required registration by pharmacies, doctors and patients. Patients had to get negative pregnancy tests from approved labs before receiving the medication. Prescriptions only covered 30 days at a time, and users were required to utilize two types of birth control.
According to a 2007 study funded by the Canadian Institutes of Health Research and published in the British Journal of Clinical Pharmacology, the rate of elective abortions for patients who got pregnant during Accutane use was 84 percent. This rate was based on 90 women out of 8,609 who became pregnant while taking Accutane. Of the remaining pregnant women, three had spontaneous abortions, two had delivery trauma that resulted in neonatal death and nine infants survived. One of the nine was born with face and neck abnormalities.
Accutane FDA and Doctor Warnings
The first prescriptions of Accutane were written in 1982, and a year later came the first report of a baby born with malformations after Accutane was taken during pregnancy. In 1983, there were two "Dear Doctor letters" — special communications the FDA requires drug manufacturers to send out if the drug label is not complete in covering the extent and severity of side effects — sent out, alerting physicians of the possibility of birth defects. From 1984 to 1988, seven more of the letters went out.
The FDA was not alone in noting the dangers of Accutane. Dr. Frank Yoder, one of the scientists involved in the discovery of Accutane, wrote a letter to the Journal of American Medicine in 1983, informing the public of the possibility that Roche was not clear in alerting users of the toxicity associated with Accutane.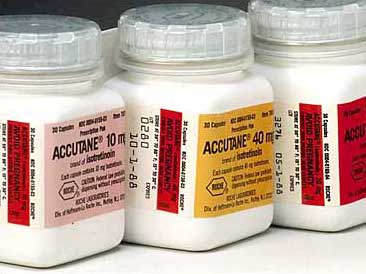 10mg and 40mg bottles of Accutane
That same year, a nonprofit health advocacy group, Public Citizen, petitioned the FDA to add warnings of birth defects to Accutane labels. The FDA took action in 1985 and added a black-box warning to the label indicating that Accutane can cause fetal deformities and possibly fetal death.
The Centers for Disease Control (CDC) played a role in affirming the danger of Accutane by publishing information on the fetal toxicity of the drug, conducting a study of Accutane-exposed pregnancies to raise awareness, and sending a letter to the FDA in 1998 recommending that the drug not be sold due to these dangers.
Also, the CDC division of Birth Defects and Developmental Disabilities received reports of infant death following maternal exposure to Accutane.
Accutane Recalls
In June 2009, as the number of adverse events reported to the FDA and lawsuits from patients continued to grow, Roche stopped manufacturing Accutane. But the company said it was an economic decision based on generic brands of the medication taking over the market. Eleven other countries also recalled.

Accutane was pulled from the shelves in 2009, due to competition from generic brands
Drug Interactions
Not only does Accutane come with a variety of side effects, it also has a lengthy list of drug interactions. Some are more serious than others. The medication label lists the most important interactions.
Vitamin A: Taking vitamin A with Accutane can cause toxicity.
Tetracyclines: Using Accutane with these drugs can increase the risk of pseudotumor cerebri (benign intracranial hypertension), a condition where pressure builds up in the skull.
Micro-dosed progesterone preparations: These types of birth control may be inadequate when taking Accutane.
Norethindrone/ethinyl estradiol: Accutane may decrease the effectiveness this this type of birth control.
St. John's Wort: Taking St. John's Wort for Accutane-related depression with birth control may reduce the effectiveness of the birth control and lead to pregnancy while on Accutane.
Phenytoin: Because Accutane may cause bone loss and phenytoin may lead to low bone mineral density, doctors should monitor patients who take these drugs together.
Systemic Corticosteroids: Studies link systemic corticosteroids to osteoporosis. There are no clinical trials that suggest an increase of bone loss when Accutane is taken with these drugs. Doctors should exercise caution in prescribing these together.
Accutane Dosage
While brand name Accutane is no longer available, several generics still exist and use the same dosage chart. Doses of isotretinoin range from 0.5 to 1.0 mg/kg body weight per day, with a cumulative dose of greater than 100 to 120 mg/kg. It comes in capsules of 10, 20 and 40 mg, and patients should take it with food. Most patients take the medication for 15 to 20 weeks, and may repeat the treatment course if acne returns.
Due to the risk of serious birth defects, women of childbearing age must commit to programs aimed at preventing pregnancies during treatment.
Body Weight
Total mg/day
kilograms
pounds
0.5 mg/kg
1 mg/kg
2 mg/kg*
40
88
20
40
80
50
110
25
50
100
60
132
30
60
120
70
154
35
70
140
80
176
40
80
160
90
198
45
90
180
100
220
50
100
200
---
Michelle Y. Llamas is a senior content writer and researcher for Drugwatch. She is also the host of the Drugwatch Podcast where she talks to patients, experts and advocates about drugs, medical devices and health. She uses her technical writing experience to provide easy-to-understand information on how drugs and devices work. But she also tells people what happens when products that are supposed to improve their lives can hurt them.