Accutane
Accutane (isotretinoin) is a powerful medication prescribed to treat severe, difficult to control acne. A form of vitamin A, the medicine is part of a class of drugs called retinoids and is used to treat severe acne that does not clear up after using other medications.
Drugmakers created isotretinoin to treat cancer, and it later became a drug to treat severe acne. Accutane was the brand name version of the drug manufactured by the Swiss pharmaceutical company Roche until 2009.
Isotretinoin is still available as a generic or under several other brand names (Absorica, Amnesteem, Claravis, Myorisan, Zenatane). The acne it treats is called nodular acne, which is when many red, swollen, tender lumps form on the skin. These lumps can be the size of a pencil eraser (diameter of about 5 mm) or larger. This type of acne can lead to permanent scars and many patients have embarrassment or other difficult feelings about their appearance, so the use of isotretinoin can have many potential benefits.
"Isotretinoin is a potentially dangerous prescription medicine that should only be taken under the close supervision of your healthcare professional and pharmacist."
The FDA warns against buying isotretinoin on the internet.
"Isotretinoin is a potentially dangerous prescription medicine that should only be taken under the close supervision of your healthcare professional and pharmacist," the FDA said on its website. "Buying this product over the Internet bypasses important procedures to ensure that patients can take this drug safely."
How Isotretinoin Works
Reduces the size of oils glands in the skin and the amount of oil produced
Reduces the amount of bacteria in the skin
Slows down the production of skin cells inside pores, preventing clogging of pores
Reduces skin inflammation
The drug "should be considered in patients who have failed traditional therapies and those who have scarring — both physical scarring in the skin and emotional or psychosocial scarring," Dr. Joshua Zeichner, an assistant professor of dermatology at Mount Sinai Hospital, told Dermatology Times.
All versions of the medication carry a black box warning for risk of birth defects if used during pregnancy. One 2022 study recorded an increase in the congenital malformation rate for participants exposed to isotretinoin by 1.2%.
Side Effects and Pregnancy Risks
Isotretinoin is extremely effective at treating acne. But it also comes with many side effects. Some common side effects of Accutane may subside after initial treatment.
Dry skin, chapped lips, dry eyes, and dry nose are common in patients who take the medication. This dryness can lead to nosebleeds and cracked or peeling skin. Some patients say that staying hydrated by drinking enough fluids can help ward off some of these side effects.
Less serious side effects include:
red, cracked, and sore lips
dry skin, eyes, mouth, or nose
nosebleeds
changes in skin color
peeling skin on the palms of the hands and soles of the feet
changes in the nails
slowed healing of cuts or sores
bleeding or swollen gums
hair loss or unwanted hair growth
sweating
flushing
voice changes
tiredness
cold symptoms
Patients should also keep their skin protected from the sun because the medication causes skin to be highly sensitive to the sun.
Serious side effects linked to Accutane are similar to those seen in patients taking high doses of vitamin A. These include rashes, drowsiness, nausea, abdominal pain, vomiting and headaches. Chronic toxicity can lead to liver or kidney damage. Patients who suffer these side effects should speak to their doctors immediately.
Patients who take the drug can become depressed, aggressive or violent, and some users have committed suicide. Any patient with symptoms of depression should contact their doctor right away. These symptoms may include: sad, "anxious" or empty mood, irritability, acting on dangerous impulses, anger, loss of pleasure or interest in social or sports activities, sleeping too much or too little, changes in weight or appetite, school or work performance going down, trouble concentrating, or thoughts of hurting oneself or ending one's life (suicidal thoughts). It is not known if isotretinoin caused these behaviors or if they would have happened even if the person did not take isotretinoin. Other patients may notice that their depression symptoms get better while taking isotretinoin.
Isotretinoin also carries a black box warning for birth defects. This medication should not be used by females who are or may become pregnant. More information about the pregnancy risks is below. Anyone who takes isotretinoin should not donate blood for at least a month after stopping therapy. Isotretinoin may increase the risk of birth defects in women who receive the donated blood.
Isotretinoin may stop bone growth in teenagers who are still growing. Some patients may need to have their blood cholesterol checked, since isotretinoin can raise cholesterol levels. Some studies linked the drug to digestive problems such as Crohn's disease, ulcerative colitis and pancreatitis. And it may cause pseudotumor cerebri, a condition caused by increased pressure in the brain. Side effects led some people to file lawsuits against Roche.
Certain serious side effects are more likely to occur with longer exposure to the medicine. An eHealthMe review of 30,990 people who took isotretinoin between 1997 and 2019 found that some side effects did not start until patients had been taking the drug for several months or years.
Patients should not share isotretinoin with other people because of the risk of birth defects and other serious health problems.
iPledge Pregnancy Prevention Program
Isotretinoin carries a high risk of miscarriage and birth defects. Any fetus exposed during pregnancy can potentially be affected, according to the FDA. Because of this, women must have a laboratory test to prove they are not pregnant before they can take isotretinoin.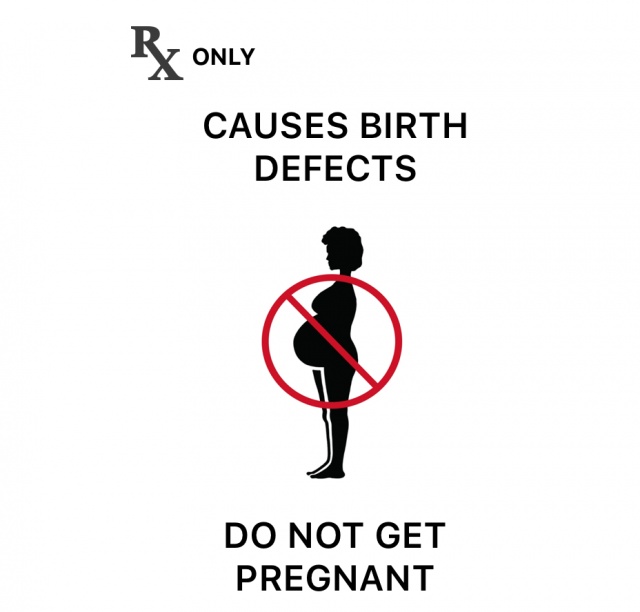 The FDA worked with Roche to create programs to ensure that users of isotretinoin were not and would not become pregnant. Since 2005, a computer-based system called iPLEDGE has been used.
"Under this program, prescribers must be registered and activated with the iPLEDGE Program and can prescribe isotretinoin only to registered patients who meet all the requirements of iPLEDGE. Isotretinoin can be dispensed only by a pharmacy registered and activated with iPLEDGE," according to the program's website.
Women must test negative for pregnancy through approved laboratory tests before they can receive the medication each month. Prescriptions only cover 30 days at a time, and women who use the drug must use two methods of birth control for one month before, during, and for one month after isotretinoin therapy.
Males who use isotretinoin must also participate in the iPLEDGE program.
Drug Interactions and Recommended Dosages
Accutane has many possible drug interactions. Some are more serious than others. The medication label lists the most important interactions.
Isotretinoin may interact with the following medications:
Vitamin A
Tetracycline antibiotics (doxycycline, minocycline, tetracycline)
Low-dose progesterone-only birth control pills (mini-pills) preparations
Combination of St. John's Wort and birth control
Phenytoin
Steroid medications taken by mouth or as an injection
Recommended Dosage
Generic versions of isotretinoin use the same dose as the brand-name drug. Recommended doses of isotretinoin range from 0.5 mg/kg to 1 mg/kg of body weight per day. It comes in capsules of 8 mg, 10 mg, 16 mg, 20 mg, 24 mg, 25 mg, 28 mg, 30 mg, 32 mg, 35mg, and 40 mg. Most patients take 1 capsule 2 times per day with a full glass of liquid.
Doctors recommend that patients take isotretinoin with a high-fat meal. One brand name product, Absorica, can be taken with or without a high-fat meal. Most patients use the drug for 15 weeks to 20 weeks and may repeat the treatment course if acne returns.
Overdose
Patients who overdose on the drug should call the poison control helpline. If the patient has collapsed, had a seizure, has trouble breathing, or cannot be awakened, call emergency services at 911.
Women who have an overdose should continue to use two forms of birth control for one month after the overdose. Men who have an overdose should use condoms for one month or avoid sexual contact for one month with partners who may become pregnant.
Please seek the advice of a medical professional before making health care decisions.
Share This Page:
How can we improve this page?
Thank You for Your Feedback
We appreciate your feedback. One of our content team members will be in touch with you soon.
We appreciate your feedback. One of our content team members will be in touch with you soon.
Who Am I Calling?
Calling this number connects you with a Drugwatch representative. We will direct you to one of our trusted legal partners for a free case review.
Drugwatch's trusted legal partners support the organization's mission to keep people safe from dangerous drugs and medical devices. For more information, visit our partners page.