Baby Formula Recall
One of the most notable baby formula recalls is Abbott Laboratories' February 2022 voluntary recall of Similac, Alimentum and EleCare formulas. Abbott recalled the baby formulas because of potential Cronobacter sakazakii bacterial contamination that led to the illness and death of infants.
Why Have Abbott Baby Formulas Been Recalled?
Abbott issued a voluntary recall for certain lots of its baby formulas because of reports that babies got sick from Cronobacter sakazakii infection. All of the infected babies were hospitalized and two died. The CDC closed it's investigation in May 2022 after a lab found the strains of Cronobacter in the two infants did not match samples of Cronobacter found at Abbott's plant.
Cronobacter infections are especially dangerous for newborns, though they are rare. The bacteria can cause life-threatening blood infections (sepsis) and swelling in the membranes surrounding the spinal cord and brain (meningitis).
Parents have been filing NEC lawsuits against baby formula manufacturers Abbott and Mead Johnson, but these are unrelated to the Abbott Cronobacter recall. These baby formula lawsuits allege that Abbott and Mead Johnson knew their cow's milk baby formulas could increase the risk of necrotizing enterocolitis or NEC, a potentially fatal intestinal disease, in premature babies.
Abbott Baby Formula Recall Timeline
Events leading up to the Abbott baby formula recall for Cronobacter began in September when the FDA received the first report of Cronobacter illness from the Minnesota Health Department.
While the FDA found numerous violations and contaminated surfaces in Abbott's Sturgis, Michigan plant, testing did not find any bacteria in samples from customers with sick infants.
February 2023: Reckitt issued a recall for 145,000 cans of Enfamil ProSobee Simply Plant-Based Infant Formula because of potential Cronobacter contamination. SEC and FTC began investigating Abbott in relation to its infant formula business.
January 2023: The Justice Department's consumer protection branch began investigating Abbott regarding its Sturgis, Michigan plant.
August 2022: Abbott restarted Similac infant formula production at the Sturgis facility.
July 2022: Abbott resumed production of EleCare and other specialty metabolic formulas metabolic formulas.
April 2022: Abbott submitted a response and corrective action plan to the FDA on April 8 following the FDA's inspection.
March 2022: Abbott responds to the FDA investigation, saying: "While there are actions we need to take to address the FDA observations, it is important to note that no Cronobacter sakazakii or Salmonella was found in any of our testing of products distributed to consumers."
March 2022: FDA made its inspection of Abbott's Sturgis, Michigan plant public. The inspection detailed that Abbott didn't maintain clean surfaces used in producing and handling the powdered formula. Inspectors also found a history of Cronobacter contamination, including eight instances between fall 2019 and February 2022.
February 2022: Abbott initiated a voluntary recall of certain Similac, Alimentum and EleCare powdered infant formulas manufactured at the Sturgis plant and stopped production at the facility.
January 2022: The FDA sent inspectors to the Sturgis facility and began an investigation at the end of January.
October 2021: FDA officials received a whistleblower complaint about safety violations at Abbott's Sturgis, Michigan plant. The complaint included claims that employees had falsified records and failed to properly test the formula before releasing it.
September 2021: FDA received the first complaint of Cronobacter illness from the Minnesota Health Department.
In March 2023, the FDA sent letters to infant formula manufacturers, packers, distributors, exporters, importers and retailers with recommendations for preventing future Cronobacter illnesses.
Then in May 2023, FDA released its Outline of FDA's Strategy to Help Prevent Cronobacter sakazakii Illnesses Associated with Consumption of Powdered Infant Formula. The agency will strengthen regulatory activities and oversight related to the production of powdered infant formula, according to the document.
Which Baby Formulas Are Recalled?
In February 2022, Abbott Laboratories recalled certain lots of its Similac, EleCare and Alimentum baby formulas manufactured at its Sturgis, Michigan, factory. The company recalled the lots for potential bacterial contamination.
Investigators found five different strains of Cronobacter sakazakii at the facility, but samples of product collected by the FDA were negative for Cronobacter.
The following products are included in the Abbott baby formula recall:
Similac Products
Abbott Similac 360 Total Care Infant Formula with Iron
Abbott Similac Advance
Abbott Similac Advance Step-1
Abbott Similac Advance Step-2
Abbott Similac Advance Infant Formula with Iron
Abbott Similac Human Milk Fortifier
Abbott Similac Organic
Abbott Similac Organic with A2 Milk Infant Formula with Iron
Abbott Similac Organic with A2 Milk Toddler Drink
Abbott Similac Organic Toddler with A2 Milk Infant Formula with Iron
Abbott Similac Pro-Advance
Abbott Similac Pro-Advance Infant Formula with Iron
Abbott Similac Pro-Sensitive Infant Formula with Iron
Abbott Similac Pro-Total Comfort Infant Formula with Iron
Abbott Similac Sensitive
Abbott Similac Sensitive Infant Formula with Iron
Abbott Similac Sensitive Lactose Sensitivity
Abbott Similac for Supplementation
Abbott Similac For Spit Up Infant Formula with Iron
Abbott Similac Total Comfort
Abbott Similac Total Comfort Infant Formula with Iron
Abbott Similac EleCare HMO
Abbott Similac EleCare
Abbott EleCare Similac Gold
Abbott EleCare Similac
Abbott Similac PM 60/40 - only lot code 27032K80 (can) / 27032K800 (case)
Alimentum Products
Abbott Infant Formula Powder
Abbott Similac Alimentum
Abbott Similac Alimentum Allergies & Colic Hypoallergenic Infant Formula
Abbott Similac Alimentum with 2'-FL HMO
Abbott Similac Alimentum Eye Q Plus
Abbott Similac Alimentum HMO
Abbott Alimentum HMO
Abbott Similac Alimentum infant formula
Abbott Similac Alimentum Infant Formula with Iron
Abbott Similac Alimentum Toddler Drink
EleCare Products
Abbott EleCare
Abbott EleCare Amino Acid-Based Powder Infant Formula with Iron
Abbott EleCare Infant Formula Unflavoured
Abbott EleCare Junior Vanilla
Abbott EleCare Jr Similac Vanilla
Abbott EleCare Jr Amino Acid-Based Nutrition Powder Unflavored
Abbott EleCare Jr Amino Acid-Based Nutrition Powder Banana
Abbott EleCare Jr Amino Acid-Based Nutrition Powder Chocolate
Abbott EleCare Similac
Abbott EleCare Similac Gold
Abbott Similac EleCare HMO
Abbott Similac EleCare
EleCare LCP Hypoallergenic
The Abbott facility which produces the recalled baby formula also makes other special infant medical foods that have not been included in the recall. These products haven't been recalled because the FDA has determined that medical conditions may worsen without them.
Nevertheless, the agency warns that there may be some risk of Cronobacter contamination with these products and recommends parents check with their medical provider for alternatives.
Is your premature baby suffering from necrotizing enterocolitis (NEC) after being fed Similac or Enfamil?
Has My Baby's Formula Been Recalled?
Not all of the lots from the listed brands above are part of the recall, and you can check your baby formula package to see if it's included in the recall.
Check to see if the first two digits of the code printed on the bottom of the container are 22 through 37 and if the code contains K8, SH or Z2. Look to see if the expiration date listed is April 2022 or later. The recalled products have all three of these conditions.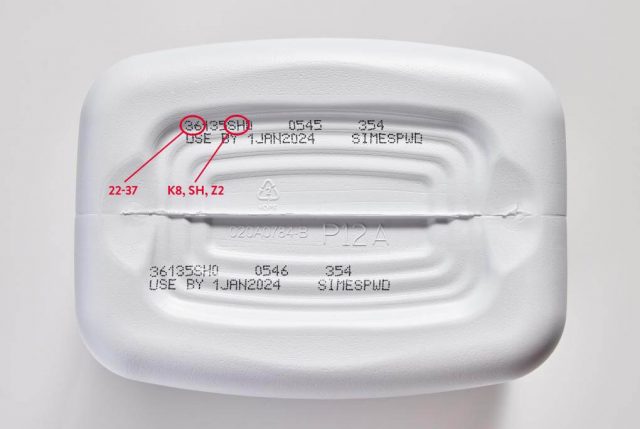 Parents or caregivers can also enter the code on Abbott's website to check if their formula is recalled. The FDA warns parents and caregivers not to use any Similac, EleCare or Alimentum formulas included in the recall.
What to Do If Your Baby Consumed Recalled Formula
If your baby consumed recalled formula, the FDA recommends stopping its use and asking your pediatrician about switching formulas. Watch for symptoms of potential Cronobacter infection, including: Irritability, jaundice, changes in temperature, poor feeding, grunting breaths, excessive crying or abnormal body movements.
If your baby shows any Cronobacter infection symptoms, contact your pediatrician or seek medical attention right away. You can fill out a MedWatch form online to report an illness or baby formula side effect to the FDA or call a Consumer Complaint Coordinator.
Mothers who have been supplementing breastfeeding with formula may be able to exclusively breastfeed. When it comes to choosing breastfeeding or formula, experts agree breast milk is preferred for babies.
Alternatives to Recalled Baby Formula
Parents or caregivers should ask their baby's medical provider for alternatives to recalled baby formula. These include other store or name brand formulas that have not been recalled. The Abbott baby formula recall has led to a formula shortage, and the company has increased production at its other plants to try and make up for the demand.
Breastfeeding is always a great alternative to formula feeding, but if a mother isn't producing her own milk or can't breastfeed, parents and caregivers may decide to try human milk banks. Typically, hospitals receive priority and supplies may be low, but individuals may contact a milk bank for pasteurized donor human milk. Check the Human Milk Banking Association of America for a donor bank in your state.
It may be tempting to try and make homemade baby formula from recipes you find online, but experts say it's dangerous because the recipes might not be safe and won't provide adequate nutrition. Don't dilute formula you currently have to make it last longer. This could also result in lack of nutrients for the baby and result in severe, life-threatening consequences.
Don't buy baby formula from third party distributors online, especially if it's from outside the U.S. because the formula may be counterfeit or not follow the FDA's guidelines for proper nutrition.
Please seek the advice of a medical professional before making health care decisions.
Share This Page:
How can we improve this page?
Thank You for Your Feedback
We appreciate your feedback. One of our content team members will be in touch with you soon.
We appreciate your feedback. One of our content team members will be in touch with you soon.
Who Am I Calling?
Calling this number connects you with a Drugwatch representative. We will direct you to one of our trusted legal partners for a free case review.
Drugwatch's trusted legal partners support the organization's mission to keep people safe from dangerous drugs and medical devices. For more information, visit our partners page.