Baby Formula Shortage: What You Need To Know
A combination of supply chain issues, an FDA baby formula recall and the shutdown of a major manufacturing plant led to a nationwide shortage of baby formula in 2022. Here are some facts about the shortage and how to make sure your child stays healthy and well-fed.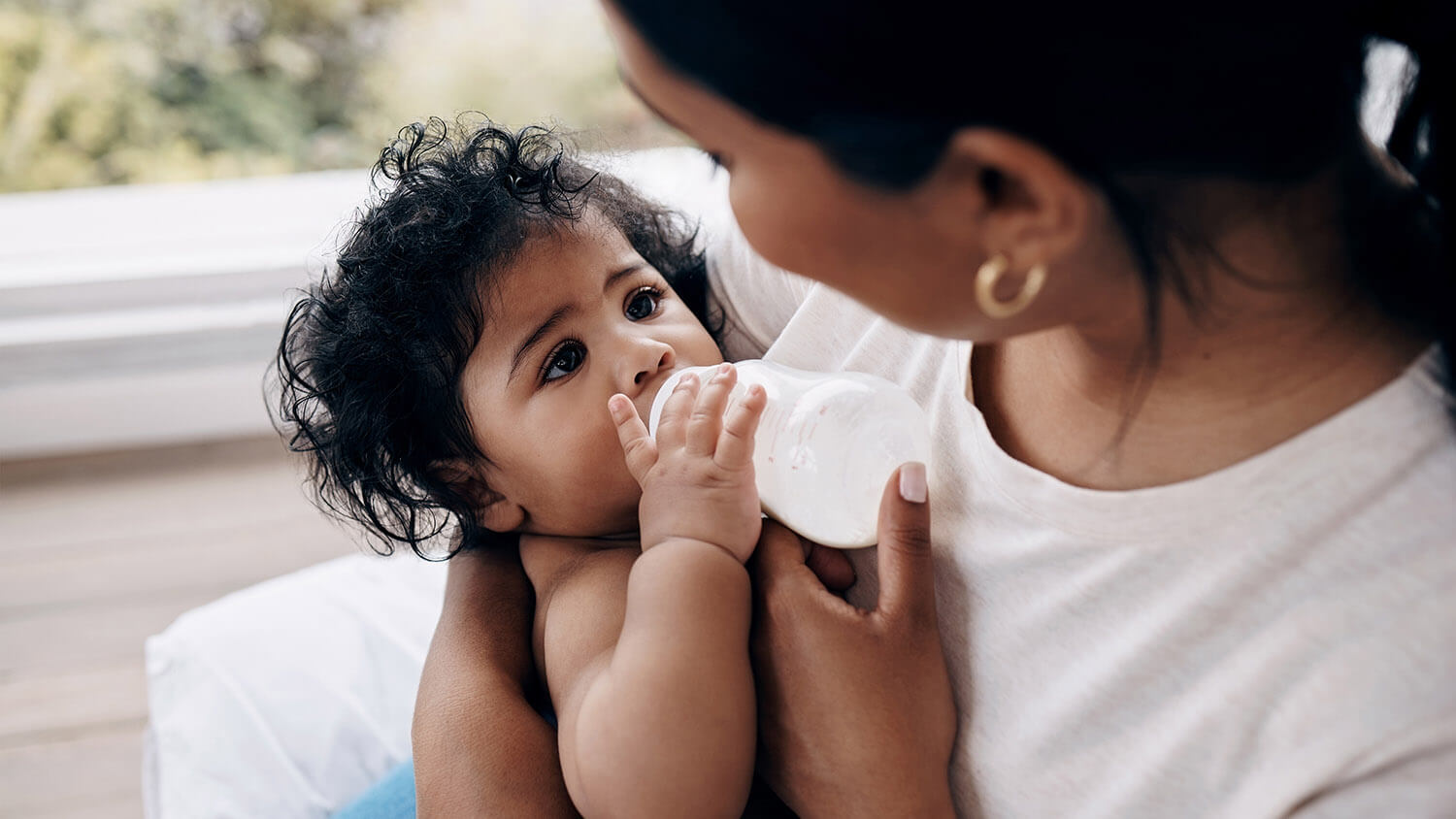 Why Is There a Baby Formula Shortage?
Since early 2022, American parents and child caregivers have struggled to find baby formula on local store shelves. A "perfect storm" combination of COVID-19-related supply chain issues, a product recall announcement issued by the U.S. Food and Drug Administration and the shutdown of a major manufacturing plant led to a nationwide shortage of the baby formula millions of people rely on to feed their children.
While the supply shortage peaked during the late spring and early summer months of 2022, data from the U.S. Census Bureau's Household Pulse Survey revealed that 50% of families with an infant under the age of 1 were still feeling the impact in late September. Predicting the end of the shortage is challenging — one formula manufacturer estimated the shortage will persist into the spring of 2023.
Our team has gathered key data about the baby formula shortage to help you better understand how it happened, which states faced the worst proportion of empty shelves and how you can safely keep your own baby fed.
Key takeaways:
75% of American babies rely on infant formula as a major source of nutrition.
56% of U.S.-produced infant formula is consumed by babies enrolled in WIC, the federal nutrition program supporting low-income families.
74% of national retailers were out of stock of baby formula by May 28, 2022, an increase of 29% from two weeks prior.
50% of families with an infant under 1 year of age still struggled to find formula as of late September 2022.
One industry expert predicts the baby formula shortage will continue to have an impact on American families through the spring of 2023.
Where Is There a Formula Shortage?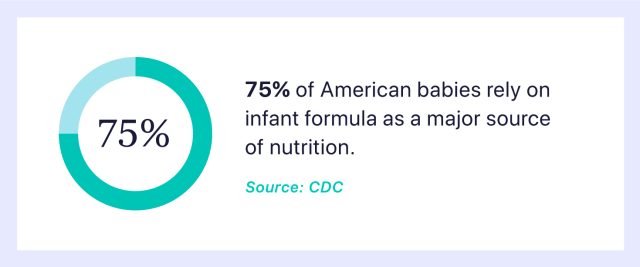 The COVID-19 pandemic impacted the global supply chain for a wide variety of products, including the ingredients needed to manufacture baby formula. Initial concern over a potential baby formula shortage in the United States worsened when one of the country's largest baby formula suppliers, Abbott Nutrition, recalled multiple brands of its formula. The manufacturer shut down its Michigan production plant after an FDA investigation into bacterial contamination.
Because only 25% of infants are exclusively fed breast milk, the remaining 75% of American babies receive formula as a major source of nutrition every day. The decreased availability of this critical daily food source for infants led to panicked purchasing, desperate attempts to locate new cans of formula and calls for the government to step in to help.
Who Suffers Most During a Formula Shortage?
According to the Centers for Disease Control and Prevention, the parents and caregivers of infants in low-income families, infants of color and infants living in rural communities rely on baby formula more than other demographics. This makes them much more likely to struggle to feed their children as a result of the shortage, and leaves their children vulnerable to increased short- and long-term health risks.
Participants in the USDA's Special Supplemental Nutrition Program for Women, Infants and Children are the most at risk of increased hardship because 56% of infant formula produced in the United States is consumed by babies enrolled in WIC. In fact, statistics show that WIC babies are less likely to be breastfed than those not in the program.
Additional factors add to the challenges faced by these families during the formula shortage:
They often have fewer shopping resources close at hand, especially those living in rural areas.
Prescription and other specialized formula types, such as preemie formula or hypoallergenic amino acid-based baby formula, have become more difficult to find, adding extra worry for families of infants with complex health needs.
How the Baby Formula Shortage Impacts All 50 States
The infant formula shortage affects families nationwide, but product availability data reveals that some states face bigger challenges than others. To assist in visualizing the shortage's impact, we have gathered relevant statistics across all 50 states into the interactive map below. Our main statistical focus is the out-of-stock rate for baby formula identified by retail data collection performed by Datasembly during a peak period of the crisis, the week ending May 28, 2022.
We also incorporated several data points illustrating the number of infants typically using baby formula in each state. The map highlights the proportion of low-income babies in each state and the ratio of infants fed with a combination of breast milk and formula prior to reaching 6 months of age.
How does your state compare?
Baby Formula Shortage in Your State
Click on a state to reveal the statistics or use the drop-down menu below.
40-49
50-59
60-69
70-79
80-89
90-100
STATE
% of stores out of stock of baby formula, week of 5/28/2022: %
% of WIC babies on formula: %
Total # of WIC babies on formula:
% of breastfed infants supplemented with formula before age 6 mo., 2018 : %
The national out-of-stock rate across 130,000 retail stores tracked by Datasembly reached 74% for the week ending May 28, 2022. That number is a drastic increase of 29% over the rate experienced just two weeks prior.
On the state level, that same week saw these 10 states experiencing the worst out-of-stock rates in the country, at 90% or above:
Georgia — 94.4%
Arizona — 94.1%
Mississippi — 93.8%
California — 93.7%
Nevada — 92.2%
Tennessee — 92%
Rhode Island — 91.9%
Louisiana — 90.1%
Florida — 90%
Washington — 89.8%
Georgia faced the worst baby formula shortage in the United States, with a whopping 94.4% of retail stores sold out in the week ending May 28, 2022. It was closely followed by Arizona, with 94.1% of stores out of stock.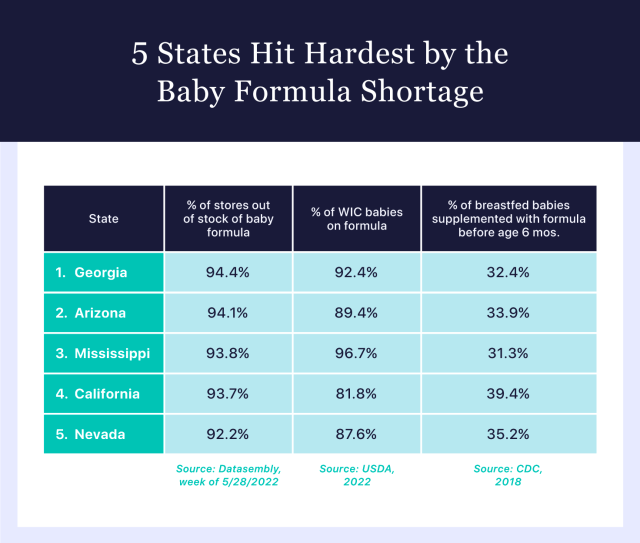 Our research also examined the proportion of infants consuming formula in each state to illustrate the prevalence of families reliant on formula to feed their children. Georgia continues to rank high in this area, with 92.4% of Georgia-based WIC babies reliant on formula. That's the equivalent of 44,800 infants potentially going hungry due to this shortage.
Timeline of the U.S. Baby Formula Shortage
Understanding how the supply of baby formula in the United States dropped so quickly requires a look at a series of events that created the shortage.
How the American Baby Formula Shortage Happened
March 11, 2020
World Health Organization declares COVID-19 a pandemic.
March 16, 2020
FDA identifies potential impending challenges with infant formula supply chains based on U.S. production being limited to a small number of facilities controlled by only a few companies.
FDA begins monitoring formula supply chains closely.
Sept. 20, 2021
FDA learns of the first baby to contract a Cronobacter infection after consuming baby formula produced at the Abbott Nutrition plant in Sturgis, Michigan.
Oct. 21, 2021
Whistleblower digitally sends a report to the FDA detailing negligence and a cover-up at Abbott to hide safety issues at the Sturgis plant.
Oct. 26, 2021
Hard copy of the whistleblower report is received at the FDA office in Detroit, Michigan.
Due to a mailroom error attributed to COVID-related staffing issues, FDA leadership does not initially receive copies of the report.
Dec. 1, 2021
Second case of a Cronobacter-infected infant is reported to the FDA.
Dec. 6, 2021
FDA begins plans to inspect the Sturgis plant in early January 2022.
Dec. 22, 2021
FDA interviews the whistleblower, later using the information obtained to assist its plans for the January inspection of the Sturgis facility.
Dec. 30, 2021
Following agency policy, the FDA notifies Abbott of a planned inspection the following week on Jan. 3, 2022.
Abbott informs the FDA of multiple COVID-positive staff currently at the facility, causing the FDA to delay the inspection until Jan. 31, 2022.
Jan. 11, 2022
FDA is informed of a third infant with a formula-related Cronobacter illness.
Jan. 27, 2022
FDA tells Abbott of the planned Sturgis facility inspection on Jan. 31, 2022.
Abbott informs FDA of a continued COVID outbreak among the facility's employees.
Jan. 31, 2022
Despite the COVID outbreak, the FDA finally begins inspection of the Abbott facility in Sturgis, Michigan.
Feb. 7, 2022
Multiple swabs from the FDA's environmental testing at the Sturgis plant suggest the potential presence of Cronobacter, but it requires more testing for confirmation.
Feb. 11, 2022
FDA notifies USDA's WIC program of possible impending action that could directly impact the American infant formula supply.
Feb. 13, 2022
FDA's environmental samples from the Sturgis facility are confirmed positive for Cronobacter.
Feb. 15, 2022
FDA recommends Abbott voluntarily recall multiple products.
Abbott Nutrition voluntarily ceases production at its Sturgis facility.
Feb. 16, 2022
FDA again urges Abbott to voluntarily recall its products.
FDA submits a report to the federal government warning of the impending impact of formula supply chain interruption based on halted production at the Sturgis plant.
Feb. 17, 2022
After a third request to Abbott to begin a voluntary recall, the FDA releases a consumer advisory warning people to avoid certain Abbott products.
Abbott announces a voluntary recall of multiple varieties of baby formula.
FDA requests retailers limit customers to no more than five cans of formula each.
Feb. 18, 2022
FDA discovers a fourth reported case of a Cronobacter-infected infant, the first death potentially associated with the Abbott formula contamination.
Feb. 23, 2022
USDA's Food and Nutrition Service learns of the recall and begins notifying state agencies that manage WIC programs to approve flexible options for WIC families to continue to get the formula they need.
Feb. 24, 2022
Russia invades Ukraine, increasing formula supply chain concerns because Ukraine is a major exporter of sunflower oil, a key ingredient in multiple infant formulas.
Feb. 28, 2022
Upon urging from the FDA, Abbott expands its recalls to include additional products.
Late February through early March 2022
FDA meets with baby formula manufacturers and retailers to begin steps to drastically increase domestic production by late April and early May.
March 18, 2022
FDA's inspection of the Sturgis facility and resulting testing of samples collected there concludes, 47 days after it began.
April 20, 2022
After extensive product testing, the FDA approves the release of a supply of specialty metabolic infant formula previously produced at Abbott's Sturgis facility to consumers.
May 11, 2022
Abbott says that, upon FDA approval, the Sturgis plant could be reopened in two weeks, leading to new supplies of baby formula reaching retailer shelves six to eight weeks later.
May 13, 2022
President Joe Biden publicly addresses the shortage for the first time, highlighting efforts to increase flexible options for WIC participants and import formula from abroad.
May 18, 2022
In an effort to speed up domestic baby formula production, Biden invokes the Defense Production Act.
He also announces Operation Fly Formula, asking the USDA, Department of Health and Human Services, General Services Administration and the Department of Defense to work together to speed up importation of formula from abroad via contracted airlifts.
May 22, 2022
The first Operation Fly Formula delivery of 132 pallets of specialty infant formula imported from Europe lands at Indianapolis International Airport via the U.S. Air Force.
May 24, 2022
Federal Trade Commission launches an investigation into price gouging and other fraudulent activity around consumer experiences during the formula shortage.
Late May through July 2022
Out-of-stock statistics for baby formula rapidly increase across the country, peaking in July.
Oct. 2022
Out-of-stock percentages for powdered infant formula decline to half of the peak numbers experienced in July.
Yet, a U.S. Census survey reveals that nearly one-third of families with a baby under the age of 1 still struggled to obtain baby formula.
Dec. 2022
Experts predict the ripple effects of the formula shortage will continue to impact access to baby formula into spring 2023.
Tips for Safely Feeding Your Baby During the Formula Shortage
While there is no magic answer to locating the baby formula your child needs during this supply crisis, there are tips you can follow to improve your chances. Before making any changes to what you're feeding your baby, be sure to consult your child's health care provider to discuss the safest options for your family.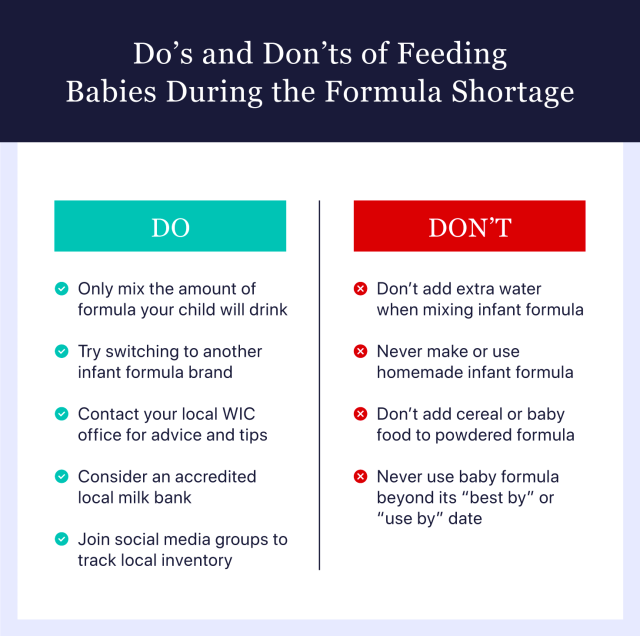 The CDC advises:
Infants under 6 months of age should only drink breast milk or infant formula.
Babies between 6 and 12 months old should only drink breast milk, infant formula or small amounts of water (up to 4 to 8 oz. per day).
If your baby requires any sort of medical specialty formula and you cannot locate the specific formula they need, connect with your child's physician to discuss safe alternative options.
Additional helpful tips:
To extend your current supply of baby formula, only mix the amount your child will eat in their bottle.
Do not add extra water when mixing infant formula, as it may create nutritional imbalances that could cause your baby to develop serious health issues such as seizures.
Do not use homemade infant formula as it can lead to major health problems such as bacterial infections, severe allergic reactions, seizures and nutritional imbalances.
Do not give cow's milk or any other animal milk to your infant without first discussing this with your child's physician.
When other options are not available, soy milk may be a suitable alternative. Be sure to discuss this with your child's physician, as some infants can experience severe allergic reactions to soy products.
Do not add cereal or any other types of baby food to powdered formula.
If your infant requires a specific type of formula, do not experiment with new types without discussing this with your child's physician.
WIC offices can help advise safe alternatives to your usual formula and alert you to any local availability.
Consider a local milk bank accredited by the Human Milk Banking Association of North America, but keep in mind their supply is often reserved for hospitalized infants.
Avoid feeding your baby the toddler drinks often found in the formula aisle. If your child is close to 1 year of age, consult your physician about using toddler drinks, but only for a few days due to safety concerns.
Try a soy-based infant formula temporarily for healthy babies who usually drink regular formula, as the soy-based version is often easier to find.
Do not buy formula from individual people online or from auction sites because the product safety cannot be guaranteed. Only purchase baby formula online from well-recognized distributors and pharmacies.
Never purchase human milk online, as it poses a variety of health risks from potential contamination and improper handling.
If you are considering informal milk sharing with a trusted individual in your community, consult your doctor first to discuss possible risks to your baby's health.
Avoid cans that are dented, damaged or expired due to concerns about the safety of the can's contents.
Explore food banks, pharmacies and nonchain grocery stores for in-store supplies of formula.
Do not use any formula beyond its "best by" or "use by" date because it could be unsafe and may have lost some of its nutrients.
Join social media communities and other online support groups to discover the latest updates on inventory in your area.
If using imported baby formula, read the instructions closely because the amounts of powder or water may be different from U.S. brands.
Remember to convert milliliters into fluid ounces when mixing any imported infant formula.
The ripple effects of the American infant formula shortage will likely linger for a long time. Current baby formula lawsuits are working to secure some justice for families who've suffered due to contaminated formula.

Please seek the advice of a medical professional before making health care decisions.
Share This Page:
How can we improve this page?
Thank You for Your Feedback
We appreciate your feedback. One of our content team members will be in touch with you soon.
We appreciate your feedback. One of our content team members will be in touch with you soon.
Who Am I Calling?
Calling this number connects you with a Drugwatch representative. We will direct you to one of our trusted legal partners for a free case review.
Drugwatch's trusted legal partners support the organization's mission to keep people safe from dangerous drugs and medical devices. For more information, visit our partners page.