Floxed by Cipro at 22: 'A Bomb Went Off in My Body'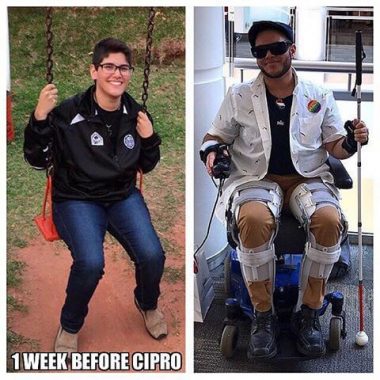 When 24-year-old Mateo Rojas looks in the mirror, he doesn't recognize himself.
"It's a grieving process," Rojas told Drugwatch. "I think people only apply it to when you lose somebody, but grief happens all the time when you're alive. For me, it was losing my old self."
Multiple degenerative diseases such as rheumatoid arthritis, fibromyalgia, tendon ruptures and peripheral neuropathy have left him completely disabled and in a wheelchair. Thick braces cover his arms and legs.
"Grief happens all the time when you're alive. For me, it was losing my old self."
He is going blind, so he wears special glasses and uses a cane to keep from falling. Without a shower chair, he can't wash himself. Special hooks help him grab onto clothes and buttons so he can dress himself. He was hospitalized for a month for severe memory loss.
Rojas says the fluoroquinolone antibiotic Cipro robbed him of the promising life he had worked so hard to make for himself.
His primary care physician diagnosed him with Fluoroquinolone-Associated Disability, or FQAD, a condition linked to fluoroquinolone antibiotics. The U.S. Food and Drug Administration says FQAD can affect several body systems, including the musculoskeletal system, the neuropsychiatric system, any of the five senses, the skin and the cardiovascular system. The symptoms can be permanent.
Now, connections he has forged with others help him navigate his disability. Though his story is painful to share, he also tells it with some humor.
"I had so many people say — especially because I am so young — why don't you go out and exercise. I am like, 'Honey, I can't even walk to the restroom,'" he said.
Rojas shares his story to show others who may have been affected by Cipro that they are not alone.
'Floxed' and Not Alone
Rojas's symptoms began in September 2017. The 22-year-old had recently graduated college at the top of his class with two degrees. Not even 23 painful surgeries to treat a hospital-acquired MRSA infection could stop him from graduating.
After graduating, he got the career he always wanted: teaching and counseling students with disabilities and helping them find jobs. Shortly after he graduated, he also came out as transgender. Rojas was always the strong one that friends looked up to, and he is no stranger to challenges.
"I was raised by a … Boston cop and ex-Marine. So, if you had a headache, you weren't allowed to have a headache, you know what I mean?" Rojas joked.
When Rojas got a prescription for Cipro to treat a UTI and gastritis, he recalls that the pharmacist told him the drug could cause tendinitis but assured him it wouldn't happen because Rojas wasn't 65 or older.
"I remember my exact words were, 'Oh, yeah, I'm sure it's very rare so I'm not worried about it.' And within two weeks I automatically started feeling like a bomb went off in my body," he said.
After researching his symptoms on the internet, Rojas concluded he had been "floxed" — a term commonly used to describe fluoroquinolone toxicity, or fluoroquinolone toxicity syndrome.
Fluoroquinolone toxicity — itself a phrase coined by patients to describe the series of negative side effects they attribute to taking fluoroquinolone antibiotics — can cause conditions ranging from tendinitis to aortic aneurysms and has sparked lawsuits against the manufacturers of these powerful drugs.
Thousands of people around the world blame fluoroquinolones for debilitating side effects that have changed their lives for the worse. They call themselves "floxies." Some recover, but others — like Rojas —aren't so lucky.
The U.S. Food and Drug Administration released several warnings about the drugs, which include popular antibiotics such as Cipro, Levaquin and Avelox. The drugs remain on the market because the agency has determined the benefits still outweigh the risks for some people.
'I Seriously Thought I Was Going To Die in the First Year'
The first change Rojas noticed was severe tendinitis that manifested as painful bumps of muscle all over his arms. Then one day, he couldn't stand up.
"And within a month, I had braces all over my body and was in a wheelchair from the severe pain. The tendinitis was just the first symptom," Rojas said.
When he had his first tendon rupture in June 2018, he was driving home from a pride parade with some friends.
"I took a left, and it wasn't a sharp left. I just moved my hand and then boom, it ruptured. It felt like a gunshot through my wrist. It was this burst," he said.
In severe pain, Rojas called 911 from the side of the road to get to the ER.
"They did the scans and confirmed it was a tendon rupture, and they gave me a stronger brace," Rojas said. "But I couldn't even make a peanut butter sandwich."
Rojas also suffered psychosis, mood swings and cognitive problems, in addition to what he called "word salad," which made it difficult for people to understand what he was saying. According to the FDA-approved Cipro drug label, side effects of the antibiotic can include physical effects, such as tendinitis and tendon rupture, as well as mental effects, such as hallucinations and confusion.
"When every aspect of your body feels like it's shutting down, you genuinely get scared if you are going to wake up the next day."
"I had a psychotic episode where I thought that the government was reading my mind. I thought, well, they can't read my brain if I stick my head in the oven and melt my brain. Thank goodness my roommate walked in on it, and I had to go to the hospital right then," he recalled.
Because he couldn't work, he had to survive on $645 a month. Often he only got food from food pantries. The severe pain and mental anguish of losing his independence led him to attempt suicide twice.
"I seriously thought I was going to die in the first year," Rojas recalled. "When every aspect of your body feels like it's shutting down, you genuinely get scared if you are going to wake up the next day."
He knew he couldn't continue on that dark path. His determination led him to get a part-time job at an assisted-living facility. It was the best decision he made.
"I was hired on the spot. I can only work two days a week, but it's something that has given me purpose where before I literally thought about dying away in my apartment just lying in bed in pain."
Living as a 'Floxie'
While the symptoms haven't gone away, Rojas finds ways to cope. The support of friends and other floxies, as well as support groups and fairs for disabled people have helped him endure. He also has a service dog named Tilly.
Rojas says connection saved him. One of his lifelines is a Facebook group called New England Floxies.
"We meet once a month and have a lunch and it's just so refreshing to talk to people who get it. It's a breath of fresh air. They say things that bring a lot of peace to me, too," he said. "I met the most wonderful and compassionate people you will ever meet that I'm blessed that I met because if I wasn't floxed, I wouldn't have met them."
Through the group, Rojas learned he wasn't alone in his fears and experiences. People of all ages can suffer negative side effects from fluoroquinolone antibiotics.
Rojas also learned to give himself permission to be human. "It's okay to feel helpless. It's okay to feel depressed," he says to others who may be in his shoes.
"You can deal with people who can engage in a lot of toxic positivity, telling you always be positive and think on the bright side. Talk to people who do know what you're going through, and you'll get the more realistic survival guide from them," he advises.
Rojas's goal is to spread awareness and advocate for others who may be suffering negative side effects from fluoroquinolone antibiotics. He even created a video on YouTube that documents his journey.
Disclaimer: Thoughts and opinions expressed in this patient story are strictly anecdotal and should not be taken as medical information or advice. Views of the interviewee do not necessarily reflect those of the author, editor or Drugwatch.
Share This Page:
How can we improve this page?
Thank You for Your Feedback
We appreciate your feedback. One of our content team members will be in touch with you soon.
We appreciate your feedback. One of our content team members will be in touch with you soon.
Who Am I Calling?
Calling this number connects you with a Drugwatch representative. We will direct you to one of our trusted legal partners for a free case review.
Drugwatch's trusted legal partners support the organization's mission to keep people safe from dangerous drugs and medical devices. For more information, visit our partners page.