Nearly 800 cases are currently pending in federal and state court involving fluoroquinolones. Fluoroquinolones such as Cipro, Levaquin and Avelox are potent antibiotics used to treat a variety of bacterial infections, including upper respiratory infections. People who filed the lawsuits were prescribed a fluoroquinolone and allege that it causes peripheral neuropathy, a condition that develops as a result of damage to the peripheral nerves.
Cause of Claim
Lawsuits allege Fluoroquinolones cause periperal neuropathy, a type of nerve damage.
They claim the defendants —namely Bayer Healthcare Pharmaceuticals Inc, Merck & Co Inc., Johnson & Johnson, Janssen Research & Development LLC, and Bayer Corporation — failed to adequately warn patients of this alleged side effect. The defendants, who developed, manufacture and market fluoroquinolones, deny that the drugs are defective or unreasonably dangerous. They also deny that their warnings were inadequate.
In August 2015, the U.S. Judicial Panel on Multidistrict Litigation ordered all federal neuropathy fluoroquinolone cases be transferred to the District of Minnesota for consolidated pretrial proceedings. The panel assigned the multidistrict litigation (MDL) to the Hon. John R. Tunheim. At the time, about 80 actions were pending in nearly 40 federal districts. Additional cases (some of which were transferred to the MDL) were also pending in state court in California, Pennsylvania, New Jersey and Oklahoma. At its peak, the federal MDL consisted of 1,036 total actions. Several were settled for confidential amounts, according to court documents.
Fluoroquinolones & Nerve Damage Risk
Peripheral neuropathy, or neuropathy, causes numbness, tingling, burning or pain — often in the hands and feet. According to lawsuits, manufacturers of these antibiotics claimed the risk was rare and failed to warn patients and doctors that the nerve damage could be permanent.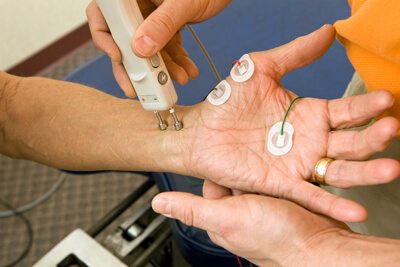 Due to inadequate fluoroquinolone warnings, patients developed permanent nerve damage while taking the drug
Plaintiffs claim drug labels misled patients and purposely used confusing language to hide the truth about permanent nerve damage. It wasn't until August 2013 — after the FDA released an updated warning — that drug makers added information about rapid onset, irreversible peripheral neuropathy. The new label also removed the word "rare" from the warning about risk.
According to the FDA, previous neuropathy warnings in fluoroquinolone labels were weak and unclear. Specifically, the agency said older labels didn't properly explain that neuropathy damage can be swift after taking the drugs and can be irreversible.
Fluoroquinolones with the potential to cause neuropathy include:
Avelox (moxifloxacin hydrochloride)
Cipro (ciprofloxacin)
Cipro XR (ciprofloxacin)
Factive (gemifloxacin mesylate)
Floxin (ofloxacin)
Levaquin (levofloxacin)
Maxaquin (lomefloxacin hydrochloride)
Noroxin (norfloxacin)
Proquin XR (ciprofloxacin hydrochloride)
Raxar (grepafloxacin hydrochloride)
Zagam (sparfloxacin)
Status of Fluoroquinolone Nerve Damage Litigation
As of July 2017, about 752 cases remained pending in the MDL. About 254 cases involve Bayer or Merck entities, and between 90 and 100 of those cases also involve a Janssen entity, according to court documents. An additional 17 cases were pending in Pennsylvania state court.
Did you develop nerve damage while taking a Fluoroquinolone antibiotic? We can help.
The federal court has scheduled bellwether trials in 2018 and 2019. These trials are intended for both sides to test their arguments, with the goal of moving the overall litigation toward resolution. During a February 21, 2017, status conference, counsel told the court that both sides made their bellwether selections, including four cases each involving Avelox and two cases each involving Cipro. Both parties selected the same two Cipro cases and agreed that they would proceed with 10 bellwether cases, including eight Avelox cases and the two Cipro cases.
The litigation is now in the discovery phase, which is when both sides disclose all relevant facts and documents to one another prior to trial.
Defendants Accused of Negligence, Failure to Warn
Court filings accuse defendants of several counts of wrongdoing. Most cases of this type claim negligence and failure to warn; other counts include strict liability and fraud.
Types of wrongdoing include:
Strict Liability
Lawsuits allege the defendants knew fluoroquinolones posed unreasonable risks but failed to include adequate warnings in labeling to notify patients and doctors. At all times, defendants knew their products could cause harm but continued to sell it, the complaints say.
Failure to Warn
Plaintiffs also claim the defendants "negligently and recklessly failed to warn of the nature and scope of the side effects" associated with fluoroquinolones like Cipro, Levaquin and Avelox — in particular, irreversible peripheral neuropathy.
Negligence
Drug companies have a duty to make sure their products are safe before selling them. According to the complaints, the defendants breached their duty when they negligently promoted, distributed, marketed and labeled the fluoroquinolone antibiotics. They failed to conduct appropriate pre- and post-marketing tests and surveillance to make sure the drug was safe, the plaintiffs allege.
Fraud
Plaintiffs also accuse drug companies of misrepresenting the safety and effectiveness of fluoroquinolones they manufactured. They actively concealed the dangers of the drugs, specifically irreversible peripheral neuropathy, according to the lawsuits.
Individual Nerve Damage Lawsuits
More than a dozen fluoroquinolone neuropathy cases are pending in state court in California. Plaintiffs claim after they took one or more of these powerful antibiotics, they were left with debilitating nerve pain. Some patients took antibiotics for illnesses like simple sinus infections that could have been treated with other types of antibiotics. Examples of fluoroquinolone neuropathy lawsuits filed in California include:
Kellerman v. Bayer
Sherri Kellerman filed a lawsuit against Bayer after she took Avelox and developed peripheral neuropathy. The lawsuit says her nerve damage was a "direct and proximate result of being prescribed and ingesting Avelox." Kellerman's complaint states that "Avelox is defective, dangerous to human health, unfit and unsuitable to be marketed and sold in commerce, and lacked proper warnings and directions as to the dangers associated with its use."
Grossman v. Johnson & Johnson
According to her lawsuit, Karyn Joy Grossman took Levaquin – manufactured by Johnson & Johnson – and developed peripheral neuropathy. According to Grossman's complaint, the defendant marketed and sold Levaquin even though it knew the drug could cause peripheral neuropathy and did not warn patients and doctors. She seeks punitive damages because of the defendant's "deliberate disregard for the rights and safety of their consumers."
Levaquin Litigation
Nerve damage is not the only alleged injury that has led to litigation against the makers of fluoroquinolones. Studies have also linked this type of drug to tendon ruptures and aortic aneurysm and dissection.
Levaquin Tendon Rupture
Judge Tenheim also oversaw pretrial proceedings for a separate MDL involving the fluoroquinolone Levaquin. Plaintiffs in that MDL were prescribed Levaquin and allege that it causes tendon rupture. As with the neuropathy MDL, plaintiffs in the tendon rupture MDL claim the defendants, Johnson & Johnson and Ortho-McNeil Pharmaceutical Inc., failed to adequately warn of the side effect.
Fluoroquinolones have been linked to an increased risk of tendinitis and tendon rupture
The plaintiffs began filing lawsuits in late 2006; the U.S. Judicial Panel on Multidistrict Litigation created the MDL in 2008. Around the same time the MDL began, the FDA first added a black box warning to fluoroquinolones for the increased risk of tendinitis and tendon rupture.
In November 2010, the first bellwether trial was tried against Ortho-McNeil Pharmaceutical Inc and resulted in a jury verdict in favor of the plaintiff. The jury awarded the plaintiff $700,000 in compensatory damages, which was later reduced to $630,000. The jury also awarded punitive damages in the amount of $1,115,000. The second and third bellwether trials were tried in June 2011 and January 2012, respectively. Both resulted in jury verdicts in favor of Johnson & Johnson and Ortho-McNeil Pharmaceutical Inc.
About 2,049 total actions were filed under the MDL. Court records show hundreds of cases ended in settlements. Others were transferred or remanded and subsequently dismissed. Only 10 remained pending as of March 2017.
Levaquin Racketeering
In 2016, five individuals sued former FDA Commissioner Margaret A. Hamburg, among others, seeking close to a billion dollars in damages. The plaintiffs claim Hamburg, her hedge-fund-executive husband and Johnson & Johnson conspired to increase profits by failing to warn about "the full extent of the devastating, life-threatening, and deadly effects of a highly dangerous pharmaceutical drug named Levaquin."
This case was dismissed based on defense motions on March 31, 2017.
The plaintiffs alleged the defendants engaged in racketeering and violated the Federal RICO Act, a law typically used to prosecute organized crime.
Author
Emily Miller holds five Health Literacy certificates from the Centers for Disease Control and Prevention as well as a Bachelor of Science in Journalism from the University of Florida. She was diagnosed with a chronic illness as a child and has firsthand experience with many of the topics she writes about as a member of the Drugwatch team. Emily is an award-winning journalist who has reported on health and legal news for reputable organizations, including the South Florida Sun Sentinel, San Antonio Express-News, UF Health News and Reporters Committee for Freedom of the Press. She draws on her background as both a patient and a journalist to help readers understand complex health and legal topics.
---