Fluoroquinolones such as Cipro, Levaquin & Avelox are intended to kill or stop the growth of bacteria. This family of antibiotics was first discovered in the 1960s, but it wasn't until the late 1980s that Cipro and other modern fluoroquinolones first hit the market. At the time, doctors primarily prescribed them to treat urinary tract infections. Since then, they have become the go-to antibiotic for many infections.
These drugs are potent and are approved for the treatment or prevention of serious bacterial infections including anthrax, plague and bacterial pneumonia.
Other approved uses include the treatment of:
Skin and skin structure infections
Bone and joint infections
Complicated intra-abdominal infections
Infectious diarrhea
Typhoid fever (enteric fever)
Uncomplicated cervical and urethral gonorrhea
Chronic bacterial prostatitis
Lower respiratory tract infections
Urinary tract infections
Acute uncomplicated cystitis
Acute bacterial sinusitis
Acute pyelonephritis
Acute bacterial exacerbation of chronic bronchitis
Acute bacterial sinusitis.
A U.S. Food and Drug Administration (FDA) safety review found fluoroquinolones are associated with disabling side effects involving tendons, muscles, joints, nerves and the central nervous system. These side effects can occur hours to weeks after exposure to the drugs and may potentially be permanent, according to the agency. For that reason, the FDA has announced that patients with acute bacterial sinusitis, acute exacerbation of chronic bronchitis and uncomplicated urinary tract infections should only use fluoroquinolones when no alternative treatment options exist.
As with other antibacterial drugs, fluoroquinolones do not treat viral infections such as colds, flu or bronchitis in people who are otherwise healthy. They should be used "only to treat or prevent infections that are proven or strongly suspected to be caused by bacteria," according to the drug's label. This is to reduce the development of drug-resistant bacteria and to maintain the effectiveness of fluoroquinolones and other antibacterial drugs.
Types of Fluoroquinolones
Six fluoroquinolones are currently available in the U.S. They can be administered in pills, injections and topical creams. Generally, fluoroquinolones are broken down into two categories: the older group (ciprofloxacin, norfloxacin, ofloxacin) and the newer group (gemifloxacin, levofloxacin, and moxifloxacin).
The most popular drugs in the class are:
Cipro and Cipro XR (ciprofloxacin)
Avelox (moxifloxacin)
Levaquin (levofloxacin)
Other fluoroquinolones exist such as Floxin (ofloxacin) and Factive (gemifloxacin) but are not as widely used. Maxaquin (lomefloxacin), Raxar (grepafloxacin hydrochloride) and Zagam (sparfloxacin) are no longer available in the U.S. Noroxin (norfloxacin) was discontinued by its manufacturer, Merck.
Cipro, Cipro XR, Proquin XR (ciprofloxacin) Uses & Dosages
Cipro is the most widely used of all the fluoroquinolones, making up about 66 percent of all prescriptions each year. Some 21 million Americans take this drug annually. It was originally approved in 1987 and is a second-generation fluoroquinolone. Doctors often prescribe it to treat mild-to-moderate respiratory and urinary tract infections, but it also treats other conditions, including gonorrhea, infectious diarrhea and anthrax.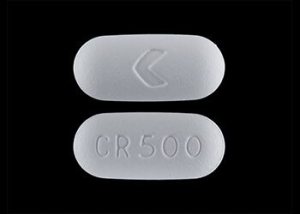 Cipro comes in the following formulas and doses:
Oral Tablets: 100 mg, 250 mg, 500 mg and 750 mg
Extended-release tablets: 500 mg and 1,000 mg (available only as generic)
Intravenous: 200 mg to 400 mg
Levaquin (levofloxacin) Uses & Dosages
Levaquin is the second-most-popular drug in the class, accounting for more than 28 percent of all prescriptions. It is a third-generation fluoroquinolone, originally approved in 1996. In 2010, it was the best-selling antibiotic in the U.S. Like Cipro, it treats respiratory and urinary tract infections. It also treats other conditions, including plague, anthrax, bronchitis and pneumonia.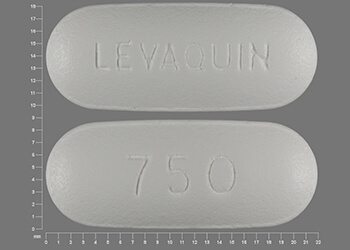 Levaquin comes in the following formulas and doses:
Oral Tablets: 250 mg, 500 mg and 750 mg
Intravenous: 500 mg
Avelox (moxifloxacin) Uses & Dosages
The third-most-popular fluoroquinolone in the U.S. is Avelox, a fourth-generation medication. The number of Avelox prescriptions dropped 78 percent from 2.7 million prescriptions in 2010 to 609,000 prescriptions in 2014. The FDA approved the drug in 1999 to treat multi drug-resistant types of Streptococcus pneumoniae – bacteria that cause pneumonia, ear infections and meningitis, among other conditions. It also treats skin infections, cellulitis and intra-abdominal infections.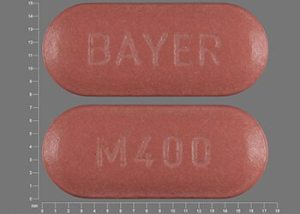 Avelox comes in the following formulas and doses:
Oral Tablets: 400 mg
Intravenous: 400 mg
Other Fluoroquinolones
Factive and Floxin account for about .0005 percent of the total number of prescriptions for the class. Noroxin, Maxaquin, Raxar and Zagam are no longer on the market in the U.S.
Factive — available in 320mg tablets and treats chronic bronchitis and pneumonia.
Floxin — available in 200, 300 and 400mg tablets. This drug is more toxic than others in its class and often causes adverse events in patients.
Noroxin — discontinued in 2014 for unclear reason. It was available in 400mg tablets to treat sexually transmitted diseases and urinary tract infections.
Maxaquin — no longer available in the U.S. Though, it may still be used in generic versions.
Raxar — withdrawn from the market in 1999 because it was shown to cause adverse cardiac events.
Zagam — withdrawn from the market in 2001 because of phototoxicity and cardiac events.
Fluoroquinolone Contraindications and Interactions
Fluoroquinolones may not work as well if taken with certain foods, drugs or supplements, including antacids, multivitamins, iron, calcium, milk, cheese and nuts. Studies also have explored a link between tendon disease and concurrent use of steroids and fluoroquinolones. One report showed that half of patients with fluoroquinolone-induced tendon rupture had been taking steroids at the same time. In 2008, the FDA released a public warning about this risk.
A 2013 study published by the Canadian Medical Association Journal found that the risk of acute kidney injury grows almost five times more likely if a patient uses fluoroquinolones alongside the common heart drugs renin-angiotensin-system blockers. Pregnant women, children and adults older than 60 are at increased risk of bad reactions from fluoroquinolones. Some studies found the drugs were toxic to a developing fetus. Because these drugs may affect muscles, doctors do not recommend their use in children. The risk of adverse events is also greater for people with liver disease or those taking non-steroidal anti-inflammatory drugs (NSAIDs) like Advil or aspirin.
Drug interactions in fluoroquinolone labels include:
Antiarrhythmics
Antacids
Sucralfate
Metal cations
Didanosine
Multivitamins
Warfarin
Antidiabetic agents
Non-steroidal anti-inflammatory drugs
Theophylline
Cyclosporine
Digoxin
Probenecid
Phenytoin Methotrexate
Cyclosporine
Cimetidine
Side Effects of Cipro, Levaquin and Avelox
Over the years, the FDA has received reports of life-changing adverse events in patients who have taken fluoroquinolone antibiotics. The most severe side effects of fluoroquinolones are considered rare. Some can be fatal. Common side effects of fluoroquinolones include headaches, lightheadedness, nausea, diarrhea, dizziness and trouble sleeping.
Serious side effects involving, tendons, muscles, joints, nerves, the central nervous system, the heart and other body systems include:
Aortic aneurysm
Aortic dissection
Swelling or inflammation of the tendons
Tendon rupture
Tingling or pricking sensation ("pins and needles")
Numbness in arms or legs
Muscle pain
Joint pain or swelling
Depression
Hallucinations
Suicidal thoughts
Confusion
Anxiety
Abnormally rapid or irregular heartbeat
Ringing or buzzing in the ears
Vision problems
Skin rash
Sensitivity of skin to sunlight
Fatigue
Worsening of myasthenia gravis
Black Box Warnings
When the FDA determines that an approved drug carries significant risks, the agency requires that drug manufacturers add a black box warning to the product. This allows both doctors and users to become aware of the risks associated with using the medication. A black box warning is a serious step — just one away from removing a medication from the shelves.
Studies show people who have taken fluoroquinolones to treat infections may be at risk for developing life-altering side effects such as tendon problems, deadly heart conditions and permanent nerve damage. The FDA has added and enhanced black box warning information to fluoroquinolone labels since 2008 as new risks have come to light.
July 2008

The FDA concluded that fluoroquinolones are associated with tendinitis and tendon rupture. The agency notified drug makers that they needed to add a warning to all fluoroquinolone medication information, outlining the increased risk of developing these conditions.

February 2011

The FDA added to the black box warning the risk of worsening symptoms of myasthenia gravis, a long-term neuromuscular disease that leads to varying degrees of muscle weakness.

August 2013

The FDA added a warning to fluoroquinolone labels for a form of permanent nerve damage called peripheral neuropathy.

July 2016

Following a 2015 FDA advisory committee meeting where experts discussed the dangers of fluoroquinolones, the FDA added another warning. In May 2016, the agency had advised doctors to avoid using fluoroquinolones in patients with acute bacterial sinusitis, acute exacerbation of chronic bronchitis and uncomplicated urinary tract infections that can be cured with other medications. In July, the FDA mandated this labeling addition.
Life-Threatening Heart Problems & Fluoroquinolones
The lining of the aorta is made up of collagen. Scientists suspect that fluoroquinolones break down collagen in the body. Two 2015 studies published in JAMA and BMJ medical journals reveal a connection between fluoroquinolones and collagen damage that may lead to aortic aneurysms.
An aortic aneurysm is a bulge in the aorta, which is the artery responsible for carrying blood from the heart through the chest and torso.
Aortic aneurysms can act in two ways:
Tears can form in the aorta, allowing blood to leak in between the layers of tissue in the vessel wall, separating them. This is called aortic dissection.
The aneurysm can also rupture, which is when it bursts completely, causing bleeding inside the body.
According to the JAMA study, fluoroquinolones were associated with a two-fold increase in risk of dissection and aneurysm within 60 days of using the drug. Authors said, "clinicians should continue to be vigilant for the appearance of aortic aneurysm and dissection in high-risk patients treated with fluoroquinolones."
The BMJ study found nearly a three-fold increase in the risk of aneurysm. Authors of this study followed about 1.7 million patients and found one third of them received a prescription for a fluoroquinolone. "Reducing unnecessary fluoroquinolone treatments or prolonged treatment courses might have possibly prevented more than 200 aortic aneurysms in this population," study authors said.
Aortic aneurysms were the primary cause of 9,863 deaths in 2014, and dissections and ruptures are the cause of most deaths from aortic aneurysms, according to the Centers for Disease Control and Prevention.
Aortic Aneurysm Rupture
Aortic aneurysms weaken the aortic wall and are more likely to burst.  They can occur in the abdomen (abdominal aortic aneurysm) or in the chest (thoracic aortic aneurysm).These weak spots are extremely dangerous, and once they burst, a patient has a 50 percent chance of survival. Aneurysms often have no symptoms. These bulges may be found while testing for other conditions on a CT scan or ultrasound of the heart. When the thoracic aneurysm ruptures, people have difficulty breathing, severe chest pain or severe back pain or may lose consciousness. A ruptured aneurysm is an emergency situation and must be treated immediately. Doctors may prescribe surgery or an aortic stent.
Fluoroquinolones may cause aortic aneurysms, pictured above
Aortic Dissection
Dissection interrupts the blood flow to other organs by blocking other blood vessels that feed them. This can lead to stroke, paralysis, kidney failure and other problems. All dissections can lead to death, and it is extremely important to catch them early. Doctors typically use CT scans to diagnose them. Treatment may or may not require surgery to replace the dissected portion of the aorta.
Symptoms of aortic dissection include:
Chest pain
Paralysis of an arm or leg
Appearance of having a stroke or heart attack
Loss of pulse in affected arm or leg
Flu-like symptoms
Back pain
Loss of consciousness
Difficulty speaking
Loss of vision
Dizziness or confusion
Fluoroquinolone Antibiotics & Tendon Problems
The medical community has long been aware of an association between fluoroquinolones and tendon problems. In 2008, the FDA released a safety alert, warning the public of this potential risk. The agency cautioned patients taking fluoroquinolones who notice signs of tendon pain, swelling or inflammation to contact their doctor right away, stop taking the drug, and avoid exercise and movement of the affected area.
The agency required makers of Cipro, Levaquin, Avelox and other fluoroquinolones to add a black box warning for tendon rupture to medication labels. It also asked pharmaceutical companies to develop a medication guide. The FDA's Adverse Events Reporting System confirmed that tendon ruptures in patients taking fluoroquinolones continue to increase.
Reports of ruptures and tears of tendons exist for the following body parts:
Achilles tendon (most prevalent)
Rotator cuff (shoulder)
Hand
Bicep
Thumb
Peripheral Neuropathy & Fluoroquinolone Use
In 2013, the FDA announced it was strengthening warnings in the labels for fluoroquinolones to better describe the disabling side effect peripheral neuropathy. Previous warnings about this serious nerve damage were not strong enough or clear enough, the FDA said. In particular, it said older labels failed to explain fully that neuropathy damage can happen immediately after taking the drugs and can be permanent. The FDA told doctors and consumers to discontinue the medication immediately if symptoms of nerve damage surface.
Peripheral neuropathy, which can be caused by fluoroquinolones, is weakness or pain from nerve damage – mostly in the hands and feet
An FDA review of its Adverse Event Reporting System showed a continued association between the drugs and the crippling nerve disorder, which occurs in the arms and legs. In fact, the onset of peripheral neuropathy after starting fluoroquinolone therapy was rapid, often within a few days. In some patients, the symptoms had lasted for more than a year, even after users had stopped taking the drugs. Several patients were continued on fluoroquinolones despite their showing signs of the disorder. The FDA ultimately concluded peripheral neuropathy can occur at any time during treatment with fluoroquinolones and can last for months to years after the drug is stopped or be permanent.
A study published in 2014 by the peer-reviewed journal Neurology further supported the FDA's findings. The study showed long-time users of fluoroquinolones had twice the risk of developing peripheral neuropathy, while new users had a slightly greater risk. Researchers said "clinicians should weigh the benefits against the risk of adverse events when prescribing these drugs to their patients." Researchers studied more than 30,000 men in the U.S. from 2001 to 2011.
Fluoroquinolones can cause nerve damage that lasts for months to years after the drug is stopped.
Peripheral neuropathy affects about 20 million Americans, according to the National Institutes of Health (NIH). It occurs when the peripheral nervous system is damaged by injury, illness or exposure to certain drugs, like fluoroquinolones. Patients using fluoroquinolones who develop any symptoms of peripheral neuropathy should tell their doctors right away. Symptoms of peripheral neuropathy include pain, burning, tingling, numbness or weakness. Some people may notice a change in sensation to light touch, pain or temperature, or the sense of body position. Doctors can perform a number of tests to determine the extent of nerve damage, and the type of neuropathy is classified according to the nerves that are damaged.
Severe Symptoms of Peripheral Neuropathy
Damage to the nerves interferes with the messages coming from the brain to the rest of the body. These confused messages can wreak havoc on the types of sensations someone feels. For example, a person may feel severe pain in response to sensations that should not cause pain, like feeling pain from bed sheets, or numbness in fingers and toes. The nerves in the hands and feet are the first to be affected. Depending on the person, symptoms may present in a few days, weeks or years. Some forms are chronic and worsen over time. Neuropathy is typically not fatal, but it can cause a lifetime of suffering.
Some severe symptoms include:
Burning pain at night
Muscle wasting
Paralysis
Organ or gland dysfunction
Sweating/ lack of sweating
Digestive issues
Poor sexual function
Poor bowel control
Peripheral Neuropathy Diagnosis and Treatment
There are over 100 different kinds of neuropathy. Each type has its own symptoms, prognosis and treatment. Typically, a doctor starts by performing a physical exam and asks about the patient's health history and symptoms. The doctor may also recommend blood tests to look for causes of nerve damage.
Other diagnostic tests include:
Electromyography (EMG) – involves inserting a fine needle into a muscle to detect abnormal electrical activity in muscles and to help differentiate between muscle and nerve disorders
Nerve conduction velocity (NCV) – uses probes to electrically stimulate a nerve fiber and measures how quickly signals travel among nerves
Magnetic resonance imaging (MRI) – produces detailed pictures that can help rule out tumors and other abnormalities that can cause neuropathy
Nerve biopsy – involves removing a sample of nerve tissue (most often from the lower leg) and examining it under a microscope
Skin biopsy – involves removing a thin skin sample and examining nerve fiber endings (Unlike NVC, this test can show damage present in smaller fibers and it is less invasive and easier to perform than a nerve biopsy, with fewer side effects
After doctors diagnose a specific type of nerve damage, they discuss treatment options. First, they will address the cause such as hormones, vitamin deficiencies or exposure to toxic medications. Sometimes, eliminating the issues that caused the damage allows nerves to regenerate.
"Peripheral nerves have the ability to regenerate axons, as long as the nerve cell itself has not died, which may lead to functional recovery over time," according to the National Institute of Neurological Disorders and Stroke. "Correcting an underlying condition often can result in the neuropathy resolving on its own as the nerves recover or regenerate."
Surgery treatment option
Patients may choose to undergo surgery that releases the nerve from the tissues compressing it. Surgery that destroys problematic nerves to stop pain is only considered after all other courses of action are exhausted and only works when a single nerve is affected. Some peripheral neuropathies don't respond to surgery of any type.
Adopting a healthy diet and exercise can help manage symptoms. Exercise, for example, can reduce cramps, improve muscle strength and prevent muscle from wasting away. A doctor may recommend supplements or injections to people who have low levels of B12 or other vitamins. Anyone with diabetes should become more knowledgeable on how to control blood sugar, and people who drink alcohol should stop.
Some people participate in therapy to learn exercises to improve their muscle strength and control. Doctors may recommend using a wheelchair, braces and splints to improve movement or even help a patient regain the ability to use an arm or leg that has nerve damage. Orthopedic shoes are another option and can help prevent foot injuries in people who can't feel pain.
In many cases, doctors may have to prescribe strong drugs including pain killers, antidepressants and anticonvulsants. Antidepressants and anticonvulsants tend to be the medications that are most effective at reducing neuropathic pain. Antidepressant medications can include Elavil (amitriptyline), Cymbalta (duloxetine hydrochloride) or Effexor (venlafaxine). Frequently used anticonvulsant medications include gabapentin, pregabalin, topiramate and carbamazepine.
These drugs typically do not bring back loss of feeling and are generally prescribed to people with neuropathy to reduce pain in the feet, arms and legs. They have their own laundry list of side effects. Opioid pain killers can also leave some people addicted.
Some people may turn to alternative medicine to supplement their treatment. These therapies may include acupuncture, alpha-lipoic acid, fish oil supplements, amino acids and herbs, such as curcumin, geranium oil and evening primrose oil.
Topical medications — such as topical lidocaine, an anesthetic agent, and capsaicin, a substance found in hot peppers that modifies peripheral pain receptors — may also improve neuropathic pain. Another non-invasive method is transcutaneous electrical nerve stimulation (TENS). It involves attaching electrodes to the skin and releasing an electrical current. The efficacy of this therapy in treating peripheral neuropathy has not been tested in controlled clinical trials. However, some studies have shown it improves symptoms of diabetic neuropathy.
Other Problems Associated with Fluoroquinolone Antibiotics
Due to the expanding number and severity of fluoroquinolone-related problems, medical professionals can now diagnose Fluoroquinolone-Assisted Disability (FQAD) in patients. Individuals with FQAD are defined as U.S. patients who were reported to be previously healthy and have suffered debilitating side effects from fluoroquinolone use. What's more, FQAD sufferers are patients who have been given fluoroquinolones when their conditions could have been cured with a far less powerful medication.
The diagnosis of FQAD was established in order to organize the diverse list of problems that can result from using these drugs. In addition to aortic aneurysm and peripheral neuropathy, the list of problems that can result from taking fluoroquinolones includes kidney disease and toxicity. What's worse, the FDA has published safety alerts, notifying the public that the drugs are over-prescribed and are too risky for certain uses.
Over-Prescribing Fluoroquinolones
In 2013, the FDA released a Safety Communication warning about over-prescribing  fluoroquinolones and said current warnings were not clear enough. Specifically, the agency said "the potential rapid onset and risk of permanence were not adequately described," and the "permanent damage among patients exposed to these medications cannot be calculated." Then in 2016, the FDA announced that fluoroquinolones were too risky for use in minor infections such as uncomplicated urinary tract infections. However, many doctors have not updated their prescribing practices accordingly, and some researchers say fluoroquinolones are still over-prescribed for minor issues like earaches and sinusitis.
---
Doctors Speak on Fluoroquinolones
Infectious disease physician Dr. Lindsey R. Baden told Consumer Reports that doctors tend to overprescribe fluoroquinolones because the drugs are effective against many bacteria.
Dr. Mahyar Etminan, an epidemiologist at the University of British Columbia, told The New York Times that overusing these drugs is like "trying to kill a fly with an automatic weapon."
Dr. Jay S. Cohen, an author and professor of psychiatry who discussed preventing medication side effects, spent years detailing the dangers of fluoroquinolones, which he called the "worst medication disaster in U.S. history."
---
Kidney Disease
In a 2013 study, American and Canadian researchers teamed up to explore the risk of kidney disease in users of fluoroquinolone antibiotics. They found the risk of acute kidney injury is doubled in people who have used fluoroquinolones, especially ciprofloxacin and moxifloxacin. This condition requires hospitalization and often involves expensive renal care and multiple follow-up visits.
Toxicity
These drugs have also been linked to fluoroquinolone toxicity. This uncommon condition occurs in people who have adverse reactions to even small amounts of fluoride, a primary building block of fluoroquinolones. Toxicity is often detected when patients visit their doctors and complain about musculoskeletal symptoms such as hip pain that worsens with movement. There is no medically recognized syndrome associated with fluoroquinolone toxicity.