Byetta & Bydureon
Byetta and Bydureon are injectable drug pens manufactured by Amylin Pharmaceuticals to control blood sugar in people with Type 2 diabetes. They work by signaling the pancreas to make more insulin.
Byetta (exenatide injection) is a twice-daily injectable drug approved by the U.S. Food and Drug Administration (FDA) for the treatment of Type 2 diabetes. The drug is designed to work with diet and exercise to control blood sugar. Manufactured by San Diego-based Amylin Pharmaceuticals, Byetta was approved by the FDA in 2005. In January 2012, the FDA approved a once-weekly exenatide injection called Bydureon — a longer-lasting version of Byetta. The FDA had previously rejected it twice in 2010 because of evidence that the drug may cause heart-rhythm abnormalities.
In 2012, Bristol-Myers Squibb and AstraZeneca purchased Amylin for about $7 billion.
Exenatide is part of a class of drugs called glucagonlike peptide-1 (GLP-1) receptor agonists. These drugs mimic the effects of the body's natural GLP-1, a hormone that reacts to high blood sugar by increasing insulin production. Scientists derive the synthetic hormone from the saliva of the venomous Gila monster found in the southwestern United States.
Byetta vs. Bydureon
Bydureon is simply a longer-lasting version of Byetta taken weekly instead of twice a day.
Byetta generated the majority of Amylin's yearly sales and in 2011 accounted for $517.7 million (83 percent) of the company's $621.6 million net sales. Industry analysts expected sales of Bydureon to exceed $1 billion. The medication also costs more than many other oral diabetes medications currently on the market such as Actos (pioglitazone) or Januvia (sitagliptin). Byetta and Bydureon typically cost close to $500 a month, but actual prices may vary depending on the patient's insurance coverage.
AstraZeneca purchased Bristol-Myers' diabetes division in 2014 and reported sales of $327 million and $440 million for Byetta and Bydureon, respectively. When it first hit the market, the drug was proclaimed an incredible advancement in diabetes medication. But it is linked to side effects like pancreatitis, pancreatic cancer and thyroid cancer.
How Does Byetta Work?
Byetta is packaged in a glass cartridge inside a pen-injector. A doctor or physician assistant instructs patients how to inject it. The active ingredient, exenatide, is mixed in water along with an antimicrobial agent.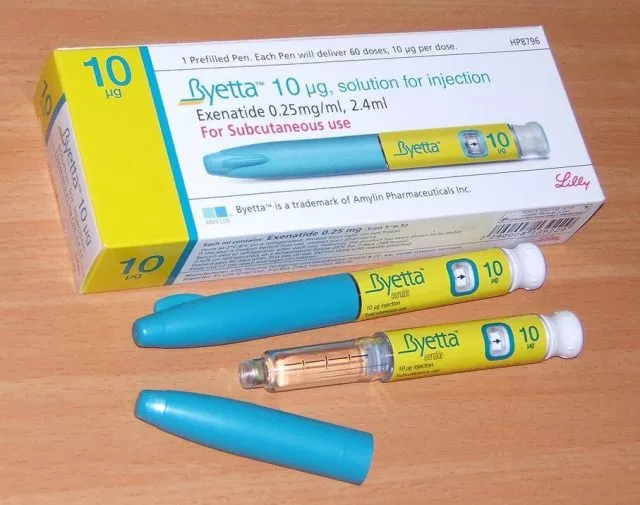 Byetta may be prescribed alone or with metformin, a sulfonylurea (Amaryl, Glucotrol), a thiazolidinedione (Actos, Avandia), or Lantus (insulin glargine). Doctors may prescribe Byetta with DPP-4 inhibitors like Januvia, but it should not be used in people with Type 1 diabetes.
In healthy people, eating causes a rise in blood glucose and stimulates an insulin response from the pancreas. People with diabetes do not produce enough insulin to react to an increase in blood sugar. Byetta helps insulin production to regulate sugar levels.
Byetta controls blood glucose in four ways:
Glucose-dependent insulin secretion

Cells in the pancreas that respond to glucose are called beta cells. In studies, Byetta increased the responsiveness of beta cells and allowed for more insulin production. Once sugar levels stabilize, the insulin production stops.

First-phase insulin response

The "first-phase insulin response" usually occurs within 10 minutes of raised blood glucose levels. In people with diabetes, defects in the beta cells prevent the insulin response. Byetta significantly increased the first-phase insulin response in patients taking the drug.

Glucagon secretion

Byetta stops excess glucagon secretion during times of hyperglycemia. Glucagon is a hormone released by the pancreas that increases blood sugar and it is the opposite of insulin.

Gastric emptying

By slowing gastric emptying after meals, Byetta slows the rate at which glucose enters the blood.
Dosages and Strengths
The medication insert instructs patients to take Byetta twice a day within 60-minutes before the morning and evening meal or before the two main meals of the day. These two meals must be at least six hours apart. Health care providers should start patients on an initial dose of 5 mcg to minimize gastrointestinal side effects. After 1 month of therapy, the dose can be increased to 10 mcg.
Byetta comes in two strengths:
5 mcg per dose, 60 doses, 1.2 mL prefilled pen
10 mcg per dose, 60 doses, 2.4 mL prefilled pen
How Effective is Byetta?
Scientists conducted three 30-week, controlled clinical trials to test the effectiveness of Byetta in controlling blood glucose. In the trials, 1,446 patients whose blood sugar was poorly controlled while taking metformin alone, a sulfonylurea alone or a combination of the two were given Byetta or a placebo.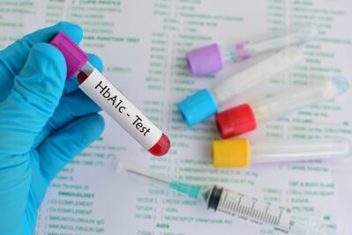 HbA1C, also called A1C, is measured to identify the three-month average glucose level in the blood. An A1C level of 7 or higher is considered a marker for Type 2 diabetes. People with Type 2 diabetes take medications to help lower these numbers. Results revealed that patients taking Byetta had reductions in HbA1C and reduced blood glucose, both during fasting and after eating.
In three 30-week clinical trials, people who took Byetta had an average reduction of 1 percent in A1C after three years of treatment, and the drug was effective in managing Type 2 diabetes.
Byetta for Weight Loss
Another way Byetta may help people with diabetes is by stimulating weight loss. Many people with Type 2 diabetes are overweight or obese, which increases their risk of diabetes-related complications such as heart disease or stroke. Byetta, along with lifestyle changes, can help people with diabetes lose weight and better control blood-sugar levels.
In a May 2010 study published in The American Journal of Medicine, researchers recruited 194 overweight or obese patients with Type 2 diabetes. They administered Byetta to one group and a placebo to the other. People who took Byetta lost more weight than those who did not. And, according to Amylin's research, the average amount of weight loss for people who took the drug with another diabetes medication was four pounds over 30 weeks.
Byetta is so effective at inducing weight loss that some people without diabetes are using it as a diet drug. Amylin and Eli Lilly say they do not encourage the "off-label" use — use not approved by the FDA — of the drug, but they funded studies of Byetta for weight loss in people with normal blood sugar. These studies showed Byetta is effective at promoting weight loss even in healthy individuals. However, the long-term use of exenatide has not been tested in people without diabetes, and doctors caution that it may be dangerous.
Byetta's Common Side Effects
Common side effects found in clinical trials:
Nausea
Vomiting
Diarrhea
Feeling jittery
Dizziness
Asthenia (abnormal weakness or lack of energy)
Headache
Dyspepsia (indigestion or chest and stomach discomfort)
Constipation
Side effects found in post-marketing studies:
Dehydration from diarrhea
Abdominal distention
Abdominal pain
Belching
Flatulence
Alopecia (hair loss)
Byetta's Serious Side Effects
In addition to common side effects, studies link Byetta to serious or fatal side effects. In 2009, the FDA required Amylin to add the risk of kidney damage and failure to Byetta's warning label. The FDA found some patients who took Byetta had kidney problems that required kidney transplants or dialysis.
In addition, studies linked exenatide to cardiovascular events such as heart attack. In 2008, Amylin conducted a Canadian study for cardiovascular safety. This delayed the release of Bydureon for several years because the FDA was concerned about possible heart issues. Finally, the FDA approved Bydureon in 2012 with the condition that Amylin conduct post-market studies.
Serious side effects include:
Acute pancreatitis (inflammation of the pancreas)
Increased bleeding when used with warfarin
Hemorrhagic or necrotizing pancreatitis sometimes resulting in death
Acute or worsened chronic kidney failure
Hypoglycemia
Allergic reactions
Hypersensitivity
Pancreatitis and Cancer Risks
There are reports of several side effects and complications related to Byetta and Bydureon, including some that require hospitalization and may be fatal. The most serious side effects are damage of the pancreas, kidneys and thyroid. A 2015 review of adverse events reported to the FDA found GLP-1 agonists had higher-than-normal incidences of pancreatic and thyroid cancer.
Pregnancy Studies in Animals
While there are no studies of Byetta use in pregnant women, researchers tested the drug in pregnant animals. According to data presented in the drug's medication insert, Byetta caused cleft palate, skeletal abnormalities and fetal deaths. For this reason, the medication insert cautions against the use of Byetta in pregnant women. Doctors should only prescribe the drug to pregnant women if the benefit justifies the risk to the fetus.
The drug manufacturer established a Pregnancy Registry to monitor women exposed to Byetta during pregnancy. AstraZeneca encourages patients to register.
Please seek the advice of a medical professional before making health care decisions.
How helpful was this page?
How can we improve this page?
How can we improve this page?