Juul Ban
States and municipalities have stepped up efforts to ban or restrict Juul and other vaping products following an outbreak of deadly e-cigarette-related lung injuries. The restrictions, along with new federal regulatory efforts, spurred Juul Labs to suspend advertising, realign marketing plans and discontinue most flavored Juul pods in the United States.
Because of public health reports of a teen vaping epidemic in the United States, an outbreak of vaping-related lung injuries and the seemingly slow pace of federal regulation for vaping products, states and municipalities were spurred to move quickly to ban or restrict Juul vaporizers and other vaping products by late 2019.
The first electronic cigarettes, or e-cigarettes, hit the United States market in 2007, but the U.S. Food and Drug Administration did not have regulatory authority over vaping until 2016. By then, Juul Labs had seen phenomenal growth, dominating the e-cigarette market.
On Dec. 17, 2018, the National Institutes of Health released a report showing that American teens were vaping in record numbers. Just one day later, the U.S. Surgeon General recommended that local governments ban indoor vaping and levy taxes on e-cigarette sales to protect the nation's youth from what he called an "epidemic" of e-cigarette use.
In the summer of 2019, public health authorities identified an outbreak of a deadly vaping-related lung injury. The U.S. Centers for Disease Control and Prevention later named the condition EVALI — e-cigarette, or vaping, product use-associated lung injury. In a matter of weeks, EVALI became the most serious e-cigarette side effect in the devices' history. As of Feb. 18, 2020, the CDC reported 2,807 cases of EVALI resulting in hospitalization. The CDC also blamed 68 deaths on the condition.
Prior to 2019, most vaping regulations at the local and state levels focused on including e-cigarettes in existing non-smoking laws. As of October 2019, 892 cities, 19 states and two U.S. territories included vaping devices among the products prohibited in smoke-free locations, according to the American Nonsmokers' Rights Foundation.
But rising concerns over teen vaping and the EVALI outbreak led some states and municipalities to enact bans on Juul and other vaping products.
Vaping Regulation Timeline
2007

First e-cigarettes appear in the United States

2015

Juul makes its debut

2016

FDA first given authority to regulate e-cigarettes

2018

Federal agencies cite sharp rises in teen vaping

June 2019

San Francisco becomes first city to ban all sales of vape products, to take effect in 2020

July 2019

First cases of

EVALI

(e-cigarette, or vaping, product use-associated lung injury) reported

September 2019

FDA directed to draft ban for flavored vape products

September–October 2019

Several states and cities impose vaping bans and restrictions amid EVALI outbreak

October 2019

Reynolds American's Vuse is the first e-cigarette submitted for FDA approval

May 2020

Deadline for all e-cigarettes to apply for FDA review
Will Juul and Other E-Cigarettes Be Banned Nationally in the U.S.?
The Trump administration and top federal health leaders announced in early September 2019 that they would move to ban flavored vaping products. At that time, U.S. Department of Health and Human Services Secretary Alex Azar said the FDA would devise a plan within the coming weeks to remove flavored vapes from the market.
On Jan. 2, 2020, the FDA announced a ban on almost all flavored vaping cartridges and pods, such as those used with Juul devices. The ban would take effect within 30 days. Only tobacco and menthol flavored pods could still be sold, but vape shops could continue to sell fruit, mint and other flavors of vape fluids for tank-based e-cigs.
Federal regulation of the vaping industry has moved slowly since oversight began in 2016. Regulation began to pick up steam by late 2018, fueled by reports on teen vaping from the National Institutes of Health and the U.S. Surgeon General.
In July 2019, a federal court ordered the FDA to speed up its regulation of e-cigarettes, setting a new 2020 deadline for e-cigarette makers to win FDA approval for their products or be forced to pull the products off the market.
As of late 2019, no e-cigarette sold in the United States, including Juul vaporizers, had been approved by the FDA. The agency has allowed the devices to remain on the market, but all manufacturers must retroactively apply for FDA approval by May 12, 2020. Once the application is submitted, the companies can continue selling the devices for up to one year without FDA approval.
As of October 2019, only one manufacturer had submitted an application — Reynolds American, for its Vuse e-cigarette.
Lawsuit Information
Multiple lawsuits claim high nicotine levels in Juul & other e-cigarettes led to serious health dangers. Learn more about pending litigation.
Juul Eliminates Flavored Pods Ahead of Federal Regulation
In late 2019, Juul took several dramatic steps that appeared to be made in anticipation of federal regulation of vaping products and as an attempt to improve public opinion of the company.
On Sept. 9, 2019, the FDA accused Juul Labs of illegally marketing its vape products as safer than tobacco. The company had run an ad campaign called "Make the Switch" without first providing scientific proof of safety to the agency. Juul Labs ignored the FDA's warning letter and continued running the ads.
The clash came at the height of the EVALI outbreak, while Juul was backing a ballot initiative to overturn an e-cigarette ban in San Francisco.
Just two weeks later, Juul's CEO stepped down. The company's new leader immediately pulled all Juul ads. By Oct. 17, the company eliminated sales of fruit- and dessert-flavored vape pods in the United States, citing a public "lack of trust" in the vaping industry. Juul had previously pulled the flavors from retail outlets, but the new announcement included all online sales.
States that Have Banned Juul and Other E-Cigarettes
States, counties and cities can often move more quickly than federal regulators. But states have faced legal roadblocks to most attempts to ban Juul and other e-cigarette products.
DID YOU KNOW?
At least 27 states require some type of license before retailers can sell e-cigs or other vaping products.
By November 2019, at least nine states had enacted or planned vaping bans but with limited success. Several of the state bans have been successfully challenged in court by local vape shops and a vaping trade group, the Vapor Technology Association.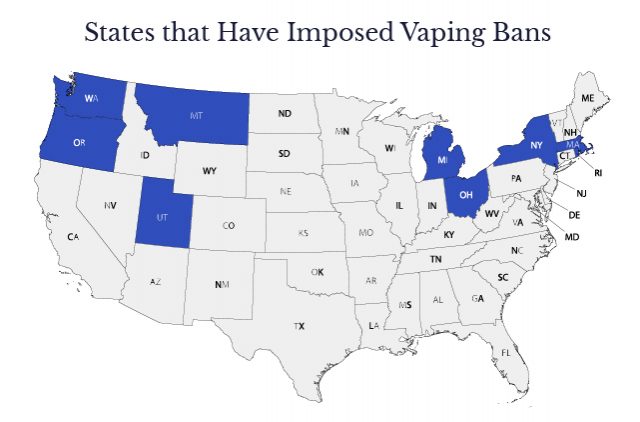 Massachusetts Sought a 4-Month Ban on Sales of Vaping Products
Massachusetts Gov. Charlie Baker ordered a temporary ban on the sale of Juul products and all other e-cigarette and vaping products that took effect on Sept. 24, 2019. The order halted sales made online and at brick and mortar retailers.
The vaping industry challenged the legality of the ban in court. A state judge ruled the ban was flawed but allowed it to remain in effect, giving the state a deadline of Oct. 28, 2019, to rewrite it. The court also required public hearings to give the vaping industry an opportunity to weigh in on a ban.
Michigan Imposed a 6-Month Ban on Flavored Vaping Product Sales
Michigan Gov. Gretchen Whitmer announced a six-month emergency ban on the sale of flavored vaping products that would begin on Sept. 18, 2019. Vaping businesses attempted to stop the ban, but a judge ruled in favor of the governor, allowing the ban to take effect on Oct. 1.
By mid-October, another state court ruled in favor of the vaping industry, blocking the ban. Businesses claimed the governor overstepped her authority. The court issued a six-month injunction, allowing vape shops to continue selling products through the duration of the ban.
Court Blocks New York's Temporary Ban on Flavored Vape Products
New York announced a ban of most flavored vaping products on Sept. 17, 2019. The emergency ban exempted menthol-flavored vape products. Gov. Andrew Cuomo was expected to renew it every 90 days after it was set to take effect in October, but a state appeals court blocked the ban the night before it was to go into effect.
The state appealed the decision, and at least two dozen health groups filed briefs in favor of the ban.
Ohio Pursues Legal Ban on Flavored Vaping Products
Ohio did not enact an emergency ban but has tried to outlaw flavored vape products.
State Rep. Tom Patton introduced a bill in the Ohio House of Representatives in September 2019 that would ban all flavored vape products in the state. On Oct. 1, 2019, Gov. Mike DeWine called on his state's general assembly to pass a statewide ban on all non-tobacco-flavored vaping products.
Rhode Island Governor Orders an Emergency Ban on Selling Flavored Vaping Liquids
Rhode Island Gov. Gina Raimondo signed an executive order banning flavored vape products for 120 days, with the ability to extend it for another 60. The ban took effect on Oct. 4, 2019.
On Oct. 24, the Vapor Technology Association and local vape shops announced they would challenge the ban in court.
Washington Governor Sought an Emergency Ban of Flavored and Cannabis-Containing Vapes
Health authorities in Washington state passed an emergency rule banning flavored vape products on Oct. 9, 2019. The rule would remain in effect for 120 days.
The Vapor Technology Association and local vape shops filed a lawsuit on Oct. 21 asking that the Washington State Department of Health be prevented from enforcing the ban.
Oregon Issues 6-Month Ban
Oregon Gov. Kate Brown announced a six-month ban on flavored nicotine and cannabis e-cigarette products to start on Oct. 19, 2019, but the Oregon Court of Appeals partially blocked the ban. The court issued a temporary stay to a portion of the ban two days before it was supposed to take effect.
The Vapor Technology Association and vape shops in the state filed the legal challenge.
Under the court order, vape shops would still be allowed to sell nicotine vape products, but the ban would remain in effect for marijuana vaping products.
Montana Orders a 120-Day Ban
Montana's 120-day ban was to take effect on Oct. 22, 2019, but a state judge issued a temporary restraining order blocking enforcement just four days before it was to take effect. Three vape shops and the Vapor Technology Association had argued that the ban was too restrictive.
Utah Restricts Sales of Flavored Vaping and Tobacco Products
Utah imposed emergency limits on the sale of flavored nicotine products in October 2019. The measure allows flavored vape and tobacco products to be sold only in specialty tobacco shops, which are regulated and inspected by local health departments in Utah.
The stores must also post notices about the dangers of vaping with unregulated products containing THC — the active ingredient in marijuana.
Cities That Have Banned Juul and Other Vaping Products
More than 250 communities have either banned or restricted the sale of flavored tobacco products, according to the Campaign for Tobacco-Free Kids. Vaping fluids are considered tobacco products by law, but not all of those local restrictions apply to e-cigarettes.
Cities and counties in California have launched some of the largest local bans on Juul and other vaping products. More than 55 jurisdictions in the state either have laws limiting the sale of flavored tobacco products including vape fluids or are considering bans, according to the Campaign for Tobacco-Free Kids.
Fight Over San Francisco Vaping Ban Leads to Shake Up at Juul Headquarters
San Francisco became the first major city in the United States to ban the sale of all e-cigarettes — not just flavored vape fluids — in June 2019.
The city is home to Juul Labs' headquarters, and the company reacted by spending nearly $11 million on a ballot initiative to overturn the citywide ban.
The EVALI outbreak hit later that summer, complicating Juul's public image. The company replaced its CEO and announced it was stopping all advertising. Juul Labs also announced it was pulling its support for the ballot initiative.
In November 2019, voters overwhelmingly rejected a repeal of the ban by a 4-to-1 margin. The ban was cleared to take effect in January 2020, meaning that no sale or manufacture of any vaping product will be allowed in the city.
Los Angeles and L.A. County Take Up Vape Bans
Los Angeles County banned all flavored tobacco products on Oct. 1, 2019. The ban affected menthol cigarettes, chewing tobacco and all flavored vaping products. The Los Angeles County Board of Supervisors also called on the governor to seek a statewide ban.
Online sales were still allowed under the ban.
The Los Angeles Times reported just a week later that the Los Angeles City Council was considering a ban of all vaping devices in the city. The plan would bar the sale of Juul and other e-cigarette devices until the FDA approves them.
San Diego County Banned Juul and other E-Cigs for a Year
The Southern California county's Board of Supervisors voted 3-2 in October 2019 to ban the sale of all vaping devices, including Juul products, in unincorporated areas for one year. The board also passed a permanent ban on flavored nicotine products. The ban did not affect the city of San Diego.
The city of El Cajon announced just one month prior that it might become the first city in San Diego County to ban the sale of vaping products.
Juul and Vaping Bans in High Schools and Colleges
As of October 2019, at least 2,074 colleges prohibited Juul and other vaping devices on their campuses, according to the American Nonsmokers' Rights Foundation. Three states — Arkansas, Washington and New Hampshire — banned e-cigarettes from public school property. Virginia also required local school boards to set up vaping bans for their individual school districts.
Some states have raised the minimum age to buy e-cigarettes and vape products in an effort to prevent minors from vaping.
State Age Restrictions on Vape Purchases
| MINIMUM AGE TO BUY VAPE PRODUCTS | NUMBER OF STATES |
| --- | --- |
| 18 | 28 |
| 19 | 4 |
| 21 | 18 |
When Juul products first came out, they complicated the enforcement of smoking rules on school campuses. The sleek vaping pens resemble a flash drive and can be recharged in a USB port.
In 2018, WTXF-TV reported that a Pennsylvania school district went so far as to ban all flash drives because students were using computers at school to charge Juul e-cigarettes.
Please seek the advice of a medical professional before making health care decisions.
Share This Page:
How can we improve this page?
Thank You for Your Feedback
We appreciate your feedback. One of our content team members will be in touch with you soon.
We appreciate your feedback. One of our content team members will be in touch with you soon.
Who Am I Calling?
Calling this number connects you with a Drugwatch representative. We will direct you to one of our trusted legal partners for a free case review.
Drugwatch's trusted legal partners support the organization's mission to keep people safe from dangerous drugs and medical devices. For more information, visit our partners page.