Juul Ban
In June 2022, the U.S. Food and Drug Administration banned all Juul products from being sold or distributed in the U.S. A few days later, the FDA placed a hold on the ban pending more investigation. Before this, states and municipalities attempted their own bans or restrictions on Juul because of addiction and lung injuries.
Is Juul Banned in the U.S.?
The U.S. Food and Drug Administration banned Juul products from being sold in the U.S. by issuing marketing denial orders (MDOs) on June 23, 2022, but the agency has since put an administrative hold on the ban until it can review Juul's marketing application again.
"On July 5, 2022, FDA administratively stayed the marketing denial order. The agency has determined that there are scientific issues unique to the JUUL application that warrant additional review. This administrative stay temporarily suspends the marketing denial order during the additional review but does not rescind it," the FDA said in its statement.
The FDA has not reversed the ban, but until it finishes its review, Juul can continue to sell its devices and unflavored vaping pods. This means people can still purchase Juul products until the FDA makes its final decision. There has not been an official Juul recall, either. Though if the FDA reinstates its earlier decision, Juul may have to recall or pull its products from the market.
In September 2022, Juul sued the FDA for failing to produce documents the agency used to issue the MDO.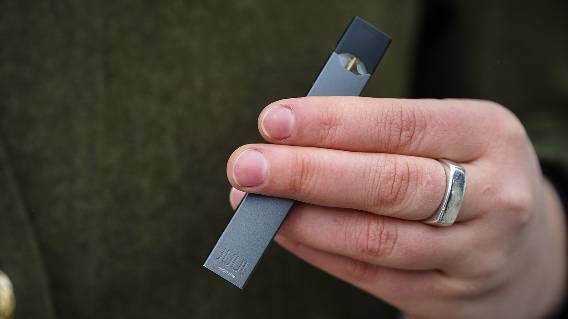 Why Did the FDA Try to Ban Juul?
The FDA temporarily banned Juul products in June 2022 because the company failed to provide enough evidence that its products were "appropriate for the protection of public health." The e-cigarette company has also been accused of fueling the teen vaping crisis by using marketing and advertising tactics to appeal to a younger audience.
Experts say the FDA's Juul ban is part of a more aggressive crackdown on tobacco and nicotine products to reduce cancer deaths in the U.S. Banning Juul, along with reducing nicotine in traditional cigarettes and banning menthol flavored products, could save more lives as a part of President Biden's Cancer Moonshot initiative.
As of March 2023, Juul faced 5,969 lawsuits claiming its products can cause lung damage, could explode or catch fire and were marketed to adolescents who became addicted. In December Juul reportedly agreed to settle 10,000 claims for more than $1 billion and in September 2022 agreed to pay close to $440 million to 33 states following an investigation into its marketing practices.
Juul received preliminary approval in January 2023 for a $255 million settlement to resolve an economic loss class-action lawsuit. In March 2023, Juul reached a $23.8 million settlement with Chicago over claims that the e-cigarette maker deceptively marketed its products and sold vaping products to underage users.
How Does the FDA Review Juul and Other E-Cigarette Companies?
The FDA reviews Juul and other e-cigarettes by evaluating data and information companies submit in a Premarket Tobacco Product Application (PMTA). According to the FDA, "a PMTA must provide scientific data that demonstrates a product is appropriate for the protection of public health." The agency finalized its guidance on the content and format of PMTAs in 2021.
PMTAs contain data that show the health risks of the product and whether it has less risk than other existing tobacco products. It must also have information about ingredients, additives and how the e-cigarette device works as well as all details of how the product is manufactured. Manufacturers include samples of the product as well as its proposed labeling, among other requirements.
The FDA holds meetings with the manufacturer to discuss the PMTA process. Then, the agency checks to see that the application fits the criteria for review. If it meets criteria, the FDA begins its actual review of the data and information provided. Based on this, the FDA will either decide to issue a marketing granted order or a marketing denial order.
The FDA's History of E-Cigarette Regulations
When the first e-cigarettes hit the market in 2007, the FDA didn't have the authority to regulate them. It wasn't until 2016 that the FDA was granted the authority to oversee e-cigarettes. By then, Juul had become the dominant brand on the market.
On Dec. 17, 2018, the National Institutes of Health released a report showing that American teens were vaping in record numbers. Just one day later, the U.S. Surgeon General recommended that local governments ban indoor vaping and levy taxes on e-cigarette sales to protect the nation's youth from what he called an "epidemic" of e-cigarette use.
Juul and E-Cigarette Regulation Timeline
2007

First e-cigarettes appear in the United States

2015

Juul makes its debut

2016

FDA first given authority to regulate e-cigarettes

2017

FDA announced its Comprehensive Plan for Tobacco and Nicotine Regulation

April 2018

FDA issues more than 1,300 warning letter and fines to retailers who illegally sold Juul and other e-cigarettes to minors and requested information from Juul on its marketing and research related to youth initiation and use

July 2019

First cases of

EVALI

(e-cigarette, or vaping, product use-associated lung injury) reported

September 2019

FDA issued a warning letter to Juul for marketing its products to youth and as "safer than tobacco," and FDA begins finalizing premarket authorization requirements for non-tobacco-flavored e-cigarettes

October 2019

Reynolds American's Vuse is the first e-cigarette to submit Premarket Tobacco Product Applications (PMTAs) for FDA authorization, Juul eliminated sales of fruit- and dessert-flavored vape pods

September 2019

Deadline for all e-cigarettes to submit PMTAs to continue marketing and selling in the U.S.

November 2021

FDA finalized rules for Premarket Tobacco Product Applications (PMTAs)

June 2022

FDA issues marketing denial orders (MDOs) for all Juul products based on lack of data in its PMTA, banning their sale and distribution in the U.S.

July 2022

FDA issued a stay on Juul MDOs, effectively putting a stay on a potential Juul recall or market removal

September 2022

Juul sued the FDA for failing to produce documents the agency used to issue the MDO. 
The FDA's ban on Juul products received support from patient advocacy and doctor's groups, including the American Medical Association. Most are hopeful that Juul products will remain off the market.
"AMA policy supports banning the sale and distribution of all e-cigarette and vaping products, with the exception of those approved by the FDA for tobacco cessation purposes. Since declaring e-cigarette use and vaping an urgent public health epidemic in 2018, the AMA has pushed for more stringent policies to protect young people from the harmful effects of tobacco and nicotine use and will continue do so," Dr. Jack Resneck, Jr., AMA's president said in a statement.
Have U.S. States and Cities Banned Juul?
Ahead of FDA's proposed national ban, several states and cities have been trying to ban or limit Juul and other e-cigarettes for years. For example, North Carolina was the first state to sue Juul for allegedly marketing to teens and contributing to the youth vaping epidemic. In 2021, Juul agreed to pay $40 million to the state.
As of July 1, 2022, 25 states have laws in place that restrict e-cigarette use in 100% smoke free venues, according to the American Nonsmokers' Rights Foundation. Over the years, states have attempted issuing bans on all vape vaping products, but most bans are on flavored products and online sales.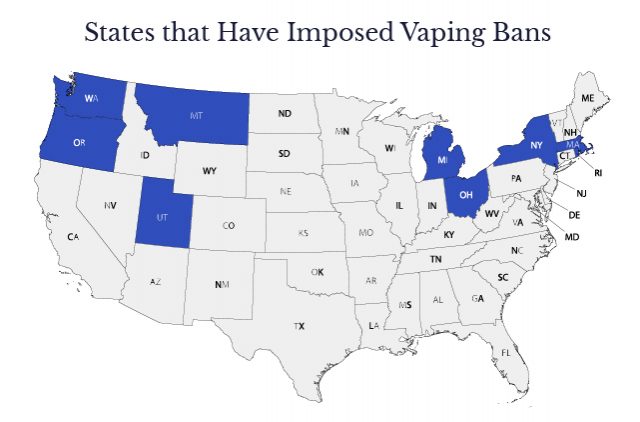 A December 2019 federal law raised the minimum age to purchase e-cigarettes from 18 to 21. But states can set their own age limits.
In most states, people must be 21 to buy vaping products, according to the Public Law Health Center.
Which States Have Tried to Ban Juul or Other E-Cigarettes?
States, counties and cities can often move more quickly than federal regulators. But states have faced legal roadblocks to most attempts to ban Juul and other e-cigarette products.
Most states that had enacted or planned vaping bans had limited success. Several of the state bans have been successfully challenged in court by local vape shops and a vaping trade group, the Vapor Technology Association.
States that have tried banning Juul and other e-cigarettes include:
Massachusetts ordered a temporary ban on the sale of Juul products and all other e-cigarette and vaping products that took effect on Sept. 24, 2019. The order halted sales made online and at brick-and-mortar retailers. It ended Dec. 11, 2019.
Michigan announced a six-month emergency ban on the sale of flavored vaping products that would begin on Sept. 18, 2019. Vaping businesses attempted to stop the ban, but a judge ruled in favor of the governor, allowing the ban to take effect on Oct. 1., but by mid-October the ban was blocked.
New York announced a ban of most flavored vaping products on Sept. 17, 2019. The emergency ban exempted menthol-flavored vape products, but a state appeals court blocked the ban the night before it was to go into effect.
Ohio State Rep. Tom Patton introduced a bill in the Ohio House of Representatives in September 2019 that would ban all flavored vape products in the state, but so far it hasn't happened.
Rhode Island former Gov. Gina Raimondo banned all vape flavors except tobacco in 2020.
Washington health authorities passed an emergency rule banning flavored vape products on Oct. 9, 2019, but The Vapor Technology Association and local vape shops filed a vaping lawsuit on Oct. 21 asking that the Washington State Department of Health be prevented from enforcing the ban.
Oregon Gov. Kate Brown announced a six-month ban on flavored nicotine and cannabis e-cigarette products to start on Oct. 19, 2019, but the Oregon Court of Appeals partially blocked the ban. Under the court order, vape shops would still be allowed to sell nicotine vape products, but the ban would remain in effect for marijuana vaping products.
Montana had a 120-day ban that was to take effect on Oct. 22, 2019, but a state judge issued a temporary restraining order blocking enforcement just four days before it was to take effect. Three vape shops and the Vapor Technology Association had argued that the ban was too restrictive.
Utah imposed emergency limits on the sale of flavored nicotine products in October 2019. The measure allows flavored vape and tobacco products to be sold only in specialty tobacco shops, which are regulated and inspected by local health departments in Utah.
While states have been largely unsuccessful in banning e-cigarettes, many have passed legislation that puts restrictions on e-cigarette sales and use. As of June 30, 2022, all 50 states and U.S. territories except American Samoa and the Marshall Islands have laws that restrict sale to minors, according to the CDC.
Thirty three states require retail licenses to sell e-cigarettes over-the-counter, and 17 states passed indoor air smokefree laws that prohibit e-cigarettes in private worksites, bars and restaurants.
Which Cities Have Banned Juul and Other Vaping Products?
More than 250 communities have either banned or restricted the sale of flavored tobacco products, according to the Campaign for Tobacco-Free Kids. Vaping fluids are considered tobacco products by law, but not all of those local restrictions apply to e-cigarettes.
Cities and counties that banned Juul and other e-cigarettes include:
San Francisco became the first major city in the United States to ban the sale of all e-cigarettes — not just flavored vape fluids — in June 2019. Juul spent million trying to repeal the ban. In November 2019, voters overwhelmingly rejected a repeal of the ban by a 4-to-1 margin. The ban was cleared to take effect in January 2020, meaning that no sale or manufacture of any vaping product will be allowed in the city.
Los Angeles County banned all flavored tobacco products on Oct. 1, 2019. The ban affected menthol cigarettes, chewing tobacco and all flavored vaping products. The city council passed a ban on flavored e-cigarettes, menthol cigarettes and flavored cigars, and it goes into effect in January 2023.
San Diego County's Board of Supervisors voted 3-2 in October 2019 to ban the sale of all vaping devices, including Juul products, in unincorporated areas for one year. The board also passed a permanent ban on flavored nicotine products. The ban did not affect the city of San Diego. The city of El Cajon announced just one month prior that it might become the first city in San Diego County to ban the sale of vaping products.
Cities and counties in California have launched some of the largest local bans on Juul and other vaping products. More than 55 jurisdictions in the state either have laws limiting the sale of flavored tobacco products including vape fluids or are considering bans, according to the Campaign for Tobacco-Free Kids.
Juul and Vaping Bans in High Schools and Colleges
As of July 1, 2022, at least 2,253 tribal colleges and universities prohibited Juul and other vaping devices on their campuses, according to the American Nonsmokers' Rights Foundation. Three states — Arkansas, Washington and New Hampshire — banned e-cigarettes from public school property. Virginia also required local school boards to set up vaping bans for their individual school districts.
Some states have raised the minimum age to buy e-cigarettes and vape products in an effort to prevent minors from vaping. As of June 15, 2022, 43 states require people to be at least 21 to buy e-cigarettes, according to the Public Health Law Center.
Most school districts have policies in place that treat vaping products as contraband, and most districts prohibit vaping under policies and rules of student conduct, according to the National School Boards Association.
Similarly, university boards can vote to ban or restrict e-cigarette use more easily than municipalities because municipalities have to go through more voting processes and the public weighs in on any legislation.
Please seek the advice of a medical professional before making health care decisions.
Share This Page:
How can we improve this page?
Thank You for Your Feedback
We appreciate your feedback. One of our content team members will be in touch with you soon.
We appreciate your feedback. One of our content team members will be in touch with you soon.
Who Am I Calling?
Calling this number connects you with a Drugwatch representative. We will direct you to one of our trusted legal partners for a free case review.
Drugwatch's trusted legal partners support the organization's mission to keep people safe from dangerous drugs and medical devices. For more information, visit our partners page.