E-Cigarette Lawsuits
Juul and other e-cigarette lawsuits claim vaping led to seizures, serious lung injuries or disease and strokes. Many vaping lawsuits claim that high nicotine levels in e-cig fluids or Juul pods led to e-cig addiction, possibly worsening the health dangers for people who have used Juul and other electronic cigarettes.
See If You Qualify for Legal Action
You may be legally entitled to compensation for your injuries. Get a free case review today to find out if you are eligible.
The number of e-cigarette lawsuits has been growing alongside rapidly increased e-cigarette use among teens and young people. Many e-cig lawsuits target Juul Labs Inc., which accounts for about 75 percent of the e-cigarettes sold in the United States.
The U.S. Surgeon General has said there is an "e-cigarette epidemic among youth." Most e-cig lawsuits have been filed by young adults or parents of underage children who were unaware of the side effects of vaping.
INJURIES CLAIMED IN LAWSUITS:
Deceptive marketing to minors
Hemorrhagic strokes, or bleeding in the brain
Lung diseases, including bronchiolitis obliterans organizing pneumonia, or BOOP
Lung injuries
Nicotine addiction
Seizures
Many people who filed lawsuits say they became addicted to using e-cigarettes which led to or worsened their conditions. They claim they were unaware that vape fluids contained high levels of nicotine, a highly addictive substance.
Status of Juul Lawsuits
As of Feb. 19, 2020, there were 331 JUUL lawsuits from around the U.S. combined into a mass litigation in a San Francisco federal court.
The cases represented both class action lawsuits and individual personal injury cases filed in four states. The litigation is expected to continue growing.
Claims in Juul E-Cigarette Lawsuits
Juul marketed its products in a manner to attract minors
The company promoted nicotine use
Its marketing failed to warn that its nicotine products are more potent and addictive than tobacco cigarettes
The company's products are defective and unreasonably dangerous
No trials in the mass litigation have been scheduled yet.
Most of the initial lawsuits in the mass litigation were filed before reports of widespread vaping-related lung injuries and deaths began cropping up in mid-2019. The New York Times reported in October 2019 that several people who were affected had used Juul brand nicotine products before becoming sick.
Big Tobacco Companies Named in E-Cigarette Lawsuits
Juul lawsuits also name Altria and Philip Morris, the Big Tobacco companies that make and market Marlboro and other tobacco cigarettes. Altria purchased 35 percent of Juul in December 2018.
Big Tobacco's Big Lawsuit Settlement
Big Tobacco companies named in e-cig lawsuits were part of the largest civil court settlement in United States history. In the 1998 tobacco settlement, tobacco companies agreed to pay $246 billion over 25 years to settle lawsuits with 46 states, the District of Columbia and five United States territories.
Other e-cigarette lawsuits not included in the Juul mass litigation may also name other e-cigarette makers with ties to tobacco companies. These may include Imperial Brands, which markets Blu e-cigs, and British American Tobacco, which markets four e-cigarettes including Vuse and Vype.
E-cigarette lawsuits are still in the early stages. Lawyers are taking and building cases. There have been no major e-cig verdicts or settlements so far.
Juul Faces Wrongful Death Lawsuit
The first wrongful death lawsuit against Juul was filed in a California federal court in October 2019.
The mother of 18 year old David Wakefield claimed he was first exposed to Juul marketing when he was 15, took up vaping sometimes afterward and continued vaping for years.
The complaint said that a year after he started vaping, Wakefield was hospitalized for three days due to breathing and lung complications. He was so addicted to nicotine that hospital staff had to use nicotine patches to ease his cravings.
Wakefield continued vaping after he was released from the hospital. His father found the teen had died in his sleep early on the morning of August 31, 2019 according to the complaint.
The lawsuit claimed Juul marketed its products to minors and the company's "conduct and the defects in Juul products were a substantial factor in causing Wakefield's death."
Lawsuit Claims Juul Sold 1 Million Contaminated Vape Pods
A former senior vice president at Juul used the company in October 2019, claiming he was fired after he raised alarms over 1 million contaminated, mint-flavored Juul pods shipped to retailers and consumers. The lawsuit did not specify the exact type of contamination.
Siddharth Breja's lawsuit claimed Juul "refused to recall those contaminated pods or even issue a product health and safety warning." It also claimed the company sold expired products over his repeated protests.
The company's former CEO, Kevin Burns, told CBS This Morning in September 2019 that Juul's products were legal and tested for toxicity. He said Juul would not sell a dangerous product.
The lawsuit does not draw any connection between the tainted pods and the 2019 outbreak of EVALI — e-cigarette, or vaping, product use associated lung injury. It also does not draw a link with any other vaping-related injuries.
Lawsuits Blame Vaping for Breathing Problems
Lawsuits are expected from people hospitalized or those who lost loved ones to EVALI. The vaping-related lung injury was first reported in mid-2019 and quickly spread to hundreds of people.
As of Feb. 2, 2020, the U.S. Centers for Disease Control and Prevention had identified 2,758 hospitalized cases of the lung injury. The CDC also confirmed 64 deaths from EVALI at that time.
By early 2020, the CDC had determined that vitamin E acetate was "strongly linked to the EVALI outbreak." The chemical is used as a thickening agent in vape fluids, particularly those fluids containing THC, the principal psychoactive substance in marijuana.
San Francisco, the home to Juul Labs, had already passed a so-called Juul ban that prohibited the sale of vaping products in the city. Other cities and states launched similar vaping bans in the wake of the outbreak.
Juul Lung Disease and Lung Injury Lawsuits
Other e-cig users have filed lawsuits that claim chemicals in the e-cig fluids caused bronchiolitis obliterans organizing pneumonia, abbreviated as BOOP. Still other lawsuits claim vaping caused hemorrhagic strokes, which occur when bleeding suddenly interferes with the brain.
A pair of college students from Alabama filed a lawsuit in 2019 claiming they developed serious lung disorders from vaping Juul e-cigarettes.
Elizabeth Swearingen was a 19-year-old student at the University of Alabama. She had been a cross country athlete in high school. But the lawsuit claims she "now has trouble breathing during the simplest of tasks."
John Thomas Via Peavy was a 19-year-old student at Auburn University who had been using Juul e-cigarettes since he was 17. The lawsuit claims he suffered "severe breathing problems after using Juul." The complaint says Peavy continues to have chest-congestion and a loss of appetite.
The complaint claims that both Swearingen and Peavy unintentionally swallowed vape fluids while using Juul.
Did You Know?
Swallowing e-fluids used in any e-cig or vape pen can be fatal. If you swallow vaping fluids, you should immediately call Poison Control at 800-222-1222 for expert help.
A 2018 study in the journal Thorax found e-cig vapor disables immune cells in the lung and increases inflammation. Researchers said it could increase the risk of chronic obstructive pulmonary disease, or COPD.
COPD symptoms are similar to another lung condition called bronchiolitis obliterans organizing pneumonia, or BOOP. The American Lung Association has warned that BOOP is a potential vaping side effect.
Lawsuit Claims Nicotine in Juul Pods Caused Seizures
In April 2019, the U.S. Food and Drug Administration began investigating reports of seizures related to vaping. Most of the reports involved teens and young adults. Some people who suffered these seizures began filing lawsuits while the FDA investigation was still under way.
Parents of a 15-year-old Florida girl filed a lawsuit against Juul Labs, Altria Group Inc. and Philip Morris USA Inc. in 2019 after the teen suffered seizures they blamed on nicotine ingestion from vaping. Erin and Jared NesSmith claim their daughter became addicted to Juul e-cigarettes. Juul vape pods each contain as much nicotine as a pack of tobacco cigarettes.
The lawsuit claims she unintentionally swallowed e-cig fluids while using Juul.
As of August 2019, the FDA had identified 127 reports of vaping-related seizures or neurological symptoms that occurred between 2010 and 2019. Many of these cases could be a potential e-cig lawsuit.
Nicotine Arms Race
When Juul e-cigarettes first appeared on the market, they delivered nearly two to five times more nicotine than other e-cigarettes.
Seizures are a known side effect of nicotine toxicity. But many teens don't realize nicotine is an e-cigarette danger. A 2019 study in the journal Pediatrics found that 40 percent of teens did not even realize the vape fluids they used contained nicotine.
The FDA found many of the seizure reports it examined involved teens and young adults. Luka Kinard of North Carolina suffered seizures after vaping the equivalent of 80 tobacco cigarettes per day. He was 14 years old at the time and had to check into rehab to break his nicotine habit, according to a report in the Greensboro News & Record.
Lawsuit Claims Man's Juul Use Caused a Massive Stroke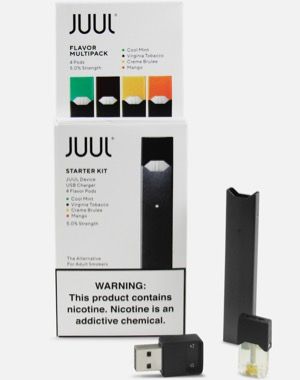 Maxwell Berger sued Juul Labs in 2019 claiming his two-Juul-pods-a-day habit led to his massive stroke before he turned 20. Vaping two of the pods would mean he was ingesting as much nicotine as someone who smoked 40 tobacco cigarettes a day.
Berger said in his complaint that he started using a Juul e-cigarette while still a senior in high school in 2015. He claimed that two years later he was so addicted to nicotine that he was using the device every 10 minutes.
He suffered a massive hemorrhagic stroke in July 2017. Hemorrhagic strokes can occur when a blood vessel bursts near the brain. Blood builds up in the skull, putting pressure on the brain and damaging it.
Berger's lawsuit claimed he needed three brain surgeries and spent 100 days in the hospital as a result. The complaint said he suffers paralysis on his left side, speech impairment and loss of half his vision in each eye.
A 2019 study presented at the International Stroke Conference found e-cigarette users had higher risks of stroke and heart problems than non-users. The researchers found e-cig users had a 71 percent higher stroke risk, 59 percent higher heart attack risk and a 40 percent higher heart disease risk.
How to File an E-Cigarette or Juul Lawsuit
People who file e-cigarette lawsuits have experienced a serious health condition connected to vaping and even from swallowing liquid in an e-cig's pod while vaping.
People who have been diagnosed with addiction, seizures, severe lung conditions or strokes after vaping may be able to file a product liability lawsuit against the company that made the e-cigarette they used.
If you are considering a lawsuit, you should preserve the e-cigarette device as well as any vaping fluids. Additionally, you should document how long you've been vaping, how often you used your e-cigarette in a typical day and how many vape pods you used in a typical day.
Because the medical injuries involved can be complex, people should seek out an attorney with experience in filing medical-related lawsuits.
Product liability lawyers usually offer free consultations to determine if you have a case. They also generally do not charge a fee unless they win your case. Be sure to ask any lawyer you consult about charges up front to make sure.
Please seek the advice of a medical professional before making health care decisions.
How helpful was this page?
How can we improve this page?
How can we improve this page?