E-Cigarettes Lawsuits
E-cigarettes grew in popularity very quickly, but the battery-operated products have the potential to overheat and in some instances, explode, causing severe burns and other permanent injuries to users. In 2016, the FDA stepped in with new regulatory oversight of the industry resulting in lawsuits brought against the federal agency by e-cigarette companies claiming the FDA's actions were unconstitutional.
In 2016, Bloomberg released an article showing that the United States accounted for roughly 43 percent of worldwide e-cigarette sales. The two biggest U.S. manufacturers of this new popular trending product that claims to aid users in kicking traditional cigarette smoking habits are Altria Group Inc. and Reynolds American Inc. The world's second largest e-cigarette market for the estimated $8 billion industry is the United Kingdom.
Partnerships are now in the works between major players in the two biggest markets to more successfully dominate sales and industry research and innovation, as more and more people move over to what is considered the "safer alternative" to traditional cigarette smoking. Reuters reported that e-cigarettes, used for what's called vaping rather than smoking, and other smoking alternatives "are seen as the future of [the] tobacco industry."
But since their release into the U.S. market in 2007, now comprising numerous manufacturers and hundreds of brands, little is known about e-cigarettes, their actual role in smoking cessation and whether they really are as safe as their manufacturers claim. While some professionals advocate for them as a safer alternative for individuals already smoking traditional cigarettes, they also recognize their negative influence over teens who have never previously smoked and may be more likely to smoke in the future due to early e-cigarette use and nicotine exposure. Up until 2016, the FDA paid little attention to e-cigarettes, nor to the age of those using them.
E-cig Sales
The United States accounts for roughly 43% of worldwide e-cigarette sales.
Additionally, lawsuits have recently surfaced that call into question the purported safety of e-cigarettes on users' respiratory systems. Furthermore, the rechargeable, battery-operated devices have been known to overheat and/or explode causing users serious burns and other permanent injuries, and prompting even more litigation. And new FDA restrictions on the production, marketing and sales of the growing product resulted in backlash from some e-cig manufacturers who have taken legal action against the federal agency for its alleged unconstitutional actions.

What's the Problem?
The production, marketing and sales of e-cigarettes were widely unregulated prior to the FDA stepping in in mid-2016. With numerous manufacturers jumping on the e-cig bandwagon, creating hundreds of brands and developing thousands of flavors to jazz-up the e-liquid solutions heated by the device and expelled as a vapor, no rules were set to ensure the safety of users and the public's health and wellbeing at large.
Studies were conducted with results showing disturbing information about harmful chemicals present in e-liquids and their flavorings or created by the vaping process itself—some even known to cause cancer or other serious health problems such as lung disease. Furthermore, e-cigarette products began overheating and even exploding in users' mouths, hands, pockets or charging devices, resulting in serious injuries, some permanent, and/or property damage.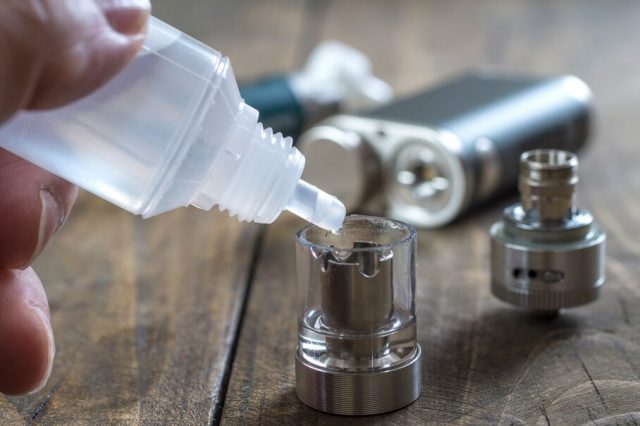 Resulting Lawsuits
E-cigarette-related litigation is growing almost as fast as the popularity of the product marketed as the safer alternative to smoking. In the last few years, multiple e-cigarette users have filed lawsuits against various manufacturers of the battery-operated products alleging that serious injuries were incurred when the devices exploded. Others have claimed a failure on the part of the manufacturers to warn users of potential long-term risks associated with certain hazardous chemical substances included in their e-liquid solutions and flavorings. And, on the flip-side, manufacturers are now suing the FDA over rules it finalized in 2016 in an effort to finally regulate the growing e-cig industry.
Plaintiffs Burned by E-Cigarettes
Battery explosions have resulted in numerous lawsuits being filed against various manufacturers and other businesses involved in the distribution of the alleged defective products. Plaintiffs are claiming to have suffered injuries (some permanent) ranging from severe burns (some requiring skin grafts) and blindness to physical and emotional scarring. One attorney for multiple plaintiffs said that users have a right to expect that proper safety measures are being taken in the design, manufacture and distribution of products sold to the public.
Plaintiffs include:
Jennifer Ries
Jennifer Ries received an award of approximately $1.9 million in damages. While driving to the airport with her husband, Ries plugged the e-cigarette product into the car's charger and liquid started dripping from the battery.  Then there was an explosion that left her permanently scarred from second-degree burns on her legs, buttocks and hand. Ries' case was the first e-cigarette explosion lawsuit to be heard in the U.S.
Vicente Garza
Another plaintiff, Vicente Garza, experienced an explosion while puffing on his e-cigarette. The device exploded near his face leaving him barely able to eat after requiring immediate surgery on his tongue. Garza also lost his left index finger as a result of the alleged product defect. Garza filed suit against manufacturer Flawless Vapes & Supplies, LLC, among other named defendants.
Daniel Califf
A battery explosion blew a hole in Daniel Califf's cheek, also giving him a concussion and setting the room he was in on fire. The distributor, UVAPER Inc., is the main defendant named in Califf's lawsuit.
Rachel Berven
Rachel Berven's e-cigarette exploded spilling battery acid on her and resulting in chemical burns and dental damage.
Josh Hamilton
Josh Hamilton received severe burns on his thigh after his e-cigarette exploded in his pocket.
Leor Domatov
Leor Domatov, a 14-year-old boy, was standing at a kiosk selling vaping products when he was passed an e-cigarette that exploded in his hand and face. Domatov's injuries included a cut through the cornea in his left eye that left him partially blind.
Matthew Bonestele
Matthew Bonestele's lawsuit was filed against LG Chem America Inc. and great Vapes LLC. The lawsuit is the result of alleged injuries he incurred to his right thigh following an e-cigarette explosion. The explosion resulted in third-degree burns and a severe laceration/hole in Bonestele's leg.
Alleged Consumer Fraud
Since their release into U.S. markets in 2007, e-cigarette manufacturers have been promoting the battery-operated vaping product as a safer and healthier alternative to traditional cigarettes, as well as an established aid to quit smoking altogether. Over time, investigations have associated vaping with serious e-cigarette side effects. Users have filed lawsuits accusing e-cig manufacturers of failing to warn people about the dangers associated with their products.
Some growing concerns regarding e-cigarettes include:
Enticing flavors that are said to be targeting youth
Studies that have uncovered numerous chemicals present in e-liquid and flavoring solutions that are known to be hazardous to human health
Ion-lithium batteries powering e-cigarettes that have been known to overheat and/or explode; this is thought to be due to the cylindrical design of the product
Little scientific evidence and a lack of FDA recognition of the product as an aid to quit smoking
Plaintiffs Filing Lawsuits Over False Marketing Claims
A number of cases have been filed across the U.S. against various e-cigarette manufacturers that plaintiffs claim are falsely advertising the benefits of their products. In September 2014, Fumizer LLC was sued by a plaintiff who said the company falsely claimed its vaping product could help users quit smoking. In April 2015, a class action was filed against Lorillard Tobacco Co. claiming that the company was falsely advertising a specific e-cigarette brand called Blu as a safer alternative to traditional cigarettes.
Cox v. Cuttwood, LLC

Jennifer Cox filed a class action lawsuit on November 23, 2015, against a manufacturer of a certain e-liquid, Cuttwood, LLC, claiming that the company had a duty to inform the public of hazardous substances contained in its product. The substances she was referring to are diacetyl and 2,3 pentanedione, in addition to propylene glycol, glycerin, nicotine and flavorings. The complaint alleged that the levels of diacetyl and 2,3 pentanedione present in the specific e-liquid were one of the highest concentrations ever seen in an e-liquid. The complaint further alleged that the inclusion of the toxic ingredients in an e-liquid was completely avoidable. The lawsuit requested retribution in an amount believed to exceed $5 million for damages possibly incurred by the company's "long-standing pattern of employing unfair and deceptive practices with respect to the sale of its products through material misrepresentations and omissions concerning the health, safety and quality" of Cuttwood's e-liquid products. Cox alleged in her complaint that had Cuttwood informed the public that its products contained a "variety of toxins, impurities and related potential health hazards," she and other plaintiffs would not have purchased Cuttwood's "E-Juices" (the manufacturer's name for its e-liquid solution).

Green et al. v. Five Pawns Inc.

The Cox lawsuit was later voluntarily dismissed. But another class action lawsuit against a different e-cigarette manufacturer, Five Pawns Inc. in California, was filed during the same time period containing similar allegations of consumer fraud. It is currently pending in federal court at the Central District of California. The case is presently in the discovery stage with a proposed trial set for October 2018.
FDA Sued Over New E-Cig Rules
In 2016, an industry that was previously largely unregulated was struck with new FDA oversight. The FDA imposed new regulations on the e-cigarette industry as a part of the 2009 Family Smoking Prevention and Tobacco Control Act. This Act granted the FDA authority by Congress to regulate all tobacco- and nicotine-containing products. This includes online sales as well.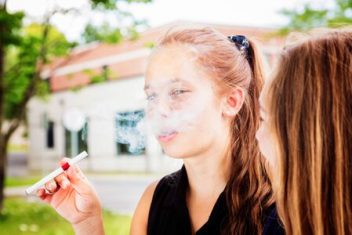 With the new rules, e-cigarette retailers were banned from selling products to anyone under the age of 18. Also, anyone looking younger than 27 is now required to show an ID in order to purchase e-cigarettes and related products. Sales via vending machines are prohibited unless the vending machine is located in an adult-only facility, and distributors are no longer permitted to provide consumers with free samples of their products.
Additionally, all manufacturers were required to register with the FDA, and the federal agency will now have the authority to approve all previously non-regulated products that went on sale after February 15, 2007. E-cigarette companies have until 2018 to submit applications for their e-cig products to undergo FDA review.
Did You Know
Beginning in 2018, product packages and advertisements of all e-cigarette or other electronic nicotine delivery systems (ENDS) products must display a health warning regarding nicotine or a statement that the product is made from tobacco.
First E-Cig Company to Fight Back
Nicopure Labs LLC was the first company involved in the e-cigarette industry to file suit against the FDA. The manufacturer of e-liquids claimed in its lawsuit that the FDA violated the Administrative Procedure Act in its rulemaking process as well as the First Amendment with its new regulation. Nicopure claimed that companies are less concerned about the age restrictions and mandatory labeling of the products but object to  the requirement that all products that went on sale after February 2007 must now undergo a costly FDA approval process because that could put some manufacturers out of business.
Altria Group Inc. Files Suit Over Words
Altria Group sued the FDA in a separate lawsuit over the new rule's ban on words by manufacturers in both the e-cigarette and cigar industries, such as "low," "light," and "mild." As the parent company of the manufacturer of Black & Mild, Altria Group stated in its complaint that the company in no way alleges that its cigars are safer than others. The manufacturer argued that the FDA's new rule will wipe out an iconic brand name.
Lost Art Liquids LLC Follows Suit
Another company, based in California, made a claim similar to Nicopure's in its lawsuit against the FDA. The company alleged that the FDA's new regulatory oversight is in violation of the Regulatory Flexibility Act (RFA) in that it failed to consider small businesses in the e-cigarette industry and the financial impact they would incur as a result of the new requirements.
Delegates Member Sues the FDA
A Republican member in the West Virginia House of Delegates, Larry Faircloth, also sued the FDA over its newly established rules. In his lawsuit against the federal agency, Faircloth claimed that he used e-cigarette products as a way to quit smoking, and with the imposition of the new FDA regulations he is likely to return to traditional cigarette smoking. Faircloth alleged that the FDA's actions will likely cause others to do the same by limiting the availability of e-cigarette and e-liquid products.
Lawsuits Consolidated
A federal court judge in D.C. consolidated a lawsuit brought against the FDA by ten groups, including The Right to be Smoke-Free Coalition and the American Vaping Association, with the Nicopure lawsuit. The groups alleged that the FDA was violating the First Amendment by prohibiting the distribution of free samples. Furthermore, the plaintiffs claimed that the FDA was acting unlawfully in that it was attempting to regulate certain nicotine-free e-cigarette products that do not contain tobacco and are not derived from, or contain actual components of, tobacco.
The FDA offered a response to the court on November 1, 2016, that stated, "Not all nicotine-free e-liquids (NFLs) are subject to the deeming rule. Assuming an NFL is not made or derived from tobacco, it is subject to the rule only if it meets the definition of a 'component or part' – that is, if it is ' intended or reasonable expected' either… (1) To alter or affect [a] tobacco product's performance, composition, constituents, or characteristics; or (2) To be used with or for the human consumption of a tobacco product; and is not an accessory."
Please seek the advice of a medical professional before making health care decisions.
How helpful was this page?
How can we improve this page?
How can we improve this page?