Johnson & Johnson Fined $2.2 Billion over Fraudulent Marketing of Drugs
Fact-Checked
Editors carefully fact-check all Drugwatch content for accuracy and quality.
Drugwatch has a stringent fact-checking process. It starts with our strict sourcing guidelines.
We only gather information from credible sources. This includes peer-reviewed medical journals, reputable media outlets, government reports, court records and interviews with qualified experts.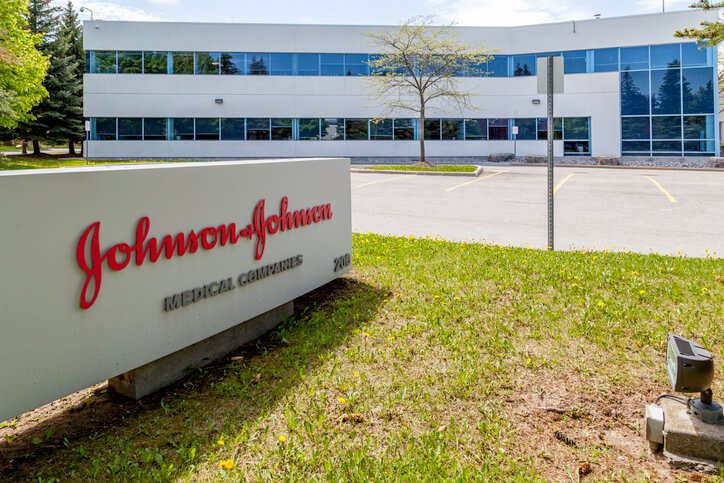 In one of the country's largest health care-related settlements, pharmaceutical giant Johnson & Johnson paid $2.2 billion to settle charges of false marketing, and paying doctors and nursing homes kickbacks for promoting drugs for unapproved uses.
Officials with the U.S. Department of Justice alleged that Johnson & Johnson promoted the use of Risperdal, a drug approved by the Food and Drug Administration only for the treatment of schizophrenia, for controlling symptoms of anxiety and aggression in elderly dementia patients, as well as in children and the mentally disabled with behavioral problems.
Federal investigators said J&J knew patients taking Risperdal were at increased the risk of developing diabetes, but kept quiet about it. The company also promoted off-label uses of Invega, an antipsychotic drug, and Natrecor, a heart medication.
Federal law forbids pharmaceuticals from marketing drugs for uses other than those specifically approved by the FDA. However, doctors may prescribe drugs for such off-label uses, reports show.
During a Monday press conference, U.S. Attorney General Eric Holder said, "Through these alleged actions these companies lined their pockets at the expense of American taxpayers, patients and the private insurance industry."
Johnson & Johnson, and its subsidiary, Janssen Pharmaceuticals, must pay the $2.2 billion to the federal government and several states.
Whistleblower Alerted Federal Officials
Justice officials said the case against J&J started when several whistleblowers, including Bernard Lisitza, a pharmacist and former employee of Omnicare, Inc. — the nation's largest long-term care pharmacy — filed his case against the drug giant in 2003, alleging the company engaged in fraudulent activity.
Reports show that Lisitza claimed J&J participated in a "kickback for switches" scheme from 1999 to 2004 that involved Omnicare. He alleged that Omnicare pharmacists were "induced" by the pharmaceutical giant to switch patients from pre-approved drugs to J&J medications, including Risperdal.
Officials said whistleblowers in three states will collect $167.7 million from the settlement. An attorney in the case called it the largest whistleblower payout in U.S. history.
Side Effects Hidden, but Marketing Continued
Johnson & Johnson and Janssen are accused of promoting Risperdal as safe, while misleading health care professionals to prescribe it for off-label uses. The suit alleges the company also downplayed the health risks the drug posed in the elderly and negative side effects in young boys.
Not only does Risperdal increase the risk of stroke in elderly patients, but it can elevate the hormone in children, including boys, that promotes breast development.
Despite years of warnings from the FDA, Johnson & Johnson and Janssen continued promoting the drug as safe, Justice officials claimed in the lawsuit. Meanwhile, officials at J&J defended Risperdal, saying it is "safe and effective for its approved indications." They also claimed that 20 years of research shows it's "an important treatment option for people with serious mental illness."
Officials also accused Johnson & Johnson of paying kickbacks to Omnicare, the nation's largest pharmacy, which serves nursing homes. The suit alleges Johnson & Johnson also paid doctors to get them to prescribe Risperdal.
Some of the other details of what the drug maker did to market the drug include:
In 2002 and 2003 convinced doctors to use the schizophrenia drug to treat hostility, agitated behavior and confusion in dementia patients.
From 1999 to 2005 created an "ElderCare sales force," paying pharmacists to visit nursing homes to push Risperdal.
Marketed Risperdal to children with attention deficit disorder, obsessive compulsive disorder and autism.
Holder commented on the charges Monday, "Put simply, this alleged conduct is shameful and it is unacceptable, it displayed reckless indifference to the safety of the American people."
A Slap on the Wrist?
Despite the tough talk by Justice officials and more than $2 billion in fines, not everyone feels like the punishment went far enough. One consumer advocacy group thinks this settlement is a slap on the wrist for the drug giant.
Sam Almashat, a member of the nonprofit advocacy group Public Citizen, says the punishment didn't go far enough. "If you look across the board, the way the Justice department prosecutes fraud, it's pretty rare executives are held accountable," he said.
The group points out that Monday's settlement didn't touch global sales for the drug, citing that between 2003 and 2010, Risperdal generated $24 billion in sales for Johnson & Johnson. "That's about ten times the settlement amount they paid," Almashat said.
"Any executive, in any boardroom, in a drug company, can look at this settlement and do the simple math, that in this case, it more than paid to engage in this sort of activity," he said.
Breakdown of Johnson & Johnson Settlement
Janssen and Johnson & Johnson will pay $1.2 billion in civil settlements divided between the federal government and 45 states. J&J will hand over another $149 million for the kickback claims.
Omnicare paid $98 million dollars in 2009 to resolve its liability in receiving those kickbacks.
Janssen will pay $400 in fines.
In addition to the payouts, J&J will also have to stick to a five-year corporate integrity agreement that requires it to change its marketing practices, and submit detailed reports to federal officials about any payments made to doctors.
Lawyers for Johnson & Johnson said the settlements will allow them to focus on the company's future.
J&J Vice President and General Consul Michael Ullmann said, "This resolution allows us to move forward and continue to focus on innovative solutions that improve and enhance the health and well-being of patients around the world."
Share This Page:
How can we improve this page?
Thank You for Your Feedback
We appreciate your feedback. One of our content team members will be in touch with you soon.
We appreciate your feedback. One of our content team members will be in touch with you soon.