Risperdal
Johnson & Johnson's antipsychotic drug Risperdal is a potent prescription medication approved to treat schizophrenia, bipolar disorder and irritability associated with autism disorder. Doctors also widely prescribe the drug for adults, adolescents and children for unapproved uses, including attention deficit hyperactivity disorder (ADHD), anxiety, sleep difficulties and depression. The drug carries several risks, such as male breast tissue enlargement known as gynecomastia. Its label also includes a black box warning, the strongest drug warning in the U.S.
Risperdal (risperidone) is a powerful second-generation — or "atypical" — antipsychotic.  The drug is known as an atypical antipsychotic because it targets serotonin in addition to dopamine, which, experts say, may be why it is more effective than traditional antipsychotics at reducing symptoms. Other atypical antipsychotics include Invega (paliperidone), Abilify (aripiprazole), Zyprexa (olanzapine) and Seroquel (quetiapine fumarate).
Liver Breaks Down Risperdal
Risperdal works by altering the levels of dopamine and serotonin in the brain. The liver breaks down Risperdal into its active chemical ingredients, called metabolites. The metabolites block serotonin and dopamine, helping to balance the chemicals in the brain and decrease psychotic and aggressive behavior. These drugs are designed to work alone but may be combined with other medications like lithium or an antidepressant in the treatment of bipolar disorder.
Approved Risperdal Uses
The U.S. Food and Drug Administration (FDA) first approved Risperdal in 1993 for the treatment of schizophrenia in adults and adolescents. The FDA later expanded its approved uses to include treatment for bipolar disorder in adults and adolescents and autism spectrum disorders in children and adolescents.
This drug is also used "off label"— or without FDA approval — for attention deficit hyperactivity disorder (ADHD), anxiety, sleep difficulties and depression.
A Huge Moneymaker for J&J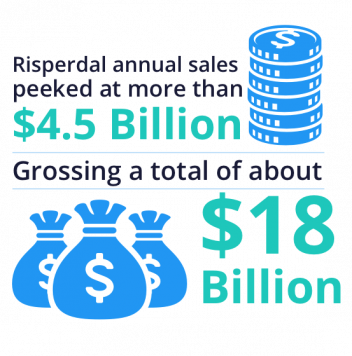 Johnson & Johnson's Janssen Pharmaceuticals unit manufactures Risperdal. The drug was a huge moneymaker for the company, with annual sales peaking at more than $4.5 billion in 2007. Profits declined once J&J lost patent protection, and the company reported only $358 million in name-brand sales in 2012.
Still, it's estimated that the company made $18 billion in profits on Risperdal during the roughly first two decades it was available in the U.S. To get there, J&J allegedly engaged in illegal marketing practices, including marketing Risperdal to children, paying doctors to speak favorably of the drug and paying kickbacks to the country's largest pharmacy for nursing homes for promoting Risperdal to doctors treating nursing home patients.
Taking Risperdal
Risperdal comes as a tablet or liquid. It also is available in a long-acting injection called Risperdal Consta. J&J also released authorized generic risperidone through another of its subsidiaries, Patriot.
Oral Tablets and Solution
Doctors typically instruct patients to take risperidone tablets and solution once or twice daily, with or without food.
Patients usually begin taking Risperdal at a low dose and then increase the amount slowly over time. The prescribed dose for oral use tends to range from 1 mg to 6 mg. Only your doctor can determine the correct dose and frequency for you. To take liquid risperidone, measure the medicine using a dosing spoon or oral syringe.
Risperidone orally disintegrating tablets can be swallowed with or without liquid. These drugs will dissolve in the mouth almost immediately. Before each dose, patients should open the package with clean, dry hands.
Injections
A doctor will inject Risperdal Consta into a patient's upper arm or buttocks every two weeks at a dose typically ranging from 12.5 mg to 50 mg. The medication is gradually released in the body over time, which allows it to work until the next scheduled injection. The medicine's effects last for about two weeks. A doctor may also recommend patients take the tablet form of Risperdal each day for up to three weeks.
Treating ADHD with Risperdal
Doctors regularly prescribe Risperdal to children with ADHD, a condition related to excessive motor activity, inattention and impulsive behavior. These prescriptions are considered off-label. Off-label refers to medication use not approved by the FDA, but there is no law against doctors prescribing a drug for off-label use.
'Minimal Evidence'
More than 3.5 million children diagnosed with ADHD take Risperdal and similar drugs despite increasing reports of serious side effects and little clinical evidence that these medications offer successful treatment for the disorder.
"Doctors are prescribing antipsychotics even though there's minimal evidence that the drugs help kids for approved uses, much less the unapproved ones, such as behavioral problems," Consumer Reports wrote in 2013. "And to make matters worse, the little research there is suggests the drugs can cause troubling side effects, including weight gain, high cholesterol, and an increased risk of type-2 diabetes."
Questions of Diagnosis
Some experts also question if ADHD is over-diagnosed and misdiagnosed. A 2010 Michigan State University study showed that as many as 1 million children may be misdiagnosed with ADHD simply because they are the youngest members in their class at school.
Researchers at Columbia University in New York analyzed prescription data from 2006, 2008 and 2010 and found ADHD diagnosis accounted for about 53 percent of antipsychotic prescriptions for younger children, 60 percent for older kids and 35 percent for teens, according to a 2015 Reuters report.
The trend is not only in the U.S. A study published in January 2017 in The Canadian Journal of Psychiatry analyzed the records of 10,000 youths and found nearly 12 percent of ADHD patients received antipsychotic prescriptions.

Black Box Warning
Another common off-label use of Risperdal is treatment of psychosis, aggression, agitation and behavioral disorders in dementia patients. Serious health risks associated with use in elderly dementia patients prompted the FDA to require Janssen Pharmaceuticals to add a black box warning to Risperdal labeling.
A black-box warning is warning information that appears on the label of a prescription medication to alert patients, caregivers and health care providers of important safety concerns associated with that medication. It is called a black-box warning because its text is surrounded by a black border.
Black-box warnings are the strictest warning that can be carried by a drug, and their appearance on drug packaging indicates that the FDA has determined that use of the drug can lead to serious side effects or death.
Risperdal's black-box warning, issued in 2005, reads as follows:
According to the FDA, this warning is based on clinical evidence gathered from 17 placebo-controlled trials that enrolled 5,106 elderly individuals who suffered dementia-related behavioral disorders. Data from those trials, collected over a period of 10 weeks, showed a 4.5 percent rate of death in patients treated with Risperdal and other atypical antipsychotic drugs, compared with a 2.6 percent risk in patients taking a placebo. While causes of those deaths varied, the majority were cardiovascular deaths, heart failure or sudden death, or infectious conditions, mostly pneumonia.
Gynecomastia and Other Side Effects of Risperdal Use
Unfortunately, what makes Risperdal work is also what can cause side effects. The drug is also linked to a number of complications brought on by abnormal levels of hormones in the body — perhaps the most severe being gynecomastia.
Gynecomastia

Gynecomastia is the enlargement of breast tissue in males, particularly adolescents. Risperdal greatly increases levels of prolactin, a hormone that stimulates production of milk in pregnant women. This increase may be one reason that boys taking these drugs may experience abnormal breast growth.

Movement Disorders

Another side effect of Risperdal is an increased risk of movement disorders such as Extrapyramidal symptoms (EPS) and tardive dyskinesia. These movement disorders are characterized by involuntary and sometimes painful muscle movements. Another disorder, dystonia, also involves uncontrollable sounds.

Diabetes and Weight Gain

The drug is also linked to Type 2 diabetes and high blood sugar. Risperdal users have also reported significant weight gain.

Heart Problems and Death

All antipsychotics carry a risk of sudden cardiac death. The medications carry a black-box warning for increased risk of death in older patients with dementia.
Additional Treatment Options
People suffering from bipolar disorder, schizophrenia and autism spectrum disorders have numerous treatment options. There is no cure, but long-term treatment can help relieve and control symptoms or help people function.
Doctors also prescribe a number of other medications off-label to treat children with autism spectrum disorders, but Risperdal is the only drug approved by the FDA for use in children.
As with all drugs or treatments, caregivers and patients should always discuss possible side effects, benefits and risks in-depth with their health care providers. Every type of medication used to treat bipolar disorder, schizophrenia and autism spectrum disorders carries side effects and risks.
Treatment options for bipolar disorder include:
Mood-stabilizing medications
Anticonvulsant medications
Antidepressant medications
Other atypical antipsychotic medications
Cognitive behavioral therapy
Psychoeducation classes
Treatment options for schizophrenia include:
Antipsychotic medications
Other atypical antipsychotic medications
Psychosocial treatments
Illness management skills
Treatment options for autism spectrum disorders include:
Behavioral and communication therapy
Dietary adjustments
Complementary and alternative medicines
Other Atypical Antipsychotics
To date, the FDA has approved 10 atypical antipsychotics other than Risperdal, including Abilify (aripiprazole), Zyprexa (olanzapine) and Seroquel (quetiapine fumarate).
Even Johnson & Johnson's Janssen Pharmaceuticals unit has an atypical antipsychotic on the market other than Risperdal called Invega (paliperidone).
Invega
Invega is indicated for the treatment of schizophrenia in adults and adolescents and for the treatment of schizoaffective disorder.
Invega is actually a metabolite of Risperdal. In fact, it is the most important metabolite of Risperdal. It essentially has the same physiological effect as Risperdal but is metabolized by the body differently.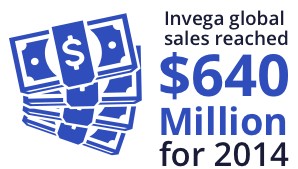 J&J reported global Invega sales of $424 million for 2010 and $640 million for 2014. The drug comes in extended-release tablets. It carries many of the same side effects as Risperdal and, like Risperdal, has been a source of legal issues for J&J.
In 2009, the FDA also approved Invega Sustenna, a once-a-month injection. In February 2011, J&J recalled about 70,000 syringes of Invega Sustenna after discovering cracks in the syringes, which could potentially lead to infections or reduced efficacy in users. The drug brought in $1.5 billion worldwide in 2014.
Please seek the advice of a medical professional before making health care decisions.
How helpful was this page?
How can we improve this page?
How can we improve this page?