FDA Updates Warning against Laparoscopic Power Morcellators
Fact-Checked
Editors carefully fact-check all Drugwatch content for accuracy and quality.
Drugwatch has a stringent fact-checking process. It starts with our strict sourcing guidelines.
We only gather information from credible sources. This includes peer-reviewed medical journals, reputable media outlets, government reports, court records and interviews with qualified experts.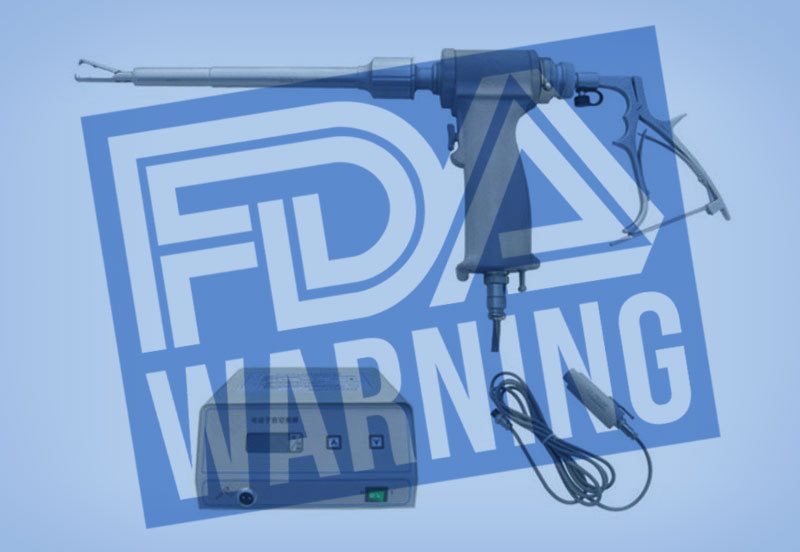 Federal regulators beefed up their opinion about laparoscopic power morcellators on Monday, telling doctors not to use them during hysterectomies and during fibroid removal procedures.
In strengthening a warning that it issued in April, the U.S. Food and Drug Administration said the controversial devices should be not be used for "the vast majority of women" who need these surgeries because it can hasten the development of uterine cancer.
The FDA's decision, which takes effect immediately, comes after nearly a year of debate among medical experts and families that say their loved ones were injured or died following a morcellation procedure. The updated caution stopped short of a full ban of the devices, which studies show spread cancerous tissues and hasten the formation of abdominal cancers in women.
The American College of Obstetricians and Gynecologists praised the FDA's decision, saying the device has a role in gynecological surgery.
"The FDA's primary concern is the safety and well-being of patients and taking these steps will help the agency's safety recommendations to be implemented as quickly as possible," FDA Deputy Director for Science William Maisel said. Maisel is chief scientist at the FDA's Center for Devices and Radiological Health.
"The FDA strongly encourages doctors to inform patients of the risk of spreading unsuspected cancer from the use of these devices in fibroid surgery and discuss the benefits and risks associated with all treatment options."
Doctors Prefer Morcellators
The warning says power morcellators should not be used to remove uterine tissue with suspected fibroids in women who are peri- and post-menopausal and women who are candidates for removing the tissue intact through the vagina or a laparotomy incision. About 60,000 procedures using the device are performed a year.
"If laparoscopic power morcellation is performed in these women, there is a risk that the procedure will spread the cancerous tissue within the abdomen and pelvis, significantly worsening the patient's likelihood of long-term survival," the FDA said.
Doctors prefer morcellators because the device can work with much smaller incisions into the abdomen, which lends toward shorter recovery periods.
The devices are long and slender and have sharp, fast-spinning blades on the end. The blades are highly effective in grinding up and extracting fibroids. However, the centrifugal force of the blades is what can spread and seed cancer if it encounters it.
Without morcellators, doctors can remove uterine fibroids by performing a traditional surgical hysterectomy and myomectomy, a laparoscopic hysterectomy and myomectomy without morcellation or laparotomy using a smaller incision (minilaparotomy), according to the FDA.
No New Evidence
It's unclear why the FDA chose now to update its warning. The same data that cause the regulatory agency to issue its initial warning – that about 1 in 350 women who have a hysterectomy or myomectomy (for fibroid removal) develop an unforeseen uterine cancer – has not changed.
Women who are candidates for minimally invasive procedures that utilize the laparoscopic morcellators are pre-screen for any cancers.
Only cancer-free women can go through with the surgeries. However, evidence suggests that the cancers in some pre-screened women went undetected, and morcellators spread these cancer cells during the operation. Women have shown a tendency to develop a cancer called metastatic leiomyosarcoma.
The FDA's warning does not cover all morcellators, including hysteroscopic devices. The instruments also can remove polyps and fibroid tissue, but these tissues collect in a pouch and do not spread.
Johnson & Johnson's Ethicon, Karl Storz Already Defendants in Lawsuits
Johnson & Johnson, which manufactures several models of laparoscopic morcellators through its Ethicon subsidiary, issued a worldwide recall of the devices in April and asked doctors in April to stop using them.
In the past year, dozens of women came forward and claimed injuries because of the device. They include Dr. Amy Reed, a Boston anesthesiologist and critical care doctor who underwent a hysterectomy in 2013 with a morcellator and later developed uterine cancer. She and her husband Dr. Hooman Noorchashm have been pushing for the device to be banned.
Noorchashm said the FDA didn't consider patient safety in the new warning. He plans to lobby congress for a hearing into the agency's decision.
"This is a massive regulatory failure on the FDA's part," Noorchashm, an assistant professor of surgery at the Sidney Kimmel Medical College at Thomas Jefferson University in Philadelphia, Pennsylvania, told Medscape. "The evidence of avoidable harm is overwhelming."
Manufacturers are already the subject of legal claims related to morcellators. Storz is the subject of at least one legal claim, by Peggy Paduda of Florida. New York's Brenda Leuizzi is suing Ethicon after she developed acute uterine leiomyosarcoma.
The FDA said it is looking at other methods to minimize the risk of cancer spread by morcellation. Among them is developing better detection methods of uterine cancer.
If more adverse evidence about morcellation arises, the FDA could take more action against the devices, it said.
Share This Page:
How can we improve this page?
Thank You for Your Feedback
We appreciate your feedback. One of our content team members will be in touch with you soon.
We appreciate your feedback. One of our content team members will be in touch with you soon.