Power Morcellators
A power morcellator is a surgical instrument used in less-invasive abdominal procedures such as laparoscopic hysterectomies and fibroid removal. The FDA alerted the public that laparoscopic morcellators may be responsible for spreading and upstaging undiagnosed uterine cancer.
A power morcellator is a surgical tool that doctors use to cut bigger chunks of tissue into smaller ones, usually during laparoscopic surgery. Surgeons use them mainly during gynecological procedures such as a laparoscopic hysterectomy (removal of the uterus) and myomectomy (fibroid removal). But surgeons also use them in gallbladder surgery, spleen removal and liver surgery. The devices resemble a drill with sharp blades at the end.
The U.S. Food and Drug Administration cleared the first electric morcellator for sale in 1991. The first laparoscopic morcellator hit the market in 1995. The agency classified the device as a class II and allowed it on the market through the 510(k) process. This process allows devices on the market without extensive clinical trials.
The first of these devices to hit the market was the Cook Tissue Morcellator. After Cook, Karl Storz and Johnson & Johnson released their morcellators based on Cook's approval. These devices also hit the market without clinical trials. Since then, the FDA approved about a dozen more devices.
Doctors perform approximately 600,000 hysterectomies a year in the U.S. Before the FDA warning, surgeons used power morcellators in about 60,000 hysterectomies and myomectomies each year.
According to the Society of Gynecologic Oncology, morcellation was developed to reduce the size of an enlarged uterus so that it could be removed through small laparoscopic incisions or through a woman's vaginal canal. The instrument and technique allows women to avoid a traditional, open and more invasive hysterectomy with more blood loss and potential complications.
But in 2014, the FDA warned that 1 in 350 women who undergo morcellation for hysterectomy or myomectomy may have undiagnosed uterine cancer. The power morcellator may shred cancerous tissue and spread it in the abdominal cavity, worsening the cancer. This means a tumor may go from stage 1 to 4 after morcellation, which makes the cancer difficult to treat and decreases the chances of long-term survival.
In 2017, the FDA reaffirmed its 2014 guidance for laparoscopic power morcellators. The FDA did not change its recommendations for clinicians or recommend a ban based on its findings.
After the FDA initial warning, some hospitals banned the device and some insurance companies stopped covering power morcellator hysterectomy and fibroid removal. Johnson & Johnson, one of the largest makers of morcellators, pulled its devices off the market. According to a 2022 research study, laparoscopic power morcellator use decreased by 9.5% for each quarter elapsed in the post–FDA warning period.
How Does a Morcellator Work?
The term "morcellate" means to cut into smaller pieces. These power morcellators allow surgeons to make minimally invasive incisions of less than 2 centimeters in length and remove fibroids and other tissue through the small incision. These smaller entry points to the body mean doctors do not have to make large cuts through core stomach muscles. This allows quicker patient recoveries, less post-operative pain and fewer wound complications.
Doctors insert the long, tube-like portion of the device into the small incisions in the abdomen, chop up the fibroid or tissue into smaller pieces and vacuum it out of the abdominal cavity.
Power morcellation may sometimes be confused with vaginal morcellation. Vaginal morcellation does not usually involve a power morcellator. Instead, the surgeon cuts the tissue up with a scalpel and removes it through the vagina. In this technique, after morcellation of the uterus or fibroids, doctors put the tissue into a protective bag before cutting.
Without the spinning blades of the power morcellator, tissue that may contain cancerous cells is not spread around the abdominal cavity. The tissue is removed in a protective bag, also minimizing risk.
Laparoscopic Vs. Hysteroscopic Morcellators
Surgeons typically perform two morcellation techniques: laparoscopic and hysteroscopic. Each type of surgery uses a specific kind of device made by manufacturers. The FDA warning for spreading cancerous tissue does not apply to hysteroscopic power morcellators.
The FDA believes that, "when used in accordance with current indications and instructions for use, hysteroscopic morcellators do not pose the same risk as the devices addressed in this guidance because any sarcomatous tissue present does not enter the peritoneal cavity."
Hysteroscopic

Unlike laparoscopic morcellators, hysteroscopic morcellators are designed with tissue traps or collecting pouches. This surgical technique is newer, and studies so far indicate it not linked to increased cases of cancer. When surgeons grind up tissue, it is trapped in a pouch for testing. These devices also use mechanical versus electric energy to both cut and collect the tissue.

Laparoscopic

The FDA warning applies specifically to the laparoscopic procedure, also called "open morcellation." In this technique, surgeons insert the drill-like device through a small incision in the abdomen, then shred and remove the tissue. However, because the shredding occurs in an open environment, bits of tissue – including cancerous cells – can spray into the abdominal and pelvic cavities. The majority of morcellators fall into this category.
Laparoscopic Morcellator Models
| Manufacturer | Models |
| --- | --- |
| Blue Endo | MOREsolution |
| Cook Urological, Inc. | Cook Tissue Morcellator |
| Ethicon, Inc. | Gynecare Morcellex, Morcellex Sigma, Gynecare X Tract |
| Ethicon of FemRx | Diva |
| LiNA Medical | Xcise |
| Lumenis, Ltd. | VersaCut+ Tissue Morcellator |
| KSE America | KSE Steiner Electromechanic Morcellator |
| Karl Storz GmbH & Co. | ROTOCUT G1, G2, Swalhe II SuperCut Morcellator |
| Olympus | PKS PlasmaSORD, VarioCarve Morcellator |
| Richard Wolf GmbH | Morce Power Plus |
Power Morcellator Side Effects and Complications
In addition to the risk of spreading cancer, surgery with a morcellator has other risks. Even noncancerous fibroid tissue may be spread by a morcellator. Noncancerous fibroid tissue can attach to other tissues and organs in the abdominal cavity, causing more fibroids to grow.
Some side effects associated with power morcellator surgery include:
Bleeding or infection
Bowel obstruction
Bruising
Fibroid recurrence
Oozing at incision site
Organ damage
Pain at incision site
Pelvic and abdominal pain
Muscle soreness
Intra-abdominal abscesses
Intestinal obstruction from new fibroids
Additional surgery
Peritonitis (inflammation of the abdominal lining)
Morcellators and Leiomyosarcoma
While power morcellators spread undiagnosed uterine cancer — including leiomyosarcoma (LMS) — they do not cause it. LMS is a type of soft tissue sarcoma that is most common in the uterus, abdomen or pelvis. But it can also develop in muscle, fat, blood vessels and tissues that line or support organs.
MRIs, CT scans and even biopsies are not 100 percent reliable in detecting these hidden cancer cells. But, endometrial cancers are easier to find than more aggressive forms like LMS. Before undergoing surgery, women should have a biopsy of the uterine lining.
For example, the American Association of Gynecologic Laparoscopists reviewed one study of 1,091 power morcellator surgeries and found 12 women had irregular tissue samples not previously diagnosed. Ten of these women had malignant cancer cells. Types of cancer found included uterine myoma, endometrial stromal sarcoma (ESS) and leiomyosarcoma (LMS). LMS is particularly dangerous and aggressive; only 40 percent of women survive for five years.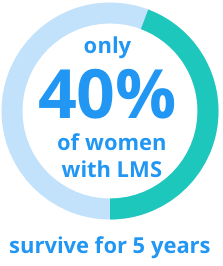 In a pivotal study by Dr. Jason D. Wright and colleagues published in the September 2014 issue of JAMA, authors stressed the importance of screening hysterectomy or myomectomy patients for any history of cancer before laparoscopic power morcellation. Women with any history of cancer should not undergo morcellation.
Anita Austin had laparoscopic power morcellation surgery to remove a uterine fibroid. Doctors told Austin that the procedure would be less invasive and she would recover faster, but they did not inform her of the cancer risk, even though she had previously had thyroid cancer. Her cells were only Stage I, but the procedure sprayed the cells all over her abdomen, effectively advancing the cancer to a higher stage.
"The big issue for me is that no one mentioned cancer," Anita Austin told Fred Hutch News, "Not at all. And I question things. I'd had thyroid cancer [in the early '80s], and I would have probably done something different. Given my history, honestly, I should have been advised not to do it."
Frequently, LMS is diagnosed post-surgery after pathologists examine tissue samples. Unfortunately, if a power morcellator was used to extract that tissue, the hidden cancer may have spread, becoming metastatic LMS. This significantly worsens the patient's likelihood of long-term survival. The rate of five-year survival drops from 40 to 50 percent to 4 to 16 percent.
Treatment for LMS typically involves a combination of surgery, chemotherapy and radiation therapy.
Uterine Cancer Causes
Uterine cancer occurs when cells within the uterus begin to grow abnormally, multiplying rapidly to form tissue masses known as tumors. It is the fourth most common cancer among women, behind breast cancer, lung cancer and colorectal cancer.
About 95 percent of uterine cancers are cancers of the endometrium, the inner lining of the uterus. Endometrial cancer is one of the most curable cancers, with five-year survival rates of more than 80 percent. The remaining 5 percent are sarcomas, which are much more aggressive.
While the exact causes of uterine cancer are not known, a number of risk factors have been identified that can increase a woman's chances of developing the disease. Among these are high levels of estrogen in the body, being over age 40, obesity and a family history of the disease. The risk of uterine cancer rises with age. Women over age 65 had the most risk. The FDA does not recommend power morcellation for women in this age group.
Some drugs may increase risk as well, including those used in hormone replacement therapy and some medications used in the treatment of breast cancer.
Uterine Cancer Symptoms after Morcellation
When doctors diagnose cancer after morcellation, it is typically Stage III or IV — a very advanced stage with poor prognosis. A tumor is considered Stage IV when it has spread to the lymph nodes, bladder, rectum and/or distant organs. Some patients had LMS spread to their spine or lungs.
Some symptoms that could signal upstaged cancer after morcellation include:
Vaginal bleeding or spotting, between periods or especially after menopause
Vaginal discharge
Pelvic or abdominal pain or a mass
Pelvic or abdominal swelling
Weight loss
Nausea or vomiting
If tumors affect other organs or bones such as the spine, symptoms could include back pain or nerve issues.
FDA Power Morcellator Warning
In April 2014, the FDA first warned about the risk of power morcellators spreading cancer. The FDA reviewed data that showed the risk of spreading cancer was 1 in 350 — much higher than previously suspected rates of 1 in 10,000.
"Because there is no reliable method for predicting whether a woman with fibroids may have a uterine sarcoma, the FDA discourages the use of laparoscopic power morcellation during hysterectomy or myomectomy for uterine fibroids," the FDA said in its safety communication.
After reviewing additional studies, in December 2017 the FDA published a white paper to reaffirm its 2014 decision and added that 1 in 225 to 1 in 580 women who undergo hysterectomy or fibroid removal may have uterine sarcoma. Its instructions for health care providers did not change, and it did not recommend a ban.
The FDA also found that morcellator use declined since the 2014 warning.
The FDA recommends women consider the following before or after hysterectomy or fibroid removal:
Ask the doctor to explain all available options and risks for treatment.
Ask the doctor if he or she is recommending a laparoscopic hysterectomy or myomectomy and if the doctor plans to use a power morcellator. Ask for an explanation of risks and benefits.
If you already had a hysterectomy or myomectomy for fibroids, your doctor will submit tissue samples to a lab. If the test is normal, you should still have routine follow-ups with your doctor — especially if you have symptoms or discomfort.
Discuss possible alternative surgical and nonsurgical treatments for fibroids with your doctor.
The FDA released safety guidance, required a black box warning for all product packages and required a patient consent form that explains risks. However, it did not recommend a ban on the device.

Johnson & Johnson Pulls Morcellators from Market
Immediately following the FDA's announcement in April 2014, Johnson & Johnson withdrew its morcellators from the market. J&J's subsidiary, Ethicon, was one of the largest manufacturers of the devices.
Ethicon morcellator brands pulled include:
Gynecare Morcellex Tissue Morcellator
Morcellex Sigma Tissue Morcellator System
Gynecare X-Tract Tissue Morcellator
Why Did It Take So Long to Warn About Risks?
Critics questioned why the FDA took 23 years to warn about the risk of spreading cancer. A February 2017 report from the Government Accountability Office (GAO) revealed that the FDA knew about the risk as early as 1991.
Poor adverse event reporting systems and lack of reporting from doctors and hospitals contributed to the FDA's inability to warn about the risk of power morcellators sooner, the GAO found.
Events Leading UP to FDA Warning:
1995

FDA clears first laparoscopic morcellator through 510 (k) process.

2009

American College of Obstetricians and Gynecologists (ACOG) recommends vaginal hysterectomy as the best technique with better outcomes and fewer complications than laparoscopic or abdominal hysterectomy.

2012

Researchers at Brigham and Women's Hospital publish a study showing the rate of hidden leiomyosarcoma to be nine-fold higher than previously thought.

October 2013
December 2013

The New York Times publishes an article about Reed's case, prompting discussions about morcellator risks and benefits.

December 2013

The Society of Gynecologic Oncology (SGO) issues a statement that health care providers should inform patients of risks and should not morcellate tissue in patients with possible cancer.

January 2014

American Association of Gynecologic Laparoscopists (AAGL) creates a task force to examine the risks of power morcellators.

February 2014

Temple University Hospital requires morcellation to be performed in a bag to catch tissue. Fibroids bigger than 7 inches must be removed whole, through a large incision.

February 2014

The Lancet calls for urgent attention to the risk of morcellation and calls the risk of spreading disease unacceptable.

March 2014

Brigham and Women's Hospital requires doctors to morcellate tissue within a bag.

April 2014

Barbara A. Goff, SGO President, says morcellation carries less risk of blood loss, infection and blood clots while reducing recovery time. She recommends doctors weigh the risks of these complications against the smaller risk of sarcomas.

April 2014
Alternatives to Open Power Morcellation
Since the FDA warned that power morcellation may spread undiagnosed uterine cancer, many patients are now looking for alternatives to the risky procedure.
There are a few different types of surgery that a patient and doctor may consider:
Power Morcellation in a Bag

Surgeons insert a plastic bag into the abdominal cavity to enclose the space where surgery will take place. Surgeons then grind up the tumor with a power morcellator in the bag to reduce the risk of spreading bits of cancerous tissue.

Manual Morcellation in a Bag

This technique also uses a bag inserted through the abdomen. Surgeons cut out fibroids or tumors with a scalpel inside the bag and take the specimen out of the body in the bag through small incisions.

Vaginal Hysterectomy

In this technique, surgeons use scalpels to cut the entire uterus and remove it through the vagina, avoiding the spread of cancerous cells. If the uterus is too big to remove through the vagina, the surgeon will cut it into smaller pieces using a scalpel and remove it.

Abdominal Hysterectomy & Myomectomy

Surgeons use these techniques to remove the uterus and fibroids whole through an incision in the abdomen, minimizing the chance of cancer spread. The main disadvantage to these procedures is a longer recovery time and greater chance of infection and pain because of the larger incisions.

En Bloc Resection

In cases of cervical or other cancer in the pelvis, doctors can cut out the uterus, cervix, bladder and part of the rectum. These organs are removed whole to avoid spreading cancer. Because it is major surgery, complications may be an issue.
FDA Clears New Containment System
In April 2016, the FDA allowed the marketing of the first-ever containment system for use with certain laparoscopic power morcellators, called PneumoLiner. The purpose of the PneumoLiner is to isolate uterine tissue that is not suspected to contain cancer.
"The device consists of a containment bag and a tube-like plunger to deliver [PneumoLiner] into the abdominal cavity where the tissue to be removed is placed in the bag and the bag is sealed and inflated."
The inflation during laparoscopic surgery allows a working space and visualization to help prevent breakage of the containment bag by the morcellator. Laboratory testing was conducted to simulate its actual use and worst-case scenario conditions and outcomes. Certain risks associated with PneumoLiner include distribution of the morcellated tissue, injury to surrounding tissues or organs, infections, and a prolonged surgery. Only physicians who have successfully completed the company's training program are authorized to use the device.
Although the FDA confirmed that the device is effective for its intended use as a tissue containment system, the agency required its manufacturer, Advanced Surgical Concepts Ltd. located in Bray, Ireland, to warn patients and health care providers that "PneumoLiner has not been proven to reduce the risk of spreading cancer during these [limited gynecological laparoscopic surgical] procedures."
Fact
Manufacturers are required to warn patients that the PneumoLiner hasn't been proven to reduce the risk of spreading cancer.
This warning comes in the form of a black box warning (or boxed warning), similar to the recommended warning for laparoscopic power morcellators. The labeling for the device must also advise that PneumoLiner is contraindicated in certain patient populations where the patient is suspected of having tissue containing cancer (malignancy), or for the removal of uterine tissue containing suspected fibroids in patients who are peri- or post-menopausal or are candidates for full (in one lump, whole) tissue removal.
The FDA said that it reviewed PneumoLiner through its "de novo" classification process, which allows for sales of some new, low- to moderate-risk medical devices. Dr. William Maisel, deputy director for science and chief scientist at the FDA's Center for Devices and Radiological Health, said that the new device "does not change [the FDA's] position on the risks associated with power morcellation."
Maisel concluded that the FDA is "continuing to warn against the use of power morcellators for the vast majority of women undergoing removal of the uterus or uterine fibroids."
Please seek the advice of a medical professional before making health care decisions.
Share This Page:
How can we improve this page?
Thank You for Your Feedback
We appreciate your feedback. One of our content team members will be in touch with you soon.
We appreciate your feedback. One of our content team members will be in touch with you soon.
Who Am I Calling?
Calling this number connects you with a Drugwatch representative. We will direct you to one of our trusted legal partners for a free case review.
Drugwatch's trusted legal partners support the organization's mission to keep people safe from dangerous drugs and medical devices. For more information, visit our partners page.