California Methane Gas Leak Leads to Sickness and Lawsuits
Fact-Checked
Editors carefully fact-check all Drugwatch content for accuracy and quality.
Drugwatch has a stringent fact-checking process. It starts with our strict sourcing guidelines.
We only gather information from credible sources. This includes peer-reviewed medical journals, reputable media outlets, government reports, court records and interviews with qualified experts.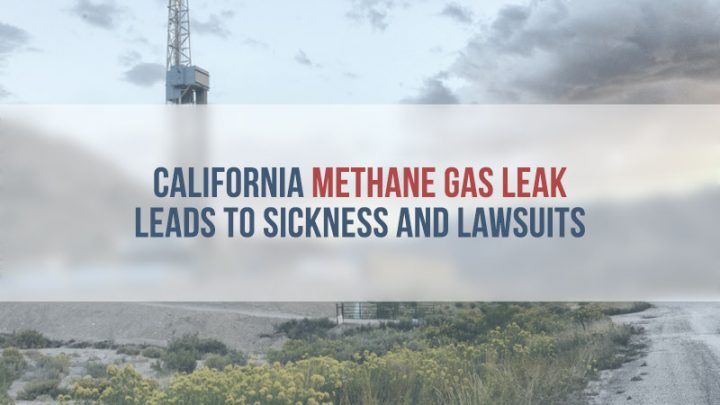 The largest natural gas leak in California's history sickened residents and forced more than 1,600 families to leave their homes, and 1,700 more are expected to vacate the area. Families suffered health problems from the leak and filed lawsuits against Southern California Natural Gas Co. for negligence, and the city of Los Angeles is also taking the gas company to court for failing to warn residents.
The massive leak has been spewing methane — a greenhouse gas 70 times more potent than carbon dioxide — from the SoCal Gas Aliso Canyon storage facility since late October and shows no sign of stopping.
The site of the leak is near the Porter Ranch area of Los Angeles which is home to more than 21,000 people. So far, residents report a number of health problems they say are caused by the gas, including nausea, dizziness, headaches, vomiting and shortness of breath because of the gas.
SoCal Gas warned that a fix to plug up the well could take several months to complete.
"It's wholly unacceptable to have a pollution source of this magnitude going for upwards of six months, which is what the projections are," Tim O'Connor, the director of California Oil and Gas at the Environmental Defense Fund told NPR. "Everybody is throwing everything they can at it to try to stop it, but it's obviously not been fast enough for the people of Porter Ranch or the climate of the planet."
So far, the amount of gas leaked into the atmosphere in about two months is the same as driving 160,000 cars for a year, according to a report from the California Air Resources Board. According to the board, this "underscores the urgency of stopping the gas leak."
Aliso Canyon is the largest natural gas storage facility in the country, and California has the largest natural gas reserve in the word.
Porter Ranch Residents Deal with Gas-Induced Sickness
The gas leak displaced thousands of Porter Ranch residents, some elderly and in poor health. Many normally healthy residents complained of severe nausea, dizziness, headaches and other troubling health issues. The gas-induced health complaints led some resident to file lawsuits.
Health officials say odorants added to natural gas called mercaptans can cause the short-term health problems.
Porter Ranch residents Brian and Christine Katz, parents of five children, filed suit against the gas giant after their healthy 2-year-old daughter ended up in the ICU for four nights with a several health issues, including respiratory problems.
"She experienced some form of seizure and is now listless, suffering from persistent rashes, and painful nausea," the Katz's lawsuit said, according to CNN. The couple's other children and two dogs also fell ill.
Officials are still not sure how toxic the leak is, but initial findings are troubling. While the Los Angeles County Department of Public Health claimed residents would not suffer long-term health problems, the Air Quality Management District found high levels of benzene — a known carcinogen — in the air.
"We found benzene levels three to five times higher than what we see in urban Los Angeles," Sam Atwood, the Air Quality Management District's media office manager, told CNN. "Benzene is a concern because it is known to cause cancer in humans."
City Sues SoCal for Failure to Warn Residents
Residents are not the only ones filing lawsuits against the natural gas company. The city of Los Angeles is suing SoCal for taking too long to warn residents, NPR reported.
Residents called 911 complaining about the smell of gas and suffering from headaches and nosebleeds. According to NPR, operators told residents the situation was normal. The company "made all the proper notifications to the agencies" but failed to tell the community about the leak, Jimmie Cho SoCal's senior vice president of gas operations and system integrity told NBC4.
"There was a communications gap between our operations group and the call center," Cho said.
In the meantime, the area above the leak site is a designated no-fly zone because plane engines that come in contact with the gas could start fires. Steve Bohlen, the state oil and gas supervisor, ordered SoCal Gas to submit plans and schedules for drilling a relief well to help stop the leak.
Until then, residents will be forced to deal with the leak and accompanying health concerns. After gas crews stop the leak, officials will tally the possible health and environmental damage.
Update
California Gov. Jerry Brown declared a state of emergency on January 8, and some activists are calling the leak "the BP spill on land." SoCal Gas told CNN, "the leak doesn't pose an imminent risk."
Share This Page:
How can we improve this page?
Thank You for Your Feedback
We appreciate your feedback. One of our content team members will be in touch with you soon.
We appreciate your feedback. One of our content team members will be in touch with you soon.