FDA Approves Morcellator Bag to Prevent Cancerous Tissue Spread
Fact-Checked
Editors carefully fact-check all Drugwatch content for accuracy and quality.
Drugwatch has a stringent fact-checking process. It starts with our strict sourcing guidelines.
We only gather information from credible sources. This includes peer-reviewed medical journals, reputable media outlets, government reports, court records and interviews with qualified experts.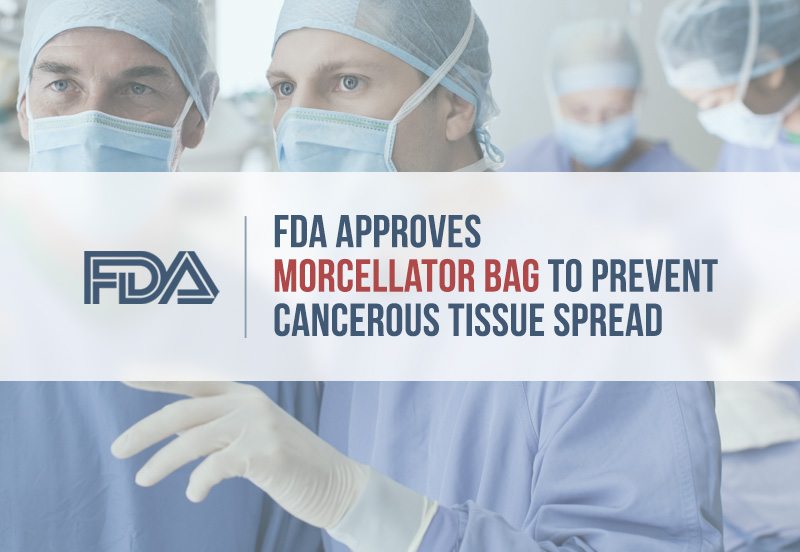 The U.S. Food and Drug Administration allowed an Irish company to market its new power morcellator tissue collection system. The bag is one-of-a-kind and promises to trap potentially cancerous tissue and prevent it from spreading in the body during laparoscopic hysterectomies and fibroid removals.
Advanced Surgical Concepts Ltd developed the tissue containment system for use called the PneumoLiner last year. Before performing minimally invasive surgery with a power morcellator, surgeons insert the tissue bag into the abdomen with a tube-like plunger. Surgeons place the tissue they intend to morcellate in the bag. The bag is then inflated and sealed, trapping all bits of tissue and fluids for removal.
While the FDA approved the bag for sale, it stands by its 2014 warning that power morcellators used to cut up tissue into small chunks during minimally invasive surgery are still risky for the majority of women. As many as 1 in 350 women may have undiagnosed uterine cancer that can be cut up and spread in the body by morcellators.
Johnson & Johnson pulled their three morcellators off the market after the warning, but about 30 women filed lawsuits against the company's Ethicon unit claiming their cancer was worsened by the devices.
"The PneumoLiner is intended to contain morcellated tissue in the very limited patient population for whom power morcellation may be an appropriate therapeutic option – and only if patients have been appropriately informed of the risks," William Maisel, M.D., M.P.H., deputy director for science and chief scientist at the FDA's Center for Devices and Radiological Health, said in a statement. "This new device does not change our position on the risks associated with power morcellation. We are continuing to warn against the use of power morcellators for the vast majority of women undergoing removal of the uterus or uterine fibroids."
The new bag is not guaranteed to stop the spread of cancer. In fact, the packaging of the product must also list several warnings, including one that reads, "The use of this containment system has not been clinically demonstrated to reduce this risk."
FDA also requires physicians to complete a company training program before using the containment system.
Bag Leakage Still Possible
There is no proof the PneumoLiner is effective, and one new study shows tissue and fluid could still leak from the bag.
The February 2016 study published in the American Journal of Obstetrics and Gynecology by Cohen et al. revealed nearly 1 in 10 containment bags could leak fluids and tissue. In the study, seven out of 76 patients had fluid spread, but the study did not name the containment system used.
"These instances do represent potential opportunities for tissue dissemination," the authors wrote. However, they add that in traditional surgical techniques there is also a chance for fluid spread and recommended further refinement of the containment technique.
Frank Bonadio, Advanced Surgical's CEO, said the PneumoLiner is safe and provides complete containment.
Morcellator Controversy Continues
Controversy surrounding power morcellators began after the FDA issued its 2014 warning, and a number of doctors are still divided.
Some argue the devices cut down on complications and recovery time from traditional surgeries. Others like Dr. Hooman Noorchashm — whose wife, Dr. Amy Reed was diagnosed with leiomyosarcoma after a morcellator hysterectomy — want morcellators removed from the market.
"FDA ought to have classified this as a [high-risk] Class III device and taken it through the Premarket Approval process," said Noorchashm in an email to Peter Lurie, the FDA associate commissioner for public health strategy and analysis.
Shortly after the FDA warning, Johnson & Johnson's Ethicon unit withdrew its devices from the market. Several insurance companies stopped paying for the procedure and a number of hospitals stopped using the devices.
Share This Page:
How can we improve this page?
Thank You for Your Feedback
We appreciate your feedback. One of our content team members will be in touch with you soon.
We appreciate your feedback. One of our content team members will be in touch with you soon.