Study: Hernia Mesh Complications May Increase Over Time
Fact-Checked
Editors carefully fact-check all Drugwatch content for accuracy and quality.
Drugwatch has a stringent fact-checking process. It starts with our strict sourcing guidelines.
We only gather information from credible sources. This includes peer-reviewed medical journals, reputable media outlets, government reports, court records and interviews with qualified experts.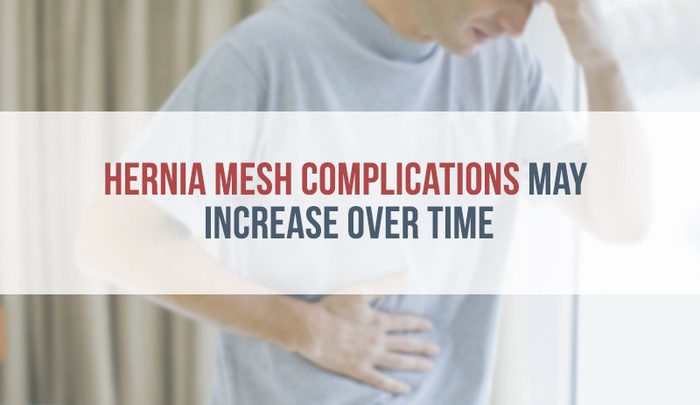 Patients undergoing incisional hernia repair with hernia mesh may have a lower risk for hernia recurrence, but complications can occur up to five years after surgery, a new study says.
The study by Dunja Kokotovic and colleagues published in JAMA Surgery and presented at the 2016 Clinical Congress of the American College of Surgeons showed that patients with hernia mesh have a lower rate of hernia recurrence.
But, it also showed that patients with mesh suffered more complications — some were major and required additional surgeries.
"In this registry-based nationwide cohort study including 3,242 patients, mesh repair was associated with a lower risk of reoperation for recurrence compared with nonmesh repair over a 5-year follow-up period," study authors wrote. "However, a risk of long-term mesh-related complications for open and laparoscopic mesh repairs partially offset these benefits."
At five years, the rate of recurrence was significantly lower for those who had mesh repair — about 12 percent compared to 17 percent for those without mesh.
But, the rate of complications increased over the course of five years. Out of the 3,242 study participants, 1,050 required subsequent abdominal surgery. Major complications included bowel obstruction, perforation and bleeding.
Other serious complications included pain, non-healing wounds, infections, fluid buildup and organs fused together (fistulas). Larger pieces of mesh increased the risk of complications.

Long-Term Safety of Mesh Questioned
Doctors perform about 800,000 hernia repairs in the U.S, and surgeons consider hernia mesh repair the gold standard of care. Despite the complications in the study, its authors said they still recommend mesh because of lower recurrence rate.
"Whenever you decide to do something to optimize one variable, there will be unanticipated consequences," Dr. David Soybel, who did not participate in the study, explained during the American College of Surgeons session. "It's always going to be a trade-off, and the way you make those decisions is by taking into account all the relevant conditions. It's not about mesh vs not mesh. It's about the overall health outcomes balanced against each other."
But, the study data leads other doctors to question the risks and benefits.
Dr. Kamal Itani of the VA Boston Healthcare System published commentary on the study in JAMA.
"These data suggest that the risk–benefit ratio of mesh is not as clear as previously thought," Itani wrote. "This calls into question the current practice of liberal use of mesh, even for repair of small hernias, when mesh is the norm for all incisional hernia repairs of any size. This finding supports previous calls to reconsider the use of mesh for smaller hernia defects."
Kokotovic and colleagues highlighted the lack of trial data on hernia mesh in the U.S. The U.S. Food and Drug Administration's 510(k) premarket notification clearance process is partially to blame, they wrote.
"Demonstration of long-term safety is required for drugs in the United States but not for some devices, such as hernia meshes, which are not subject to similarly strict documentation," study authors wrote. "Thus, the complete spectrum for the risks and benefits of mesh used to reinforce hernia repair is not known because there are very few clinical trial data reporting hernia outcomes as they pertain to mesh utilization."
Hernia Mesh Patients File Lawsuits
Doctors aren't the only ones who question the safety data.
In 2016, the FDA published information about hernia mesh complications.
"The most common adverse events following hernia repair with mesh are pain, infection, hernia recurrence, adhesion, and bowel obstruction," the agency wrote on its website. "Some other potential adverse events that can occur following hernia repair with mesh are mesh migration and mesh shrinkage (contraction)."
Some patients who suffered complications after hernia mesh surgery filed lawsuits against mesh makers. The lawsuits claim the mesh is faulty and manufacturers did not warn doctors or patients about complications.
Companies including Atrium, C.R. Bard and Johnson & Johnson's Ethicon face thousands of hernia mesh lawsuits.
Bard faced more than 3,000 mesh lawsuits because of its Kugel Hernia Patch. In 2011, the company settled about 2,600 lawsuits for $184 million.
Lawsuits continue to build against Atrium for its C-QUR Mesh and Ethicon for its Physiomesh.
Share This Page:
How can we improve this page?
Thank You for Your Feedback
We appreciate your feedback. One of our content team members will be in touch with you soon.
We appreciate your feedback. One of our content team members will be in touch with you soon.