EzriCare Eye Drops Recalled Amid Infections, Death
Fact-Checked
Editors carefully fact-check all Drugwatch content for accuracy and quality.
Drugwatch has a stringent fact-checking process. It starts with our strict sourcing guidelines.
We only gather information from credible sources. This includes peer-reviewed medical journals, reputable media outlets, government reports, court records and interviews with qualified experts.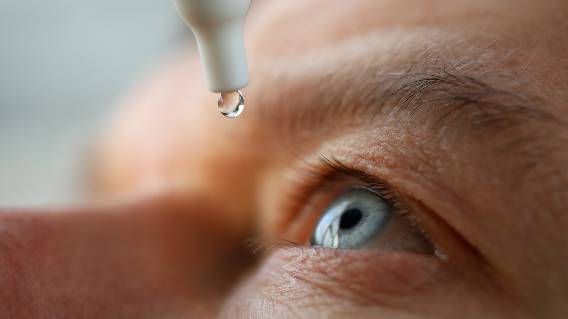 Global Pharma Healthcare issued a recall of Artificial Tears Lubricant Eye Drops because of possible bacterial contamination leading to infections and deaths, the U.S. Food and Drug Administration announced last Thursday. The FDA warned consumers to stop using the eye drops and not to purchase them. 
The company sold the drops online across the U.S. under the EzriCare & Delsam Pharma brands. Recalled products were sold over the counter and include all unexpired lots of EzriCare Artificial Tears and Delsam Pharma's Artificial Tears. Using these products contaminated with Pseudomonas aeruginosa bacteria could increase the risk of infection and lead to blindness or even death, according to the FDA.
Pseudomonas aeruginosa is a bacterium that can cause lung and blood infections, as well as infections after surgery. It's typically found in the environment in contaminated soil or water. These bacteria caused about 32,600 infections in hospitalized patients and 2,700 estimated deaths in the U.S. in 2017, according to the Centers for Disease Control and Prevention. 
"EzriCare LLC first received notice of the CDC's ongoing investigation into a multistate cluster of Pseudomonas aeruginosa infections on Jan. 20, 2023," EzriCare said in a statement. "Nonetheless, we immediately took action to stop any further distribution or sale of EzriCare Artificial Tears." 
The company said its only role was to design the label and market to its customers, and that it had no role in the actual product formulation. Injured consumers, however, have begun filing lawsuits naming EzriCare, Delsam Pharma and Global Pharma Healthcare. 
Did you develop an eye infection or suffer vision loss after using EzriCare or Delsam Artificial Tears?
CDC Links EzriCare Tears to Infections
The CDC investigated an outbreak of rare, drug-resistant Pseudomonas aeruginosa infection cases in 11 states from May 17, 2022, to Jan. 19, 2023. The specimens came from inpatient and outpatient health care facilities. Patients in the sample group suffered permanent vision loss, hospitalization and death from sepsis.
Most of the patients used artificial tears prior to the infection. The CDC found the brand most used was EzriCare Artificial Tears. It's a preservative-free product that comes in multidose bottles. In lab tests, the CDC identified the presence of bacteria in opened bottles of the tears.
"As of Jan. 31, 2023, CDC identified 55 patients in 12 states with infections that have been linked by epidemiologic and laboratory evidence to use of EzriCare Artificial Tears. Associated adverse events include hospitalization, one death with bloodstream infection, and permanent vision loss from eye infections," the FDA said in a statement. 
Testing of EzriCare Artificial Tears is ongoing, according to the CDC.
FDA: Company Violated Good Manufacturing Practices 
The FDA recommended the artificial tear recall because India-based Global Pharma, the product's manufacturer, had violated current good manufacturing practice regulations, also called CGMP. Violations included formulation issues such as making a product in multiuse bottles without a preservative, lack of microbial testing and lack of controls such as tamper evident packaging. 
The regulatory agency also placed the eye drop manufacturer on an import alert because of its CGMP violations and inadequate responses to records requests. The import alert prevents products from entering the U.S.
Injured Consumers Begin Filing Lawsuits
People who used the contaminated products and received medical treatment for an infection or infection complications such as vision issues are filing EzriCare lawsuits. Mosley vs. EzriCare LLC, Delsam Pharma LLC, Global Pharma Healthcare Private LTD and Aru Pharma Inc., for example, was filed on February 4, 2023 in the United States District Court Eastern District of Kentucky.
The Mosley class action complaint notes "Defendants' artificial tears are adulterated and contaminated with 'a rare, extensively drug-resistant strain of Pseudomonas aeruginosa bacteria.' The presence of the Pseudomonas aeruginosa bacteria in Defendants' EzriCare and Delsam Pharma Artificial Tear products is due to Defendants' violation of Current Good Manufacturing Processes."  
This strain of bacteria is particularly dangerous and medically challenging because it's resistant to treatment. Called carbapenem-resistant Pseudomonas aeruginosa, this strain of bacteria has developed resistance to carbapenems, which are a class of antibiotics designed specifically to treat resistant bacteria. CRPAs cause the same type of infections as other bacteria, but are much more difficult to treat.
People who used EzriCare's artificial tears and experienced a CRPA infection can file a lawsuit to receive compensation for medical bills, pain and suffering, lost wages and decreased quality of life.
Share This Page:
How can we improve this page?
Thank You for Your Feedback
We appreciate your feedback. One of our content team members will be in touch with you soon.
We appreciate your feedback. One of our content team members will be in touch with you soon.